If you love playing video games and you are looking to earn cryptocurrency, there's a site called Womplay that claims you can do both.
Womplay claims you can play and earn all day, every day. It's a very tempting offer for someone who loves to play video games. But I would suggest you hold your horses for a bit and read this Womplay review first.
This review will verify if this site is truly legit or if it is just another scam. And if it is really legit, it will then check if this site is really worth joining or not.
So, let's go ahead and take an inside look at what this site has to offer, shall we?
What is Womplay and what does it offer?
Womplay is a GPT (Get-Paid-To) site that will reward you for playing the games they feature. It's pretty similar to Mistplay in terms of the way it works with a few differences. And yes, it is indeed a legit site since it will really reward you for playing their featured games.
Now, in order to fully comprehend how this site works, we have to take a closer look at the earning opportunities it offers. This will also give you an idea of how well you can earn from it.
I have, therefore, made a video that gives you an inside look and shows exactly how you can earn from Womplay. You can also read all the details below the video.
Option 1 – Playing featured games
One way to earn from Womplay is to play their featured games. When you log in to the site, you will immediately see all the games you can play.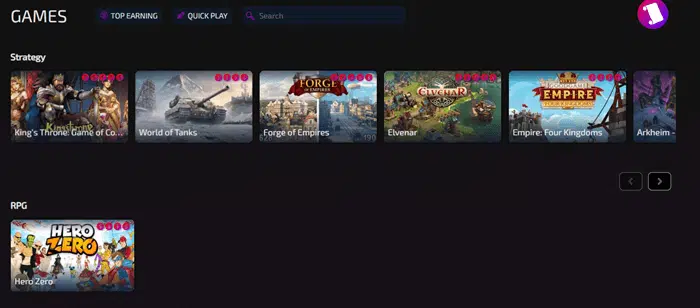 Just choose which game you want to play and click it. You will then see the instructions you need to follow to earn Wombucks (the currency the site is using). There are various types of games you can play.
There are desktop games that will require you to install the game on your laptop or desktop. There are also mobile games you can play but that would mean you will have to use your mobile device to play it (I will discuss later how you can do this).
Lastly, there are quick-play games that you can play using your browser. In my opinion, this type is the more convenient game you can play to earn Wombucks since you don't have to install anything. You can just play the games in your browser.
The way to earn Wombucks from each game will vary depending on the game. For example, when I was testing their quick-play billiards game, I earned 10 Wombucks per game I played.
For desktop and mobile games, there are a few other requirements you need to meet to earn the reward. The good thing is, the rewards for these kinds of games are usually significantly higher than the quick-play games.
So, before you start playing any of their desktop or mobile games, you need to make sure you've understood all the things you need to do to earn the reward. Another important thing you need to remember about their desktop and mobile games is, you have to install the game via the links provided on the game page.
If you've had the game installed on your device before, Womplay might not be able to reward you for playing. So, uninstall the game first and go back to Womplay and click the link to install it again. This is an important step because this is how Womplay tracks your progress in the game.
Option 2 – Daily tasks
Just like a video game, you will also have daily tasks you can complete to earn bonus points. These tasks are relatively simple and won't be hard to complete.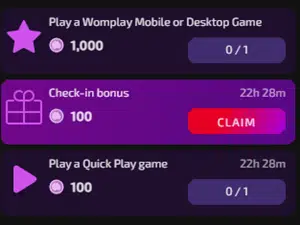 To view the daily tasks, just click the scroll icon in the upper right-hand corner. Most of the time, the tasks will just require you to play quick-play games or desktop/mobile games. Once you've done that, just go back to the daily tasks section and claim the reward.
You will know if there's a reward you can claim because there will be a notification on the scroll icon.
Option 3 – Challenges
You can also earn more rewards by taking on challenges. These challenges will usually ask you to play NFT games. If you are not familiar with NFT games, they are games that will allow you to earn through Non-Fungible Tokens (NFT).
Most of these games are pay-to-earn games so they have an economy of their own. But of course, that would also mean you will have to invest a bit of money in order to get started.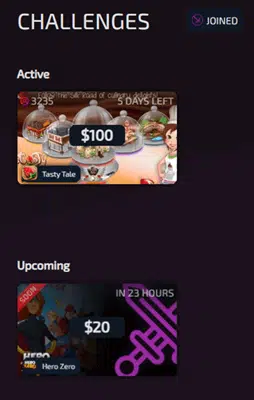 This means, in order to participate in Womplay's challenges, you will have to spend a bit of money. Every game has a set of challenges you need to successfully complete in order to qualify for the reward.
So, you have to understand what the challenges are all about and have a clear plan of how to achieve it before you take on the challenge because remember, you will be spending money for this. I would also suggest you weigh the rewards with the money you need to spend to play the game.
That would be the best way to evaluate if a challenge is even worth the risk. It's definitely not the most beginner-friendly opportunity offered by Womplay. It takes a lot of planning and know-how to earn from it.
I personally didn't take on any challenges because it took too much time which I didn't have.
Option 4 – Referral program
Lastly, you can earn more Wombucks by participating in their referral program. In case you are not familiar with what a referral program is, it is a type of earning opportunity where you can earn by simply inviting people to join the site.

All you have to do is share your invite link with the person you want to invite. Once they click the link and sign up as a member of Womplay, they will become your referral.
Now, in order for you to earn from their referral program, your referral must become an active member of the site. That means they have to play games and earn Wombucks. Once they do that, you will then receive a 25% commission every time they earn Wombucks.
It's a pretty decent commission rate in my opinion, and it will last forever. So, as long as your referral keeps playing on Womplay, you will also keep earning passively.
Recommended: Check Out the Best Ways to Earn Money by Playing Games Online
How do you get paid?
As explained earlier, for every game you play, you will earn a certain number of Wombucks. But what can you do with the Wombucks you've earned? Well, you can use it to join their weekly cashout event.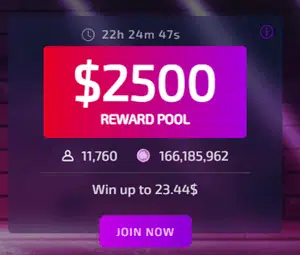 As you can see in the photo above, the total amount that will be released for the cashout event will be displayed. This is actually how you will get paid. Every person who joined the cashout event will receive a specific amount proportional to the number of Wombucks they used to join the cashout event.
Obviously, the more Wombucks you use to join the event, the more money you will receive. The payout will happen one hour after the cashout event ends.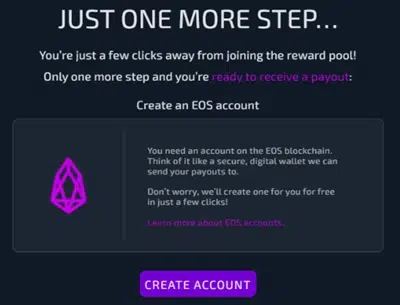 But, before you can join this event, you will need an account on the EOS blockchain. Once you've created an account on the EOS blockchain, every payout you will receive will be sent to that account.
That would also mean you will receive EOS instead of cash during payout. So, in case it's not clear to you, you will be earning cryptocurrency (EOS) from this site and not cash.
Their payment system isn't very versatile because you will only get paid in EOS. If you prefer to earn cash, I would recommend you check out the top sites that pay via direct bank transfer instead.
How much money can you make?
The value of the Wombucks you've earned from playing games will be hard to calculate. That's because the value of EOS will depend on its exchange rate. So, it's really hard to say exactly how much you can make from this site.
Plus, you also have to consider that there will always be a limit to how much you can cashout every week since the cashout event will always have a set amount. This, in my opinion, is what limits the earning potential of Womplay.
The amount you can earn will mostly depend on how many people have joined the cashout event and how many Wombucks you've earned. There are times when you will get more for the same Wombucks and there are times when you will get less.
That would mean that if you get more value, there were fewer people who joined the cashout event for that week. If you get less value, there were more people who joined the event.
So, it's a bit tricky to decide when to join the cashout event to get the most value out of your Wombucks. And overall, I would say the earning potential of this site is pretty low. But it does feature a good number of games you can play. That's the one good thing I can say about this site.
Can you use it on mobile?
Womplay doesn't have a mobile app you can download. So, how will you be able to play their mobile games? Well, you can still access their website from a mobile device. So, you can just log in to the member dashboard and access their featured mobile games.
Their site is also mobile-friendly, so you won't have a hard time navigating on the site. This will be very useful when you want to play their mobile games. But apart from that, the only other thing you can do on their site when you are on your mobile device is to join their cashout event. Everything else will require the use of a laptop or a desktop.
Who can join Womplay?
Womplay is available globally. That means you can register as a member regardless of where you live. But you have to be at least 18 years of age to join though.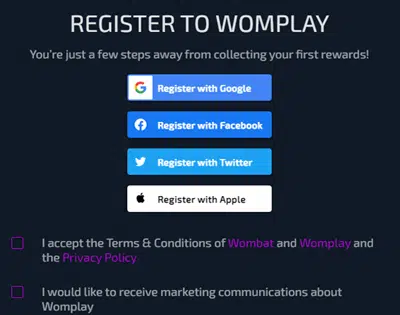 The registration process is really very simple. You can just sign up using your Google, Facebook, Twitter, or Apple account. Once you've done that, you can log in to the site and start playing.
However, as explained earlier, you will need to create an account on their EOS blockchain to get paid. The good thing is, registration for that is free. So essentially, if you choose to join Womplay, you also have to join the EOS blockchain.
Can you get support?
Womplay doesn't have a FAQ page you can check out if you have any questions about the site or if you encounter any problems. But, they have a Telegram and Discord channel you can join so you can talk to their support representatives.
You can ask any question on those platforms. Plus, you can also email them at support@womplay.io.
Overall, while the site does lack a FAQ page, it still has a decent support system in place for its members because it provides several avenues for you to receive assistance.
Final Verdict
Womplay is a legit GPT site that will reward you for playing their featured games. It has a couple of interesting features but it also has some limitations you need to consider.
Let me conclude this review with a summary of its pros and cons so you can get an overview of what the site is all about. Then you can decide if it is a good fit for you or not.

Pros:
Offers a fun way to earn rewards
Available globally
Has a decent number of featured games you can play

Cons:
Limited earning opportunities offered
Limited payment methods offered
No fixed value for the rewards you've earned
In my opinion, the main disadvantage of Womplay is, there's no fixed value for the Wombucks you've earned. As explained, the amount you can cashout will mostly depend on how many people have joined the cashout event. If there are fewer people in the cashout event, you will receive more for your Wombucks.
And it goes without saying that if the more people have joined the cashout event, then you will receive less for your Wombucks even if you earned the same amount. Their payout system is just very complicated and not reliable, in my opinion.
The only value this site offers is that it has plenty of interesting and fun featured games you can play. So, it can serve as a great site to pass the time with. But if you are looking to earn extra cash, I would suggest you check out the top survey and GPT sites in your country instead.
The sites on this list all have good earning potential and they all offer simpler ways for you to withdraw your earnings. Plus, you can also earn cash aside from cryptocurrency.
If you have any comments, questions, or have any experiences with Womplay yourself, I would love to hear from you in a comment below.