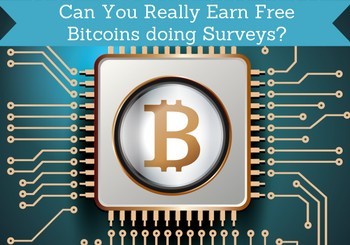 Bitcoin has become very popular, and you have probably heard the stories about how much it has increased in value since it first started.
But can you really earn free Bitcoins doing surveys and other online micro-tasks?
Yes, you actually can.
In this article, I am going to tell you how you can do this, and which survey and Get-Paid-To sites that offer this option.
So if you are interested in earning Bitcoin without having to invest anything, then this article will explain you how to do this and show you some great legit options.
Disclosure: Some articles on this website contain affiliate/sponsored links. Click for more info.
How to get paid in Bitcoin?
In case, you do not already know it, Bitcoin is a cryptocurrency and a worldwide payment system.
Luckily you do not have to understand all the technical details to start getting paid in Bitcoin (I personally do not yet understand the details). It is however a good idea to become familiar with how it works, as it is quite different from what most of us are used to.
What is very important to know, if you want to get paid from survey sites, is that to be paid in Bitcoin, you need a Bitcoin wallet installed on your phone or computer.
You will then get a Bitcoin address, and this is the address you need to use to get your survey rewards paid out to your Bitcoin wallet. It is free to get a wallet.
If you want to know more about how bitcoin work, you can check out the video below. You can also check out bitcoin.org for more details and for information about where to find a wallet to download:
Where can you get paid in Bitcoin for taking surveys?
Bitcoin is starting to become a more and more popular way to get paid for surveys, and more and more survey sites offer this option. But PayPal is still the most popular payout method.
But there are luckily some great sites that offer you to take surveys to earn free Bitcoin, and I would be surprised if the amount will not increase over the next couple of years. I have already seen an increase since I first published a list of Bitcoin surveys.
One thing you have to be aware of is that the payout threshold for getting a payout in Bitcoin is sometimes higher than for other rewards on some survey sites.
So it might take you a bit longer to get to the payout threshold than if you want to get paid through PayPal or gift cards. However, that varies a lot from site to site and some also have a very low threshold for Bitcoin.
On the list below, you can see what the payout threshold is for each site.
Be aware that several of the sites on the list below offers additional methods to earn like, for example, taking offers, watching videos, playing games, doing social media tasks, and more. If you want to boost your earnings, it is a good idea to use some of these other methods as well.
The sites that offer several earning methods are called GPT sites (Get-Paid-To).
These earning methods are really great to use in combination with surveys or if you have a hard time finding surveys you qualify for, you can still find plenty of ways to earn free Bitcoin on the list below.
So let's get to the list Bitcoin survey sites. They are, of course, all legit – I know as I have been paid by all of them myself. And they are 100% free to join and use.
17 best survey sites that pay in Bitcoin
Each of the sites below has different opportunities and options. To increase your chances of earning it is, therefore, a good idea to join several of the sites. If you are new, joining 5-7 sites is a great start.
The list will regularly be updated as new sites will start paying in Bitcoin, so make sure to bookmark the page and come back and check it once in a while.