If you want to earn some extra money online for free, Get-Paid-To (GPT) sites can be a great option.
They offer plenty of earning opportunities, and you can start earning right away without any investment.
That is, of course, if you join a legit GPT site. And with so many GPT sites around, it can be hard to figure out which ones are legit and worth it.
The site in question in this article is called Idle-Empire. It is a GPT site that promises to reward you for doing different online micro-tasks.
But is Idle-Empire legit or a scam to stay away from?
Let me just reveal right away that Idle-Empire is not one of the scams. It is a legit GPT site that does pay you for the tasks you do (I have been paid by it myself and will show proof below).
However, to truly determine if this site is worth joining for YOU, we have to consider a few things first.
This Idle-Empire review will give you an inside look and show you everything the site has to offer so you know exactly what to expect and can decide if it is worth your time or not.
Disclosure: Some articles on this website contain affiliate/sponsored links. Click for more info.
What is Idle-Empire, and what does it offer?
As explained above, Idle-Empire is a GPT site that promises to pay you for completing offers and a lot of other things. Since it is a GPT site, it offers several ways for you to earn rewards.
It is a legit and safe platform and you will actually get paid if you complete the tasks they have. But before finding out if it is a good use of time, you need to know how you can earn and how much you can earn which I will explain all about below.
Initially, Idle-Empire focused on Counter-Strike: Global Offensive. They wanted everyone to be able to get their favorite in-game skins without having to pay for them. But they have since expanded. You can now earn points in a variety of ways.
And to best understand how well you can earn from this GPT site, we have to take a closer look at the earning opportunities this site presents.
I have made a short video tutorial that gives you an inside look and shows exactly how it works. You can also read all the details below the video:
Check Out Idle-Empire for Yourself
Option 1 – Paid offers
The main way you can earn rewards from this site is by completing paid offers.
Once you become a member of Idle-Empire, you can access the paid offers by logging in to the site, clicking on the Earn section, and choosing "Offers" or "Offerwalls".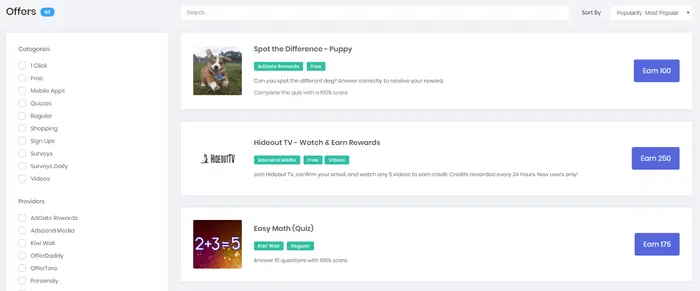 The difference between the two options is that if you click "offerwalls" you will get a full list of all the offerwalls and paid offers Idle Empire has (and there is A LOT).
If you just click "offers" you will get a list of some selected offers Idle-Empire believes are some of the best.
The idea of paid offers is that you will be asked to do something and in return, once you've completed it, you will be awarded a certain number of points. So, it's kind of a short task you can do.
Most of the paid offers available on Idle-Empire will ask you to complete a quiz, answer a survey, play a game, register for another website, and similar. But regardless of what the offer will ask you to do, one thing remains constant.
You have to follow the set of instructions provided on the offer to earn the reward. So, make sure to read the instructions carefully when you are doing one. Once you complete the offer, you will receive the promised rewards.
And the offers on Idle-Empire pay quite well compared to many other sites. In fact, it is among the highest paying sites for offers like this out of the hundreds of sites I have tested.
So if you decide to join Idle-Empire after reading this review, it can definitely be worth it to check out the offerwalls.
Option 2 – Paid surveys
You will also be able to earn more rewards by answering surveys. Just like paid offers, when you log in to the site, you can view all the available surveys by going to the Surveys section.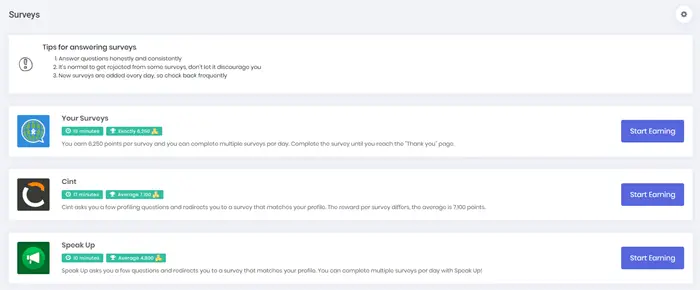 The surveys offered on Idle-Empire work just like you would expect on a survey site. When you click a survey, it will open a new browser tab. It will then ask you a series of screener questions to determine if you belong to the demographic the survey is targeting.
If you qualify, you will proceed to the next step, which is to answer the actual survey. Once you complete the actual survey, you will receive the promised reward. If you don't qualify, you simply move on to the next survey.
The good thing about how they present surveys is that you will know exactly how long it will take to complete it and how many points you will earn if you complete it. So you will be able to prioritize which surveys to take.
Most, if not all of the surveys offered on Idle-Empire will come from other sites though. So, don't be alarmed if you click on a survey and it will take you to a different site.
This also means it can take patience to find the surveys you qualify for.
When I first joined and tested Idle-Empire, the rewards for the surveys were quite low. But it has still improved and it now pays quite decently compared to many other GPT sites.
It is not among the absolute highest paying survey sites, but it still gives quite nice rewards and it definitely is a great way to earn some extra cash, and you can find a lot of surveys on Idle-Empire.
Also, if you run out of surveys you can take, remember that many of the offerwalls also have additional surveys so make sure to check that out if you want to get access to as many surveys as possible.
Option 3 – Watch videos
Another way you can earn rewards on Idle-Empire is by watching videos. Yes, it's as simple as that. The videos you can watch will come from Hideout.TV.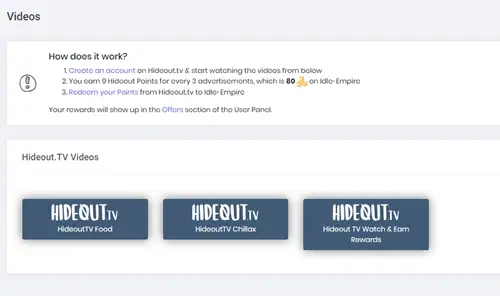 The way it works is, you just have to watch a video, and once you finish watching it, you will earn a small reward. Or to be more precise, you will earn for watching the ads before, after, and during the videos.
You will earn 9 Hideout Points for every 3 advertisements you watch. That is equivalent to 50 Idle-Empire points. So, it's not really a lot, and considering you will have to view 3 videos to earn it, it isn't the most efficient earning opportunity offered on the site, in my opinion.
That's why I recommend you only do this if you've got nothing else to do on the site. r you can just let it run in the background when you are not using your computer or phone, and that way earn a bit extra passively.
Option 4 – Referral program
Another way to boost your earnings from Idle-Empire is by inviting other people to join. Idle-Empire has a referral program where you will earn a certain commission for inviting people to join.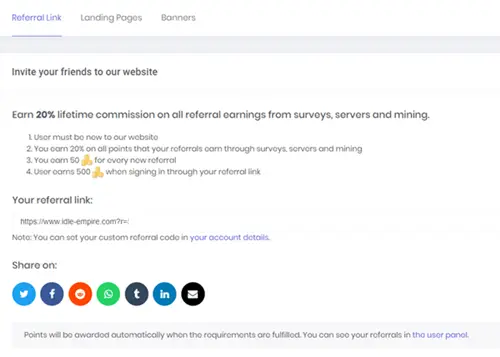 All you have to do is share your invite link with them, and once they register to the site using your link, they will become your direct referral.
What makes their referral program good is, you will earn 20% of all points that your referrals earn through surveys and offers. Plus, you will get 50 points for every new referral. And on top of that, your referral will earn 500 Points when signing up through your referral link.
This is not a big sign-up bonus, but a little extra can also help.
So, in my opinion, it can be a worthwhile activity to undertake. But, of course, only if you really think Idle-Empire is worth recommending.
You will only earn if the people you invite will love it and use it actively.
Option 5 – Get joining bonus (free points)
As shortly mentioned above, if you join through an invitation link, you will get a 500 points bonus into your account right away.
So if you decide to join, make sure to join through an invitation link so you can get these free Idle-Empire points to get a great and easy start.
You can find such an invitation link and get a bonus by joining through the link below.
Join Idle-Empire and Get 500 Points for Free
How do you get paid?
Every activity you complete on Idle-Empire will earn you a certain number of points that will be added to your account balance.
You can then exchange the points you've earned for a number of rewards.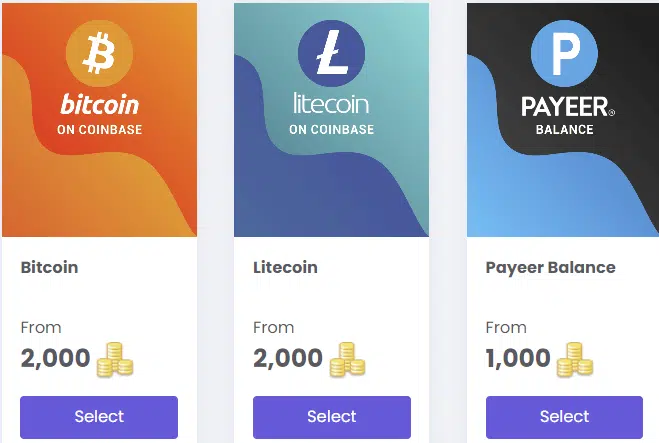 The payout threshold you need to reach to get paid varies depending on your chosen reward.
The lowest threshold is for Payeer, where you only need to earn 1,000 points to redeem, which will be equivalent to $0.10.
But, for example, if you choose to withdraw your earnings as crypto, you will need to accumulate 2,000 points. That will be worth $0.20. It also used to be $0.10 for crypto, but they have increased it a bit, but it is still very low and easy to reach.
For other rewards, it will be higher. But overall, you can very quickly earn enough to get paid.
You can redeem in-game items, certain gift cards, Bitcoin, Litecoin, Ethereum, Payeer, and many more options.
There are plenty of rewards to choose from. So, it is very versatile in terms of payment methods, in my opinion.
You just need to be aware that Idle-Empire used to also pay in cash via PayPal, but that is no longer an option.
I am not sure why they removed this option, but personally, I prefer getting paid in Crypto on Idle-Empire anyway, but if you prefer PayPal, then this is not the right option for you. Then you can check out the best sites that pay via PayPal here.
Also, I know from personal experience that Idle-Empire, in fact, does pay. But just so you can see for yourself, I have recorded a video with payment proof you can watch below:
How much money can you make?
One good thing about Idle-Empire is there are plenty of earning opportunities available. So, you will be able to steadily earn rewards. And in return, you can expect to earn on a regular basis.
As to how much you can earn, well, that will entirely depend on how much time you are willing to spend on the site. The rewards Idle-Empire offers compared to other similar sites are quite decent.
And they also offer certain bonuses if you become one of the top earners of the week. If you really want to earn a significant amount, aiming to become a top earner is the best way to do it.
Just be aware that they only reward the top 3 earners for the month. In my experience, this type of bonus scheme usually extends to the top 10. At least, that's how it, for example, is on a site like PrizeRebel and many other sites that offer that kind of bonus.
However, if you manage to finish in the top 3, you will get a bonus of $10-$30 so it can give some nice extra earnings.
Overall, I would say that Idle-Empire has decent earning potential. But exactly how much you can earn will vary from country to country (more about who can join later).
Can you use it on mobile?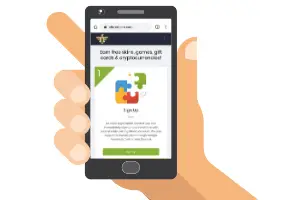 Idle-Empire doesn't have a mobile app. So, if you want to use it on a mobile device, you will have to access their site using a mobile web browser.
The good thing is that their site is mobile-friendly. So, it's pretty easy to navigate through it and complete offers. However, I would say that it won't be that convenient, considering most, if not all, of the offers you will be doing will keep opening new browser tabs.
So, it can get a bit annoying in the long run because you will have to keep opening and closing browser tabs, and that's a bit troublesome to do on a mobile device.
That's why, in my opinion, Idle-Empire is best used on a laptop or desktop. It will be much more convenient.
Who can join Idle-Empire?
One major advantage Idle-Empire offers is that it is available globally. So, you can sign up as a member regardless of where you live.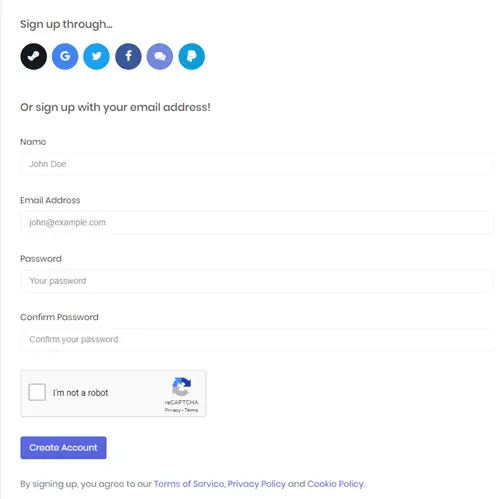 Plus, there are several sign-up options you can choose from. You can sign up using your Google, Steam, Twitter, Facebook, or even your PayPal account. You can also sign-up by simply providing your own login details.
And to top it off, the sign-up process is very easy, and you need to be at least 13 years old in order to create an account. You are not allowed to use a VPN and proxy server when working on the site though. Doing so can lead to the termination of your account.
So, make sure to keep that in mind before signing up.
Can you get support?
Another good thing I can say about Idle-Empire is the way they provide support for their members. The Support section of their site contains everything that you need.

You will be given access to their Knowledge Base which contains all of the topics you need to know about the site.
And if you can't find what you are looking for on their Knowledge Base, you can simply ask their support team by creating a support ticket. Furthermore, you can check the status of the support ticket you filed.
I have been in contact with their support team a few times myself, and I must say they do answer quickly compared to many other GPT sites.
So, overall, I would say that they have a very organized support system in place.
Final Verdict
Idle-Empire is a legit GPT site that does pay you for completing offers, surveys, and a lot more. It offers several advantages and certain disadvantages too.
Let me finish this review by summarizing its pros and cons to help you decide if you should sign up as a member or not.

Pros:
Offers several payment options
Available globally
Their site is user-friendly
Has a very low payout threshold

Cons:
Bonus for top earners only extends up to the 3rd best performer
A bit confusing point system and conversion rate
I have tested hundreds of GPT sites, and I would say Idle-Empire is a pretty good site. It has everything that a good GPT should have. It offers several earning opportunities, it is available globally, it offers several payment methods, and it has a low payout threshold.
But you should also make sure to join some of the absolute top GPT sites, as some of these will give even more opportunities.
How to join Idle-Empire?
If you want to join Idle-Empire, it only takes a minute to get started. You just click the button below and then sign up, and you can then start earning right away.
And remember that if you join through the button below, you will get 500 free points into your account right away.
If you have any comments, questions, or have any experiences with Idle-Empire yourself, I would love to hear from you in a comment below.