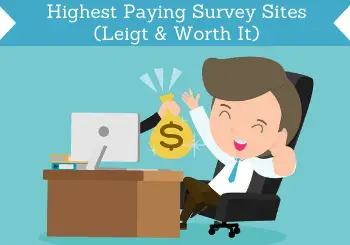 Taking paid surveys online can be a great way to have your voice heard – and if you choose the right sites, it can also be a great way to earn some extra cash on the side.
But let's be honest – not all survey sites pay well. In fact, some pay extremely low rewards for your time.
But luckily, there are also many sites that are worth it and where that give you fair compensation for your time.
To help you find the best options, I have put together a list of the 17 highest paying survey sites in 2023 based on my experience after having completed thousands of online surveys and tested hundreds of survey sites.
All of them are, of course, 100% free to join, and they are all legit, so you will actually get paid for taking surveys there – I know from personal experience, as I have been paid by all of them myself.
Disclosure: Some articles on this website contain affiliate/sponsored links. Click for more info
Why do some survey sites pay more than others?
If you have taken paid surveys before, you might know that there are hundreds (if not thousands) of sites that offer paid surveys.
Some offer very unique surveys, and others offer more or less the same surveys.
Even though the point of online surveys from the perspective of the companies paying you to take surveys is not to offer you a job but to get honest feedback they can use to improve, they should still always offer fair compensation, in my opinion.
I think a great aspect of taking surveys is to have your opinion heard, but I also think you should be compensated fairly.
And some sites definitely do not do that, while others offer well paid online surveys.
There are several reasons for these differences is the compensation you will get.
One reason is that some survey sites are just cheap and keep a bigger part of what they get from the companies paying for the research and pay you less.
Other times the reason for some surveys paying very well is that they are very specialized – that means that either you need to be in a very specific target group or the survey will be very involved and will require quite a bit of effort.
But if you know which sites to join, you can be sure that you will be compensated fairly, whether it is for short surveys or for longer research projects – and I will show you the best sites for this later.
But let's first go over how much you can earn from high paying surveys, so you do it with the right expectations.
How much can you earn from high paying surveys?
If you are lucky and qualify for specialized surveys, you can sometimes earn some really high rewards.
However, you need to be aware that these very specialized surveys where you might be able to get $50-$100 per survey are very rare, and they will be difficult to qualify for.
So if you want to take surveys online, you should not count on surveys like this regularly (or in some cases, you will never get them).
But there are many survey sites that offer a lot of smaller surveys that pay quite well and where you will get compensated fairly.
If you join several sites and choose the surveys you take wisely, you will be able to earn some really nice money on the side.
But no matter what, you need to know that no matter how many high paying surveys you are able to take, it will not be a way to make a full-time income or anything like that – if anyone claims it is, they are lying to you.
Paid surveys are a way to have your opinion heard, and if you join the legit and best sites (see below) you will also be compensated fairly at the same time.
So if you do it with the right expectations, it is definitely a great opportunity. So let's now get to the list of the best and highest paying survey websites.
17 best high paying survey sites
The sites mentioned below are all 100% free to join, and you can get started with the surveys right away.
To get the most opportunities, it is best to join 5-7 sites and then choose the surveys you take wisely. That way, you can optimize your time.
The list will regularly be updated, so make sure to bookmark this page and come back and check it once in a while.