If you are looking for a way to earn some extra money by taking surveys, it is likely you have heard about PaidViewpoint.
But is PaidViewpoint legit and really a way to earn or a scam site to stay away from?
I have tested it thoroughly and have been a member for years.
Let me reveal right away that PaidViewpoint is legit, and it does pay – I have been paid by it many times myself.
And it also has some unique features that very few survey sites have, but that does not necessarily mean it is a good option for all.
I will go into detail about all this in this PaidViewpoint review, so you will know exactly what to expect and if it is the right way for you to earn some extra money online or not.
Disclosure: Some articles on this website contain affiliate/sponsored links. Click for more info.
What is PaidViewpoint, and what does it offer?
PaidViewpoint is a paid survey site that is operated by aytm (Ask Your Target Market).
Unlike many other survey sites, this site only offers paid surveys and no ads to view for money, no paid offers, or anything else.
This is not necessarily a bad thing, as it makes it very simple and easy to use, so it is very easy to get started with. And it is, of course, 100% free to join and use.
In general, the 3 things PaidViewpoint offers are:
Option 1 – PaidViewpoint surveys:
The main way to make money on PaidViewpoint is by doing regular surveys. There are quite frequent surveys like this, depending on where in the world you live (more about which countries it is available in later).
The great thing about surveys through PaidViewpoint compared to other survey sites is that you will never be offered a survey you will not qualify for.
This makes PaidViewpoint very unique and also means you will not waste any time trying to click surveys that you will not be able to take. So you know that when you are offered a survey on PaidViewpoint, you are guaranteed to be able to complete it and get paid for it.
This is a feature that I really appreciate about PaidViewpoint.
Once you have logged in, you can see in the right corner of your screen if you have any surveys available.

You just have to make sure to log in regularly to check for new surveys, as you will not necessarily receive email notifications when new surveys are available.
Also, the surveys on PaidViewpoint are, in general, quite short and are usually multiple-choice questions so they are easy to take.
Option 2 – Trait Score surveys:
PaidViewpoint offers at least one daily paid survey, which is called "Trait Score".
These surveys only give very small rewards but also only take 1 min to do, and it will eventually be a part of giving you more surveys and higher rewards for the surveys.
I know this might sound confusing right now, but I will explain more about the Trait Score later so it becomes clear.
Option 3 – Referral program:
PaidViewpoint also offers a generous referral program, where you will be able to make up to $25 per person you invite to the site, as you will get a bonus every time they do a survey (this money will not be taken from the person you invite, but be paid by PaidViewpoint).
Before you get too excited about that potential bonus, be aware that it is not as easy as it sounds. You do not get $25 just for inviting a person.
If a person you invite joins, you will get 20% in commission of whatever that person is making, so you will only get a bonus if the person actually takes surveys.
And the maximum you can then get per person is $25. But still, a nice way to make a bit of extra money if you know a lot of people that are interested in joining and doing surveys.
Click to Check Out PaidViewpoint for Yourself
How does PaidViewpoint pay?
Every time you take a survey or a Trait Score survey, you earn dollars that you can see in your PaidViewpoint.com account right away.
You can then have this cash paid out through PayPal, which is the only payout method.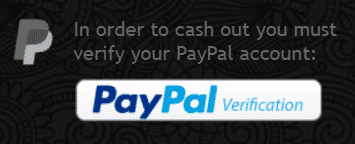 You have to make $15 before you can request a payout. I personally prefer a payout threshold a bit lower, but this is still very good compared to some other survey sites and not difficult to reach if you live in the right countries.
Also, in general, the second time you withdraw, the threshold will only be $10, and for the following payouts, the threshold will only be $5.
Just be aware that PaidViewpoint reserves the right to increase cash-out thresholds back to the initial $15 for any member, at any time, for any or no reason.
You will get a $1 dollar bonus just for signing up and filling out your basic information, which will only take a few minutes, so that is a nice start. Once you request a payout, it will be in your PayPal account within 2-3 days.
Be aware that you need to have a verified PayPal account. This is free to get, but you just need to make sure you have your account verified before you can get your earnings out.
I have also recorded a video you can see below, where I show exactly how to withdraw and where I will also show you PaidViewpoint payment proof:
What is PaidViewpoint Trait Score?
I have already mentioned the Trait Score a few times now, and think it is about time to explain what it is.
It is a score that determines how well PaidViewpoint knows you and how honest you are. Every day, you can take a short Trait Score survey that pays you a few cents but also only takes 1-2 min.

This is not the way you make real money on PaidViewpoint, but a way to find out how consistent and honest your answers are. In online surveys, it is often a problem that people are not honest and just rush through, so PaidViewpoint has made a system that tests your consistency through these little daily surveys.
The Trait Score surveys are also a way for PaidViewpoint to get to know you better, so you can get the surveys that match you. This does not mean the site wants to know your personal identity but to know more about your interests, demographics, and traits.
Because of this, you are also only offered surveys you can actually participate in and finish. Unlike some other sites, once you have started a survey, you know that it will not stop in the middle and say you do not qualify anyway. This is a very unique feature and a very great thing about PaidViewpoint.
These Trait Score surveys are not the way you will make the most money at the site – or in a way, it actually is. Because every time you have done one of these Trait Score surveys, you will get points.
When you reach 9000 points (it took me about 3 months), you are one of the trusted survey takers, and you will more often get surveys and be paid higher rewards for them.
So even though the Trait Score surveys only pay very little, it is definitely worth spending 1-2 minutes a day doing them. In the long run, that will give you a lot more opportunities on PaidViewpoint.
How much money can you make on PaidViewpoint?
Like with any other paid survey site, how much time you want to spend is up to you. The daily Trait Score surveys only take 1-2 min. They are worth doing, as they, in the long run, will give you the chance to make more money.
The other surveys pay pretty well in relation to time compared to many other survey sites. It is difficult to say it more precisely, as the time and reward depend on the different surveys and on your Trait Score.
But in general, most surveys only take around 5 minutes and are very easy to answer as they are usually multiple-choice questions.
PaidViewpoint does, however, have limitations when it comes to its earning potential because it only has a few ways to earn. And because it only has surveys of high quality, there are not as many as what you can find on many other survey sites.
Some days there will only be a Trait Score survey you can do, and then you can maximum spend 1-2 minutes on the site.
So in that way, PaidViewpoint is not the site that gives the best earning opportunities, as there are not as many daily opportunities as there are on online reward portals like SwagBucks. But PaidViewpoint does have other advantages, and it is very easy to use, so it can definitely be a nice site to join and take the surveys you are offered.
One thing to be aware of is that you have to check the site yourself to see if there are any available surveys. In the settings of your account, you can ask to get email notifications when there are available surveys, so this can save you from having to go to the site to check.
You will, however, not be told by email when there is a Trait Score survey available, but it is also easy to figure out when they are available – there will be 1 (sometimes 2) of these every day.
And please remember that paid surveys, in general, will not make you rich or make you a full-time income, but they can give you some nice extra spending money. Just to clarify that and manage expectations.
But PaidViewPoints definitely does pay, so it is a legit way to make a bit of extra cash. I have been paid by it several times myself.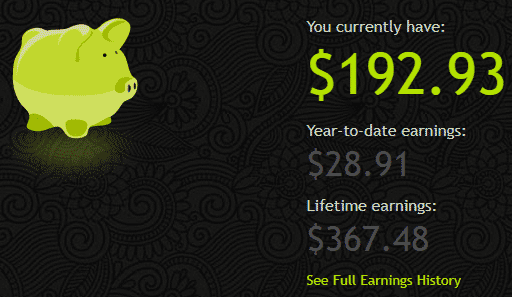 Above, you can see my PaidViewpoint payment proof, so you know it actually will pay you once you have reached the payout threshold – below, you can also find a video where I show live how I cash out.
You can take your money out as soon as you have reached the threshold, or you can leave them in your account until you have accumulated more if you prefer this.
Can you use it on mobile?
If you like taking surveys on the go, then you can easily take PaidViewpoint surveys from your mobile.
They just recently launched a PaidViewpoint app for Android devices.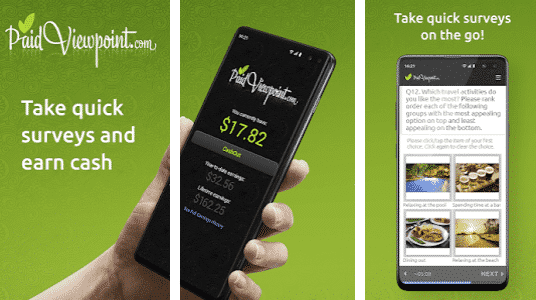 As of updating this review, the app is not yet available for iOS devices, but they are supposedly working on this.
However, the website is mobile-friendly, so if you want to take surveys from your iPhone or iPad, you can still do this by logging into the website from your browser.
In which countries is PaidViewpoint available?
PaidViewpoint is available worldwide, and you can sign up no matter where in the world you are. How many surveys you will get can, however, vary greatly depending on where you live.
There are most frequently surveys to people living in the US, Canada, and the UK, and to some extent Australia. In the rest of the world, there will occasionally still be a survey, but it will be very rare.
So if you do not live in one of the countries above, this not really be the right site, but then there are other sites in your country instead.
I have seen several PaidViewpoint reviews just saying that you can join from any country and encourage everyone to join, and even though it is true everyone can join, it is not the full truth.
Often people that just say this do not really know how it works and have, in most cases, not even tested the site properly, and the reality is that if you do not live in one of the countries mentioned above, it might take you years to be able to get enough surveys to reach the payout threshold and in some countries, it will likely never be possible to get enough surveys to reach it.
Therefore, Paidviewpoint is currently only worth joining if you live in the US, Canada, UK, or Australia.
PaidViewpoint is, however, growing worldwide, so hopefully, at some point, more surveys for different countries will be available.
You can participate in surveys, even if you are in another country than where you live, contrary to some other survey sites, so you can use it even when traveling.
How do you use PaidViewpoint?
I have made a short video walkthrough and tutorial of PaidViewpoint so you can get an inside look and see exactly how it works and how to use it:
Click to Check Out PaidViewpoint for Yourself
Can you get support?
There can be cases where you need to get in touch with a survey site to clarify something about your account or the platform. Whether it is then easy to get in touch with the company behind it tells a lot about a survey site.
I have contacted PaidViewpoint a couple of times with a few questions. All the times I have received quick, useful, and friendly answers.
This is a sign of good service and respect for their members and another aspect I really appreciate about PaidViewpoint.
Final verdict
In general, I am very positive about PaidViewpoint. It is definitely not a scam, as it gives you a chance to make money without any investment.
As with any other legit survey site, it is free to join and use. But it is not necessarily a good option for all.
So let's finish this review by summing up the pros and cons so you can get a better overview before deciding if it is for you or not.

Pros:
Very user-friendly and easy to use
Pays out through PayPal
Good rewards in relation to time spent
You always qualify for surveys you are offered
Surveys are quick to answer and interesting
Emphasizes honesty and rewards consistency (the Trai Score system)

Cons:
Not very many daily opportunities
Not good opportunities for all countries
PaidViewpoint definitely has many more pros than cons, in my opinion.
One of the only cons is that how many surveys you get can be very different depending on where you live, so it is only really worth joining if you live in the US, Canada, the UK, or Australia.
That is not as such a bad thing as that is just the markets PaidViewpoint is mainly working with. It just means that if you do not live in one of these countries, you should probably join other survey sites instead, as it would take you way too long to make enough for a payout.
PaidViewpoint is the only survey site I have seen with a system like the Trait Score, where you can get extra earnings if you are consistent and honest. I kind of appreciate this feature, and I really like that it also means you will only be offered surveys that you will for sure be able to finish and get paid for, as they know more about which surveys you match.
More survey sites could learn from a system like this, where you never will be screened out once you have been offered a survey.
So, in general, I definitely recommend you to join PaidViewpoint, if you live in one of the countries mentioned above.
How do you sign up for PaidViewpoint?
It is very fast and easy to sign up. Just click the button below, and it will take you to the site, where you need to fill out a short registration form. It will only take you around 1 min.
I hope this review gave you a good idea of what PaidViewpoint is about and if it is for you.
If you have any comments, questions, or have any experiences with PaidViewpoint yourself, I would love to hear from you in a comment below.