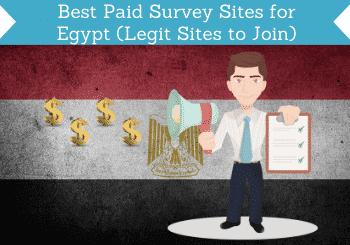 If you live in Egypt and are looking for an easy way to earn extra cash, then this guide will help you out.
By following this guide, you won't have to try and register for every site you encounter to check if it is indeed available in Egypt.
Plus, it will also tell you what these sites have to offer so you can figure out which ones are the right fit for you. So, all you really have to do is choose which ones you are more interested in.
Rest assured that all the sites I will include in this best paid survey sites for Egypt guide are all legit and free to join.
All you have to invest is a bit of your time and effort. But if you do not live in Egypt, I would suggest you check out my list of the best survey sites in other countries instead.
Disclosure: Some articles on this website contain affiliate/sponsored links. Click for more info.
How are the opportunities for paid surveys in Egypt?
The main reason why I made this guide is that it is not easy to find good options in Egypt since the options are fairly limited.
Now, to answer the question above, the opportunities for paid surveys in Egypt aren't that great compared to many other countries. But you can still earn a decent amount. You just have to find the right sites.
So, it all boils down to choosing the best sites you can join to earn a decent amount. Ideally, you will want a site that has good earning potential. Now, there are two main factors that affect the earning potential of a site.
These are the availability of earning opportunities and how well the site pays. If a site offers both, then you've got yourself a great site.
Of course, there are other intangibles you need to consider, like payment options offered, support options, and a few other things. All the sites that will be on this list have good ratings in most, if not all, of the factors mentioned above.
How to earn the most?
If you haven't been a member of survey or Get-Paid-To (GPT) sites, then let me just tell you that each of these sites usually offers different earning opportunities. A survey site will allow you to earn by simply answering surveys.
A GPT site offers multiple ways for you to earn, like completing short tasks and paid offers (including answering surveys), playing games, downloading apps, and a lot more.
They might share the types of earning opportunities offered, like paid surveys and offers, but the actual surveys or offers on these sites will often be different.
So, if you want to maximize your earnings, I recommend you join around 5 to 7 sites to get access to plenty of earning opportunities. In my experience, this is a great number of sites to join for a start to earning a decent amount.
But if you feel like you can handle more work or already have some experience with sites like this, then you can always join more sites to earn more.
And you should make sure to use some of the different tasks you can find on these platforms because you, in general, will have limited paid surveys in Egypt, so doing other tasks is a great idea to earn the most.
15 top survey sites for Egypt
These are the 15 best survey and GPT sites you can join if you live in Egypt. I'm not saying these are the only sites you can join if you live in Egypt. Instead, these are sites that are definitely worth your time and effort.
I have tested all of these sites, and they all fit the bill. I will keep updating this list, so make sure to bookmark this page and check back from time to time for new opportunities.