Joining a survey site is an easy way to earn extra cash, provided, of course, you join a legit one.
Unfortunately, there are many sites that are scams or just a waste of time. That's why it is important that you always do some research before joining a survey site.
In this article, we will take a look at TGM Panel; one of the survey sites you can join.
So, is TGM Panel Legit and really a way to earn? Or is it a scam?
Let me just answer this right away so we can talk about other important details of the site.
No, it is not a scam. TGM Panel is legit, and it does pay you for answering surveys. This doesn't necessarily mean, though, that joining the site would be the right option for you.
You have to first examine if this site will indeed allow you to earn a decent amount of money and if it will be worth your time. This TGM Panel review will help you do just that.
You will get an inside look so you will know exactly what to expect, and you can then easily decide if you should become a member or not.
What is TGM Panel, and what does it offer?
As mentioned above, TGM Panel is a survey site that will pay you for answering surveys. When you Google the site, don't be surprised if you see a lot of sites with the same name.
They don't actually have a main site. Instead, each country where it is available will have its own URL. Later, I will discuss which countries TGM Panel is available in.
To get a clear picture of its earning potential, though, we have to take a closer look at how you will be able to earn from this panel. That way, you can gauge if you can really earn a decent amount from it.
I created a video that gives you an inside look so you can see the earning opportunities and how it works for yourself. You can also read all the details below the video if you prefer reading:
Option 1 – Paid Surveys
As mentioned, you can earn from this site by answering surveys. This is the main way to earn from this site.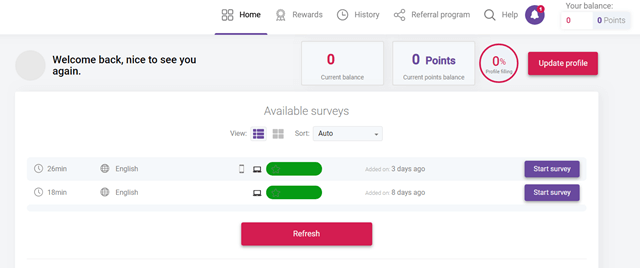 When you log in to the dashboard, you will see all the available paid surveys you can take.
You will also see how much you will receive when you complete the survey, how long it will take to finish it, and if it is available on a mobile device.
Aside from that, you will also see how long the survey has been available. This is actually a piece of important information because it will allow you to figure out which survey to prioritize.
It is recommended that you always prioritize the latest survey because it is the survey that gives you the best possible chance of qualifying. The reason for this is that, typically, survey offers will have a set number of respondents.
Once that number is hit, each succeeding member who answers the survey will not be qualified to take it anymore. In other words, the survey will be closed.
When you take a survey offer, you won't proceed to the actual survey right away. Instead, you will have to answer a set of qualifying questions first. A survey site does this to make sure that you really belong to the demographic that the survey is targeting.
Once you qualify, you can then proceed to answer the actual survey.
If you don't qualify, you can simply move on to the next survey offer. In my opinion, this is a good process to make sure you don't waste your time answering a survey you won't get rewarded with.
Once you complete the survey, you will receive the reward promised, which will be credited to your TGM Panel account.
Overall, TGM Panel has quite a good number of available surveys in the countries it is available in, and it is easy to use, so a pretty good option when it comes to taking paid surveys, in my opinion.
Option 2 – Referral Program
You also get rewarded when you invite other people to join the site. This is called a referral program. Most survey sites have this.

To refer a person to the site, you will have to complete one survey offer first and at least 80% of your profile.
Once you've done that, you can then share your referral link with the person you want to invite.
Once they register on the site, they will become your referral. You will then get a 10% commission each time they request payment (which I will discuss next).
So, if they earn $10 and request payment for it, you will receive $1.
The 10% commission will be shouldered by TGM Panel and not by your referral.
The amount you will earn per referral isn't much, but if you have plenty of referrals, it will all start to pile up and earn you a significant amount of money, provided, of course, they keep answering survey offers.
Click to Check Out TGM Panel for Yourself
How do you get paid?
Every time you complete a survey offer, you will earn a certain amount of points, which will be credited to your account.
The points you've accumulated can be converted into cash. 1 point is equal to 1 of whichever currency the site you joined is using.
However, the payout threshold will depend on the country you registered in. So, there isn't a fixed threshold, but in most countries, it is around $10. The prizes you can redeem using your account balance will also depend on the country you registered in.
If you want to redeem cash, you can usually request payment in two ways. You can either withdraw your earnings via PayPal or via GCodes. If you are not familiar with GCodes, it is a rewards platform that will allow you to redeem certain rewards or products using their currency.
In some countries, TGM also offers Amazon gift cards or phone top-ups as a reward.The exact payout methods available will depend on your country, but no matter your country, it does have decent options.
If you decide to use PayPal, you have to make sure that your Paypal account has the same email address as the email address you used to register to the site.
Don't worry if you used a different email address, though, because you can add the email address you used on TGM Panel on PayPal so you can still receive the payment.
After you have requested a payout through PayPal, it can take up to 4 business days until you have the money in your account, but usually, it will be faster. 
If you are interested in other sites that will also allow you to receive payment via PayPal, I recommend you also check out the top survey sites that pay via PayPal.
How much money can you make?
The amount of money you can earn from TGM Panel (or all survey sites, for that matter) will depend on how many survey invites you will receive, how many surveys you will actually complete, and how much you will earn per survey completed.
In terms of rewards per survey, TGM Panel does pay you a decent amount. It's not the highest paying survey site I've encountered, but it's decent enough.
So now, you will just have to make sure you receive the most invites possible to earn a decent amount. You will be able to do that by completing your profile.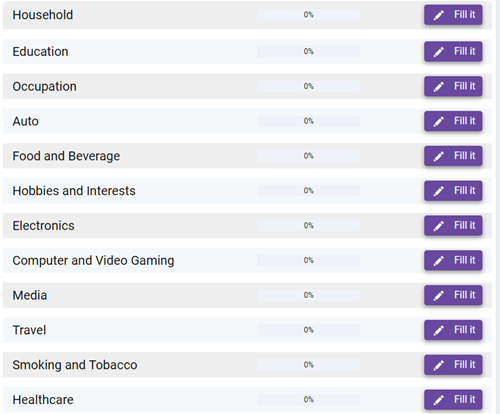 You can access your profile by clicking the Gear button on the dashboard and hitting My Profile. You have to complete all the fields available.
TGM Panel will use the information you've provided on this page to qualify you for more surveys.
And once you complete your profile, you will earn points, which, in my opinion, is a nice bonus.
Can you use it on mobile?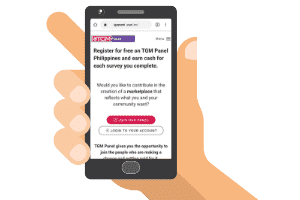 TGM Panel doesn't have an exclusive mobile app you can download on your mobile device, so you can work on surveys.
However, you will be able to access the site on your mobile device by using a mobile web browser. The good thing is that their site is mobile-friendly, so you won't have a hard time navigating through the site.
But you won't be able to complete all the surveys available on your mobile device, though, because some survey offers can only be done on a computer or laptop.
You will know if a survey offer is available through a mobile device because it will have a cell phone logo beside it.
Who can join TGM Panel?
TGM Panel is only available in specific countries, but what is great is that they have panels in many countries and even in countries where it can sometimes be difficult to find good survey sites.
From what I have been told, they are currently recruiting new members in the following countries:
Algeria
Argentina
Australia
Austria
Bangladesh
Belgium
Brazil
Bulgaria
Canada
Chile
China
Croatia
Czech Republic
Denmark
Egypt
Finland
France
Germany
Greece
Hong Kong
Hungary
India
Indonesia
Ireland
Italy
Japan
Jordan
Kenya
Kuwait
Malaysia
Morocco
Netherlands
New Zealand
Nigeria
Pakistan
Philippines
Poland
Portugal
Qatar
Romania
Saudi Arabia
Serbia
Singapore
Slovakia
Slovenia
South Africa
Spain
Sweden
Thailand
Tunesia
Turkey
Ukraine
UAE
UK
USA
Vietnam
If you live in any of the countries listed above, you can register as a member. And as you can see, they have panels in many countries and even in some that usually do not have many survey sites.
This is another aspect that makes TGM Panel unique compared to many other survey sites.
Keep in mind, though, that each country will have its own URL.
To find the right URL for your country, you can just click the join button later in this review, and you will then get to a page with the URL for the different countries so you can get easy access TGM Panel.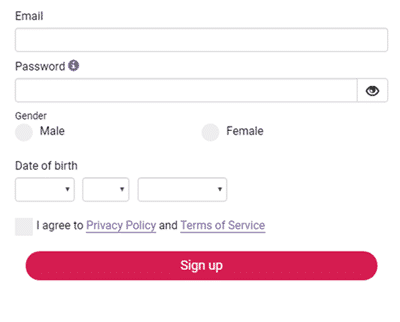 Their registration process is fairly straightforward. Just fill out the form and activate your membership by clicking the activation link in the email you will receive.
Once you've done that, you are all set, and you can start answering surveys. You do have to be at least 18 years old or older to join the site.
Can you get support?
If you need help with your account or want to ask a question, you can reach their customer support by going to their Help page.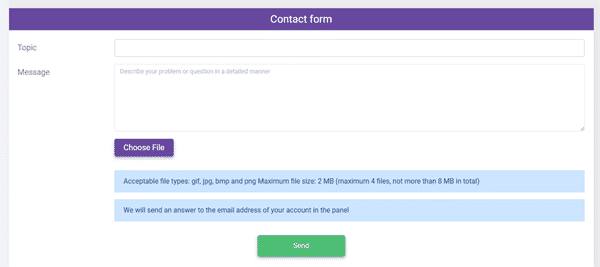 Simply fill out the contact form and wait for their reply. You will receive the reply to your email, so check your email regularly.
They also have an FAQ page that tackles most of the basic topics about the site.
I have been in contact with TGM Panel a few times myself, and I have had good experiences and have received quick replies, which are always a good sign.
So, all in all, they do offer good support, in my experience.
Final Verdict
TGM Panel is a legit survey site that does pay you for completing their surveys. It has some good qualities and some downsides as well, which is expected.
To help you make your decision, here's a summary of its pros and cons to give you an overview of what the site offers.

Pros:
Offers convenient payment methods
Decent rewards
Available in many countries

Cons:
Sometimes, it will take a bit of patience to find the surveys you qualify for
As you can see, TGM Panel is a pretty good survey site. It pays relatively well and offers convenient payout methods.
It can definitely be a good site to join, though, mainly because it offers a decent payment method and decent rewards for your time, and it is easy to use, so you do not have to spend too much extra time there.
But it can be great to also join additional survey sites so you will get access to even more opportunities. You can check out the top survey sites in your country to see good sites you can join in addition to TGM Panel if you want more opportunities.
How to join TGM Panel?
If you want to register as a member, you can click the button below, choose your country, and you will then be taken to the registration page.
The registration process is pretty easy, so you can start earning right away.
If you have any comments, questions, or have any experiences with TGM Panel yourself, I would love to hear from you in a comment below.