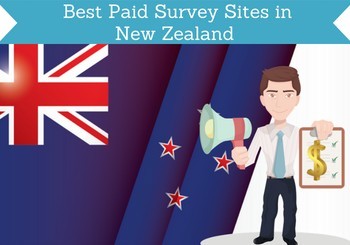 Do you live in NZ and want to earn extra money by taking online surveys and doing other online micro-tasks?
Then you will be happy to know that there are a lot of great opportunities – but there are also some platforms that are just a waste of time, and some are not even legit.
Therefore, you need to make sure to join the right sites to get the most out of this opportunity.
Below you will, therefore, be able to find a list of the 30 best paid survey sites in New Zealand, so you will know which sites are worth your time.
All of them are free to join, and I have tested them thoroughly – and I have also personally been paid by all of these sites, so I know they do pay.
If you do not live in New Zealand, you can instead check out the best sites in other countries.
Disclosure: Some articles on this website contain affiliate/sponsored links. Click for more info.
How are the opportunities for online surveys in NZ?
Before getting to the list of the best paid surveys NZ has to offer, let's first look at how the opportunities, in general, are for making money this way in New Zealand.
Which country you live in plays a big part when it comes to the number of paid surveys that are available. If you live in NZ, you have pretty good opportunities.
It is not the country that has the most opportunities because of the size, but there is still quite a lot of paid market research in NZ, and you can, therefore, still find a good amount of survey panels you can join with good opportunities, so it is definitely a way to make some extra money and at the same time sharing your opinion.
Be aware that paid surveys are not a way to replace a full-time income in NZ or in any other country for that matter. It is a great and easy way to earn some extra money as you do not have to invest anything, and you can start right away, but it is important to do it with the right expectations so you will not be disappointed.
But if you join the sites below, you are able to make some nice extra money on the side to treat yourself, pay some extra bills, go on a holiday, or whatever you prefer with the extra cash.
How to earn the most?
A small tip is to be aware that some of the sites offer several ways to earn and not just paid surveys – these are often called GPT sites (get-paid-to).
You can, for example, earn by watching videos, clicking ads, downloading apps, playing games, doing social media tasks, taking offers, and more.
By using some of the other earning methods some of the sites offer, you can boost your earnings. On the list below, you can see which sites offer different methods to earn.
To increase your chances of earning, it is a good idea to join several panels. Joining 6-8 panels will give you a good amount of surveys and other online micro-tasks, and at the same time, you will have time to use them all.
Once you get used to how they work, you can always join more to increase your earning opportunities further. So make sure to bookmark this page to be able to access the list again (it is also regularly updated, so keep an eye on it).
30 best paid surveys in New Zealand
As mentioned, there are some good survey panels and GPT sites you can join in NZ. The list below is not a list of all the survey sites you can join but instead a list of the best ones with the most earning opportunities.
The list only contains legit paid surveys for NZ, and all of them actually payout when you earn. So if you want to take surveys for money in NZ or do other online micro-tasks completely for free, these are your best options.