Toluna Influencers is a survey site that claims you can have your voice heard and get paid at the same time by joining.
But is Toluna legit and a great way to earn, or is it a scam you should stay away from?
I have been a member of Toluna for several years and have tested it thoroughly. And let me just reveal right away that it is legit and a real site where you can actually earn, and I have been paid by it many times myself (you can also see payment proof below).
However, this does not mean it necessarily is the right option for you.
So if you want to know exactly what the site is about, if it can make you money, and if it is worth your time, keep reading.
In this 2023 Toluna Influencers review, I will give you an inside look, show all the details, and show exactly what you can expect so you can judge for yourself if it is the right option for you or not.
What is Toluna Influencers, and what does the site offer?
This survey panel used to just simply be called Toluna. In 2018, however, it changed its name, so now the official name is Toluna Influencers. However, you can still access the website through Toluna.com even though the official website URL now is influencers.toluna.com.
You might hear either name used, and many people still just call it Toluna – both names are, however, referring to the same survey site.
It is, first of all, a survey site where you can get paid to take online surveys, and it has existed for many years.
In addition to paid surveys, the site offers a number of other ways you can earn money a bit extra, but online surveys are the main earning method.
Below I will go over all the ways you can earn as a member of Toluna Influencers so you know exactly what to expect.
Let me just reveal right away that it is a legit and safe survey site, and I have been paid by it many times myself, as I will show you proof of later in this review.
This does, however, not mean it will necessarily be the right option for you. Therefore, I will go over everything you need to know in the review below so you can see and judge for yourself.
Option 1 – Toluna surveys:
Surveys are the main way to make money on Toluna. There is a good amount of surveys, and mostly you will have access to at least 5-10 a week, but sometimes also more than that.
Exactly how many surveys you will get will, however, vary a lot from country to country.

If you do not qualify for a survey (which, in my experience, does not happen as often on Toluna Influencers as on some other survey sites), you will still get 200 points for having attempted the survey in most cases (again, this can vary from country to country).
It is a good idea to log in to the site regularly and check if there are any available surveys for you, as you, in general, will not receive emails when there are new ones.
You will once in a while receive an email when there is a new survey, but most often, it is then an extra survey that you cannot necessarily see on the platform. If you receive one of these email invitations, it is best to take the survey as soon as possible as surveys like this often fill up quickly, and often only a limited number of survey takers are needed.
But mostly, you will not get email invitations when there are new Toluna surveys available. So to get the most out of the site, it is good to log in regularly.
The surveys on Toluna do, in general, pay pretty well in relation to the time spent compared to other survey sites. However, how well they pay in relation to your time varies greatly from country to country.
But you can always see before starting a survey how much you will get and how long it will approximately take, and then decide whether you want to take the survey or not.
A great thing Toluna has recently made available when it revamped the whole platform was to now also make it possible to filter surveys, so it now is easier to find short or longer surveys, depending on your preferences.
Also, when you first join, you can fill out some small profile surveys. They will give you some nice rewards from the beginning, and at the same time, it will help you be matched to more surveys, so these are definitely a great idea to fill out and a good way to earn right away.
Just be aware that you will not qualify for all surveys, and I know this can be frustrating, and it is one of the complaints I have heard about Toluna. But it will happen on all survey sites and also on Toluna.
But having filled out your profile will make you more likely to qualify for the surveys you are offered, so definitely a good idea to start by filling those out as soon as you join.
Option 2 – Sponsored polls:
Sponsored polls are polls about a certain topic that you can get 15 points to answer. They are also called quick polls.
Once you log in, you can see if there are any available in the recommended section and in the news stream. You can spot them from the rest of the content by looking for where it says "vote".

These quick polls give very small rewards but also only take about 10 seconds to do, and they can even be quite interesting to participate in, as you can also see a statistic about other members' answers once you have answered.
Sometimes you will find several of these available, and other times it will be hard to find any.
One thing I have found is that it often seems like more of these quick polls are available through the mobile app (more about this later), so if you like the polls, this can be worth checking out.
Option 3 – Content creation / forum:
Toluna is not only a survey site but is also trying to be a community where members can create content and interact.
The way this works has, however, changed quite a lot since I first started using Toluna. You used to be able to create or participate in what was called polls, topic discussions, or battles.
You used to be able to potentially earn points by participating. These options have been removed during a recent big update.
Now, you can instead find a forum inside Toluna where you can share your thoughts and discuss with other members.
However, you will no longer be able to earn points by doing this, so you should only use this option if you wish to interact with other members.
As of updating this review, there is not a lot of activity in the forum, but this might change later when it becomes more well-known that it is now an option.
However, if you mainly are on Toluna Influencers to earn, then the forum option if not the best use of time, in my opinion.
But sometimes contests are announced in the forum section, so it can still be worth keeping an eye on – but more about the contest options next.
Option 4 – Contests:
Toluna Influencers sometimes offers contests.
It can, for example, be a contest to post a photo about a certain topic where a winner is selected, a quick quiz, or other kinds of contests.
They can run for a few days or up to a month and can give you some nice extra cash in your account.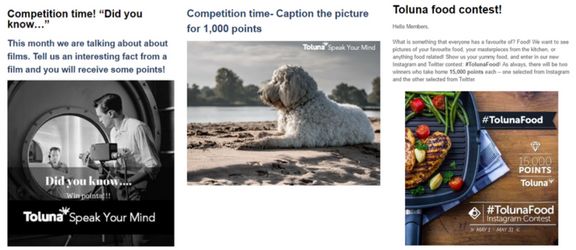 Once you have logged in, you can see the newest announcements and see if there are currently any new contests. Or you can find announcements about it in the forum section.
The exact amount of contests depends on the country you live in – some have daily contests, some weekly, and some monthly.
According to Toluna itself, you can also find contests on the official Toluna Facebook page. However, I have personally not seen any contest there for a long time, and they are, in general, not very active on Facebook, so not the best place to find the contests, in my experience.
Option 5 – Daily game (Toluna Wheel and more)
There is a daily game on Toluna Influencers called the Toluna Fortune Wheel.
Here you get a daily chance to win some extra points by spinning the wheel.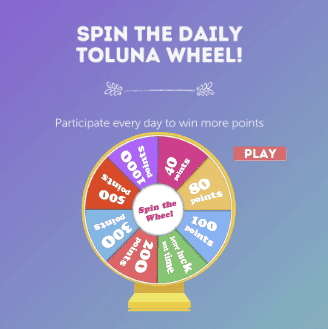 It only takes a few seconds to do, so if you are on the platform, it is worth just trying your luck.
I do not know statistically how great your chances are of winning, but I can say that it definitely is not impossible to win. I know that as I have won rewards there myself:-)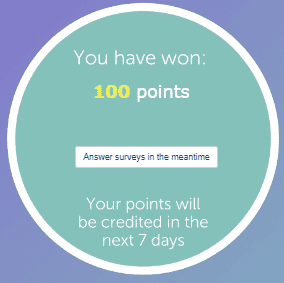 Not huge rewards you will get, but some extra free points by just spinning a wheel is still not bad.
Just be aware that the Toluna Wheel of Fortune is not as easy to find as it used to be. You need to go to the rear section to find it.
In addition to the Toluna Wheel, there are also other small games you can play at times. The exact availability of these games depends on the country you live in.
Some of the games will reward you with points if you win, and others will just be for fun. But they are all free to participate in.
These games are easy to find, as there is a table in the menu for them.
Option 6 – The Toluna Blog:
Toluna has an official blog that can be quite interesting to follow if you are a member of the site. You can find a link to it a the bottom of their website.
It is not as such a way to earn, but it is updated with news often, and this is where you can also see new contests, previous winners, new additions to the platform, etc., and see more details about all these things.
So it can still be a good idea to check out the blog once in a while to keep updated about what is happening on the platform.
There is a blog for each country where Toluna is available, so you will only get information on the blog that is relevant and available to you and in your local language.
Option 7 – Mobile surveys:
As a member of Toluna, you can register your phone number on the site. The advantage of doing this is that you can opt-in to receive special mobile surveys via SMS.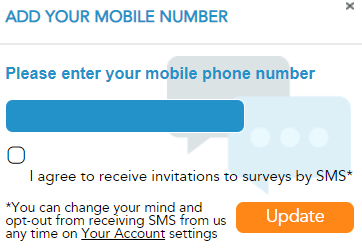 You should not expect a huge number of extra surveys like this, but there are sometimes surveys that will be sent via SMS that are not available on the platform.
You can opt-out anytime, and Toluna is a trustworthy and reliable company, so you should not worry about they will misuse your number.
So if you want as many earning options as possible, it can be worth considering registering your mobile number. But you will also get plenty of surveys without registering your phone number.
Click to Check Out Toluna Influencers for Yourself
How does Toluna pay you?
The earning opportunities on a survey site are not the only important thing. It is also very important how you will get paid.
On Toluna Influencers, you will earn points for every survey you do. These points can be exchanged into cash for your PayPal account, different vouchers, or products.
The exact gift cards and products you can get will depend on the country you live in.
In some countries, you can now also get paid in Bitcoin, but so far, this is only in very few countries this is available.

As you are earning points and not cash, it can be a bit confusing to figure out exactly how much you get for participating in a survey.
But once you have calculated it, you will know in the future what the points correspond to in your currency. I have calculated that in dollars, $1 is approximately 3000 points.
This can vary depending on your country and your currency, so it is a good idea to calculate for yourself as well.
Most surveys will give you between 2000-6000 points. Once you have done a survey, you will not be able to see the points on your account immediately. You can usually see them the day after, as the result and participation needs to be confirmed before you get your points.
How many points you need to get a payout depends on the country you live in. But usually, it will be around $7-$10, which is a fairly low payout threshold, and it will not take too long to reach with the number of surveys you can find on Toluna.
After you have requested a payout, it can take 3 weeks before you get the reward depending on your chosen reward. This used to be up to 8 weeks, so great they have improved this, in my opinion.
If you choose a product that needs to be shipped, it will, of course, take longer than cash through PayPal.
Personally, I have been paid by the platform many times. One of the times, I decided to record a video with Toluna payment proof, and you can see this video below:
So it is definitely possible to get paid through Toluna – like, with any other survey site, you just need to do it with the right expectations and know it will not make you rich.
Be aware that the points you earn on Toluna Influencers can expire.
16 months after you have earned points, they will expire and disappear from your account if you have not used them.
16 months is a pretty long time, and most people will probably also want to cash out as soon as possible. But if you like to gather as many as possible before cashing out, just remember not to wait too long.
How much money can you make?
It is fairly easy to make enough for a payout or a reward on Toluna. But how quickly you can do it, of course, depends on how often you do surveys, the country you live in, and if you use some of the other ways to earn points on the site.
From where I live, I have calculated that usually, you will spend around 10-15 min. for a survey that gives you 4000 points. That is definitely ok for a survey site. And at the same time, the surveys are often about interesting topics where it is great to have your opinion heard.
You can also create content on Toluna yourself and can get extra points for this. If you manage to make content that will get you a reward, it can be a pretty fast way to make a bit extra, as the polls and questions you can create take very little time to do.
But you will not know before you do it if you will get rewarded. It will give you between 100-1000 points – so if you do use this option, be sure to create something that is interesting for people to participate in.
You can also make extra points by inviting friends to join Toluna Influencers. Once you are logged in, you can see some buttons under your username, where you can share a link with your friends through social media or email. You will, however, only get 500 points (around 15 cents) for each friend that joins, so this is not a way to make very many points.
Overall, Toluna Influencers can definitely make you some nice extra money on the side to pay for some bills, treat yourself with some extra luxury, or treat someone you care about.
Just remember, like, with any other survey site, you should not calculate an hourly pay and then see if it is worth joining.
Doing surveys will not give you a full-time income online or make you rich – that also goes for Toluna. But it can be a great and easy way to earn some nice extra money and at the same time have your opinion heard.
How to use Toluna Influencers?
To give an idea about how to find your way around Toluna and how to use the site, I have made the short guided video tour below.
I will show you exactly how to navigate and how to use Toluna so you can easily get started if you decide to join after reading this review.
Just be aware that the design has been updated since I recorded the video, but you will still be able to get a good idea of how it works, and then I will make sure to record a new video with the updated design asap:
Click to Check Out Toluna Influencers for Yourself
Can you take Toluna surveys on mobile?
If you like to make a bit of money on the go, it is great to join survey sites with a mobile app or that are at least mobile-friendly.
Toluna is one of the sites with an app, and you can download the Toluna app for Android or iPhone.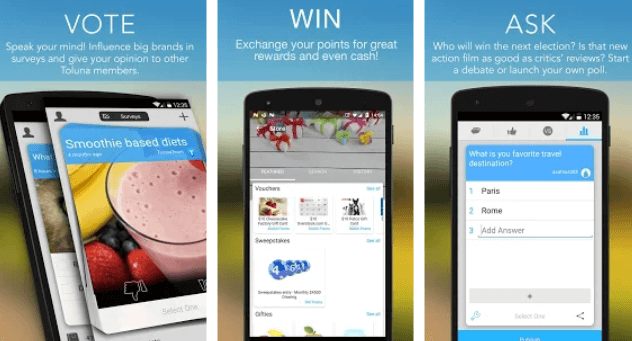 It is fairly easy to use, but if you want to use it, I would recommend first signing up on the website and getting familiar with the options here, and then starting using the app.
In my opinion, the website still gives the best overview and experience, but the app is great and easy to use and can be a great addition and a quick way to check up on the options on the site during the day.
Can you get support?
How good support a company has often tells a lot about that company.
If you should need any help or technical support, I know from personal experience that Toluna's support is quick at getting back to you. That tells a lot about the trustworthiness of a site.
However, this will be different from country to country as they have different support staff in each country that can help you out in your local language. So it might be different in your country. And from the feedback I have heard from visitors on my website from some countries, it can be quite slow in certain places.
If you have more general questions, Toluna Influencers also has a FAQ section that is pretty thorough and gives answers to a lot of questions. So that is a good place to start and the fastest way to get help.
You are, of course, also very welcome to leave a comment for me below this review if you want any tips.
I can give you many tips as a user, but in some cases, you might need some support from the official site, and then it is good to know that this is possible.
Who can join Toluna Influencers?
Toluna Influencers is available in more than 60 countries and the national language in most cases as well. The Toluna app and the blog are also available in most languages. This makes it a very user-friendly site.
The rewards and the number of points in relation to time can vary from country to country.
I really like that Toluna has specific sites for so many countries. Contrary to many other paid survey sites that mostly have opportunities for English-speaking countries, Toluna has for a lot more countries.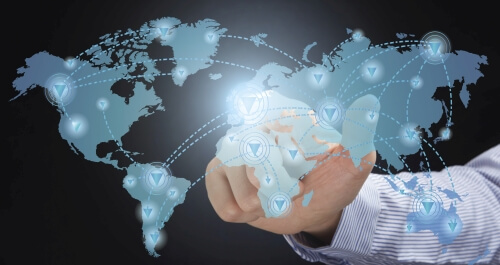 You can, of course, find good opportunities on Toluna Influencers in the US, Canada, Australia, and the UK, but also really good opportunities in countries like India, Singapore, Malaysia, Denmark, Sweden, Belgium, Japan, New Zealand, Russia, UAE, South Africa, Hong Kong, China, and in many more countries.
I cannot list all the countries it is available here but just wanted to give you an idea about how many different parts of the world it is available in. This is one of the big advantages of Toluna, and it is not only available in many countries but also offers a good amount of surveys in most countries.
In most countries, you can sign up when you are 14 years or older, but this can also vary from country to country, depending on the local laws.
Be aware that if you are under 18 years old, any rewards might have to be paid out to a guardian or parent – again, this depends on your specific country, but on Toluna's website for your country, you can find the exact rules for your country.
Just be aware that you will not be able to do surveys if you are in another country than where you signed up, so you cannot do surveys while traveling.
Final verdict – legit and worth it?
Toluna Influencers is definitely legit – I know this as I have been paid by it many times myself.
This does, however, not mean it will be the right site for you. So let's finish this review by summing up the pros and cons, so you can get a better overview before deciding to join or not:

Pros:
Good amount of available surveys
Easy to use
Pays through PayPal
Available in many countries and in the local language
Great app that makes it easy to earn from anywhere

Cons:
A bit slow to pay out in some countries
Support is a bit slow in some countries
Overall I really like Toluna Influencers, and it has many good opportunities, and it can definitely be a way to earn some extra cash or rewards.
It is, however, a bit slow to pay out in some countries once you reach the payout threshold. But if you start using Toluna regularly, you will also be able to request payments regularly. And then you will often get the money into your account, and then you will not notice the wait anyway.
So overall, Toluna is a good and reliable paid survey site, it has many opportunities, is easy to use, and it is definitely legit and safe, and I have benefited a lot from being a member myself. So definitely one of the survey panels I recommend joining.
How do you join Toluna Influencers?
It is very easy to sign up for Toluna Influencers. You can just click the link below, choose your country, and that will take you to the site, where you have to fill out some basic registration info (it takes less than 1 minute).
Once you have signed up, you will receive an email confirmation. Be sure to open this and click the link in the email to confirm your account. Once this is done, you can start doing surveys.
If you have any experiences with Toluna Influencers yourself, feel free to share your experiences below. It would be great to have other Toluna reviews from other users below this review as well and hear about your experiences in your specific country.
If you have any comments or questions, also feel free to leave a comment below, and I will get back to you as soon as possible.