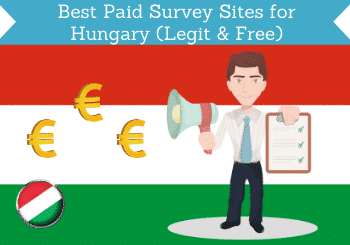 If you want to know how to make money online for free in Hungary, then survey and Get-Paid-To (GPT) sites are the fastest way.
You can earn easily in the comfort of your own home, and on some sites, you can even earn conveniently from your phone or tablet.
But with so many survey and GPT sites available, it can be a bit tricky to figure out which sites to join.
You can end up wasting a lot of time trying all the sites you can find one by one to figure out which ones are really worth your time.
That is why I have put together a list of the best paid survey sites for Hungary that will make it easy for you to find the sites that are actually worth it.
All the sites that will be included in this guide are legit and free to join, and I have tested all of them myself and have also been paid by them all, so I know they actually do pay. So, you can just sign up and start earning right away.
If you do not live in Hungary, then I would suggest you check out my list of the best survey sites in other countries instead.
Disclosure: Some articles on this website contain affiliate/sponsored links. Click for more info.
How are the opportunities for paid surveys in Hungary?
The good news is that there are plenty of opportunities to earn online if you live in Hungary. So, to answer the question above, the opportunities are actually pretty good.
To narrow down the sites that are worth joining, you have to consider a few things.
Ideally, you want to join a site that offers good earning potential so you can earn a decent amount on a regular basis. You also want a site that offers a convenient payment method and a low payout threshold so you can withdraw your earnings easily.
The list below will help you find these sites and show you what each of the best sites has to offer, the payout threshold required to withdraw your earnings and the payment methods you can choose to withdraw your earnings. Simply choose which sites interest you most and sign up.
And, in some cases, if you sign up using the invitation links below, you will also receive a bonus reward.
How to earn the most?
This list will not only consist of survey sites but GPT sites as well.
GPT sites can be good sites to join too since they offer several ways for you to earn extra cash in Hungary.
Aside from answering paid surveys, GPT sites will also allow you to, for example, earn by doing short tasks, watching videos, playing games, downloading apps, clicking ads, and a lot more.
So, if you want to maximize your earnings from survey and GPT sites, I would highly suggest you take advantage of all the earning opportunities they offer. That will naturally lead to more rewards.
Now, since these sites offer different earning opportunities, another good way to maximize the amount you can earn is by joining 5 to 7 sites. This is a good starting point because it will give you access to more earning opportunities.
And later on, if you feel you can handle the work, you can join more (if not all) sites so you can earn more cash. One thing to note though before we proceed is that the amount you will be able to earn from these sites will not compare to what you can earn from a full-time job.
So, make sure to temper your expectations properly so you won't get disappointed in the end. That being said, you will be able to earn decent cash from these sites if you set aside a bit of time and some effort.
12 top survey sites for Hungary
This list will not be a complete list of sites you can join if you live in Hungary. It is instead a list of only the sites that are really worth your time. So, you can expect that all the sites included in this list all have good earning potential and are quite user-friendly.
I will keep updating this list so make sure to bookmark this page and check back from time to time for new opportunities.