Online paid surveys can be a great way to make some extra money and have your opinion heard at the same time.
One site that claims to offer this opportunity is Mobrog.com.
But there are A LOT of paid survey sites so it is important to find the options to get the most out of your time and not waste your time as not all sites are worth it and some are even outright scams.
So is Mobrog legit and really a way to make some nice extra money, or is it a scam survey site you need to stay away from?
I have tested the site thoroughly myself and have compared it to the hundreds of other survey sites I have tested, and in this Mobrog review, I will answer these questions and give you all the info you need to find out if Mobrog is a site you want to sign up for or stay away from.
What is Mobrog, and what does the site offer?
Mobrog is a survey panel by the German-based company Splendid Research GMBH, which was founded in 2008. It is available in many countries (more about this later).
Let me reveal right away that Mobrog is legit, safe, and has a trustworthy company behind it, and I will also show you payment proof later so you can see that it actually does pay.
BUT that does not mean it is necessarily worth your time. So let's go over exactly what it has to offer, so you can see if it is for you or not.
Overall, Mobrog is a very simple survey site without any fancy elements and without too many distractions. By simple, I do not necessarily mean anything bad, but just that it only has a couple of ways to earn, which also makes it easy to navigate and use.
I have created a video that gives you an inside look at shows you exactly what it offers so you can see and judge for yourself. You can also read all the details below the video:
Recommended: Check Out the Top Survey Sites in Your Country
Option 1 – Paid surveys:
Mobrog is, first of all, a survey site, and this is basically all you can do here to earn. You just sign up and can then start taking paid surveys.
Once you have signed up, you will get an email every time there is an available survey. You can also turn on web-push notifications in your web browser if you want to receive invitations that way.
Be aware that you might not be able to participate in all the surveys you get an invitation for. Often you will not qualify, or the survey will be closed.
Personally, I have experienced that sometimes it can take patience to find surveys you qualify for on Mobrog.
Sometimes it is because you do not qualify, which is very normal not to do for some surveys and this will happen on more or less any survey site. Sometimes the survey you have invited for might be full.
This can happen, so to get the best chances of qualifying, it can be good to try to take the surveys you are invited for as soon as you see them.
It is important to mention that how often you qualify for a Mobrog survey can be very different from country to country, and depends on the demographic profile you fill out when first joining.
However, I have qualified for many surveys on Mobrog, and they are easy to take and user-friendly, so if you are just aware there might be many surveys you do not qualify for, then it can definitely still be worth joining.
But I must also say that compared to many other survey sites, it can take more patience to qualify for Mobrog surveys than surveys on many other sites.
One great thing, though, it that you will often still get a chance to get rewarded even if you do not qualify for a survey. This is something not many survey sites offer, and a great extra bonus opportunity, in my opinion.
How it works is that every time there is a survey you do not qualify for, you will get an entry into the monthly Mobrog lottery.
You just need to login and activate your tickets and then you will participate. At the end of every month, two random winners are selected that will receive a voucher worth €100 each.
So if you are lucky, not qualifying for Mobrog surveys can become very rewarding:-)
Option 2 – Invite friends:
In addition to taking paid surveys, you can also earn a bit of extra money on Mobrog by inviting friends to join the platform.
You can invite people either through email or by sharing a link.
If a person you send an invitation joins Mobrog, you can potentially earn around $1 (depending on the country you live in). So you have to know a lot of people that might be interested to make money from this, but just a little extra is of course also nice.
Be aware that you will only get the reward after the person you invite has completed 3 surveys. This to ensure the member is active, as Mobrog, of course, is not interested in paying people to invite a bunch of friends that just join but never take a survey.
So if you use this option, I would encourage you to only join people you think will really be interested in getting paid for their opinion and not spam all of your address book.
Option 3 – Contests:
One extra thing you can sometimes participate in is free contests.
This is not something that you will be offered on the website itself, but something that is announced on social media channels of Mobrog.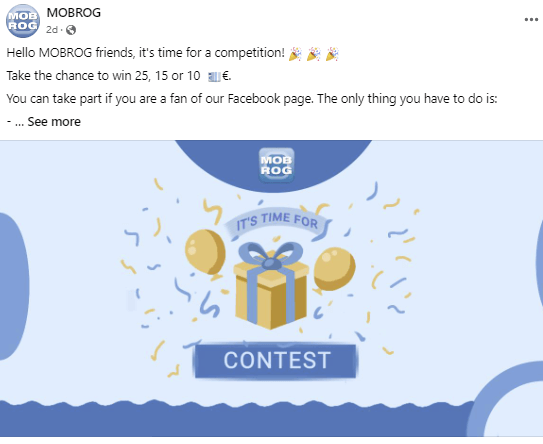 In my experience, a competition like this will take place around once per month or so.
Usually, the reward will be €5 – €25 to several winners, and it will only take you a minute to participate as it is, for example, to answer a short question and like the post. If you win, the reward will be paid into your Mobrog account.
Recommended: Check Out the Top Survey Sites in Your Country
How do you get paid?
Every time you complete a survey, you will get paid in cash into your Mobrog account. You can then later have them cashed out to your PayPal or Skrill account. In some countries, you will also be able to donate your earnings to charity.
Personally, I in general really like when survey sites offer payout through PayPal, so this is a really nice aspect of Mobrog and my favorite payout method.
Also, you can request a payout already after you have earned 5€ / 6,25$ or the equal amount in your local currency.
This is a pretty low payout threshold compared to some other sites, which is great. So you do not have to take too many surveys before you can get your money out. And it is very user-friendly that Mobrog has accounts in your local currency in all the countries it is available.
Be aware that you will be paid out to the email address you have registered with. So if that is not the same email address you have registered with at PayPal or Skrill, you have to contact the Mobrog support and have this fixed.
In case you are using PayPal, you can add an extra email address to your PayPal account and fix it that way.
The best solution is to just from the start register with the email address you also use for Skrill and PayPal, depending on your preferred payout method.
And as promised at the beginning of this review, I will also show you payment proof so you can see it is a platform that actually pays. I have, therefore, recorded a video that shows my PayPal payment proof:
How much money can you make?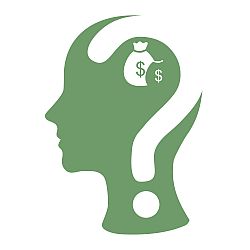 On Mobrog's website, it says you can make up to $5 per survey (depending on the country you live in) and that surveys usually take 5-10 minutes.
In my experience, an average of around 10 minutes per survey sounds about right. Some might be a little longer, and some a little shorter.
When you are offered a survey, you will also see how much it pays. Mostly the rewards that I have been offered are between $1-$2, which is also great.
But this will depend on the country you live in – in some countries, you will maybe often get a lot of surveys that pay more, and in some countries, mostly surveys that pay less.
Just be aware that it will probably not be very often you will get the $5 surveys, and if you do, it might be a survey that takes longer than 10 minutes.
As on all other survey sites, you should also be aware that it will not be a way to make a full-time income. It can give you some nice extra money on the side and is a great way to have your opinion heard at the same time, but you need to do it with the right expectations.
Can you use Mobrog on your mobile?
Being able to take surveys on the go is a great way to earn a little extra cash when it fits you. That is why I prefer survey sites that are easy to use on mobile.
And Mobrog is very easy to use on mobile as it has its own app you can download and take surveys through.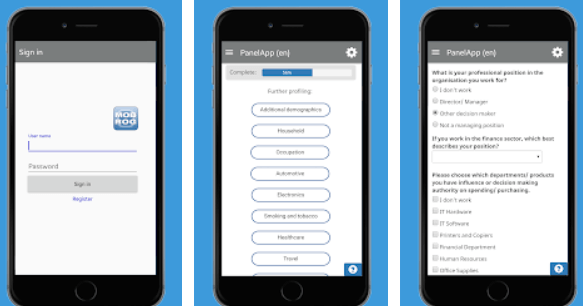 The app itself is very simple and easy to use, so it does not take any time to figure out how to use it. Basically, you just open it and then click a survey, if there are any available.
You can download it through the Google Play Store and the App Store.
Who can join?
Mobrog is available more or less worldwide.
It currently allows members from more than 70 countries, and it is available in the local languages, which is great.
You just have to be 18 years old to sign up, and you also have to have a PayPal or Skrill account, as these are the only ways you can get paid.

Be aware that you cannot do surveys when you are not in the country where you initially signed up.
When you enter the platform, it first checks if you are in the country where you first registered. If this is not the case, you will not be able to participate, and you can also end up getting banned. So do not use Mobrog while traveling.
Can you get support?
If you need help as a member of Mobrog, it is fairly easy to get support.
You can find a support section on the website, and here you can get support in several languages.
The support is quite good and active. You can see that they, for example, respond to all reviews where people say they have some issue on the Mobrog Trustpilot page and try to find a solution. This is definitely a good sign.
I have also used the support myself as I had a few questions. It took a few days, but I did get a useful answer. You can also contact the support on Facebook.
Final verdict
No doubt Mobrog is a legit survey site. This does, however, not mean it will necessarily be the right site for you.
So to give you a better overview before deciding to join or not, let's finish this review by summing up the pros and cons of Mobrog:

Pros:
Good payout methods
Low payout threshold
Easy to use
Has user-friendly app

Cons:
You do not qualify for all surveys you are invited to
Not as many daily surveys as some other sites
First, let's get it clear – Mobrog is NOT a scam. You can earn some extra money, and it is free to join.
I think it is a decent site to join as an extra site. It will not give you many daily opportunities, so I would also suggest you join some of the top paying survey sites in addition to Mobrog to get enough earning opportunities.
But Mobrog is a great site because it is so easy to use, so if you can accept that you will not qualify for all surveys and it sometimes can take patience to find the ones you qualify for, it is a great extra survey site to join, in my opinion.
How to join Mobrog?
Mobrog is very easy to join.
Just click the button below, choose your country, and then you will be taken to Mobrog's website, where you just have to fill out your email and name. It only takes a few minutes to join.
If you have any questions or comments, or if you have any experiences with Mobrog yourself, I would love to hear from you in a comment below.