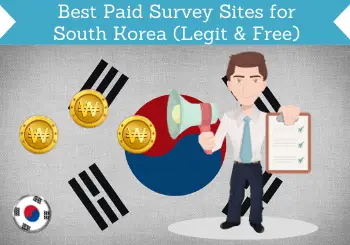 If you are looking for ways to earn some extra money online for free in South Korea, then paid surveys and Get-Paid-To sites are the easiest and fastest way to get started.
However, there are a lot of options to choose from, and you can quickly end up wasting a lot of time as not all platforms are worth it.
This is where this guide will come in handy. It will show you the best paid survey sites for South Korea, so you don't have to try every site you can find just to figure out which ones are worth your time.
By reading this guide, you can get a quick overview of your best opportunities and can simply choose which sites fit you best and sign up.
All the sites included on the list below are legit and free to join. Just hit the sign-up button and complete the registration process. You can then start earning right away. Some of them will even give you a bonus reward just for signing up.
Now, if you do not live in South Korea, then I would suggest you check out my list of the best survey sites in other countries instead.
Disclosure: Some articles on this website contain affiliate/sponsored links. Click for more info.
How are the opportunities for paid surveys in South Korea?
As mentioned at the beginning, there are plenty of survey sites you can join if you live in South Korea.
So, to answer the question above, they are pretty good. In general, the opportunities on these sites will vary from country to country.
And even though South Korea is not one of the countries with the absolute most options like this, you still have some very good opportunities as long as you make sure you join the right sites.
There are even a lot of survey sites that have a specific South Korean survey panel. So, if this is something you prefer, you won't be disappointed.
Since there are many opportunities, it is vital to choose the right sites to join because not all sites are worth the time. The list below will show you the ones that are truly worth your time and they are all legit and 100% free to join.
How to earn the most?
Apart from survey sites, I will also include a few Get-Paid-To (GPT) sites you can join. GPT sites are a great way to earn extra money online in South Korea as they offer several different earning opportunities.
Apart from answering surveys, GPT sites will, for example, also allow you to earn by watching videos, playing games, completing offers, viewing ads, doing social media tasks, solving captcha, and more.  So you won't run out of ways to earn.
And if you want to boost your earnings, you should definitely take advantage of all the earning opportunities the sites offer. Plus, joining 5 to 7 sites will also help you maximize your earnings because you gain access to more opportunities.
Just make sure to do this with the right expectation. The amount you can earn from these sites will not compare to what you can earn from a full-time job. So, don't think you can just quit your day job and work on these sites full-time. You'll just end up being disappointed.
However, you can still earn a decent amount of extra money from these sites if you set aside a bit of time and put in a bit of effort. Plus, you can start earning right away and without any investment at all, which not a lot of earning opportunities online offer.
10 top survey sites for South Korea
The list below will only include sites that are actually worth your time if you live in South Korea. They all have good earning potential and are very user-friendly.
I will keep updating this list, so make sure to bookmark this page and check back from time to time for new opportunities.