Surveyeah is a paid survey site, and the name implies it is a survey site that will make you say yeah because it is a great site with great opportunities.
But is Surveyeah legit and really a great way to earn by sharing your opinion or is it a scam to stay away from?
As with other survey sites, I make reviews of, I have tested the site thoroughly myself.
In this Surveyeah review, I will go into all the details so you can see, if it is a legit site with great opportunities that can live up to its name, or if it is a big waste of time and a big no.
Disclosure: Some articles on this website contain affiliate/sponsored links. Click for more info.
What is Surveyeah and what does the site offer?
Surveyeah.com started in 2014 and is run from Milan in Italy.
However, it offers surveys in many countries and languages (more about this later).
It is a very simple site that does not have a lot of different options to earn.
Simple can be nice, as it often also means that it is easy to navigate and easy to use, and that is also the case with Surveyeah.
And let me just reveal right away that Surveyeah is legit – I have been paid by it many times myself. And in the video below, you can also see payment proof.
In many countries, Surveyeah has released a version 2.0 and has made a lot of updates which is a good sign as it shows they are continuously working on making the platform better. And it definitely has become better and now gives more opportunities than when I first tested and reviewed it.
But let's take a closer look at what Surveyeah then offers and how good the opportunities are, as this, of course, is very important to find out if it will be worth your time or not.
I have made a video that gives you an inside look so you will know exactly what to expect. You can also read all the details below the video:
Click to Check Out Surveyeah for Yourself
Option 1 – Paid surveys
The main earning opportunity on Surveyeah is, as the name suggests, to take paid surveys.
It is very easy to use. You cannot really get confused about how to take surveys on the site.
Once you have signed up, you will receive an email when there is an available survey. But you can also log in to the website and check for available surveys and it can be a good idea to do once in a while as you will sometimes see surveys here you do not get an email about.
It will, however, not be a huge amount of surveys you will get. But this depends on the country you live in and your profile.
And you will still get access to a decent number of surveys but you will just not necessarily get surveys every day.
The surveys you get access to through Surveyeah are from Cint. If you have taken paid surveys before, you might have seen the name before. And you will very likely have taken a survey from Cint even if you have not seen the name.
Cint is a huge insights exchange platform. That means that it is a platform that provides surveys to many survey sites, and companies can go to Cint to have their surveys spread to different platforms.
The greatest thing about a survey site working with Cint is that it is a reliable company that is behind, and you know that you will get your reward without any problems.
So overall, the surveys on Surveyeah are definitely worth checking out if you want to earn some extra cash by sharing your opinion.
But it also offers a few other opportunites so let's go over these below.
Option 2 – Filling out your profile
This is very closely related to the survey earning opportunity, but I still wanted to mention it separately as you can earn a bit extra this way.
When you log in the first time, you should fill out your profile as one of the first things you do. Here you have to answer some questions about who you are and your background.
By filling this out, you will help Surveyeah find relevant surveys for you and it can, therefore, help you get more survey invitations.
It will take you around 10 minutes or so to do, and a great thing is that you will get 2 free points (more about the value of these later) into your account as soon as you have filled out your profile.
You should therefore definitely make sure to fill out your profile if you decide to join Surveyeah after reading this review.
Option 3 – Invite other people to join
An option Surveyeah introduced when they launched version 2.0 is that you can now get paid to invite others to join the platform.
Inside the members area, you can find a link you can share with others. If someone joins through your link, they become your referral.

When your referral completes his/her first survey, you will get a 3 points bonus as thanks for having invited them.
So it is not huge rewards you can earn like this, but if you like Surveyeah yourself, then why not earn a bit extra by inviting others to join it also.
Option 4 – Surveyeah social media channels
Surveyeah has several social media channels, where you can follow them and get news.
They are used regularly and this is another aspect where Surveyeah has improved since I first joined them several years ago. Now, you actually get regular interesting updates if you follow them.
And a great thing is that they also reply to comments on the website and interact with its members which is always a good sign and something certain other survey sites could definitely learn from.
However, they do not post contests or free promo codes like, for example, PrizeRebel and SwagBucks. So if that is what you are looking for, then there is really no need to follow them on social media.
But overall Surveyeah's social media channels can be interesting to follow and it can also be a way to get in contact with them if you have any questions (more about how you can get support later).
Click to Check Out Surveyeah for Yourself
How do you get paid?
When you do a survey on Surveyeah, you will get paid in points. But you can also right away see the value of your balance in your local currency.
The value of the points depends on the country you live in as it uses local currencies. So after you join, I would suggest you first calculate how much 1 point is worth in your local currency as it will then be easy for you to right away figure out how much you get for the surveys you are offered.
Before doing any survey, you will be able to see what the reward will be, and what the estimated length of the survey is.
And the estimated length is fairly accurate, in my experience.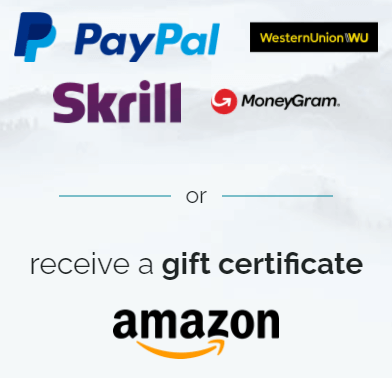 There are a few different ways you can choose to get your earnings paid out. You can get paid in cash through PayPal, Skrill, MoneyGram, or Western Union or get Amazon gift cards or other gift cards.
So it offers great payout methods no matter your preferences and no matter the country you live in.
When you can request a payout depends on your chosen payout method and the country you live in. But it usually starts at around $10.
For some rewards it is, however, up to $50 which is quite high. So you just need to choose your payout method wisely.
There is a nice table on the website that makes it easy to see what the amount would be in your local currency – see an example in the image below.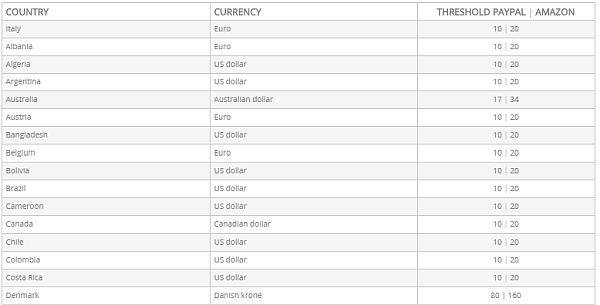 This is not the full list, as there are too many countries listed to include them all here, but just to give you an idea.
If you want to see the full list, it is available on Surveyeah's website by going to the rewards section in the top menu.
How much money can you make on Surveyeah?
On Surveyeah you will not get a huge amount of surveys offered. But as mentioned earlier, this depends on your profile and your demographic info.
To get the most offers, it is a good idea to fill out the profile questions inside the platform after you log in.
Most surveys last 5-15 minutes and the rewards in relation to the time spent are quite decent compared to other survey sites. They range from around $0.30-$5 depending on the length.
So Surveyeah is not the survey site that can make you the most money but it is very easy to use and can give some nice extra cash on the side once in a while.
It is in general important to remember that no survey site will make you rich. If a survey site promises you that you can get rich, it is very likely a scam, and it is definitely a site to be careful about joining.
Can you use Surveyeah on a mobile?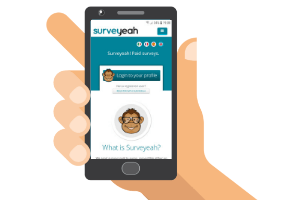 You can use Surveyeah on your mobile phone. This is great because this means you can take surveys on the go and whenever it fits into your schedule.
When you receive an email with a link to a survey, you just click the link, and you can take the survey. So there is no app you need to use.
You will just be taken to the survey so to be able to use your mobile for this, you just need access to your email so you can click the invitation link.
There are, however, some surveys that cannot be taken on a mobile. For some surveys, you, for example, need a bigger screen. If that is the case, you will be told when you try to take the survey. But in general, most surveys can be taken on your mobile phone.
Also, if you want to log into your account from mobile to check how much money you have earned so far or to request a payout, the website is fully optimized.
Even though there is no Surveyeah app as such, it is, however, possible to take the surveys through an app if you prefer this. There is an app called "OpinionApp" – if you download this, you will get access to the Surveyeah surveys after you sign up and connect it to the app.
It is an app that makes it possible for you to connect all the survey panels you are a member of if they are powered by Cint (which Surveyeah is). So this way you can get access to it via an app. 
Who can join?
Surveyeah is available in many countries, and you can join the site from five continents and 123 countries.
For example from the US, UK, India, Malaysia, the Philippines, Singapore, Indonesia, and many other Asian countries, South Africa and many other African countries, Greece, Romania, Finland, Egypt, UAE, and many, many more.
I am, of course, not going to list all the 123 countries here, but just to give you an idea that if you are interested in joining, there is a good chance it is available in your country.
It even has specific survey panels for many countries where it can sometimes be difficult to find legit survey sites to join.
You just have to be 15 years old to sign up, but if you are below 18 years old, you need your parents' consent. This can differ from country to country, so you just have to check for your specific country if you are below 18. 
Can you get support?
If you should need any clarification about your account or have any questions, Surveyeah does have a support function you can write through a contact form on the website.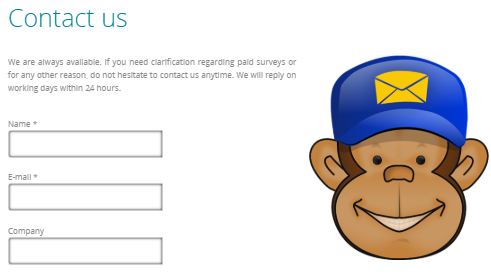 They say that they will get back to you within 24 hours on working days. I have been in contact with them a few times myself, and they do reply very quickly, in my experience.
Also, from how they reply to people on Facebook and the time it takes them to answer questions here, it looks like they are doing it within the promised 24 hours in general. So you can also consider writing them on Facebook if you need help.
Overall, Surveyeah offers great and fast support which is something I really appreciate as that is not the case for all survey sites. So this is definitely a big plus.
Final verdict
Surveyeah is definitely a legit site and not a scam, as you will get paid without problems, and like any other legit survey site, it is free to join and use.
That does however not mean it is the right option for you.
So let's finish this review by summing up the pros and cons so you can get a better overview before deciding to join or not.

Pros:
Easy to use
Great payout methods
Can be used on mobile
Fast support

Cons:
Limited earning opportunities
The payout threshold for some rewards is a bit high
Surveyeah has some great aspects and you can some nice extra money as a member.
The only con I have found when it comes to Surveyeah is that you will not necessarily get surveys every day and for some rewards, the payout threshold is a bit high. But that should not hold you back, in my opinion.
Because it does not take much extra effort to be a member as the site is easy to use, it offers great payout methods, and it has fast support. So overall it definitely can be a great survey site to join.
I would just suggest you also join other sites if you want to make sure to have access to several paid surveys every day. You can see the top paying sites here.
But overall, Surveyeah definitely can be a great site to join.
How to join Surveyeah?
It is very easy to join Surveyeah. Just click the button below and it will take you to the sign-up page.
It will only take around 1 minute to join. And after that, you just wait for survey invitations to be able to earn.
If you have any comments, questions, or have any experiences with Surveyeah yourself, I would love to hear from you in a comment below.