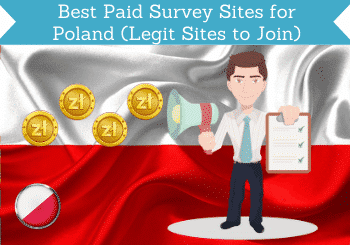 If you live in Poland and want to know how to make money online without investing anything, there are several good options.
There are actually so many sites you can join that it becomes more or less impossible to try them all out one by one to figure out which ones are the best.
Also, there are a lot of scams, so you need to make sure you only use the legit options.
With that in mind, I have decided to put together a list of the best paid survey sites for Poland. This way, you don't have to waste your time testing each available site.
You can just choose which ones to join depending on your preferences. All the sites I will be listing are legit and free to join. I know as I have been paid by all of them myself.
But if you do not live in Poland, I would suggest you check out my list of the best survey sites in other countries instead.
Disclosure: Some articles on this website contain affiliate/sponsored links. Click for more info.
How are the opportunities for paid surveys in Poland?
As mentioned above, there are plenty of sites you can join so you can earn extra cash if you live in Poland. The real question is, which sites should you join?
Ideally, you should be looking for sites that have good earning potential. These are sites that will pay a decent amount for every survey you answer or offer you complete.
This will ensure you will be spending your time efficiently. These are the sites that you should join so you won't have to spend a lot of time earning a decent amount.
Other factors that I've considered when putting together the list below are the availability of surveys/offers, as well as the payment methods offered.
You wouldn't want to join a site that will ask you to jump through hoops just to get paid.
How to earn the most?
This list will be a mix of survey and Get-Paid-To (GPT) sites, and each site offers unique earning opportunities.
I have included GPT sites on the list because they offer several other earning methods in addition to paid surveys, which makes it possible for you to boost your earnings significantly.
So make sure also to use some of the other earning methods some of the sites offer. This can, for example, be playing games, taking paid offers, downloading apps, watching videos, and more.
To maximize your time, I would recommend you join around 5 to 7 sites to earn the most and still have enough time to do other stuff. If you are just starting with these kinds of sites, this would be the best number of sites to join, in my opinion.
You can always join more later if you feel you can handle more. But one thing I do have to remind you of, the money you will earn from these sites won't compare to what you can earn from a full-time job. So, don't quit your day job and try to live off survey and GPT sites.
That being said, you will be able to earn a decent amount that will supplement nicely with what you can earn from your job.
13 top survey sites for Poland
Before we talk about the top survey sites, just a heads up that this is not a complete list of all the sites available in Poland. This will instead be a list of the best sites that will actually be worth your time.
I will keep updating this list, so make sure to bookmark this page and check back from time to time for new opportunities.