If you are looking for passive income online, there is a site called Pawns.app (previously IPRoyal Pawns) that claims you can do this just by sharing your unused internet bandwidth.
But is Pawns.app legit and really a great passive way to earn, or is it a scam to stay away from?
This is very important to know, so let me address this right away.
Yes, Pawns/IPRoyal is a legit Get-Paid-To (GPT) site that will really pay you for sharing your internet connection (I will show payment proof later) and more. But that doesn't tell you if it is worth joining or not.
This Pawns.app review will show you the full details so you will know exactly what to expect before signing up. That way, you can determine if it is really the right site for you or not?
Disclosure: Some articles on this website contain affiliate/sponsored links. Click for more info.
What is Pawns / IPRoyal, and what does it offer?
Let's first start by going over the name to void any confusion. When the platform first started, it was called IPRoyal Pawns. It has since gone through a lot of changes and has now also changed its name, so the official name is now Pawns app.
But whether you hear about IPRoyal Pawns or Pawns.app, it is the same platform that just has been rebranded. In the rest of this Pawns App review, I will mainly call it Pawns to stick to the official name.
As mentioned above, it is a GPT site that will pay you for sharing your internet connection with its clients, and it has also introduced other ways to earn. It is a lot similar to Honeygain, which is another site that will pay you for your unused internet connection.
But let me first start by making something clear about the website. If you just go to IPRoyal.com, you cannot just see a way to sign up and start earning. The main site is for clients who want to buy their services.
If you want to earn, you need to go to Pawns.app (you can find a link to this below).
This article is a Pawns App review focusing on the earning opportunities and how good a site it is to earn from. Just to avoid any confusion about this.
Now, to understand how the site works and how well you can earn from it, we have to take a closer look at the earning opportunities it offers.
I have, therefore, made a video that will show exactly how it works and how you can earn from Pawns. In that video, you can also see payment proof. You can also read all the details below the video:
Click to Check Out Pawns.app for Yourself
Option 1 – Sharing your internet connection
The main source of your earnings on this site will come from sharing your internet connection. This is a passive income method and therefore does not require any effort once it has been set up.
Technically speaking, IPRoyal (the company behind Pawns) facilitates proxy services to third-party entities. That's how the site earns, and that's how they can afford to pay you.
You may be wondering what the site will do with your unused internet bandwidth, so let me give you a few examples of how it will be used.
Some companies will use your unused bandwidth to enhance their testing process to improve their apps so users will experience the app content as it was meant to.
Some will use it to gain access to geo-blocked content, while some companies will use it to check whether their ads are running correctly and showing up on the right websites.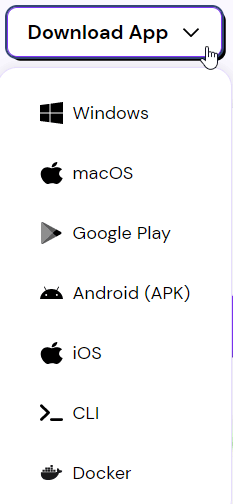 To start earning passively, you just have to install their program on the device you intend to use it on.
When I first joined IPRoyal Pawns, it only worked with Windows-based computers. But since then, they have developed and launched several more versions, and is now also available for Mac, Android, iOS, CLI, and Docker.
Once you've downloaded it, just follow the setup process to complete the installation. As soon as you've set up the program, you can just let it run in the background to start earning money.
Keep in mind, though, that when this program is running, when somebody uses your unused bandwidth, your internet connection might be slower than usual because it will be allocated to the person buying your bandwidth.
However, this will depend on your device and connection.
But if you are working on something on your computer and you don't want any interruptions or you need the bandwidth, all you have to do is close the program and make sure it isn't running in the background.
As for how much you will earn, they say you will earn $0.20 per gigabyte of data you sell. But if you let the program run continuously for several hours, you will earn more because, for each hour keeping the program running, they will add an extra $0.02 per GB shared.
When you log in to the dashboard, you will immediately see how many gigabytes you've already sold, so you will easily know how much you earn. Once you've earned enough, you can withdraw your earnings, which I will talk about later.
One thing to note about their program is that it is recommended to only install it on one device in a network. There's no point in installing it on multiple devices connected to the same network/IP address.
Now, if you want to use it on multiple devices, you should connect to different IP addresses (for example your mobile connection).
Option 2 – Affiliate program
Aside from selling your unused internet bandwidth, you can also earn by using their referral program.
Here you can earn money by inviting others to join the site. Just share your referral link, and when someone joins through it, they become your referral.

In Pawns' case, as shown in the photo above, you will receive a 10% commission every time your referral withdraws his/her earnings from the site.
Also, a bonus they have recently introduced is that the person joining will get a $1 one-time bonus when they sign up if they join through an invitation link.
If you are not yet a member, you can get this welcome bonus by joining through my invitation link at the end of this review.
Option 3 – Paid surveys
The newest earning option Pawns app has introduced paid online surveys.
This is quite unusual for a site where you can earn by sharing your unused internet bandwidth, but they have chosen to introduce this nonetheless.
It has quite a good number of paid surveys available, so it can definitely be a great way to boost your earnings.
Just be aware that the paid surveys are not available in all countries.
Click to Check Out Pawns for Yourself
How do you get paid?
As explained earlier, you will earn a certain amount for every gigabyte of bandwidth you sell and for every survey you complete. That will be stored in your Pawns.app account balance.
You can withdraw your earnings once you reach $5, which is fairly low compared to some similar sites.
It is not quite as low as on a site like Peer2Profit, but still low enough for it to be fast to reach, which is definitely a plus, in my opinion.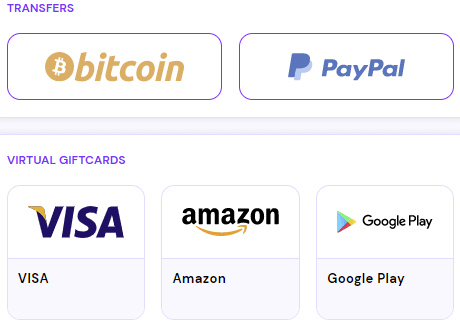 Once you've reached the threshold, you have the option to withdraw via PayPal, Bitcoin, or virtual gift cards.
The exact gift cards you can choose from depend on the country you live in. In some countries, there might only be Visa virtual gift cards or none at all, while in other countries, you can choose between 50+ different gift cards.
So, as you can see, their payment system is quite straightforward.
You just need to be aware that for some payout options, they charge a processing fee. For PayPal, they charge a 4% fee which is quite high, and a shame they charge this much, in my opinion.
For some gift cards, there will be no processing fees, so this is also something you need to consider before cashing out.
They have changed these payout methods since I first joined, and it is great to see how they listen to the request of their users and have now introduced Bitcoin and gift cards as a payout method.
They used to offer Payoneer and PayPal, and, in my opinion, it is a shame that they no longer also offer Payoneer. The other methods are definitely great, but Payoneer can just be a great option if you want to get paid in cash and if PayPal is not available in your country.
Anyway, they still offer great payout methods.
I like the fact that they have a very low payout threshold which means you can withdraw your earnings fairly quickly.
I also like the fact that they offer very convenient payment methods like PayPal, Bitcoin, and gift cards.
And I have been paid by it several times myself, so I know it is legit and actually pays. Below you can see a video with payment proof where I also show exactly how to withdraw:
How much money can you make?
As mentioned in the earlier section of this review, you will currently earn $0.20 per gigabyte of unused bandwidth you sell (+bonuses depending on the hours you are connected).
While that isn't really a huge amount, it will pile up over time, and you will be able to earn a decent amount.
And the good thing is, it's a passive way of earning. To put it into perspective, Pawns app claims that users on average earn anywhere from $5 to $140 per month by using the passive income method.
But that depends on a couple of things. Your earnings will mostly depend on your location and network speed.
If you have a high-speed internet connection, you have a better chance of selling more bandwidth. As for the location, countries like the US and countries in Europe have the highest earning potential.
Also, if you take paid surveys or use the referral program, you can boost your earnings significantly.
That's why overall, I would say Pawns.app has a good earning potential, especially if you live in the countries mentioned above.
Can you use it on mobile?
Originally, Pawns only worked on a laptop or desktop.
However, since they have developed an app for Android and iOS, you can now also earn from your phone with it, and you can download it from the Google Play Store or the App Store.
And you can use it both on mobile and desktop at the same time. In fact, you can use it on as many different devices as you want to, but you just need to make sure each of them is connected to a different network/IP address.
Who can join Pawns?
Pawns is available globally, but you must be of legal age in the country of your official address to join this site.
But as explained earlier, some countries will offer more opportunities than others.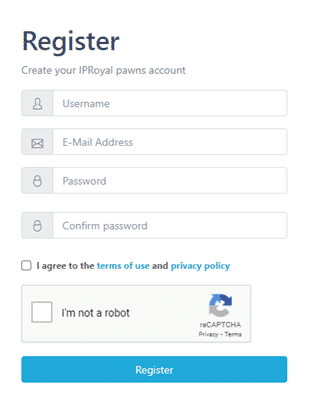 To become a member, all you have to do is fill out the sign-up form. They will then send you a verification email, and all you have to do to complete the registration is to click the verification link that will be in the email they will send.
Once you've done that, you can log in to the site and download their program and install it on your computer.
Can you get support?
Their site has a FAQ page you can refer to, which answers most of the basic questions you will encounter.
Their site also does a fairly good job, in my opinion, of explaining how you can earn. They also go the extra mile to explain that the data you will share will not be compromised in any way and how they make sure it is safe to use.
Now, if you have any questions about the site or your account, you can send your inquiry using the contact form provided on their website, or you can email them at [email protected].
Overall, I would say they have a decent support system in place since they offer a couple of ways for you to get in touch with their support team.
However, I have been in contact with their support several times with some questions, and sometimes I have received quick replies, and other times, I have had to go back and forth many times, and I have actually wasted a lot of time communicating with their support and trying to get info from them, which is definitely a minus.
Final Verdict
Pawns is a legit GPT site that will allow you to earn from all your unused bandwidth and by taking surveys. It certainly has a couple of interesting features, but it also has a couple of limitations you need to consider.
So let's wrap up this Pawns app review with a summary of its pros and cons so you can see an overview of what the site offers. Then you can decide if it is really a site you should consider joining.

Pros:
Offers a passive form of earning
Has a low payout threshold
Offers good payment methods (PayPal, Bitcoin, gift cards)

Cons:
It can, in some cases, slow down your internet connection a bit
Sometimes the support is slow
If you are looking for a passive income method to earn a bit extra, I would say Pawns can be worth considering. And if you also take the surveys, you can earn a lot faster.
It is easy to reach the payout threshold, and it also offers convenient payment methods (PayPal, gift cards, and Bitcoin).
Just be aware that the earning potential of this site isn't the same in all countries. Some countries will have better earning potential than others.
But if you are looking for sites where you will be able to earn a decent amount regardless of where you live, I would suggest you also check out the top survey and GPT sites in your country.
How to join?
If you want to join Pawns, you can click the link below, and you will be redirected to their registration page. By signing up through the link below, you will get a $1 joining bonus.
The sign-up process is fairly straightforward, and it will only take you less than a minute to complete. Once you've registered, you can log in and download their program to start earning right away.
If you have any comments, questions, or have any experiences with Pawns yourself, I would love to hear from you in a comment below.