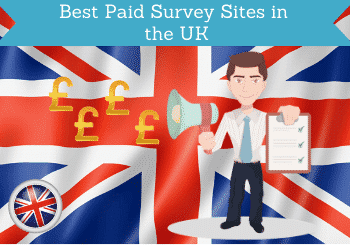 If you want to make some extra money online, taking paid surveys and doing other online micro-tasks is one of the easiest and fastest ways to do this.
And if you live in the United Kingdom, you are lucky. The UK is one of the countries that gives access to the most paid survey sites and Get-Paid-To sites.
But that does not mean all the opportunities are good, and there definitely are some sites that are a complete waste of time.
To make it easy for you to get the most out of this opportunity, I have made a list below of the best survey sites in the UK for 2023 so you know which sites are really worth signing up for.
I have tested all of them and been paid by all of them myself, so I know they are legit, and they actually do pay. And they are all free to sign up for and use.
If you do not live in the UK and have ended up on the page, you can instead check out the list of the best sites in other countries here.
Disclosure: Some articles on this website contain affiliate/sponsored links. Click for more info.
How are the opportunities for online surveys in the UK?
There are A LOT of online survey sites in the UK. In fact, it is one of the countries with the best opportunities in this area.
So if you want to earn some extra cash this way, you are lucky if you live in the UK.
In addition to offering many paid surveys, many of the sites I will show you on the list below also offer other earning methods.
This can, for example, be by watching videos, playing games, taking offers, doing micro-tasks, getting cashback when shopping online, clicking ads, doing social media tasks, solving captcha, and more.
The sites that offer several different ways to earn are called GPT sites (Get-Paid-To). Again, the UK is one of the countries that give the most of these opportunities.
It can, therefore, be a great idea to also be aware of these other earning methods, as it can really boost your earnings.
The list below will give you an overview of what earning methods each site offers so you can easily find the ones that are the most relevant and interesting for you.
Why a Top 42 list?
The list below is not an exhaustive list of all the paid survey and GPT sites that are available in the UK. There are many more available.
However, there are many sites that are not worth signing up for, as they do not have good opportunities, and you can end up wasting your time – I know from personal experience as I have tested hundreds of sites:-).
Therefore, I have made a list based on quality and limited it to the best survey panels and GPT sites – these are the sites I have found to be absolutely the best paid online survey opportunities in the UK.
However, when I find new panels that actually pay and are worth it, I will add them to the list.
How to use the list to earn the most?
It will be impossible for you to sign up for all the paid survey sites that exist in the UK, and many of them are also not worth it.
But it is a good idea to sign up for several sites to get more earning opportunities and to see which ones fit you the best, and the list below will make it easy for you to get started with the best ones and not waste your time.
So if you have not done paid surveys before, I would suggest you sign up for 6-8 sites to get started.
If you really want to get as many opportunities as possible, you can also sign up for all of them, but it might then be a bit overwhelming and difficult to get to know all the opportunities in detail and get the most out of the sites.
Once you are familiar with the sites you initially joined and know how to use them to their full potential, then you can start joining more.
So bookmark this site so you can come back and find this list again – it will also continuously be updated, so there will regularly be added new sites, as I keep testing new opportunities for making money on online surveys in the UK.
42 best paid survey sites in the UK
Below you can get an overview of the best online survey sites in the UK. You can see what payout methods they offer, what the payout threshold is, and read a short summary of what each site offer.
Be aware that even though you live in the UK, the earnings on some of the sites will be in dollars. That is why some of the payout thresholds are mentioned in dollars. However, once you request a payout, you will, of course, get the money in pounds if you choose to get your earnings in cash.
So let's get started with the list.