American Consumer Opinion is a survey site that offers you real money as a reward for answering their surveys.
Let me just reveal right away that is definitely not a scam but a legit site that will allow you to earn a bit of extra cash.
But is it worth investing your time in?
This American Consumer Opinion review will check whether or not this survey site is actually a viable option for you and give you all the details so you know exactly what to expect.
So read on to find out.
Disclosure: Some articles on this website contain affiliate/sponsored links. Click for more info.
What is American Consumer Opinion and what does it offer?
As mentioned above, American Consumer Opinion is a survey site that will reward you with real money in exchange for answering the surveys that they provide you.
This survey site originally started as a mail survey panel way back in 1986 so it has been around for a long time compared to most other survey panels. It is owned and run by a company called Decision Analyst, Inc.
Today, it is considered as one of the largest survey sites with over 7 million members scattered across the globe. They also boast of having paid out more than $30 million during their entire operation.
As to how you are able to earn money, here's a breakdown of all the earning opportunities American Consumer Opinion offers.
I have created a short video that will give you a full guided tour and an inside look. You can also read all the details below the video:
Option 1 – Paid Surveys
The main method that you can earn from American Consumer Opinion is through answering paid surveys. Everything that you will earn from this site will stem from the paid surveys that you answer.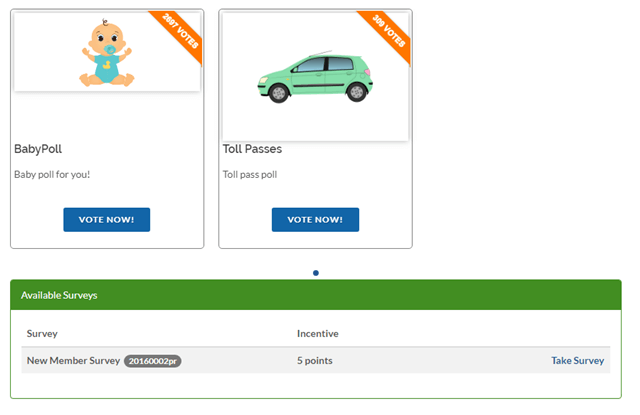 As soon as you finish the registration process, you will be able to log in to their member dashboard.
This is where you will see all the available surveys you can take.
Before you take the survey, you will know right away how many points you will earn if you complete it.
In my opinion, that's a good bit of information to provide because it will allow you to prioritize which surveys you take if you are a bit short on time.
Although I could comment that they should have also included the estimated time it takes to complete the survey. That would also be useful information to help you manage your time better.
But the average survey on American Consumer Opinion will take you 10 minutes to complete and each survey will reward you with 5 to 50 points.
Later we will get to how much this is worth in real cash but let me just say right now that it definitely is not one of the highest paying survey sites.
Keep in mind that American Consumer Opinion will only send you surveys that you can take if you fit the demographic the survey is looking for.
This means that you will not get access to all the surveys it might have but it will depend on your demographic profile. So it is important to fill out your profile after joining.
Option 2 – Research Projects
Research projects are another way for you to earn rewards as a member of American Consumer Opinion.
Sometimes you will get a chance to test new or improved products at no cost to you. In other words, they will mail you the product for you to test it.
Aside from product testing, they will also ask you to participate in other forms of research like in-person group discussions or online discussion forums.
They may also ask you to complete assigned tasks like visiting a store or restaurant.
At the time you are invited to participate in a research project, you will be informed of the reward that you will receive if you decide to participate.
Just like in paid surveys, you will know what reward you will be getting from them. The rewards will either be in the of cash or gift rewards. As to how you can redeem that, I'll discuss that on a later section.
Some of these options are pretty cool, and if you get the chance for participating in any of these, it can be an interesting and different way to earn some extra rewards.
Option 3 – Prize Draws
Just like with some other survey sites, American Consumer Opinion also holds prize draws. In this case, they hold the prize draw every month.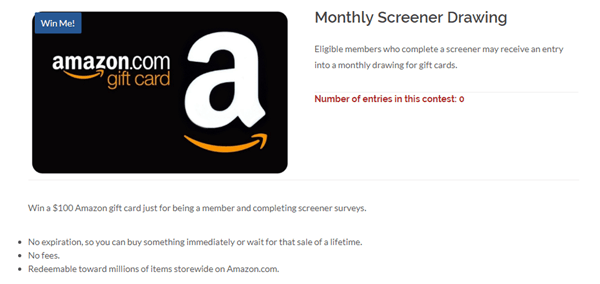 As you can see in the picture, their monthly draws offer Amazon gift cards as prizes.
The prizes up for grabs aren't really very enticing prize, in my opinion, compared to let's say Nielsen Computer & Mobile Panel monthly draws, but the good news is, the gift cards don't have any expiration date.
Each month, they will draw 5 winners of $100 Amazon gift cards.
In order to join the monthly draw, you have to complete a short informational survey.
The $100 Amazon gift cards might seem significant, but you have to consider that there are also millions of members going for the same prize. So the chances of winning are pretty low.
But if you are lucky, it is, of course, a nice extra reward to get. And if you are an active member anyway, it does not take much extra effort to participate in these draws.
How do you get paid?
The good thing about American Consumer Opinion is that they offer convenient ways to redeem the rewards that you've accumulated.
You can either request for payment via check, PayPal, Hyperwallet, contribute to a charity, trade the points for other rewards or participate in promotional offers.
In order to request for payment, you have to accumulate a minimum of 1,000 reward points which is the equivalent of $10. So it is a fairly nice low payout threshold.
If you request payment via check, you have to make sure that you deposit or cash the check within a period of two years or the check will become null and void.
The good news is, an equivalent number of points will be credited to your member account if that happens.
So, if for some reason you fail to cash that check, you don't have to worry, because you will still get back the points you spent to redeem that check.
If you opt to receive the payment via PayPal and the payment is returned to American Consumer Opinion as "unclaimed", "denied" or "returned", they will notify you by email and mail a check to you instead.
So in my opinion, they've got all the bases covered in terms of payment methods, which is pretty nice.
That's why you have to make sure that you provide your real address when you register.
How much money can you make?
In terms of income, you can't really expect to earn a lot from American Consumer Opinion.
To put it into perspective, the payment threshold of 1,000 points is actually equivalent to $10. So, every 100 points you accumulate, you actually earn $1.
And considering that you will only be rewarded a maximum of 50 points per survey that you complete, it takes time to accumulate enough points to start requesting for payment.
But to see how much you can really earn the question now is, how often do you get survey invitations?
I scoured the internet for feedback from other longtime members and it seems that the survey invite frequency is pretty low, in general. It will depend on your demographic profile but overall you should not expect invites too often.
So expect that it would take weeks before you can meet the minimum payment threshold.
Also, there is a lot of feedback from members regarding the delay of the payment that they receive. They say that sometimes, it can take two to three months to receive the payment that you've requested.
Despite all the negative feedback, I have to admit though that the low payment threshold is pretty decent, which makes it a viable secondary site to earn money from.
Can you use it on mobile?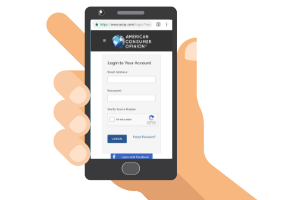 As far as mobile apps are concerned, American Consumer Opinion doesn't have a downloadable app that you can use to answer the surveys.
You will have to rely on a mobile web browser in order to access their site via a mobile device.
The good news is, the mobile version of their website is pretty well designed.
The pages are responsive and are optimized for mobile use. That means that you will be able to see all the content properly without having to scroll left and right.
I have tried taking surveys on my mobile phone and everything was pretty seamless. The content displayed properly.
Both the mobile and desktop version of the site is also very easy to navigate, which makes it a very user-friendly survey site.
All in all, I was impressed with how they optimized their site for mobile use.
Who can join American Consumer Opinion?
According to their terms, you have to be at least 14 years of age in order to register to their website. This age requirement will also depend on the legal requirement of the country where you reside.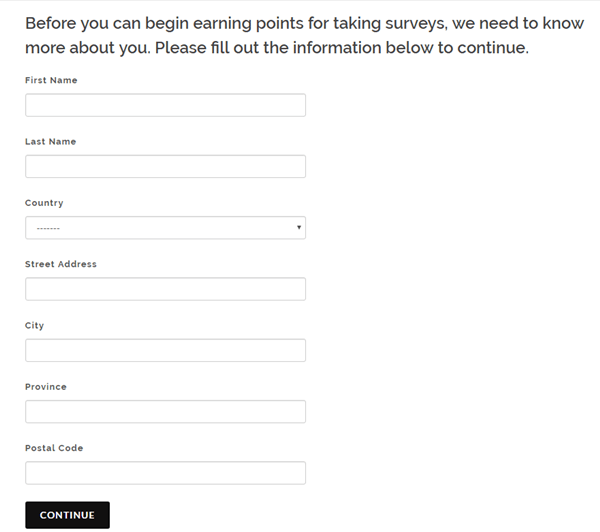 Even though the name says American Consumer Opinion, this survey site isn't exclusive to U.S. residents.
It is actually available in many different countries. As long as you are of legal age to join according to the law in your country, you will be eligible to register.
That also coincides with what they are claiming, where they boast of over 7 million members. It seems pretty farfetched to think that those 7 million members all reside in the U.S.
However, it is, at the moment, mostly looking for members from the UK, US, Germany, France, and Canada. So if you do not live in one of these countries it is better to find other sites instead.
So even though the name of the panel might give you a different impression, you can actually join no matter where you are from.
Can you get support?
Being able to get support if you should need it is important on any survey panel.
A quick look at American Consumer Opinion's site shows that you can easily contact them if ever you need assistance regarding your account or if you have any questions their FAQs can't answer.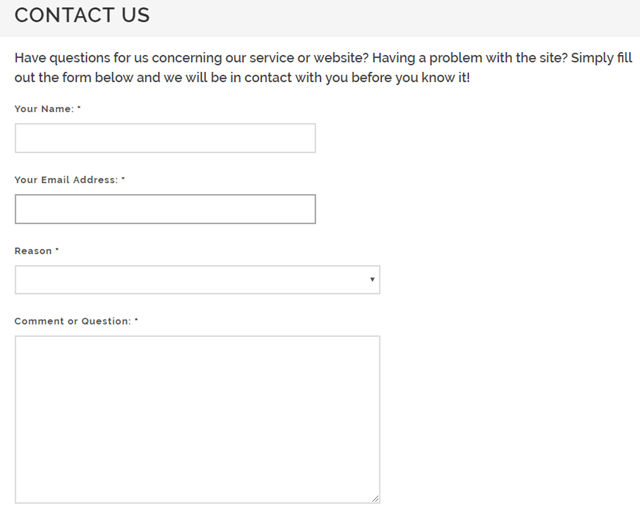 You can access their contact form by clicking the Contact Us link on the bottom of their website.
Just fill up the form, select the reason for your inquiry and hit send.
If you prefer to mail them, you can find their address on the bottom of the website as well.
You can also email them for further correspondence using the email address that is also provided on the bottom of their website.
A quick look at their social media pages shows that you can also ask them questions through their Facebook page. They typically reply to your message within a day. So, that's a good sign.
Final Verdict
American Consumer Opinion is definitely a legit survey site that offers cash rewards in exchange for answering the surveys that they provide.
To give you an overview of what you can expect from them, let's finish this review by summing up the pros and cons of signing up as a member.

Pros:
Low payment threshold
Convenient payment methods
Site is user-friendly
Multiple options for support

Cons:
Low survey invite frequency
Fairly low rewards
All in all, even though the rewards for the surveys that American Consumer Opinion provides is quite low, it is still a viable option as a secondary site to earn money from.
The low payment threshold actually balances that out. Plus, if you ever encounter problems with your account, it is easy to contact them.
There are definitely better survey sites that offer better rewards than American Consumer Opinion depending on the country you live in, but it can serve as a decent site to spend your extra time on.
How to join American Consumer Opinion?
If you want to join American Consumer Opinion, it is very easy and fast. Remember that it is mainly looking for members from the UK, US, Germany, France, and Canada so if you are not from one of these countries it is better to find other sites.
If you are from one of the countries mentioned above, just click the button below that will take you to the sign-up form. It will take less than a minute to become a member.
If you have any comments, questions, or have any experiences with American Consumer Opinion yourself, I would love to hear from you in a comment below.