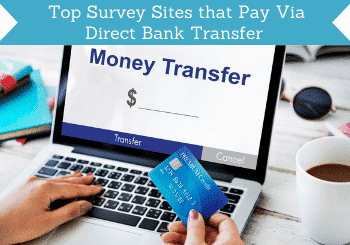 If you want to earn some extra money online, there are plenty of platforms that give you an opportunity to do this for free by, for example, taking surveys and doing other online micro-tasks.
These platforms usually offer several ways for you to get paid.
However, if you are looking for free ways to earn directly into your bank account, there are not many platforms that offer this.
But after having tested hundreds of free ways to earn online, I have, luckily, come across some sites that offer to pay you through direct bank transfer.
This guide will show you the top Get-Paid-To and survey sites that pay via direct bank transfer in 2023.
That way, you won't have to sign up for every site you find and then later find out they don't offer your preferred payment method. All of these sites are, of course, legit and 100% free to join.
Disclosure: Some articles on this website contain affiliate/sponsored links. Click for more info.
How to get paid via direct bank transfer?
There are A LOT of survey and Get-Paid-To (GPT) sites that will allow you to earn rewards for free, but there aren't a lot of survey and GPT sites that offer direct bank transfer as a payment option.
But getting paid via direct bank transfer can be very convenient, and if you prefer this payout method, there are luckily still some great options.
Now, the idea with these survey and GPT sites is that you have to earn enough rewards through the earning opportunities they offer to be able to withdraw your earnings to your bank. This is called a payout threshold. Every website has its own payout threshold you need to meet to withdraw your earnings to your bank account.
Sometimes the threshold for bank transfer can be a bit higher than for other rewards – this is because there will often be too high bank fees if you withdraw just a few dollars.
But this will entirely depend on the country you live in, and on the list below, you can see the threshold for each site and the countries it is available in.
The good thing about survey and GPT sites is that they offer a relatively easy way to earn. So, it won't require too much effort, and you will quickly be able to get your first earnings into your bank account. You just need to invest a bit of your time.
How much money can you make?
All the sites I will be listing down all have good earning potential. But, it is important to note that the money you will be able to earn from these sites will in no way be compared to what you can earn from a full-time job.
That being said, you will still be able to earn a decent amount from these sites without investing a lot of time.
Be aware, though, that usually, withdrawing your earnings through direct bank transfer will sometimes involve a processing fee. So, don't always expect to receive the full amount you will be withdrawing. But the platform you withdraw from will usually tell you if there are any fees before you withdraw.
Now, in order to maximize your time, I would recommend you join around 5 to 7 sites listed below. This will allow you to earn a decent amount and still have enough time to do whatever you want during your day.
Also, be aware that the GPT sites usually offer several ways to earn in addition to taking paid surveys. It can, for example, be to watch videos, sign up for free trials, play games, download apps, do social media tasks, and more.
Make sure to use some of all these different earning methods, as they can really boost your earnings.
16 best sites to get paid via direct bank transfer
This list will not be a list of all the sites you can join to get paid via direct bank transfer. It will be a list of the best sites you can join to maximize your time.
The categories I've based my choices on are the time-to-money ratio, earning potential, payout threshold, and overall usability. I will keep updating this list if there are any new good sites to join, so make sure to bookmark this page.