Nothing is easier and more convenient than being able to earn using your mobile device. Not only can you earn extra cash anywhere, but you can also do it anytime.
You just have to figure out which app to use to earn efficiently. One app that supposedly offers this type of opportunity is called AttaPoll. This survey app promises to pay you for answering surveys.
Is it legit though? Let me address this question right away so we can talk about other important aspects of the app. Yes, it is a legit app that does pay you for answering their surveys.
But AttaPoll being a legit app doesn't necessarily make it a good app to earn from. In order to figure out if this app does offer good earning potential, we have to examine a few things.
This AttaPoll app review will do exactly that. After you read this article, you know exactly what to expect and can decide if this app is a good fit for you or not.
What is AttaPoll and what does it offer?
AttaPoll is a mobile-only survey app that will pay you for answering surveys.
What makes it a slightly more unique survey app is that it lets you specify the length of surveys you want to be invited to. You can also decide how many surveys you receive in a day or week.
There aren't a lot of survey apps that offer that kind of option.
In order to fully understand how well you can earn from this app though, we have to take a closer look at how you can earn from it. So, here are the earning opportunities it offers.
Option 1 – Paid Surveys
Since it is a survey app, expect to earn by answering paid survey offers. When you log in to the app, you will immediately see all the available surveys you can take.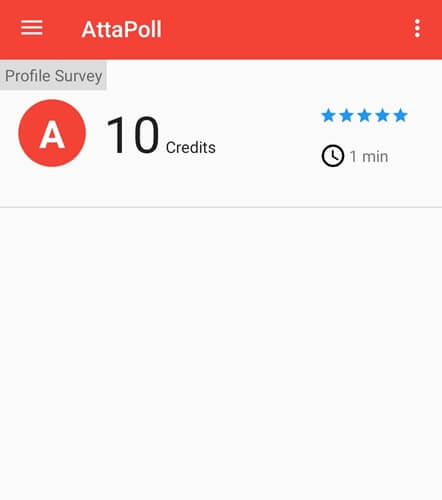 Every survey will tell you the reward you will get upon completion as well as the estimated time it takes to complete the survey.
Those are pretty useful information, in my opinion, because it will help you prioritize which surveys to take when you are strapped for time.
Be aware that sometimes it might take a bit longer to complete a survey than the estimated time. That depends on how fast you are and how experienced you are with taking surveys.
When you answer a survey, you will first have to go through the qualifying questions. This is the part where the app will screen whether you belong to the group the survey is intended for or not.
In this part of the survey answering process, the best practice is to answer as honestly as possible. Don't answer the questions thinking that it's the best answer to qualify for the survey.
If you do it enough times, your account might get blacklisted because you are not giving consistent answers to the same question. If you answer honestly always, you don't risk your account and it will be better in the long run.
Once you qualify, you get to answer the actual survey. You will then receive the reward promised once you've completed the survey.
Option 2 – Referral Program
You can add to your earnings from answering paid surveys by inviting people to join the platform. Inviting people to join is very simple.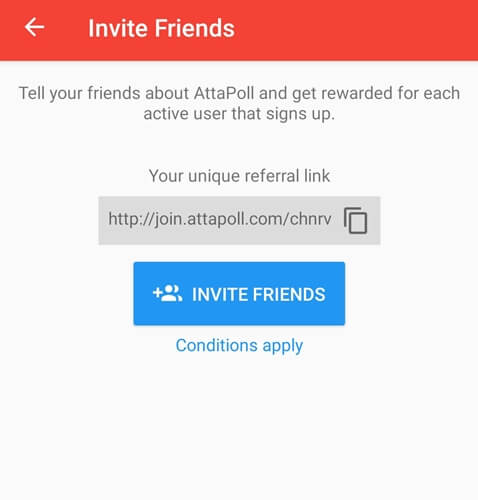 All you have to do is share your invite link with them and once they successfully join the app, they will become your referral. You will then receive 50 credits per person you invite that successfully completes 3 surveys.
The reward isn't really that high, but it can be a nice bonus to what you can earn from the surveys if you know a lot of people that might be interested in joining.
The referral program does, however, not give very good opportunities compared to the referral program on, for example, PrizeRebel and many other survey sites.
So it is only a good option if you really are passionate about getting other people to join AttaPoll because you really like it.
How do you get paid?
Now that you know how to earn from this app, the next thing you need to learn about is how to get paid.
Every survey you complete and every person you invite will earn you a certain number of credits. Think of credits as points you've earned.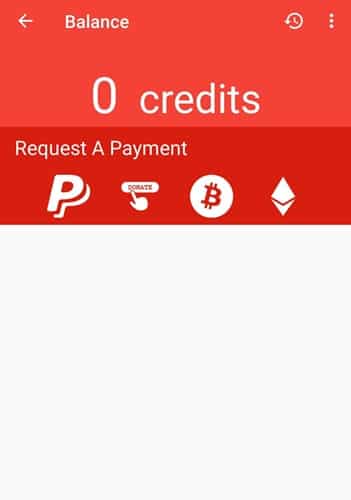 You can then exchange your credits for cash or cryptocurrency. If you choose to withdraw cash, you can request payment via PayPal.
You will need to earn at least 300 credits in order to do so. That is equivalent to £3.
If you choose to go the cryptocurrency route, you can convert your credits to Bitcoin but you will need 10,000 credits for that. You can also convert it to Ethereum currency (250 credits).
Overall, I do like the fact that it does have a low payout threshold of £3. It makes it easier for you to start withdrawing your earnings.
If you are interested in more sites that have a low payout threshold, I suggest you check out the fastest paying sites as well.
How much money can you make?
Just like survey sites, the amount of money you can earn from AttaPoll will mostly depend on how many surveys you can complete and how well they pay.
You can't really expect to receive a constant number of survey invites from this app since the availability of survey offers will mostly depend on your location. Some locations offer more surveys than others.
The best way to maximize the number of surveys you receive is to make sure you set the settings of your account to receive surveys as frequently as possible.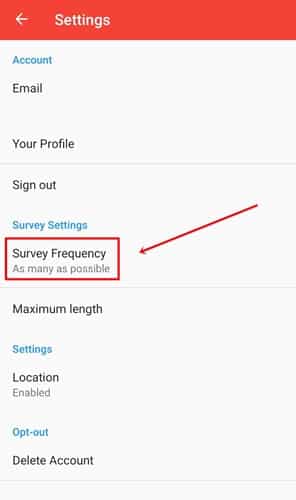 You can do that by going to the settings and set the survey frequency to "As many as possible". But just be aware that this does NOT guarantee that there will always be surveys for you.
As for how well they pay, unfortunately, they don't really pay that well. So, even though AttaPoll has a low payout threshold, you will need to answer a lot of surveys in order to reach it.
That kind of defeats the purpose of having a low threshold, in my opinion. You will need to be extra patient with this app in order to start withdrawing your earnings.
Can you use it on a desktop?
As mentioned at the beginning of this article, AttaPoll is a mobile-only platform.
So, you will really need a mobile device to answer the surveys they offer. And unfortunately, you won't be able to use it on a desktop because their site really doesn't allow you to do that.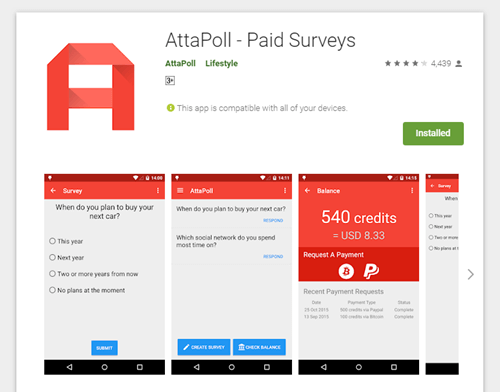 The good thing though is, their app is available on both Android and iOS app stores, so compatibility won't really be an issue.
Plus, their app is very user-friendly and has a very intuitive user interface, which makes using it very convenient and seamless.
Who can join AttaPoll?
The good thing about this app is, it is available globally. That means you can join regardless of where you live.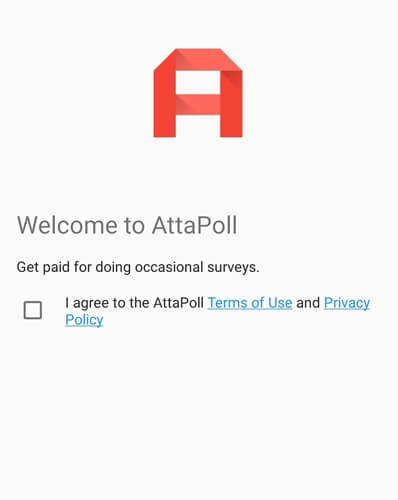 To register as a member, you simply have to download and install the app. Once it is installed, you will just have to agree to the terms and conditions (refer to the photo above).
It will then ask you to select which Google account you want to use. Now, it is important that the Google account you select will be the same account you are using for your PayPal account. That's because it will be the only way for you to link your PayPal account to the app.
I'm not sure if they intended this part or they simply chose to forego the part where you can set up your payment information in the app settings. Usually, in my experience, most other apps will allow you to specify your PayPal account after the registration process.
That's why it's odd that they don't offer that kind of convenience.
Can you get support?
If you need help, don't expect to get it from their website since there really isn't anything there apart from the basic information of the app. You will have to go through the app if you have questions that need to be answered.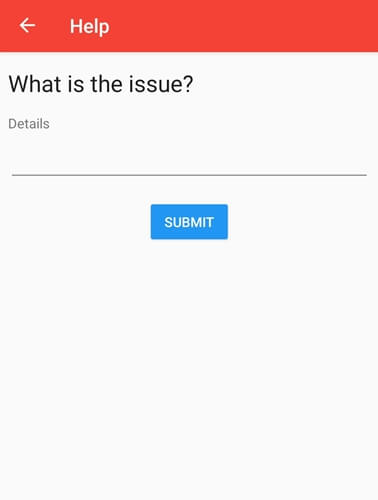 You can go to the help section and check out their FAQ page and see if you can find the answers you are looking for.
If you can't find the answers, then you can submit your questions by scrolling all the way down in their FAQ page and clicking on I have another question.
It will then open up the form that you can use to submit your question. So, overall, I can say that they do provide a decent way for their members to get support. I just wish they also provided the same option on their website.
Final Verdict
AttaPoll is a legit survey app that does pay you for answering the surveys they offer. It offers a couple of good qualities but it certainly has its drawbacks as well.
So, to end this review here's a summary of its pros and cons to help you decide if you should use this app or not.

Pros:
Low payout threshold
Has a user-friendly app
Payment via PayPal is available

Cons:
Limited earning opportunities offered
Low rewards
At first glance, AttaPoll can be quite an attractive app to use because of its low payout threshold and convenient payment methods offered. However, you will eventually find out that you won't be able to earn efficiently from this app.
This is because of the low rewards it offers and the availability of surveys won't be as frequent as you would hope for. So, even though it has a low payout threshold, you will still have to wait quite some time to withdraw your earnings.
That's the glaring disadvantage of this survey app, in my opinion. It can serve as a secondary app to earn from though. Just don't expect a lot from it.
If you are looking for apps that pay better, I suggest you check out the top survey apps instead. The apps on this list all have good earning potential and you will definitely be able to find an app you can use regardless of where you live.
If you have any comments, questions, or have any experiences with AttaPoll yourself, I would love to hear from you in a comment below.