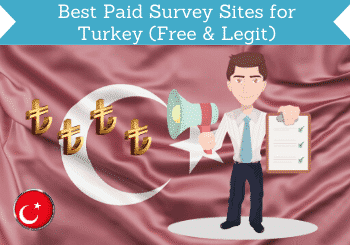 If you live in Turkey and are looking for ways to earn extra cash online for free, there are actually quite a few sites you can join.
Survey sites and Get-Paid-To (GPT) sites are by far the easiest and fastest ways to start earning.
Survey sites will ask you to answer surveys. When you complete a survey, you will get rewarded. For Get-Paid-To (GPT) sites, you will be asked to perform different short online tasks to earn rewards.
Now, there are a lot of survey and GPT sites, so it is very impractical to try them out one by one to find out which ones are great and which ones aren't.
I have tested hundreds of sites and decided to put together a list of the best paid survey sites for Turkey, so you don't have to do the trial and error method.
All the sites on this list are legit and free to join.
Now, if you do not live in Turkey, I would recommend you check out my list of the best survey sites in other countries instead.
Disclosure: Some articles on this website contain affiliate/sponsored links. Click for more info.
How are the opportunities for paid surveys in Turkey?
The short answer is, pretty good. But let me elaborate on this further.
There are plenty of survey and GPT sites that are available globally. So, if you live in Turkey, you will be able to sign up for these as a member. But there are also survey sites that have Turkish panels.
That's why you won't really experience any lack of options. Instead, discerning the better options will be your main problem. And without proper research, that would be next to impossible to do.
The sites I will include on this list all offer good earning potential. That means you will be able to earn decent money from it.
In general. GPT sites offer better earning potential than survey sites because they have more earning opportunities offered. But survey sites are usually a bit easier to use.
This list will have both survey and GPT sites, so you have plenty of options.
How to earn the most?
The sites included in this list offer different earning options. So, you can't really expect to earn the same way on all the sites.
So the best way to maximize your earnings is if you join multiple sites, as you will then get access to more earning opportunities.
Generally speaking, joining around 5 to 7 sites will net you the most amount without getting overwhelmed by what you need to do. This, in my opinion, is the perfect number of sites to join if you are new to these types of sites.
Now, if you feel you can handle more or if you already have some experience, you can always join more sites so you can earn more.
But keep in mind that no matter how many sites you join, the money you will earn from these sites will not compare to the money you can earn from a full-time job.
That being said, you will be able to earn a nice bit of spending cash to supplement what you can earn from a full-time job.
Just be aware that even though some of the sites on the list below, in general, offer payment via PayPal, this is, unfortunately, not a payout option currently offered in Turkey as PayPal no longer operates here. But luckily, you can then choose between many other great payout methods.
14 top survey sites for Turkey
If you want to know how to make money online in Turkey for free, you just need to be aware that the list below is not a complete list of all the sites available in Turkey. It will instead be a list of sites that are worth joining, and that actually pay.
I will keep updating this list, so make sure to bookmark this page and check back from time to time for new opportunities.