Joining an online survey site can be a good way to earn extra cash. That is, of course, if you join a legit survey site.
If you've been searching for survey sites, one of the options you might have come across is Testable Minds.
But is Testable Minds legit and one of the good options or a scam to stay away from?
Well, let me answer this question right away – Yes, Testable Minds is a legit online survey panel. It pays you for participating in online studies and surveys.
However, the next question you should be asking if it is worth your time? With so many options online, you need to make sure you do not waste your time on poor sites.
To answer that question though, we have to consider several things. This Testable Minds review will give you an inside look and show you exactly what the site really offers so you can decide if you should sign up as a member or not.
Disclosure: Some articles on this website contain affiliate/sponsored links. Click for more info.
What is Testable Minds and what does it offer?
Testable Mind is a platform used by researchers all over the world to recruit participants for their psychological and behavioral experiments.
It's comparable to Prolific in a lot of ways where it's not really your run-of-the-mill survey site. It's a bit more unique in terms of topics it covers.
To be able to understand how well you can earn from this site, we have to examine the earning opportunities it offers. That way, we can get a clear picture of its earning potential.
So, here's how you can earn from Testable Minds.
I have created a video tutorial that will give you an inside look and show exactly how it works. You can also read all the details below the video:
Option 1 – Paid studies
The main earning opportunity Testable Minds offers is paid studies.
When you become a member of this site, you can log in to the member's dashboard and immediately see all the available studies you can participate in.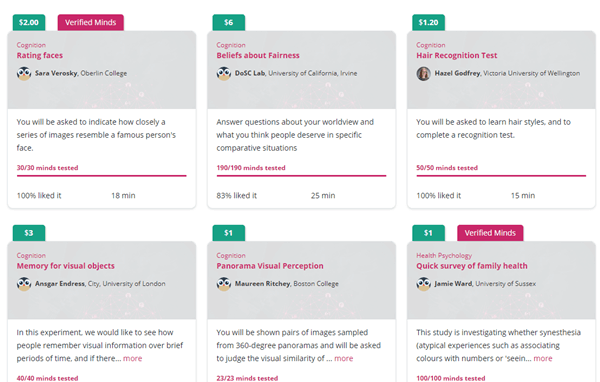 Each study will offer unique opportunities for you to earn. Remember that all the studies found on this site are created by researchers.
So, it's rare to find studies that will ask you to do similar things. That being said, most of the studies will be about behavioral economics and cognitive skills.
When you click on a study, it will show you the maximum number of participants it will accept as well as the number of participants that are currently participating in the study.
So, if you see a study that's already full, don't bother joining because you won't be accepted anymore.
Every study will inform you of what you need to do to complete it. So, make sure to read the instructions carefully. When you've done all the steps and completed the work, the researcher will first have to approve your participation.
In other words, they will check your work first. If they find your work satisfactory, you will be awarded the participation reward which will be credited to your Testable Minds balance (more about the payment methods later).
Option 2 – Referral program
Another way you can earn from this site is by inviting people to join the site. This is called a referral program, which is often available on online reward sites.

And in Testable Minds' case, their referral program is fairly straightforward. All you have to do is share your invite link with the people you want to invite. Once they successfully sign up to the site using your link, you will earn $1.
Take note though that you will only receive the $1 reward when the person you invited makes their first withdrawal.
So, don't expect to receive the reward right away. And, you need to make sure the people you invite are really interested in the site if you want to earn from their referral program.
How do you get paid?
The good thing about Testable Minds is, they will reward you with money instead of points when you complete a study. So, there's no need to mentally calculate how much you've earned since you will know right away.
Once you've earned $20, you can then request payment via PayPal or direct bank transfer. It's a relatively high threshold, but they do offer a way for you to lower it by verifying your account.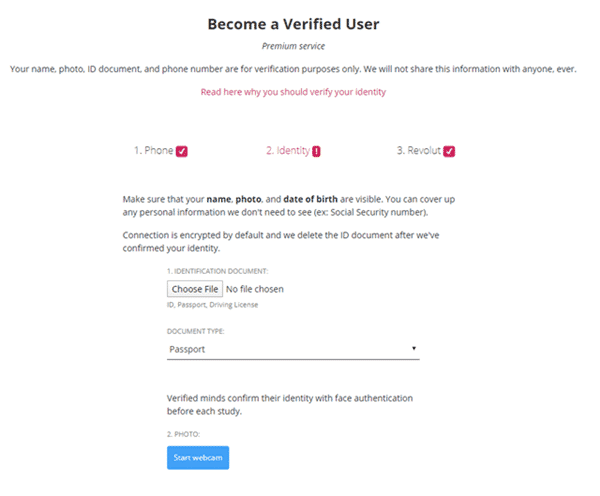 This, by the way, is not the same verification process you will undergo when registering to the site. This is a whole different verification process you will need to do.
To become a verified user, you will have to submit your photo, ID document, and phone number (refer to the photo above).
Your ID document can be a photo of your driver's license, Passport, or any other identification that has your name, photo, and date of birth.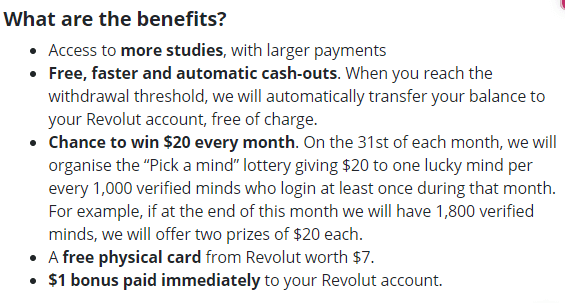 Once you've submitted that, you will become a verified user as soon as they confirm it.
Aside from the lower threshold ($10) for first withdrawal, you will also get access to more studies and higher-paying ones.
They also pay via Revolut and if you go through the verification process, you will get a free physical card worth $7 from Revolut and a $1 bonus paid into your Revolut account right away.
Just be aware that Revolut is not available in all countries so that bonus is, of course, only available id Revolut is available in your country.
In general, you get quite a lot of benefits by becoming a "Verified Mind" as they call it.
That's why it can be advantageous for you and if you decide to join, I would definitely recommend you verify your account.
How much money can you make?
In my experience, sites that offer these kinds of surveys usually pay quite well. This is because the studies usually involve more complicated processes than simply answering surveys.
However, it doesn't really boost the earning potential of the site that much, in my opinion. This is because studies aren't always available. So, you can't expect to earn on a regular basis.
Plus, you have to consider you will essentially be racing against other members for a spot in the study. So, it can take a bit of patience to earn from this site.
The best thing you can do to increase your chances of getting invited to participate in a study is to complete your profile and verify your account.
That's why I suggest you do these two things as the first things when you log in to the site for the first time. It will then make it a lot easier for you to get access to Testable Minds' studies.
But one thing Testable Minds make very clear on the website is that they are only interested in members that are genuinely interested in helping science by answering these surveys and taking part in the projects.
So if you rush and do not take it seriously, your work will not be approved.
To make sure people do not see it as a job but do it out of interest, they also have a limit for how much you can earn per month. You can earn maximum $50 per month.
So if you live in a country with many studies you can participate in, this will be what you can earn. In my opinion, this can be some nice extra earnings and you will be helping science at the same time.
Can you use it on mobile?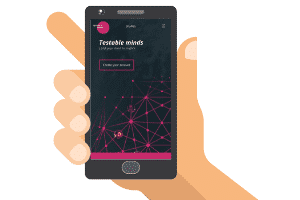 Testable Minds doesn't have an app you can download so you can work on studies on a mobile device.
But you will be able to access their site from a mobile device using a web browser. Their site is also mobile-friendly, so you won't have a hard time reading all the content properly.
That being said, I still recommend you work on the site on a laptop or a desktop instead of a mobile device. This is because most of the studies will involve more complicated steps than simply answering surveys.
In my opinion, it will be much more convenient for you if you do the studies on your computer rather than your mobile device.
Who can join Testable Minds?
Testable Minds is available globally. You can join this site regardless of where you live. But, you have to be at least 18 years of age or older to participate in their studies.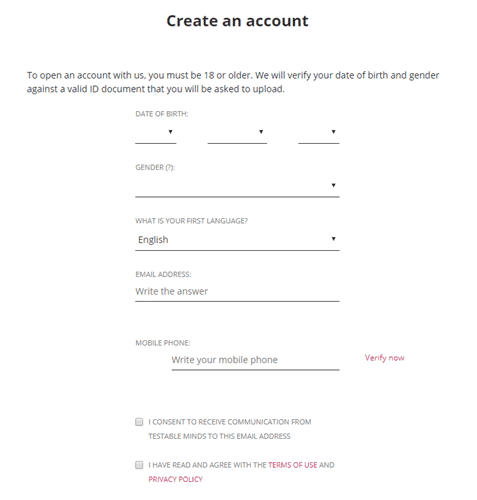 To sign up as a member, you just have to fill out their registration form, and you will have to provide your mobile phone number. This is important because Testable Minds will send you a verification code via SMS.
You will need to input this code to complete the registration. So, make sure you have your mobile phone with you when you register as a member.
As for the opportunities it offers, there will be certain countries where there will be more studies being offered.
Can you get support?
Testable Minds has a FAQ page that covers most of the important topics of the site. So, if you have any questions about the site, you can first check their FAQ page. They discuss these questions quite thoroughly, in my opinion.
But in case you can't find the answer you are looking for, you can email them at minds@testable.org.
Or, you can click the Support button on the right side of their page. Doing so will open their contact form. You can then use the contact form to send in your inquiries.
In my experience, their support is, however, not always super fast.
But overall, I would say that they have a decent way of providing support for its members but it would be great if they were faster at responding to support tickets.
Final Verdict
Testable Minds is a legit survey panel that will reward you for participating in their studies and inviting people to join the site. It offers a couple of good qualities but it also has quite a drawback.
So let's end this review with a summary of its pros and cons to help you better decide if you should join this panel or not.

Pros:
Available globally
Offers payment via PayPal
Decent rewards per study completed

Cons:
Limited earning opportunities offered
Relatively high payout threshold unless you get a verified account
Testable Minds is a good site to join if you live in a country where there's a decent number of studies available (like the US or UK). But if you live in a country where there aren't always studies available, then this site will be of no value to you.
You won't be able to earn anything (unless you focus on their referral program which can take some time to reap the rewards. So, I would say the earning potential of this site will be entirely dependent on where you live.
But if you would like to help science and find the type of studies they offer intersting and would like to earn some extra cash at the same time, this can definitely be a good site to join.
If you are more interested in sites with more opportunities and different kinds of surveys, I suggest you instead check out the top survey sites in your country.
The sites on this list all have good earning potential, so you will be able to earn regularly. Plus, you will also find a site you can join regardless of where you live.
How to join Testable Mind?
It is very easy to join. Just click the button below and you will be taken to the sign up page. it takes a few minutes.
Just remember that you get more opportunities and benefits if you verify your account.
If you have any comments, questions, or have any experiences with Testable Minds yourself, I would love to hear from you in a comment below.