Branded Surveys is a site that promises to reward you for your opinion.
But is Branded Surveys a scam or really one of the legit and worthwhile survey sites?
Let me just reveal right away that it is a legit site, and it has existed and paid members for years. And I have been paid by it many times myself also.
However, that does not necessarily mean it will be the right option for you.
This in-depth Branded Surveys review will give you an inside look and help you answer that question, and show exactly what you can expect, so you can decide for yourself whether this is the right way for you to earn or not.
Disclosure: Some articles on this website contain affiliate/sponsored links. Click for more info.
What is Branded Surveys and what does it offer?
Simply put, it is a website that offers rewards for each survey you take. Unlike other Get-Paid-To sites, Branded surveys mainly gives you the chance to earn by taking online surveys. It has been around for many years – in the past, it, however, used to be called MintVine but was rebranded as Branded Surveys many years ago.
To earn, you have to accumulate points until you reach the minimum required points (more about this later) to be able to start redeeming rewards.
As mentioned already, it is a legit site that will actually pay you, and Branded Surveys is safe to join and use. But to find out if it will then be worth your time, we need to look more into exactly what it offers.
You can earn points with Branded Surveys in several ways.
I have created a video tutorial that shows you exactly how it works and how to use Branded Surveys. You can also read all the details below the video:
Click to Check Out Branded Surveys for Yourself
Option 1 – Paid surveys
The paid surveys are the bread and butter of Branded Surveys.
You will usually receive surveys you can do every day. Each survey will vary in points, depending on the length of the survey.
The good thing about how Branded Surveys present the available surveys you can take is that they tell you right away how many points you will earn for each survey. This way, you can prioritize which ones to take if you are a bit short on time.


It offers a decent amount of surveys, and you get decent rewards for your time as well.
The main surveys you find on the dashboard after you log in are the best way to earn on Branded Surveys and definitely a section you should regularly check if you end up joining.
Option 2 – Daily Poll
You can also earn points by answering the daily polls on Branded Surveys. It only rewards you 5 points, but it takes only a few seconds to complete. So you really can't complain.


But if you are on Branded Surveys mainly to earn, then this is not the highest-paying option.
However, it is a fun and fast extra little option that can be worth quickly participating in if you are logged in anyway.
Option 3 – Leaderboard
By being an active member on Branded Surveys, you will automatically participate in their leaderboard contest.
The top 10 earners will get an extra bonus. There is a daily, a weekly, and a monthly contest.
Sometimes random winners will also be selected.
This is a good chance to get more out of your effort, and together with the opportunity to get a higher membership level, this is what gives you a chance to get quite a lot for your time on Branded Surveys compared to on many other survey sites.
Option 4 – Branded Elite bonus program
Branded Surveys has a bonus program you automatically take part in just by being an active member.
When you first join, you will automatically be a bronze member. You can then move up to silver or gold level, depending on how active you are.
You can earn bonuses for your activity no matter what level you are at. You can see an overview of the bonuses below.

As you can see, you can get some really great bonuses. If you become very active and achieve a gold membership, you can even earn up to a 19% bonus on the surveys you are taking.
This is a really high bonus compared to what many other survey sites offer, and it means the value for your time suddenly becomes a lot higher.
No matter the level you are at, you will also earn 50 points if you invite a friend to join Branded Surveys the first time your friend earns a silver badge.
The level of your membership is decided by the number of points earned. Once you get a new Elite badge, you will get the benefits of that level for the month you are in + the following month.
But if you keep being active, you can retain your level and keep getting the benefits. So if decide to join, it is definitely important to pay attention to these levels as it can really boost your earnings to move up the ranks.
Also, by being a Branded Surveys Elite member, you automatically participate in their leaderboard contest. Here you compete against other members, and if you become one of the top earners, you will get extra bonus points.
There are daily, weekly, and monthly contests, and you can win up to 300 bonus points.
Click to Check Out Branded Surveys for Yourself
How do you get paid?
What's good about Branded Surveys is that they offer to pay you in several different ways so you can find an option no matter your preferences.
If you are looking to get paid directly into your bank account, they can pay you via Branday Pay, which is their bank transfer service.
You can also go the PayPal route and receive your money through your PayPal account.
Personally, I love survey sites that pay out through PayPal as it is such an easy and fast way to get your earnings in cash. So it is great Branded Surveys offers this, in my opinion.


You can also earn gift cards from popular sites like Adidas, Amazon, and many other online retail stores.
The exact gift cards you can choose between will vary from country to country (more about which countries it is available in later). But it, in general, offers a lot of different gift cards to choose from.
Plus, you can use the points you've earned to donate to charities. These points will be converted to real money. So if you are feeling charitable, you can go that route. I personally like this option because it's something that a lot of other survey sites don't do.
Recently Branded Surveys also lowered their payout threshold from $10 to $5, so now you only need to earn $5 to be able to get your earnings out, which is a very nice low payout threshold and a great update from their side.
In general, Branded Surveys has great payout options, and this is definitely one of the strong sides of this survey site.
How much money can you make?
The amount of money you make from Branded Surveys will really depend on how many surveys and offers you complete in a day. And you, of course, also need to know how much Branded Surveys points are worth so you know the value of the surveys you are taking.
Think of each point as one penny earned. So if you earn 1000 points per day (which is their minimum number of points for payout), that's $10 worth of real money. This is the value of the points no matter the country you live in, even though there might be a different currency in your country (more about which countries can join later – but in short, you can only join from UK, US, and Canada).
You can usually take several surveys per day ranging from 100 to 1000 points each.
As I've mentioned above, you will know how many points you earn from a survey right away. So, you can easily budget your time and figure out how many points you can earn in just one sitting.
Take note that the surveys do have to be approved before the full points will be credited to your account.
As explained earlier, they also have the bonus program Branded Elite that can boost your earnings if you are an active member.
So overall, Branded Surveys is definitely a way to earn some extra cash – but it will NOT make you rich, and it will not make a full-time income online.
This is important to know before starting.
But it can definitely be worth joining if you like getting paid to share your opinion. I would also suggest you to not solely rely on Branded Surveys as a way to earn.
But in addition to other sites, it can be a legit and great way to earn a bit extra.
Can you use it on mobile?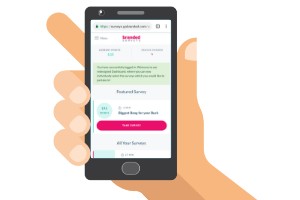 Branded Surveys works well on a mobile device. You can use a browser to log in to their website, and you can access all the features without any issues.
But they have now also launched a Branded Surveys app for both iOS and Android.
That's a huge bonus because it allows you to earn easily even when you are on the go. If you are waiting in line somewhere, you can just login in and take a couple of surveys and earn points.
And a great thing about using the app is that you will get notifications when there are new surveys available without having to check your emails. This means you can quickly get to the surveys and get a better chance of getting access to them before they fill up.
Overall, the app is very user-friendly, and if you join Branded, using the app can be a great way to increase your earnings, in my opinion and experience.
Who can join Branded Surveys?
If you live in the US, UK, or Canada, you can sign up and become a member. You also have to be at least 13 years of age in order to sign up.
You just need your email to finish the sign-up process.
You do have to complete a couple of questions during sign-up so that they can determine what type of surveys they can send to you. You will get 100 points in total for signing up and completing your profile, so this will give you a great start.
Once you have finished the registration, you can just start answering the surveys available for you right away.
Can you get support?
Here's where I think Branded Surveys has its bases covered. Most survey sites don't have a Knowledge Base page. So it leaves members who encounter issues hanging.
But Branded Surveys has a quite thorough Knowledge Base in their support section, which is a pretty nice addition. That means they help their members fix the issues they encounter themselves. Not every site does that, so this is a huge plus.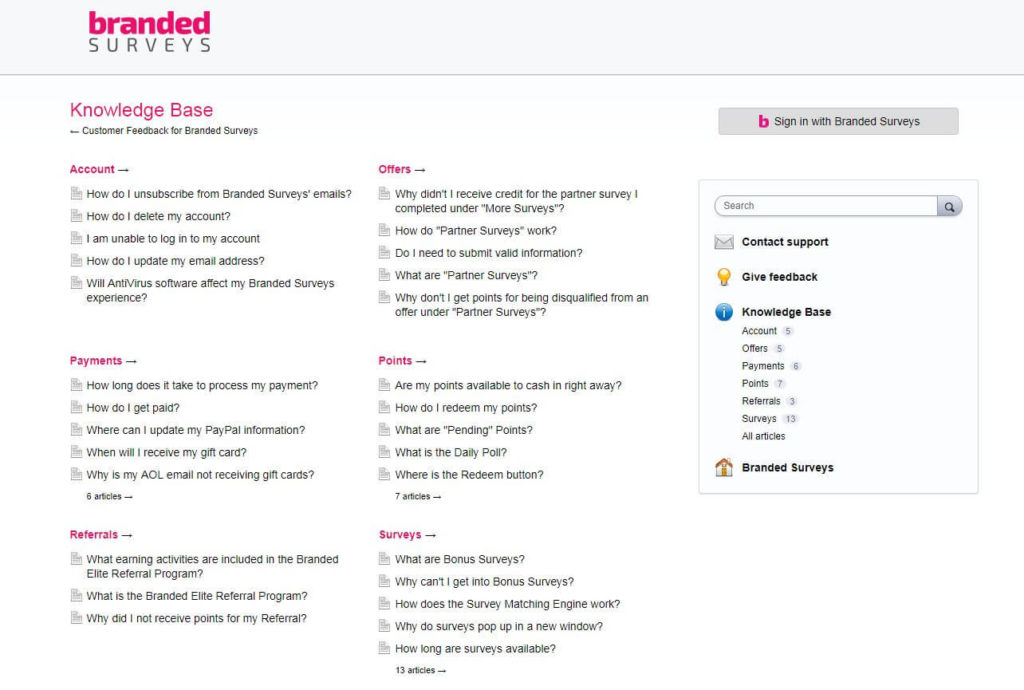 Most issues can be resolved by simply using their knowledge base. And if for some reason, you can't resolve it on your own, you have the option to contact them by email. I have been in contact with them myself and have received quick answers, which is always a great sign.
So overall, Branded Surveys has good support options if you should run into issues.
Final Verdict
Branded Surveys is definitely not a scam. It is as legit as it gets and offers legit payout methods, including real money.
And as you've probably noticed, I am impressed with how they present the available surveys as it helps with the transparency of the platform. It also allows you to spend your time wisely, as you can easily get an overview of the surveys, which is a huge bonus.
But it also has its shortcomings. So to help you get a better overview before deciding to join or not, let's finish this review by summing up its pros and cons.

Pros:
Free to join
Good payout options (including cash)
Member dashboard is intuitive
Great bonus program that can boost your earnings
Good support
Has user-friendly app

Cons:
Sometimes it can take patience to find the surveys you qualify for
Some surveys do not have very high rewards
Overall, Branded Surveys can be a great site to earn some extra income by simply answering their surveys if you live in the UK, US, or Canada. What makes it a very appealing option is that they reward your frequency of activity. The more surveys you answer, the more extra points you get from their Branded Elite program.
In my opinion, it is a good way to earn some extra cash or gift cards, and getting a higher membership level can definitely be worth the time and effort, as you will then start getting really good rewards per survey.
You just need to be aware that you will not qualify for all the surveys. But if you choose the surveys wisely and focus on the ones with the highest rewards, it definitely can be a great survey site to join as it is overall very easy to use and offers quite a lot of available surveys and several other ways to earn as well.
How to join Branded Surveys?
It is very easy to join Branded Surveys. Just click the button below, and you will then be taken to the sign-up page. It will only take a couple of minutes to get started.
If you have any comments, questions, or have any experiences with Branded Surveys yourself, I would love to hear from you in a comment below.