OnePoll is a survey site that supposedly offers real money as a reward.
But is OnePoll legit and really worth your time?
Let me just reveal right away that it is legit as you will get paid for the surveys you take – But that does not necessarily mean it will be worth joining.
Therefore, this OnePoll review will take a closer look and give you an inside look and all the details so you can find out whether or not registering to this survey site is in your best interest.
Let's get down to business then, shall we?
What is OnePoll and what does it offer?
As you can see, OnePoll is a survey site and it is based in the UK and the US. This does, however, not mean it is only available there (more about that later).
They have partnered with some of the key retailers in the UK, US, and other places to provide them with market research.
They do this by offering surveys to you in exchange for monetary rewards.
But aside from answering surveys, they do have another way for you to earn a bit of money.
Here are their earning opportunities.
I have made a short video that gives you a full guide tutorial so you can see exactly how it works. You can also read all the details below the video:
Option 1 – OnePoll surveys
Since it is a survey site, you will, of course, be able to earn by answering surveys.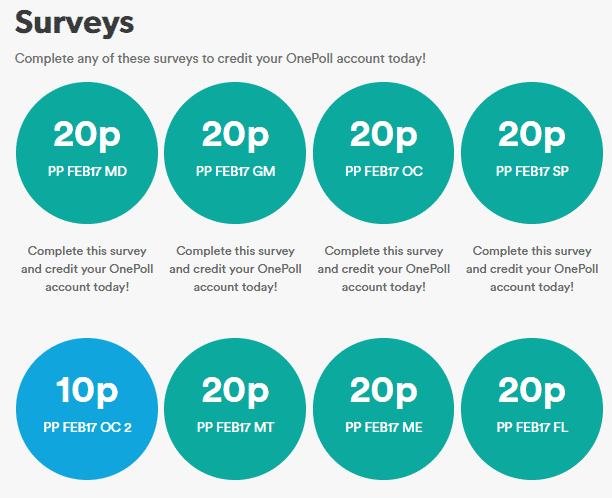 Once you log in to the website, you will quickly see all the available surveys you can take.
You will also see the rewards for each survey, which in my opinion, are a little too low, in general, compared to many other survey sites.
Plus, some of the surveys can take quite a while to finish. So while it definitely is a real way to earn on OnePoll it will often take some patience.
Some surveys also reward you with a chance to enter their prize draw (which I will discuss below).
Option 2 – Prize draws
There isn't much information about the prize draws OnePoll offers.
Their terms and conditions state that there are specific surveys that reward you with a chance to enter their prize draws.
It is another opportunity for you to earn rewards but it will be purely based on chance.
Although I don't quite understand why they wouldn't put more information about this. When you think about it though, they also don't make it quite clear what you get from doing surveys as well.
If you take a look at their website, most of the information is geared towards informing potential partners of what they can get out of OnePoll.
There isn't really a lot of info about what you, as a member of their research panel can get out of it.
That is a little strange for a survey panel but that does not mean it cannot be worth it – it just means it can be a bit confusing when you first come to the site compared to many other paid survey sites.
Option 3 – Referral program
Another way you can earn from OnePoll is through their referral program.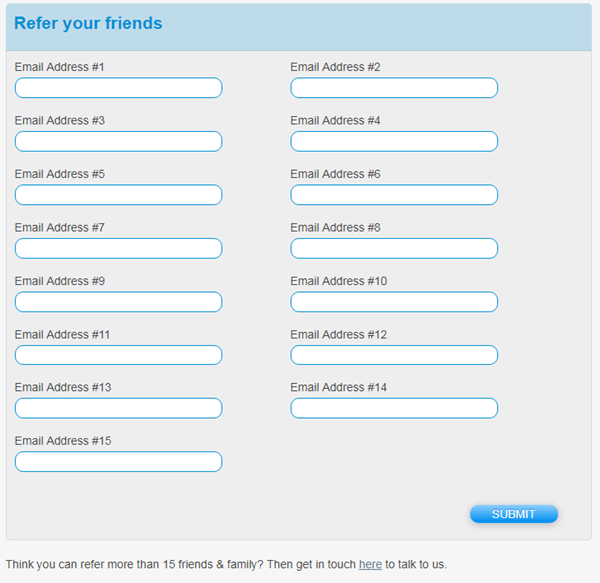 This site actually allows you to refer friends and family. For each referral, you will earn 50 points once they have completed their first survey. Plus, you will earn extra is they keep being active.
Once your referral has earned £20, you will get £1, and when your referral has earned a total of £40, you will earn £2.50. So in total, you can earn up to £4 per person you refer.
You will only be allowed a maximum of 15 referrals. If you want to refer more people, you will have to contact OnePoll and then they might give you access to inviting more.
So the referral program is quite limited because you can only invite so few people. Especially because not every person you will invite will end up becoming active.
So, in my opinion, the structure of their referral program pales in comparison to most of the top survey sites.
How do you get paid?
The good thing about OnePoll is that redeeming the money you've accumulated is very convenient.
That's because they allow you to get your payout via PayPal. But aside from that, you can also request for payment through BACS.
For those not familiar with BACS, it is an automated payment system that is mainly operating in the U.K. It has plenty of electronic payment affiliates in the region.
Here's a video of what BACS is:
But before you can request payment from OnePoll, you have to reach the minimum payment threshold of £40. That's quite a high threshold considering each survey you take will usually only reward you with less than £1.
That's a lot of surveys you need to complete before you can request for payment.
It also takes up to 28 days before you actually receive the payment that you've requested. That's a very long time.
You also need to be aware that if you decide to get paid via PayPal, there will be a transaction fee so you will not get the full amount you have earned.
Overall the payout methods on OnePoll are nice as you can get your earning in cash. But the threshold is just too high compared to the fastest paying survey sites, in my opinion.
How much money can you make?
When I logged in to my account, I took a look at the available surveys. Most of the surveys available only offer to reward 0.20 points. That is an equivalent of £0.20.
If that is the average reward per survey, you are looking at around 200 surveys that you need to complete before you can hope to request for payment.
That will take weeks and even months if you work on it the whole day – and there probably won't be enough surveys for doing that even if you wanted to. However, you will also be able to find surveys that pay more.
But you should still expect quite some patience to reach the payout threshold.
The fact that it rewards so little and has such a high payout threshold is what put me off with OnePoll. In my opinion, you are better off spending your time with survey sites that offer better rewards.
Their prize draws do offer higher rewards ranging from £100 to £1000 which are some really nice rewards and a nice extra chance.
Also, they do regularly have contests on their Facebook page. If you are lucky, you can win £10 by participating in these.
But then again, it isn't a reliable way to earn money. You can consider yourself lucky if you win one in a year – and there is no guarantee so you might never win one.
Can you use it on mobile?
One good thing about OnePoll is that they do have an app that you can use to answer surveys.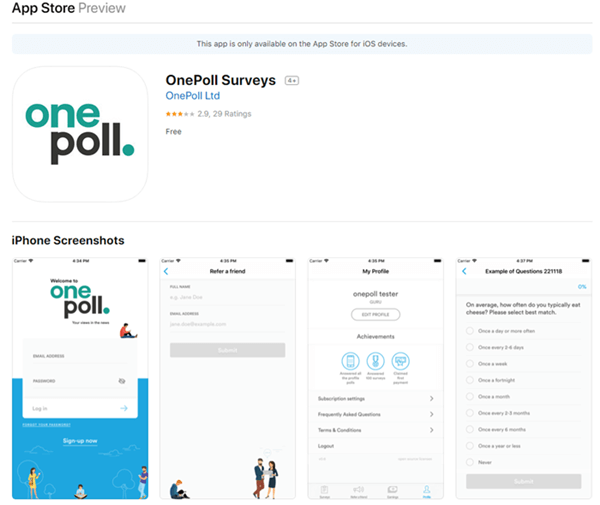 The OnePoll app is available in both the Apple App Store and Google Play.
But you can also go the mobile browser route. You will be able to login to their website using a mobile browser.
The homepage of their website looks pretty good since you will be able to see all the content properly.
The problem is, once you log in to the website, you have to scroll sideways in order to see the full content of the page.
It seems that they did not optimize their member dashboard for mobile use, unlike most other survey sites. It is still doable to answer the surveys, but you'd have to scroll sideways a lot to see the whole content.
But if you have an iPhone or an Android phone it is not a problem as you can then use their app.
Who can join OnePoll?
There is no registration fee required to become a member of OnePoll. You do, however, have to be at least 18 years of age in order to register.
That's because some of the surveys require that you have to be at least 18 years of age in order to participate.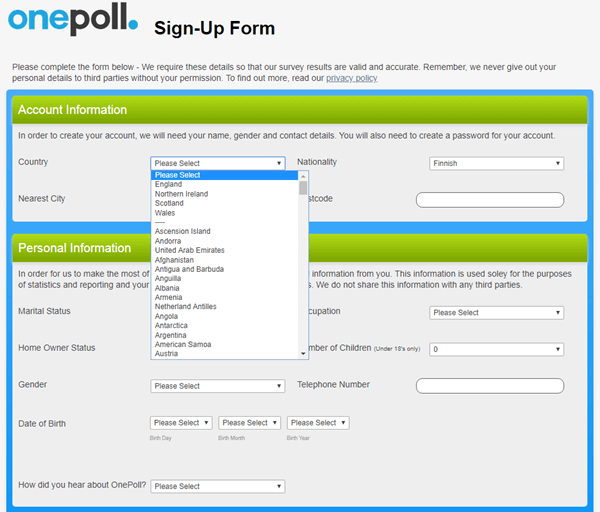 During the registration process, I tried using one of the other countries listed in the choices and you can choose basically between any country in the world.
So at first, it looks like you can join no matter where you live. But that is not really the case – for most countries, you will just get a message saying that they currently do not accept members with your profile.

This is quite confusing because you cannot see this until after you have actually taken the time to fill out the joining form with your phone number and some profile info.
This is not very user-friendly – they should make this clear before you start filling out anything, in my opinion.
So from what I have been able to find out, OnePoll does, in theory, accept members from both the UK, US, and the rest of the world. But in reality, you will in many cases not get accepted unless you live in the UK.
If you do, their registration process is fairly easy. Plus, after you complete your registration, you will receive a bonus of £2.50 that will be credited to your account directly.
Can you get support?
A redeeming quality of OnePoll is that they have a good customer support system.
They usually answer your queries within a day. That is actually a pretty good rate compared to other survey sites.
When I took a look at their Contact Us page, they do display their complete address, phone number, as well as the email address where you can reach them.
That's a good indication that they are really a legit site.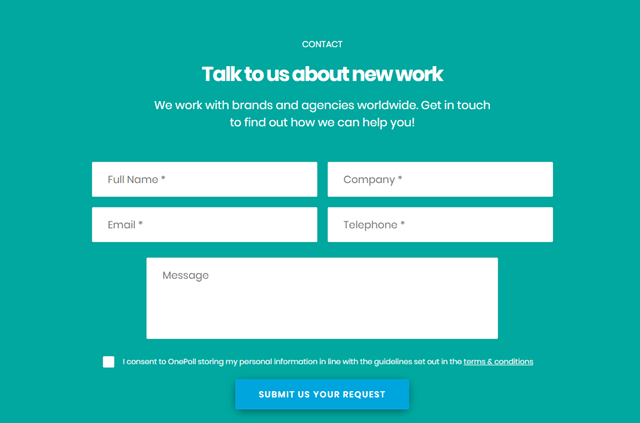 They also provide a contact form that you can fill up in case you have any questions or encounter any issues with the site.
A quick look at their social media pages shows that they are also active in that platform. That means you will be able to engage with them on those platforms as well.
Final Verdict
OnePoll is definitely a legit survey site.
They reward you with real money as long as you hit the minimum required amount to request for payment. But it also has some big drawbacks.
So let's finish this review by summing up its pros and cons so you can get a better overview before deciding if it is a platform worth your time or not.

Pros:
Good customer service
Good payout methods
Has user-friendly app

Cons:
Low rewards for completing surveys
Very high payment threshold
Minimal earning opportunities
Not clear about who can join
All in all, OnePoll is a decent survey site. But the high payment threshold and the low survey rewards just don't make it a very appealing choice, in my opinion.
In order to earn a significant amount, you will have to invest a lot of time. It might be worth checking out as an extra site but, in my opinion, you should definitely make sure to also join other sites as OnePoll alone will give too limited opportunities.
There are, in general, just far better choices in terms of survey sites. Plus, it mostly seems to be available in the UK. So if you live in a different country, I recommend you see the best paid survey sites in your country.
If you have any comments, questions, or have any experiences with OnePoll yourself, I would love to hear from you in a comment below.