A little extra cash is something we can all use, right?
The site OhMyDosh! claims to help you with this in an easy and free way.
But is OhMyDosh legit and really a great opportunity, or is it a scam that is a waste of time?
This is something you need to know before you join any site that claims to help you make money online.
In this OhMyDosh review you will get all the details about what this platform offers, what to expect, what to be aware of, and more, so you will know exactly what to expect and are able to easily find out if it is for you or not.
Disclosure: Some articles on this website contain affiliate/sponsored links. Click for more info.
What is OhMyDosh! and what does the site offer?
OhMyDosh.co.uk is based in the UK and is a fairly new platform that offers you various ways to earn.
The name and slogan imply that it is a great site to earn extra cash (dosh is slang for money). The slogan is "Give a little time, get a lotta dosh!" – pretty catchy slogan, right?
But from just looking at the slogan or the ads for the platform, it is difficult to see exactly what to expect. So let's go over what the platform offers, so you can see if it is for you or not.
Before going over this, I, however, want to make it clear already now that OhMyDosh is a legit site that actually pays. So you do not have to worry about that part. So let's now then find out if it has what you are looking for.
Option 1 – Paid online surveys:
If you have visited PaidFromSurveys.com before, you will know that I think paid surveys are a great way to earn some extra cash and have your opinion heard at the same time.
I was therefore happy to see there is a section with paid surveys on OhMyDosh as well.
It is, however, important to understand that OhMyDosh is not as such a survey site and this is not the main way to earn on the site. That is also clear to see from the options it has.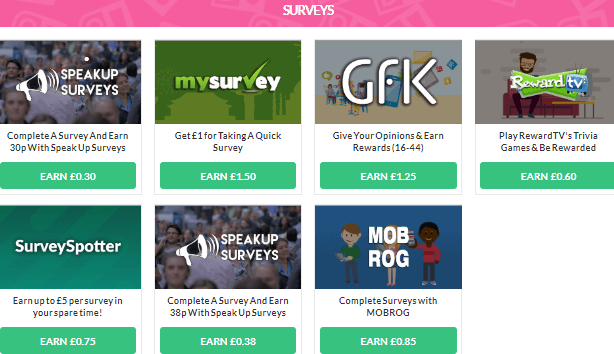 Most of the survey opportunities it has are not actually a way to earn by taking surveys on OhMyDosh itself. It is where you can earn a bonus on OhMyDosh by signing up for other survey sites, and you will then be able to take surveys on those sites.
The exception from this is the Speak Up surveys that are sometimes offered, as these actually give you the opportunity to take surveys directly on OhMyDosh. It is a great survey router with quite good opportunities, so worth testing out.
The survey promotions of other survey sites are in general good recommendations. I, however, also saw you can sign up for a site like Survey Spotter, which in my opinion is a complete waste of time. And it promotes several similar sites that are not really survey sites but just promotional sites.
But it also promotes a site like LifePoints Panel, which is a great site to sign up for.
When it comes to the survey opportunities on OhMyDosh, the best option is, however, to use the Speak Up surveys when they are available.
If you take some of the other survey offers, just be aware these are mostly just promotional links for other survey sites – and some of them are really not worth it. So make sure to read a bit more elsewhere about the survey panels they promote as they do not give you much info about them inside OhMyDosh.
As you can see, OhMyDosh.co.uk is not as such a survey site even though it has some survey offers. But it, however, offers several other ways to earn.
Option 2 – Cashback options:
OhMyDosh is offering a lot of cashback options and this is what it, first of all, is known for.
The site has even been in several media because of this. Below you can, for example, see an example of OhMyDosh being featured in The Sun.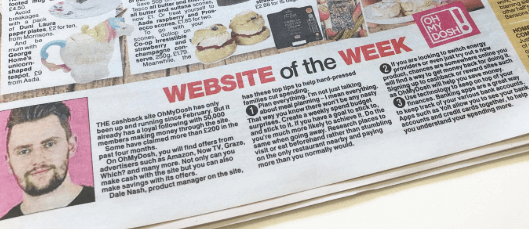 This is probably the best way to earn on the OhMyDosh, and you can actually earn some pretty good money by doing what you are often doing anyway.
Cashback means that you can get cash into your OhMyDosh account by taking different offers. Some of the offers take an investment and others do not.
But sometimes the cash you get back is bigger than the investment you have to make, and other times it is just things you would have invested in anyway, so why then not get cash back and get a good discount. In the long run, it is possible to make quite a good amount of money like this.
Some of the categories OhMyDosh offers cashback within are products, household bills, subscriptions, electronics, days out, gambling, entertainment, and more.
Let me give you a few examples so you can see what kind of offers it has.
In the entertainment category, I, for example, saw an offer for Audible, which gives you a large selection of audiobooks.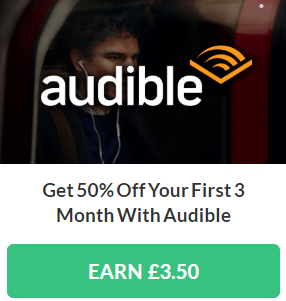 Here you get 50% of your subscription for the first 3 months + you will get £3.50 into your OhMyDosh account. If you are looking to get an offer like this, that is a lot of money to save, and some nice extra cash you get into your OhMyDosh account.
In the utility section I, for example, saw an offer for cashback if you are looking for a new broadband provider.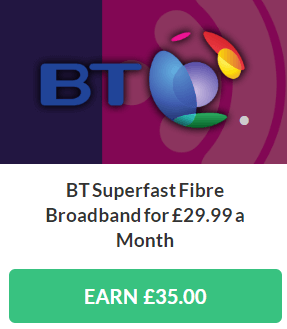 If you get the subscription through OhMyDosh, you get a £35 bonus into your account. So if you are getting a subscription like this, why not get it here and get some really nice cash back.
Let me give you just one more example. This is from the gambling section, and I want to show you an example from here as well, as you can sometimes make a really good deal here.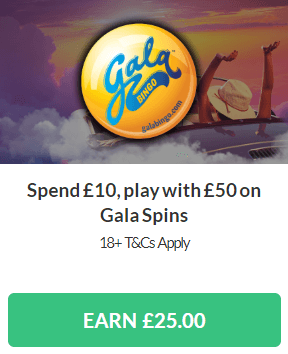 The example from the image above is a great deal if you would like to try your luck without any risk.
If you deposit £10 and spend them on the gambling platform the offer is for, you will get £50 more to play for. In addition to this, you will get £25 into your OhMyDosh account.
So potentially you can get to play for £60 and get £25 just by depositing £10. That means no matter what, you will have earned £15 and had the chance to win more by playing for £60 – that is, in my opinion, a good deal.
The trick here is of course not to get carried away and end up gambling away more money than you can afford. If you know you have a tendency to do this, it might be better to stay away from these particular kinds of offers.
In general, always just make sure to read the exact conditions of each offer before you take them. But overall, the cashback option on OhMyDosh gives some really good opportunities.
Option 3 – Trials:
OhMyDosh has a big section with trials you can sign up for and earn dosh this way. Some of the trials are discounted trials, but there are also a lot of great free trials.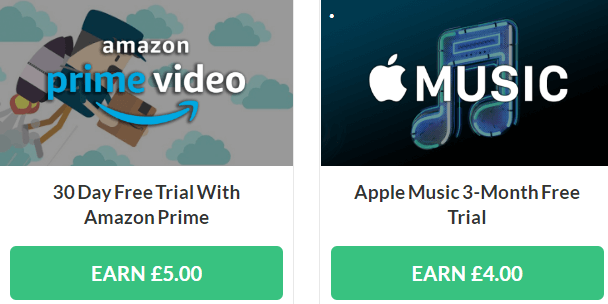 As you can see from the two free trial examples in the image above, you can, for example, get a 30-day free trial for Amazon Prime. By signing up for this, you will get £5 into your OhMyDosh account.
Or you can get a 3-month free trial for Apple Music – by signing up for this you will earn £4.
This can quickly add up and is a nice way to earn some easy money and get to try some great services.
If you use the trial option, just make sure to set a reminder to cancel the trial before it expires if you do not want to continue your subscription. If not, it will continue as a paid subscription in most cases. So just be aware of this.
Option 4 – Competitions:
On OhMyDosh you can find some competitions you can sign up for and earn a bonus. These offers are in my opinion not the best, but they can be an easy way to earn a little extra.
Just make sure to read the conditions as some of them will allow a lot of advertisers to contact you if you sign up.
However, you can find some great free contests on OhMyDosh's Facebook page at times.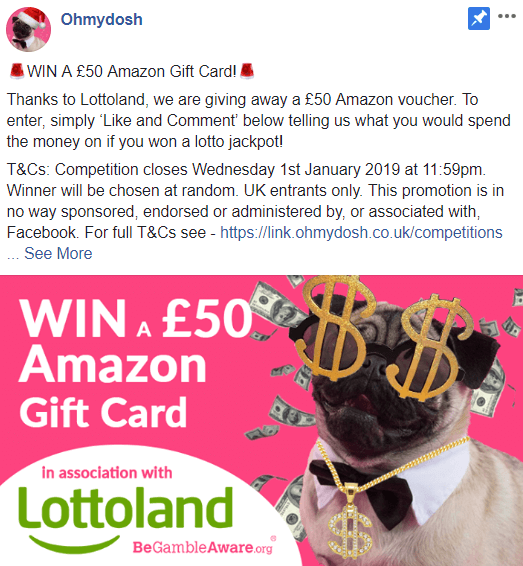 In the example above you just have to comment and like for the chance to win £50, so that is easy to do.
Competitions like this are however not posted very often, but if you are a member of OhMyDosh and use social media regularly, it can be worth just checking out their pages once in a while to see if there are any contests posted.
Option 5 – Daily Dosh
Daily Dosh is a prize draw you automatically participate in as a member.
Every daily a random member is selected to win £10. However, you need to actually claim these earnings to get them.

Be aware that if you should happen to win, you only have 24 hours to claim the rewards by logging into OhMyDosh and click the claim button. If you do not do it within 24 hours, you will not get the money.
In one sense it is a nice contest as it can be some easy money, but it is also clearly a way to get you to log in every day. That, of course, makes sense for the platform itself but as a member, it can be a bit stressful that you know you only have 24 hours.
I think the idea with the daily dosh is great but I would wish they had made the deadline at least 3 days so you could allow yourself a couple of days where you did not log in once in a while.
Option 6 – Invite friends:
If you like OhMyDosh, you can invite friends to join and earn an extra bonus for this.
You will not get the bonus until your friend has made £10, but when he/she does this, you will get a £5 bonus. That can be some nice extra cash if you know a lot of people that could be interested.
Option 7 – Joining bonus:
You get a bonus just by joining OhMyDosh.
You get £0.50 as soon as you sign up. When you confirm your email, you get another £0.50. This means that two minutes after signing up, you have already made your first £1.
I love when sites offer a joining bonus to get the earnings started right away.
I have made a small video tutorial of OhMyDosh below, so you can see how to navigate on the site and exactly how to find the opportunities described above on the site:
How do you get paid?
Now you know how you can earn on OhMyDosh. But before deciding if it is for you, it is of course also very important to know how you can get your earnings paid out.
You have two ways to get paid – you can get paid directly into your bank account or you can get paid through PayPal.
The payout threshold is only £10, so it does not take long to be able to get your first payout.
If you get paid into your bank account, you will receive your money within 5 working days. Through PayPal, it will be faster.
So overall some great payout options OhMyDosh has in my opinion.
How much money can you make?
So how much money can you then make on OhMyDosh?
That is very difficult to say, as it, of course, depends on how many of the offers you take.
There are new offers and opportunities posted regularly so if you are active, you can earn some nice extra money.
You just have to be aware that it is of course not a way to make a full-time income or become rich. But if you do it with the right expectations it can be a great opportunity.
Can you use it on mobile?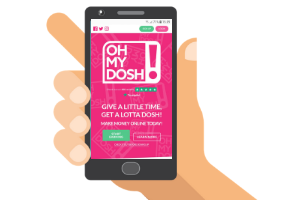 Personally, I prefer using rewards sites that I can use on mobile devices.
This makes it easy to use the site whenever you have a few extra minutes during the day. And on sites like this, just checking in and being active once in a while can quickly add up.
It is luckily possible to use OhMyDosh on mobile. There is no OhMyDosh app you can download, but the website is fully optimized for mobile.
So it works well on most screens, and it is easy to navigate on most devices, so no matter what device you have, it is possible to use.
Who can join OhMyDosh!?
OhMyDosh is only available in the UK, and you have to be minimum 18 years old to join and participate on the site.
So if you do not live in the UK, you can instead check out some great reward sites in your country.
But if you live in the UK, OhMyDosh can be a site worth checking out.
Can you get support?
On any reward portal, it is important to be able to get in contact with support if you need to.
Most of the time it is not necessary, but it is good to know the option is there. OhMyDosh has several ways you can get support.

You can, for example, submit a support ticket. You will then get an answer within 48 hours.
When you are logged in, you will also sometimes see a chat available, if one of the staff is available at that moment. This is, of course, the fastest way to get in contact with them if you log in at a time when it is available.
I have personally been in contact with OhMyDosh several times with some questions, and have received fast and very helpful answers. That is definitely a good sign and good service tells a lot about a company.
Final verdict
No doubt that OhMyDosh is a legit cashback and rewards site. This does, however, not mean it will necessarily be for you.
So let's finish this review by summing up the pros and cons, so you can get a better overview before deciding to join or not.

Pros:
Free to join
Gives great cashback rewards
Many earning options
Low payout threshold

Cons:
Survey opportunities are not great
If OhMyDosh is for you or not depends on your preferences. If you mainly like to earn by taking surveys, then there are better survey sites in the UK that are specialized in this.
But if you would like to get access to some great cashback rewards and join a site that is easy to use, then OhMyDosh is one of the really great sites.
So from reading this review, I hope it has become clear to you if it is for you or not. And if you are not sure, why then not give it a try? It is free to join, so there is no risk at all.
How to join OhMyDosh?
OhMyDosh is very easy to join. Just click the button below – it will take you straight to the sign-up page. Here you will just have to fill out the sign-up form, and then you can start earning right away.
If you have any comments, questions, or have any experiences with OhMyDosh yourself, I would love to hear from you in a comment below.