At first sight, Survey Spotter looks like any other survey site – you can sign up, complete online surveys, and get paid.
But is Survey Spotter legit or a scam?
As you can probably guess from the title of this Survey Spotter review, it is a platform that is NOT as great as it first looks like, in my opinion, and there are several things that might not be clear before you sign up.
Let me reveal right away that this does not mean it is a scam – but it means you need to be aware of what you will really get before joining, as it might not be what you expect.
This review will give you all the details so you know exactly what you really get so you can judge for yourself if it will be worth it or not.
What is Survey Spotter and what does the site offer?
There is not much information about who is behind Survey Spotter on the website. You can in fact not find any info about the owners, or if there is a company behind.
More or less everything you can see on the website is that it offers paid surveys, and you can earn £5-£300 per month by joining and taking surveys. All you have to do is supposedly to sign up, start taking surveys, and then get your rewards.
All this looks and sounds legit, so even though there is no real info about who is behind, I decided to give it a chance and sign up.
It turned out it was not exactly what I expected, and it does in my opinion, not give you what it gives you the impression you will get. This is especially the case if you are new to survey sites and do not know how they usually work.
So let's look at what you really get if you sign up.
Option 1 – Access to short list of survey sites:
Once you join, you might expect to get access to a members area, where you can start taking surveys, like you would on any regular paid survey site.
This is, however, not the case. After you have filled out your name and email, you are instead taken to a screen, where you have to select the survey companies you want to sign up for.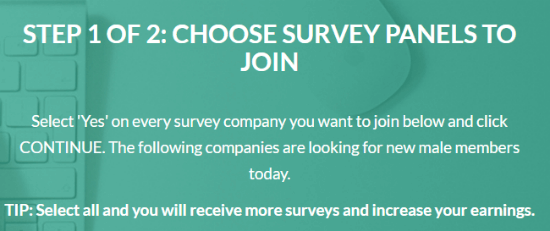 So it turns out you are not actually going to get access to paid surveys on Survey Spotter. You are just going to get a list of survey sites you can join.
The list is not even very long or very impressive. It basically just shows the name and very little superficial info about the sites. You cannot find any real info to help you decide what the best sites are for you and there is no in-depth info about what the sites offer.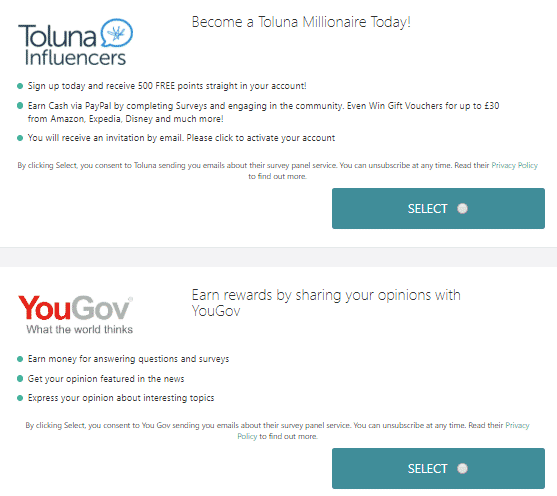 In their defense, all the sites I saw on the list are however legit survey sites. I was for example offered to join Toluna Influencers and Swagbucks, which I know are good sites worth joining.
So at least Survey Spotter only has legit survey sites on the list. The site does, however, remind me of the site Survey Voices, and in general, I really dislike sites, where you have to sign up just to get a list of survey sites. And especially because they at first make it look like you can actually join to take surveys on their site.
So be aware that you can not take surveys on Survey Spotter. You will just get a list of survey sites. Once you have selected the ones you want to join, Survey Spotter sends you an email with links to the sites, and then you have to go to the actual sites to sign up and fill out your info there.
Survey Spotter does not have a member area, and all you see after having chosen the survey sites on the list is a screen that tells you to check your emails.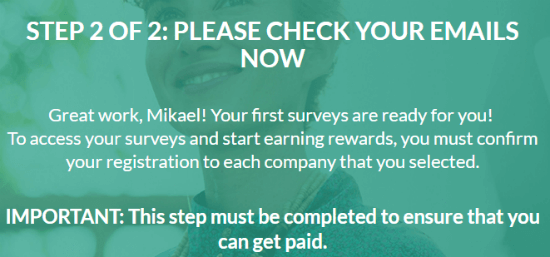 That is it – you can not do anything else there.
So, in my opinion, it is a waste of time to sign up for Survey Spotter just to get access to a list, where they will then send you links you have to click, only to go to the sites themselves to join to get real chances of earning money on surveys.
Option 2 – Offers via email:
The above is basically all Survey Spotter offers. After you have gone through the 2 steps described above, you do, however, have one more option from Survey Spotter.
You can start receiving emails with offers. This is luckily not something you will automatically start receiving, but something you will actively have to choose in the sign-up process.

However, as all the other info on Survey Spotter, I find the emails I got superficial and a waste of time.
After signing up, I started receiving a promotional email more or less every day, where they promote survey offers they get paid to promote.
There is nothing wrong with getting paid for promoting the sites they are promoting, as I have only seen them promote legit sites. But there is, in my opinion, no value in the emails at all.
They are just trying to sell and often make the sites sound a lot better than they really are just to promote them and make a commission.
And again there is no real info – just a few sentences of superficial info that does not tell you much about what the sites really offer. And you then again have to go to the sites themselves to sign up.
So also the email offers are in my opinion, a waste of time.
How do you get paid?
On Survey Spotter there are some big logos that show some of the rewards you can earn.

Both Amazon and PayPal are real ways to get paid for taking surveys, and there are for example many great PayPal survey sites.
The thing is that you will not actually earn rewards on Survey Spotter. You will be able to earn this kind of rewards once you join the real survey sites, but Survey Spotter itself does not pay you.
One of my big concerns about Survey Spotter is that they display these rewards and if you are new to survey sites, you might think you can earn this on their platform. They in general make it look like you can join and take surveys on their platform, which is not the case.
I do know they mention in a small section that they have just scouted the market and will give you access to sites, but it is not very clear, in my opinion.
I think the use of the rewards logos and the general presentation is not transparent enough, as you might think you are joining an actual survey site, when you are only joining a site that will get commissions to promote offers to you.
And after joining all you get to is a list of survey sites and a message about checking your email.
How much money can you make?
At the top of Survey Spotter's website, you can see, you can supposedly earn £5-£300 per month by taking surveys.

They do also mention that the earnings can vary depending on how many sites you join and how many surveys you take.
I agree that this is realistic earnings by taking surveys. But again I think the information is used so it looks like you can earn this kind of money on Survey Spotter itself, when in fact it just sends you to other sites.
So this kind of earnings is definitely realistic, and in some countries, it is also possible to earn more on paid surveys, if you join the best sites.
But beware that you will NOT earn anything on Survey Spotter itself.
Who can join?
In theory, you can join Survey Spotter no matter where you live.
But one of the few things they do mention about themselves on the website is that it is a site that has scouted survey sites in the UK.
Many of the sites will also be available in other countries, but as already mentioned there is no need to join and give them your email just to get a list of survey sites no matter where you are from. You can find that publicly available other places.
You can, for example, check out this list of the best UK survey sites without having to sign up for anything.
Final verdict
As you can see from this review, I do not think Survey Spotter has much to offer.
But let's sum up the pros and cons, so you can get a better overview and decide for yourself if it is a site you find worth signing up for or not.

Pros:
Free to join
Only promotes legit survey sites

Cons:
Not clear what you get before joining
You do not earn on the site itself
Short list of sites
Very superficial information about the survey opportunities
A lot of promotional emails, if you sign up for their newsletter
Overall, I do not see any point in signing up for Survey Spotter. I do not have a problem with them promoting survey sites, as they only promote legit sites.
But I think it should be more transparent about what they really offer before you join, and this is the biggest reason I do not recommend Survey Spotter, as I dislike tricks like this.
When at the same time the information you can find on the website is so superficial, it is in my opinion a complete waste of time. No matter whether you live in the UK or anywhere else, there is no need to sign up for a site just to get a list of survey opportunities.
You can, for example, instead check out a free list of the best sites in many countries below – and you do not have to sign up for anything to see these lists.
==>Click to Check Out the Best Survey Opportunities in Your Country<==
If you have any comments, questions, or have any experiences with Survey Spotter yourself, I would love to hear from you in a comment below.