At first sight, Survey Voices looks like a legit paid survey site, where you easily start earning some extra money for free.
But is Survey Voices legit and really a way to make money online or a scam?
I have tested Survey Voices myself and was surprised at what it turned out to really be about. There definitely are some things you NEED to know.
In this Survey Voices review, you will learn all the details and a warning you need to know before joining. Then, if you decide to join, you will at least know exactly what to expect.
What is Survey Voices and what does the site offer?
Survey Voices is a website many people interested in paid surveys have heard about, as it has been around for a while.
However, I do honestly not understand it has been able to exist for very long after finding out what the site really offers. But I will tell you more about this throughout this review, and then you can judge for yourself.
Survey Voices is not as such a survey panel itself. It is instead a survey aggregator, which means it is trying to match you with the right survey sites – or that is at least what it claims.
This is very similar to sites like PanelPlace and SurveyCompare, which are both sites that are also just putting you in contact with survey sites.
However, even though I am not a big fan of any of the aggregators I just mentioned, Survey Voices takes the low quality to a new level, in my opinion.
But before getting more into this, let's first take a look at what you can get out of joining Survey Voices.
Option 1 – Access to paid surveys:
What Survey Voices is offering is, as already mentioned, not really any paid surveys on its own. It just gives you access to a list of paid survey sites you can join.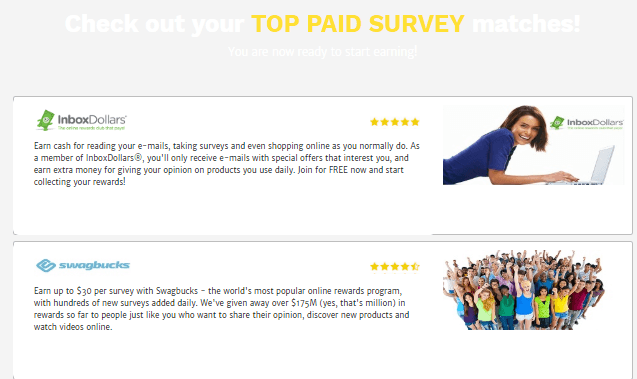 One thing that is great is that the survey sites that are listed are actually more or less all legit survey sites, where you can actually get paid.
As you can see in the image above, one of the survey sites listed there is, for example, Swagbucks, which is one of the best and most popular survey sites.
However, the list is very short. I only got a list of 6 survey sites. And you will get no valuable information about any of these sites to help you decide which ones are the best to join for you.
And there is absolutely no need to join Survey Voices just to get this small list of survey sites. Especially because the joining process is not as easy as on other survey sites, and the terms you have to agree to are VERY poor and can give a lot of hassle, as I will explain later.
Option 2 – Other paid opportunities:
Even though the main thing Survey Voices offers is a list of paid survey sites, there is one more thing you can get there.
In the sign-up process, you get an option to see more "exclusive" offers.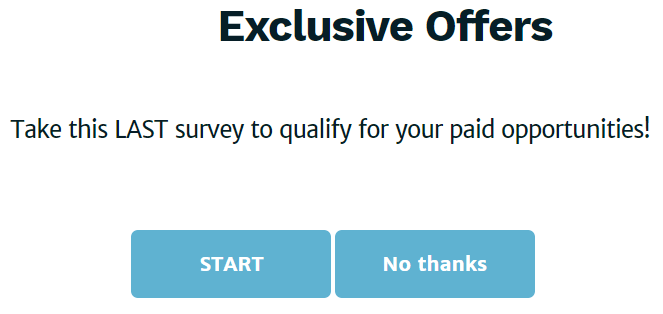 This is not really exclusive offers, but mostly just some offers from some of Survey Voices' partners, so it is more just ads you can see and click.
In my opinion, the offers on Survey Voices are not worth taking, as they are once again not about promoting quality, but just about trying to advertise something to you, but without any real value for you.
I have also made a short video review of Survey Voices you can check out. Below the video, you can find further details:
Recommended: See List of the Best Paying Survey Sites instead
How do you get paid?
There are many different ways to get paid on survey sites, and the payout options are important to consider, before joining any survey panel. I personally prefer survey panels that pay via PayPal, but there are also many other great rewards survey sites use.
However, there are no payout methods on Survey Voices. It is only connecting you to survey sites, and the survey sites themselves are the ones paying you, so you still have to go to each of the survey sites and sign up there again.
In fact, in the FAQ section of Survey Voices, they very clearly say that they do NOT guarantee you will be paid for your answers.

So you do not get paid on Survey Voices and they do also not guarantee that the options they recommend will actually pay you.
And when considering what really happens after you join Survey Voices, it is a site I do not see any reason to join at all.
What really happens when you join Survey Voices (Warning)?
As you know already, you will only get access to a small and superficial list of survey sites after joining Survey Voices.
You will, however, get something else as well – you will risk getting A LOT of spam (at least that was what happened to me).
This is very unusual and the legit survey sites never sell your info to others, and you will not start receiving more spam after signing up. But on Survey Voices a part of the conditions you agree to when joining, opens you up to receive a lot of promotions.

To sign up you do not only have to give your email but also your phone number. Most survey sites do not ask for your phone number in the sign-up process, but Survey Voices do.
As you can see in the image above, you have to agree to the terms to sign up, and these terms are that you can start receiving calls and messages from Survey Voices's marketing partners.
This reveals the true intent of Survey Voices, in my opinion. It is not to connect you to the best survey opportunities, but to get your information and sell this to their marketing partners. Seeing how poor info that is available after joining, further confirms this.
I provided my real email address when joining, and this made me regret I ever signed up for Survey Voices.
I immediately started receiving a lot of spammy offers on my email – not only from Survey Voices, but also from what I assume are their partners you have to agree to be contacted by.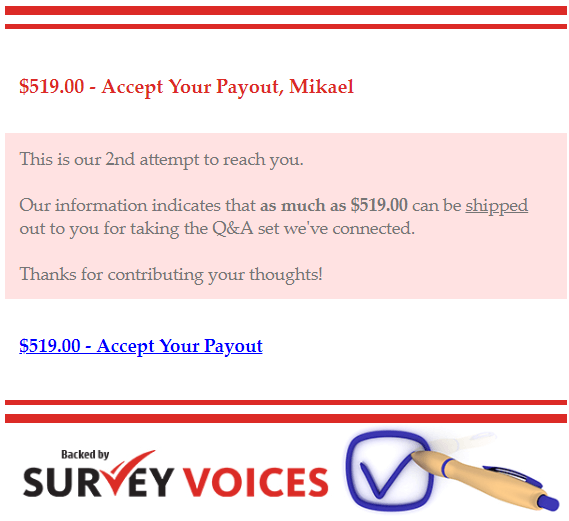 The above image shows an example of an email I received from Survey Voices Research. The funny thing is that I had not taken any survey there, and I then receive an email saying I have $519 waiting for me.
This was not the only kind of this email I received. I received many daily and all of them with these claims that I had won and had a certain amount of money available that were just waiting for me if I clicked the link in the email.
It is of course not unusual to receive spam emails with crazy claims like this to get you to click links, but what is unusual is the huge increase in these emails I got just after signing up for Survey Voices.
And as you can see in the image above, they were often branded with Survey Voices logo and said it was backed by Survey Voices.
Who can join?
Survey Voices' FAQ section says that anyone can join. However, when filling out the sign-up form, you can only select an address from the US.
But no matter where you live, you should not be upset, if you cannot join Survey Voices.
It is a terrible site to join in my opinion, and you should instead look into joining the legit survey sites in your country that do not spam you, and where you can actually earn money by taking surveys.
Can you get support?
Can you at least then contact Survey Voices' support and ask them to stop the spam, after you join or ask any questions?
No, you cannot. There is no contact info for Survey Voices on the website. Also, not after you join. There is just a list of contact info for the different survey sites themselves, and you are told you have to contact them directly.
Regarding stopping the phone calls and emails there is no one place where you can stop all of these.
Survey Voices FAQ clearly says you have to do this at the individual partners. So it will probably be a while before you will be able to get the phone calls stopped.
For me it took several weeks, where I every day unsubscribed from several the spam emails I received from Survey Voices' partners to get my inbox back to normal.
Final verdict
I think it is clear by now that I do not like what Survey Voices is offering.
But let's finish this review by summing up the pros and cons so you can get a better overview before deciding for yourself.

Pros:
Mostly lists legit survey sites

Cons:
Very short list of survey sites
No valuable information
You have to agree to receive phone calls and spam email to join
Not clear what you get before joining
I would not as such call Survey Voices a scam – they do not as such do anything illegally as far as I know (I am not a lawyer). When signing up you are yourself agreeing to receive phone calls and emails from their partners.
But no matter what, it is, in my opinion, a site to stay away from. You get no value out of joining, but you will, however, likely start receiving a lot of promotional calls and emails. If you do not mind this, you can still sign up for Survey Voices without any financial risk, as it does not cost anything to join.
In my opinion, it is, however, a complete waste of time. I have tested many survey sites and also survey aggregators, and this is one of the worst.
If you want to make money by taking surveys, there are however many great survey sites that are definitely worth joining. You can click the link below to see the best of these sites.
==>Click to See List of the Best Paying Survey Sites<==
If you have any comments, questions, or have any experiences with Survey Voices yourself, I would love to hear from you in a comment below.