Cashback sites can be very useful if you ever shop online. This is because you will get back a percentage of the money you spent on your purchase. So, you will actually be saving money every time you shop.
One site that offers this in a different way than most other cashback sites is Rebaid.com.
But is Rebaid legit or is it a scam to stay away from?
This is an important question to ask so I'm going to answer it right away. No, Rebaid is not a scam. It is a legit cashback site that will reward you for availing of their cashback offers.
But not all cashback sites are created equal. There are a few things you need to consider when evaluating a cashback site so you can truly say if it is worth your time or not. This Rebaid review will do exactly just that.
You will learn all about what the site has to offer so you can get a clear picture of how good or bad Rebaid is before joining. So, let's go ahead and get started, shall we?
What is Rebaid and what does it offer?
As explained above, Rebaid is a cashback site that will give you with rebates when you avail of their offers.
Their mission is to offer compelling deals on great products and provide a highly effective method for small brand owners to attain the pinnacle of success on Amazon and other platforms.
Now, to fully comprehend how well you can earn from this site, we have to take a closer look at the earning opportunity it offers. So, here's how you can earn from Rebaid.
I made a short video that gives you an inside look and shows exactly how it works. You can also read all the details below the video:
Click to Check Out the Best Cashback Sites
Option 1 – Cashback offers
The main way you can earn rewards from Rebaid is by availing of their cashback offers. All you have to do is browse through hundreds of product offers with rebate discounts that can reach to 100% of the purchase price.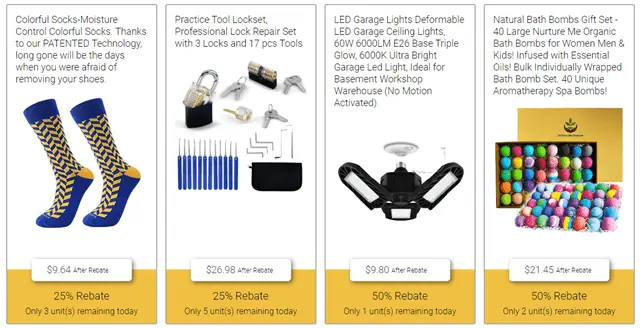 Then, click the Claim Rebate button on the offer page and you'll be brought directly to Amazon or one of their other partner stores to make the purchase.
Once you've completed the purchase, return to Rebaid.com to confirm you're order number. Once confirmed, you're rebate will be processed.
That's how easy it is. Now, unlike other cashback sites, Rebaid mainly deals with Amazon. When it first started it was exclusively Amazon delas you could find here but it has since expanded and now you can also find deals from platforms like Walmart, Etsy, eBay, and Target.
The good thing about this is, as you probably already know, Amazon is the biggest online store today. So, you will definitely find offers that will be of interest to you. This factors into how beneficial a cashback site is.
That's because if a cashback site has more interesting offers, then there's a high chance you will be interested in availing of the said offers. Therefore, you will be able to accumulate more rewards.
Also, a very important thing to be aware of is that this is not a platform where you get paid to review products so you are not required to leave any reviews of the products you get.
However, you cannot just freely choose which products you, for example, want on Amazon so the selection is quite limited compared to if you, for example, earn free Amazon gift cards which can be used to get any product you want on Amazon.
Option 2 – Referral program
Most, if not all online rewards sites offer some form of a referral program. In Rebaid's case, you will be able to invite people to join the site and earn a referral bonus as a reward. For every person that becomes your referral, you will earn $10.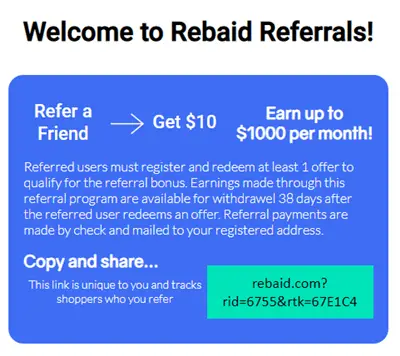 The person you invite must use your referral link to sign up to the site in order for them to become your referral.
Plus, they must redeem at least 1 offer in order for you to qualify for the referral bonus. So, make sure the person you invite is someone who is also interested in receiving cashback rewards.
The earnings from your referrals can only be withdrawn 38 days after the referred user redeems an offer. The referral payments are made by check and will be mailed to your registered address.
Click to Check Out the Best Cashback Sites
How do you get paid?
Here's the important part. Rebaid will pay you in USD for every rebate you get and you will receive the payment once you complete the purchase. So, you don't need to reach a threshold to withdraw your earnings.
Once you confirm the purchase, your rebate will be processed. You can choose to receive the payment via check or direct bank transfer.

However, at the start, you will have to make do with check payments until you are able to redeem two product offers. This is a part of their security to make sure people do not cheat.
Once you've done that, and you've been a member of Rebaid for more than five weeks, then you can start receiving your payment via direct bank transfer.
If you do choose to receive payment via direct bank transfer, a 1% transfer fee will be deducted from the amount you will redeem. So, don't be surprised that you didn't receive the full amount when you choose direct bank transfer as a payment method.
Still, 1% is a fairly low fee and, in my opinion, worth it for the ease of just getting the money into the bank.
Every payment is guaranteed. The only instances where a rebate payment will be canceled will be events where you did not confirm your order number in Rebaid after your purchase. Or if you provided a fake order number, canceled, or returned your order for a refund.
Payments made via check will take around 5 to 6 weeks before it will reach your doorstep. So, it's quite a long wait. As for direct bank transfer payments, you will receive the payment within 5 days of your redemption.
This is another reason to choose the direct transfer option as soon as you qualify for it.
I do like the fact that you will receive the payment after every offer you complete. It makes it easier to withdraw your earnings.
If you prefer a more convenient payment option, you can always go for sites that pay via PayPal. Here's a list of the top sites that pay via PayPal.
How much money can you make?
As with all cashback sites, the amount of money you can make will mostly depend on how often you shop. If you redeem product offers frequently, you stand to earn a significant amount.
Of course, you have to make sure the product offer you will redeem will be of some use to you. Redeeming offers just for the sake of earning rewards will really be counterproductive.
The other factor that affects the amount you can make on a cashback site is their cashback percentage.
And in this regard, I would say Rebaid has a pretty high cashback rate. Their rebate percentage will range from 25 to 80%. And from time to time, you will see 100% rebates offered.
Those are pretty high percentages, in my opinion. That's why I can say that you will be able to earn a significant amount if you avail of their product offers.
However, the selection of products is quite limited and you might not be able to find any products you actually want.
Also, there is a limit to how many products you can get a rebate for per month. It starts at 10 products per month and then after that it will regularly increase depending on your activity on the platform.
Unfortunately, they are not more specific about how much and when it will increase, which is a shame and a general issue on the site, in my opinion, is that there could be more details in their FAQ section about how it works.
Can you use it on mobile?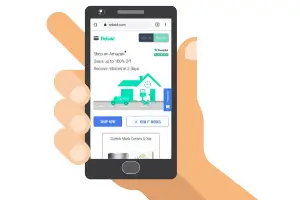 Rebaid doesn't have an app you can download but you will be able to access their site from a mobile device using a mobile web browser. And the good thing is, their site is mobile-friendly. So, you will be able to read all the content properly without having to zoom in.
Plus, they have a very user-friendly site. So, you won't have any trouble navigating through it. The fact that you can access the site from a mobile device makes it easier for you to earn rewards.
It can be especially useful for availing of product offers that have a 100% rebate because those tend to be over quite fast since a lot of members would want to avail of it.
So, being able to get to the offer without having to sit in front of a computer will work to your advantage.
Who can join Rebaid?
Rebaid is only available in the US. So, if you don't live in the US, then this site is not for you.
To be eligible as a member, you have to also be at least the age of majority in the jurisdiction where you reside.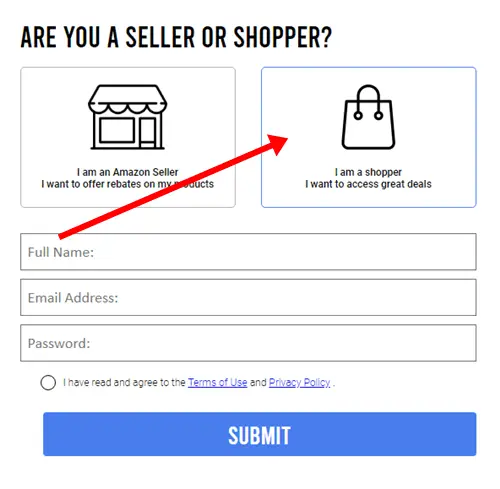 Now, when you sign up as a member, it is important to sign up as a shopper.
So, make sure to click that box (refer to the photo above) before you fill out the registration form. Otherwise, you might wind up with a seller's account.
Can you get support?
Rebaid does offer a convenient way for you to get support if ever you need it. You can always submit a support request through their Help Desk which is powered by Zendesk.
If you have a question in mind, you can check their FAQ section to see if it can be answered by the topics discussed on that page. They also have a Facebook page that is quite active. You can check for the latest updates and deals by visiting their page.
Overall, I would say that Rebaid does provide ample support for its members. You can always get in touch with their support team conveniently. And at the end of the day, that's all you will really want from them in terms of providing support.
Final Verdict
Rebaid is a legit and real cashback site that does pay you for redeeming their product offers and inviting people to join. It has a couple of features that I like but it also has certain limitations.
So, let's finish this review with a summary of its pros and cons to help you decide if you should sign up as a member of this site or not.

Pros:
No payout threshold required
Offers high cashback percentage
Convenient payout methods

Cons:
Has limited cashback offer available
Payments will take longer during the first five weeks of being a member
There is a limit to how many products you can get per month
What I like best about Rebaid is its high cashback percentage. You will be able to save a significant amount of cash when you redeem their product offers. However, the selection of products is quite limited compared to many other cashback sites.
Another downside is if you prefer to shop somewhere else than Amazon or the other brands they have partnered with, then this site doesn't really offer any value to you.
Also, you have to be extra patient when receiving your payment during the first five weeks of becoming a member of their site.
That's because you have no choice but to receive your payments via check, which can take five to six weeks to reach your doorstep.
Overall, I think Rebaid is a great idea as it can benefit you and give you some really great discounts on Amazon products and through a few other stores as well.
However, it definitely has some limitations as well so it is not a good option for all.
Now, if you are looking for ways to earn rewards without having to spend your own money, I recommend you check out the top survey sites in your country instead. The sites on this list all offer ways for you to earn without having to purchase products.
Plus, they all have decent earning potential and you will definitely find a site you can join regardless of where you live.
If you have any comments, questions, or have any experiences with Rebaid.com yourself, I would love to hear from you in a comment below.