If you want to earn Bitcoin or other cryptocurrencies by taking surveys, paid offers, and doing other small online tasks, then maybe you have heard about Cointiply.
But is Cointiply legit and really a great way to get free Bitcoin and other cryptos, or is it a scam?
I have tested the site thoroughly myself, and let me just reveal right away that it is legit as it does pay – I have been paid by it many times, and you can also see payment proof below.
This does, however, not mean it is the right opportunity for you. This Cointiply review will give you an inside look and show exactly what you can expect and how it works, so you can easily decide if you should join or not.
Disclosure: Some articles on this website contain affiliate/sponsored links. Click for more info.
What is Cointiply and what does the site offer?
Cointiply has existed since February 2018.
When it was first launched, it was mainly known as a Bitcoin faucet (more about what this is later), but you can actually earn in quite a lot of different ways on the site now.
And let me just reveal right away that Cointiply is real and legit, as it actually does pay. I know from personal experience as I have been paid by it many times myself (later in this review, I will also show payment proof).
One thing I must say, though is that when I first came to the site, I was a bit confused. It has many options, and therefore it can be a bit difficult to find your way around in the beginning and figure out exactly what opportunities it has.
It does, however, not take too long to learn to navigate on it. But to save you the time of having to spend too much time to figure out what it offers, let's here go over the earning methods, so you can easily see if it will be for you or not.
Just be aware that Cointiply regularly introduces new earning methods, so you might be able to find even more opportunities when you log in, but the methods below are the main earning methods.
Option 1 – Paid surveys:
I, in general, think paid surveys are a great way to earn some extra money online as it is easy, and you can have your opinion heard on important topics at the same time.
Cointiply offers quite a lot of survey opportunities. You will, however, not spot them right away after you log in, as they are not located in a survey section.
You can find them in the section in the top menu called "Earn Coins". Here you will find a submenu called "Complete Surveys" and here you can find all the available surveys.
You can take from many different providers and overall find A LOT of paid surveys here.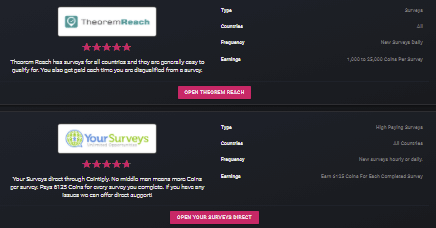 However, since it is third-party provider, you will definitely not qualify for all the surveys, and sometimes you also have to put in your details again for the different providers.
At first, this can be a bit annoying, but with a little patience, you can find a lot of survey opportunities here. The pay is average for the time spent compared to other survey sites.
Option 2 – Offer walls:
Cointiply also has a lot of offer walls. You can find extra surveys on some of these, but you can also find many other ways to earn.
If you know about paid offers on offer walls, you will know that it is a way to earn in many different ways.
It can, for example, be by downloading apps, signing up for free trials, watching videos, signing up for contests, and more.
You can find some really good offers here that can boost your earnings. But always make sure to read the conditions, before taking any of these offers, as not all of them are worth it. So you need to know exactly what you agree to.
In my experience, the rewards for the paid offers on Cointiply are on the lower end, and on the highest paying Get-Paid-To sites, you can often find the same offers but for a higher reward.
But Cointiply has A LOT of offers gathered at one place, and if you like the other options it has, it can be a good place to take them, as long as you make sure to take the right offers (this means to read the condition for each offer before taking them).
Option 3 – Bitcoin faucet:
The Cointiply faucet is the earning option Cointiply is probably the most known for.
It is a faucet, which means you can earn rewards in the form of a satoshi, which is a hundredth of a millionth BTC, by completing a small task.
On Cointiply, it is to fill out a captcha and then roll and get a number. The number decides the size of your reward.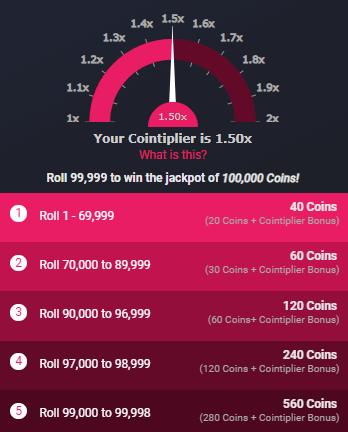 This is free to participate in, and you can roll once per hour. It only takes a few seconds, and if you are lucky, you can win more than 100,000 points in one roll.
But in most cases, the reward will, of course, be a lot smaller, but you will always get a reward.
It is very easy, so if you are on the platform, it will only take you a few seconds to roll.
You can increase the size of your reward by being active on the platform. In the image above, you can see there is something called a Cointiplier.
This tells how big rewards you will get. The standard is 1.5, but you can increase this up to 2 if you are a loyal user.
There is no exact explanation about what you need to do to increase it other than it can increase if you are actively using many of the different earning methods the site offers.
If you are only using the faucet, the Cointiplier will likely decrease instead. So it pays to use some of the other options as well, even if you prefer just using the faucet.
Option 4 – Watch videos:
Cointiply also has a whole video section where you can choose videos on many different topics and get paid to watch these.
You can also have them running on a different screen, so in that sense, you do not have to watch them.
Be aware that the rewards for these videos are very low, and it is, therefore, not one of the earning methods I generally use much on reward sites, as there are ways to earn faster.
However, sometimes there can be some interesting videos, and then it is nice to get paid while being entertained.
Option 5 – Multiply your coins:
You can find a section called "Multiplier".
This is a way to bet your coins and get the chance to win a bigger amount. But you, of course, also risk losing the ones you bet.
You simply choose the amount you want to bet, and then you can choose a field on the screen and see if you are lucky.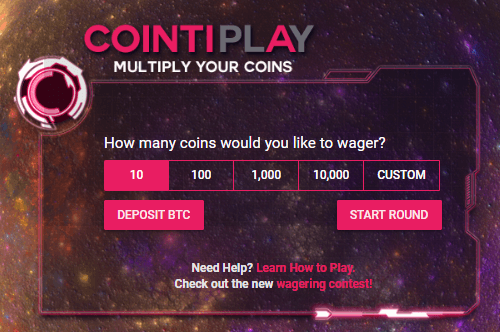 If you choose a field on the screen with a win, you will, in the first round, have the coins you bet multiplied by 1.4 – that means if you bet 10 coins, you will get 14 coins.
You can then choose to take that winning or continue. If you continue, the multiplier in the next round will be 2.1, meaning you will potentially win 21 coins if you bet 10 coins.
The multiplier for the third level is 3, for level 4 it is 4.4, level 5 is 6.5, level 6 is 9.4, and that is the highest level I have managed to get to at the time of writing this review.
You can take the winning at any time, but if you gamble and continue, you can potentially also end up multiplying your coins quite a lot. But if you gamble too much and do not stop in time, you, of course, also risk losing what you bet.
I find this game quite fun, and it is also kind of addictive:-)
If you participate in this, you will also automatically participate in a weekly contest.
There is a leaderboard with a list of the people that have bet the most on the multiplier. The 10 people that have bet the most within the given week get as prize between 100,000 – 1,000,000 coins.
So it can be some nice extra money if you are lucky or a big gambler.
I know it can sound a bit confusing, but it is actually very easy. To show you exactly how it works, I have also made a video below that shows step-by-step how to use the Cointiply Multiplier
Option 7 – Online games:
You can find a lot of different games you can play in your browser on Cointiply.
You cannot at first see this option in the main menu. You find it by going into the "Earn Coins" tab, and here you then click on "play games" which is located in the "Cointiply" sub-menu.
You will earn 31 coins when you have played long enough for your activity bar to fill up – there is however not much information about how long this will take.
In general, it is not a high reward, so if your main goal is to earn on Cointiply, some of the other methods are more effective. But you can find games in almost any genre, so if you like playing online games, why not get paid a little to do it?
Option 8 – Click on ads:
You can also find a section with PTC ads on Cointiply. This means you get paid a small amount to click an ad and watch it for a set amount of seconds.
If you go directly through the PTC tab in the main menu, you will not find too many options, but there is a decent number and definitely more than when I first started using Cointiply.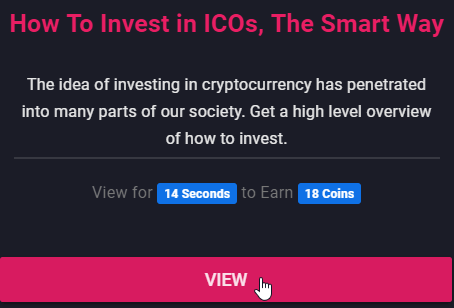 You can, however, find more PTC ads on the offer walls. There are some of these that also have this option.
It is very easy to participate in the PTC option, BUT you have to be aware that the rewards are generally very small, so it will take A LOT of clicks to make any real money.
For that reason, it is not an option I myself use very often. But if you decide to join, it does not take long to do, so it can still be worth checking out, so you can see for yourself if this option is for you or not.
Option 9 – Cointiply promo codes
Sometimes Cointiply offers promo codes that will give you some free coins.
You can find these promo codes on their Twitter profile.

There are usually posted around once per week, in my experience. Just be aware that each promo code is only available for a limited number of members. So you should wait too long if you want to get these points.
Option 10 – Cointiply loyalty bonus:
If you are logging into Cointiply every day, you can earn a loyalty bonus. To get this, you just need to do something on the site.
The more days in a row you do this, the higher the bonus you will get. You will earn 1% per day in a row you log in. So if you are actively using the site, you can earn up to 100% bonus per day.
A nice way to boost your earnings if you like what else the platform has to offer.
But be aware that if you miss one day, it will reset, and you will have to start building up the bonus from scratch again. With a premium membership, you can, however, miss some days (more about this membership below).
Below you can see a full tutorial of Cointiply to get an inside look and see exactly how to use and find the options described above. Just be aware that the interface has changed a bit since I recorded the video, but it will still give you a very good idea about how it works:
Click to Check Out Cointiply Yourself
Is the Cointiply premium membership worth it?
It is free to join and use Cointiply, but it also has a premium membership you can get.
I usually do not like platforms like this that have a premium option, but the one on Cointiply is not too bad.
The platform itself, of course, also needs to make money. A big part of this comes through ads – if they did not have this, we could not earn on it. You can, however, decide to upgrade, which will stop a big part of the ads.
It will, in general, give you the following advantages to upgrade:
No popup advertisements
No hover / slide in advertisements
Skip up to 2 days without having your loyalty bonus reset
Early access to new features
Premium badge and access to premium only chat room.
Premium support
What I like about this option is that they are not trying hard to push you into getting it, and the platform works fine without an upgrade.
Also, if you decide to upgrade, you do not need to take out your credit card, as you can only upgrade if you have enough coins in your account.

You have two premium membership options. You can pay monthly for 17,000 coins ($1,7) or yearly for 170,000 coins ($17).
So it is not a big amount. If it will then be worth it, depends a lot on your preferences. If you use the platform a lot and would like fewer ads, a chance to miss a few days without the loyalty bonus is reset, and some extra bonus chances, then it might be worth it.
But it is NOT necessary to upgrade to earn on Cointiply, and you can easily use it without a premium membership.
How do you get paid?
When you are active on Cointiply, you earn coins. You can see in your account how many coins you have, how much they are worth in dollars, and how much they are currently worth in Bitcoin.
100 Cointiply coins are worth $0.01. This means 10,000 coins are worth $1.
At first, this can make it a bit confusing to figure out exactly what you, for example, earn to take a survey or offer. But once you get used to it, it is quick to figure out how much an activity is worth in dollars.
You can get these coins paid out in a few different ways:
Withdraw directly to your Bitcoin wallet when you have at least 50,000 coins ($5)
Withdraw directly to your DOGE wallet when you have at least 30,000 coins ($3)
Withdraw directly to your DASH wallet when you have at least 30,000 coins ($3)
Withdraw directly to your LTC (Litecoin) wallet when you have at least 30,000 coins ($3)
So the payout threshold depends on the reward you prefer, but the thresholds are, in general, quite low and easy to reach.
Once you have requested a payout, it will usually be processed within 24 – 72 hours.
The first time you withdraw will usually take the longest as they need to verify everything ok. After that, you will get your earnings faster, in my experience. Usually, I receive my earnings within 10-12 hours, which is very fast for a Get-Paid-To site.
These are, at the moment, the only payout methods Cointiply offers. If you instead, for example, prefer getting paid through PayPal, you can check out this list of legit PayPal sites where you can earn by taking surveys, offers, playing games, and more.
But just to make it clear, Cointiply is legit, as it actually does pay. I have been paid by it many times myself and below you can watch a short video that shows payment proof and also shows exactly how to redeem:
Click to Check Out Cointiply Yourself
How much money can you make?
As you can see, Cointiply has quite a lot of different ways to earn.
But how much money can you then earn?
It really depends on how much time you are willing to put in. It has enough opportunities for you to spend a lot of time on the platform every day.
Many of the earning methods will not give huge rewards but can give a little extra. But if you combine the different earning methods and log in often to get the daily bonus, you can earn some nice extra cash.
However, you should not join if your goal is to become rich easily or make a fast full-time income. This is not the kind of money you can earn here.
But with the right approach and expectations, it does have a decent amount of opportunities to earn some extra money if you like getting paid in Bitcoin.
Can you use it on mobile?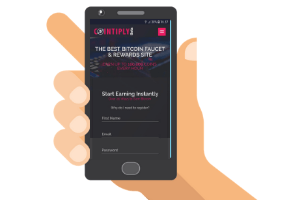 You can use Cointiply on a mobile, which in my opinion, is a big advantage, as it makes it possible to earn a bit whenever it fits you, and you can use the roll option to earn your free points when you are on the go.
There is even a Cointiply app you can download, which makes it very easy to use on mobile or tablet. For some reason, the app is, however, only available for Android.
But if you do not have Android and want to use Cointiply on the go, the website is fully optimized for mobile devices and works very nicely on mobile. It is easy to navigate on even small screens.
Some of the surveys or offers might not be fully optimized, as they are offered through third-party providers, so in some cases, you have to zoom in and out a bit if you use these options.
But overall, Cointiply gives a good experience on mobile.
Who can join Cointiply?
You can join Cointiply no matter where you live.
Some of the opportunities might be limited in certain countries like, for example, surveys and offers. The amount of these depends a lot on your country.
But many of the other earning options are the same in all countries. So overall, Cointiply gives several ways to earn all over the world.
Can you get support?
Cointiply has a support function where you can submit a ticket.
I had problems entering this from the "contact us" button on the website. But I then instead saw that it is possible to submit a ticket if you go to the FAQ section.
I have, however, not needed to contact the support yet, so I cannot say how fast they respond, but it is good to know that you can send a message.
If it does not work for you through the contact & support option, just try to go to the FAQ section, and at the top, there is a "submit ticket" option.
Final verdict – legit or scam?
Cointiply, without a doubt, offers a lot of ways to earn.
And it is legit as it does pay you (I have been paid by it several times myself), and it offers some decent opportunities.
And from the feedback I have heard from other users, many others also have good experiences.
But let's finish this review by summing up the pros and cons, so you can get a better overview before deciding if it is the right option for you or not.

Pros:
Free to join
Has many earning methods
Some earning methods are passive
Available to all countries
Low payout threshold

Cons:
Some earning methods have low rewards
Can be a bit confusing to use at first
Cannot get your earnings out in cash
Overall, I think Cointiply has some great opportunities to earn some extra money. It offers many ways to earn, and you can join from all countries.
You just need to be aware that it is not the most user-friendly site, so it will take a bit of time at first to learn how to use it the best way.
But if you are patient enough to get to know how it works and if you like getting paid in Bitcoin or other cryptocurrencies and do it with the right expectations, it is, in my opinion, a site worth joining.
If you would like other payout methods instead, you can check out the top paying Get-Paid-To sites that offer many other payout methods.
How to join Cointiply?
It is very easy to join Cointiply. You just click the button below, and you will be taken straight to the sign-up page. It only takes a few seconds to sign up.
Once you have signed up, make sure to confirm your email, as this will give you a joining bonus of 100 points and verify your account. And then you can start earning right away.
If you have any comments, questions, or have any experiences with Cointiply yourself, I would love to hear from you in a comment below.