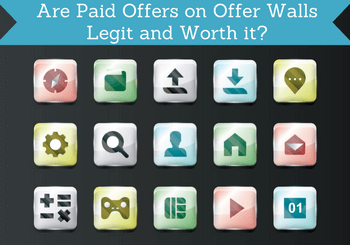 If you are a member of paid survey sites or GPT sites (Get- Paid-To) you have probably seen that many of them have what is called an offer wall that has different offers you can get paid to take.
When I first started using GPT sites, I was not sure what these offers were about and if they were even safe to use.
And since many visitors here on my website have asked about it, I will, therefore, in this article explain more about what paid offers are and answer some of the following questions:
Are paid offers legit and what are they about?
Can you really make money with these offers?
Do I have to give my credit card details?
Are they safe to use?
What sites have the best offer walls?
So if you want to know all the details about paid offers and find out how they can potentially boost your earnings, then keep reading.
What are paid offers and offer walls?
Survey sites and GPT sites often have more ways to make money than just surveys.
One of the ways is what is called paid offers that are often posted in a section of the websites called an offer wall – that basically just means a place where you can find offers.
But just saying paid offers does not really explain a lot.
When I first started joining survey and GPT sites, I remember I was a bit confused about this part, as the sites often have a lot of offers posted, and I was not sure what to expect, and if it was safe to use.
We will go over all that in this article, but let's first look into what kinds of offers you can typically find on offer walls.
What kind of offers can you take?
There are usually many different kinds of offers.
Often they are provided by third-party providers, which means that the survey and GPT sites you are using are getting offers from partners they are cooperating with.
They can have many partners, and that is why you at some sites will find a very big amount of offers.
On an offer section, you will usually see a list of the different partners like for example PeanutLabs, Persona.ly, Adscend, TrialPay, OfferToro, etc.
These are just a few examples you will often see. You can then select the partners/portals to take offers through and see what they have to offer.

The offers are regularly being updated, so it can be a good idea to check regularly if any new and relevant offers are available.
Typical options can, for example, be signing up for free contests, booking flight tickets or holidays, signing up for other survey sites, signing up for newsletters, signing up for free trials of different services, downloading apps for your phone, downloading and play games on your phone, join casino sites, etc.
Often you will also be able to find additional paid surveys on the offer walls, so if you run out of available surveys on the site itself, it can be worth checking the offer section for more options.
There are many more different offers than this, but I cannot mention them all here, as they keep changing and new offers come all the time. But this is just to give you an idea about what type of tasks you can earn by doing here.
Can the offers make you money?
So now you know a bit more about what offers are, but can they make you money, and are they worth signing up for?
The short answer is – They can definitely be worth signing up for, but it depends. Not a very satisfying answer so let's expand a bit on that.
Some offers are very easy to take and only take very little time. It can, for example, be to just download an app on your phone and launch it.
Other offers take a bit more effort, but usually, the rewards are then also higher. Both the very easy and the higher paying offers can be worth it.
The easy offers, because they take so little time so even though the rewards are not high, it is worth it. The offers that have more requirements often have really high rewards and can, for example, give you $20 with little effort, and because of the high rewards, they can definitely be worth taking.
But it really depends on every single offer and your preferences. One thing that is very important to find out if an offer is worth taking is to check the conditions before using it.
An offer might seem very easy, like for example signing up for a free contest where you can win amazing prizes and get a reward for signing up at the same time. But maybe the condition is that the company is allowed to give you a phone call – it might not be a problem for you, but it is good to know before signing up.
In some cases, you will even allow their marketing partners to contact you as well and for some of the contests on offer walls that often means you will allow 50+ companies to contact you so you need to check this before signing up for any of the contests on offerwalls.
Another example is that you can sometimes get some really nice rewards for downloading games. But maybe before you will get the reward, you have to play the game to a certain level.
That is great if you like playing the game, but again you need to know when you can expect to get the reward, and what you need to do to get it before you take the offer.
If you make sure to check this and look for the offers that fit you, paid offers can be a really great way to boost your earnings.
Do you have to use your credit card?
There are some offers where you have to use your credit card and some where it is not necessary.
The free offers are usually where you sign up for a contest, download apps or games, sign up for a newsletter, take surveys, etc. These are really great, and you never have to use your credit card for them.
They can have nice rewards, but mostly not as high as the offers where a credit card is required.
The offers that require a credit card are usually where you sign up for a trial of a certain service – for example, online streaming or an online casino.
Some of them will have a free trial, but you need your credit card information to sign up, as your membership will continue if you do not cancel after the free trial. That is why it is so important to read the conditions before joining.
If you do, you can sign up with your credit card and get some really good rewards, if you remember to cancel in time (unless it is a service you want to continue using).
There are also offers you have to pay to take. This might not sound very appealing, but if you find the good offers, they can actually be really beneficial to sign up for.
I have for example myself several times used offers for online casinos. Sometimes the reward for signing up will be higher than the initial investment you have to make.
I have for example signed up for a casino and paid a deposit of around $15. I got a reward from the survey site of around $40.
Furthermore, I got a bonus from the online casino of around $60, so by investing $15 I got $40 into my survey site account, and I had $75 to play for at the online casino and a chance to win more. So there are offers that you have to pay for that can really be worth it.
Is it safe to use a credit card when required?
I know it can sound scary to use a credit card for online offers as there are a lot of scams online.
Most of the offers you can take on the survey and GPT sites come from very reputable companies, and it will be the companies themselves that you give the info to.
But make sure to check what the company is, and if you trust it. It is always good to be careful online when it comes to credit card information. And remember to check the conditions on the offers before signing up, so you know exactly what to expect.
If you do not feel comfortable using your credit card for the offers, there are luckily many good offers where it is not necessary, so the offers can still be a great way to boost your earnings if you find the right ones.
Can you take the offers on several sites?
As mentioned above, survey sites and GPT sites use third-party providers for the offers. That also means that often you will find the same providers on different survey and GPT sites.
So is it possible to take the offers on all the different survey sites you are a member of?
If you read the conditions, it will in most case not be allowed to take the same offer more than once. But there can be exceptions.
In many cases it can be tracked, if you are trying to take the same offer on several platforms if you are using the same computer or IP address. So you can for example not sign up for a newsletter on several different sites and get the reward on every platform. At least not if you are using the same email address.
It is however not always the same offer walls and providers that the survey sites have. There are so many different offers that you will also see different partners on the different survey sites. But do not be surprised, if you also see some of the same ones.
Who can use paid offers?
In general, if a survey site is available in your country and you can see the offers, you will be able to use them. There are however countries where more offers are available than in others. But offers like downloading and playing games and similar offers will be available to most.
Often you will also find offers that are for your own country as some of the providers have offers from all over the world, and when you log in from your country, the ones that are relevant to you will be shown.
There are also providers that will show you offers that you cannot take. A provider like PeanutLabs, in general, shows a lot of offers, but if you are not from an English-speaking country, you will mostly not be able to take any of them.
Once you start using the offer walls, you will quickly find out which providers give good options for you.
Which sites have the best offer walls?
Many survey sites have offer walls. Which ones are the best for YOU depends on several things.
As mentioned earlier, there are some of the offer providers that are used on several different sites, and you can, therefore, choose to take them on the site you prefer the most.
There are however also often different providers of offers on the different sites, so a good idea to join several sites to get more chances of earning – that will also give you more surveys and in general more chances to earn.
First of all, you should find the sites that in general offer the opportunities that appeal to you and that have payout options that you like to use. Once you have found these sites, you will for sure also be able to find some good offers on them, if it is sites that have an offer wall.
But finding good offers, if it is a site that does not have a payout method that you like, does not make much sense, so that is the best place to start.
Below, I have however listed a few of my favorite sites that have great offer walls. So check out what else they have to offer and what fits you, and join the ones you find the most interesting.
In general, most GPT sites have offerwalls so if you want the most out of them, you can also check out the top GPT sites here – all of them have offer wall and offer plenty of ways to earn if you want to join more than the 4 mentioned above.
Hope this article has given you a good idea about what paid offers and offer walls are and that they are not as scary or confusing as they can seem in the beginning – they can actually be a great way to boost your earnings if you just take a little time to find the good offers and read the conditions.
If you have any comments, questions or have any experiences with paid offers on offerwalls yourself, I would love to hear from you in a comment below.