GreenPanthera is one of the many online survey sites that claim you can earn some extra money easily as a member.
I have tested and been a member for several years now, and I know all the ins and outs of the site.
So is Green Panthera legit and really a survey site worth joining or a waste of time?
In this Green Panthera review, you will get all the details. You will learn all the plusses and minuses (as it definitely has both), you will get tips and advice, some warnings, and in general, learn exactly what GreenPanthera offers, so you know exactly what to expect.
By the end of this review, you will know whether it is a site you want to spend your time on or not.
Disclosure: Some articles on this website contain affiliate/sponsored links. Click for more info.
What is GreenPanthera, and what does it offer?
GreenPanthera.com is, first of all, a paid survey site where you can get paid to share your opinion on various topics. But it also offers a couple of other ways to make money.
Let me just start by revealing that I have been paid by it many times myself, so I know it is legit. But I have also received a lot of feedback that shows it is not a site for everyone.
So let's start by going over the earning methods Green Panthera offers, and how good they each are so you can see if it is a site for you or not.
Option 1 – GreenPanthera surveys:
Green Panthera is, as mentioned, first of all, a paid survey site, and that is the main way to earn on the site.
It usually offers several paid surveys a day. You will receive an email every time there is a new survey available, so you do not have to log in to the site to check.
However, you might want to log in once in a while anyway, as some of the other earning methods are only available on the platform itself (I will get to these below), and you can also get an overview of available surveys inside the member area.

In my experience, you will probably get several emails with survey invitations a day, but many of the emails will be with a link to a survey that turns out not to be available anyway.
A bit annoying, but luckily it does not take more than a few seconds to check, and there are also often surveys that work, and the ones that work usually give an ok reward in relation to time spent.
But you have to be aware that it takes a bit of patience to find the surveys that are actually available – more or less all survey sites will have surveys that you do not qualify for or that are not available, but it happens more often on Green Panthera than on the top paying survey sites.
So if you want to earn on Green Panthera by taking surveys, you need to be a bit patient and not give up even though you get emails with dead links or invitations to surveys that are closed. But with a bit of patience like this, it can give you access to quite a lot of surveys.
Option 2 – Offer wall:
Other than surveys, Green Panthera also has an offer wall with paid offers. It can, for example, be to get a reward for downloading a certain app or game to your phone, registering for a website, and offers like that.

You can find some nice offers here with great rewards, but make sure to read all the conditions before taking any of these offers, as sometimes it requires you to, for example, play a game for a certain amount of time, to be contacted by an advertiser, etc. So be sure to know what you need to do to get the reward.
On the offer wall, you can also find more surveys. Compared to many other survey sites, Green Panthera does not have the biggest selection of paid offers, but you can still find some good ones here.
Option 3 – Online shopping:
If you like to do online shopping, Green Panthera has a cooperation with quite a lot of online shops.
This is not so much a way to make money but a way to save money. If you shop in one of the online shops, you will get a discount. So if you like shopping online, it can be a way to save a little extra money.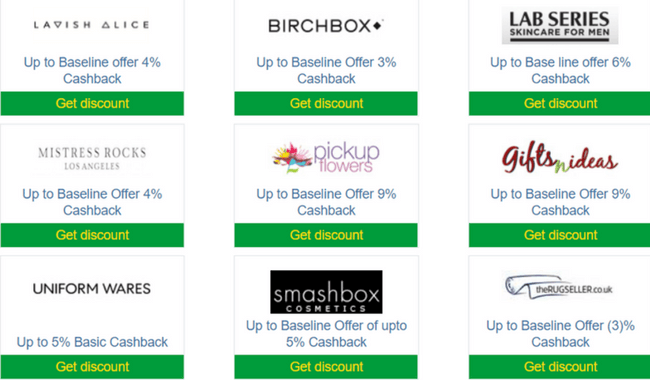 However, even though the selection of shops is pretty big on Green Panthera, it is mainly shops for people living in the US, Canada, or the UK.
Also, if you would like to save money on online shopping, a site like Swagbucks offers way better cashback offers and bigger discounts, in my experience.
But if you are a member of Green Panthera, the shopping section is definitely worth checking out, as it can be a way to save money on things you buy anyway.
Option 4 – Coupons:
On Green Panthera, you can also find coupons to save money.
Or that is at least what is said on the site. I have not had any coupons available to me, but that can also be because of the country I live in, so it might be different for you. But do not expect too many of these.
Click to Check Out Green Panthera for Yourself
How does Green Panthera pay?
When you take a survey or an offer at GreenPanthera.com, you earn dollars that you can get out through PayPal, which is a great and easy way to get paid.
Most surveys give $0.75-$1, and on average, the surveys take between 5-15 minutes. When you have completed a survey, be aware that you cannot see the money on your Green Panthera account right away. They write that you will be able to see the money after 1-2 days. However, in my experience, it usually takes around 3-5 days.
In some cases, it can also take longer for the surveys to be approved, so if you do not see the money in your account within a few days, you just need to be a bit patient.
Notice that you need a PayPal account to register at Green Panthera. In the form you have to fill out when you join, there is a field saying "PayPal account". Here you have to write the email address that you are using for PayPal. It took me a bit of time to figure out what I was supposed to put in that field, so now you know:-).
When you ask for a payout to your PayPal account, it can take up to two weeks before you have the money in your account, but in my experience, it usually happens faster.
You cannot cash out until you have earned $30, which is a high payment threshold compared to many other sites. There are PayPal survey sites with a lot lower threshold, and on Green Panthera, it can take a bit of patience to get to the threshold. But it is definitely possible, and I have done it several times myself.
You get a $2 bonus just for signing up, which is a great start and a really good joining bonus for a survey site. It used to be $5, but they have lowered it quite a bit, but it is still higher than what many other survey sites offer.
Below I have made a video that shows when I cash out so you can see payment proof for yourself and see exactly how you redeem once you reach the payout threshold:
How much money can you make on GreenPanthera?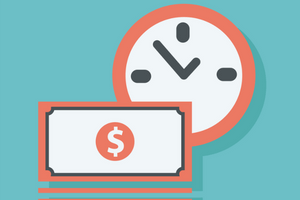 Most surveys you get offered will take 5-15 minutes. The reward you get for them is usually pretty good in relation to the time spent on each survey. They send an email every time there is an available survey, so you do not have to log in yourself to check the site.
You just have to be aware that you might have to spend time clicking on links to surveys that are not available anyway, as I mentioned above. It luckily only takes a few seconds to check, but it can be very annoying and frustrating, so you have to be a bit patient.
Like in all my other reviews of paid survey sites, I want to emphasize that this will not make you rich and will not make you a full-time income.
I mention this again, if this is what you want, you will probably be disappointed, and then you will also not do the surveys, and thereby eventually also not make any money.
Can you use GreenPanthera on mobile?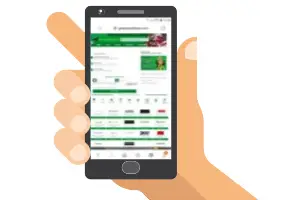 I personally prefer survey sites that are available on mobile as this makes it easy to earn on the go.
In theory, you can use Green Panthera on mobile. There is, however, no Green Panthera app you can download, but you can log in to the website on your mobile.
The website itself is, however, not very well optimized for mobile, so you have to zoom in and out to be able to navigate on smaller screens. But luckily, you will get invitations via email anyway, and you can just click the links here and take the surveys on any device.
So you can take Green Panthera surveys on mobile, but the website itself is not very convenient to use on mobile, in my opinion.
Complaints about GreenPanthera
Personally, I have not had any problems with Green Panthera, and it has been working fine for me, and I have been paid by the platform several times (you can see an example of my earnings in the video earlier in this review. It takes a bit more patience to find the survey you qualify for than on the top paying survey sites, but I have not had any other problems.
But after initially posting my review of Green Panthera, I have received several messages from people that have other experiences and that complain about different aspects of Green Panthera.
So I have now updated this review and included this part here, so you can also get an idea about what other peoples' experiences are, and I have included these complaints into my overall ranking of Green Panthera.
I have received a couple of complaints from people that have had their accounts suspended before they managed to cash out, and following they have not been able to get helpful answers from Green Panthera's support team.
I have never had problems with cashing out or getting suspended myself but it seems some people have tried this. What the reason is, I cannot say, as I have not gotten this information.
The most common complaint I have heard is that it takes a lot of patience to get an answer from the support. You can see in the comments below that some people even report to never hear back.
I have been in contact with Green Panthera's support myself a few times and have always gotten a quick answer. I have asked them about the comments about people not getting an answer. I was told that if you do not get an answer, it is best to write again.
From the comments I have received below this review, it seems it will not always help. But in case you should need support and do not get an answer, then try to write again. And do it in a proper tone, as they tend to ban people if they become abusive in their language.
Overall it seems like not everybody has the same positive experiences with Green Panthera as me, and it is worth taking into consideration before you join.
But I want to emphasize that I have never had problems with Green Panthera, and I have always been paid without any problems. But if you find out you do not want to join, there are luckily plenty of other survey sites that you can join instead.
Who can join?
You can participate on Green Panthera if you come from a lot of different countries and in many different languages. You can see the picture below to see exactly which countries it is possible to participate from.
Be aware that if you are not in the country where you are registered as living, you will not be able to participate. So you cannot participate when traveling.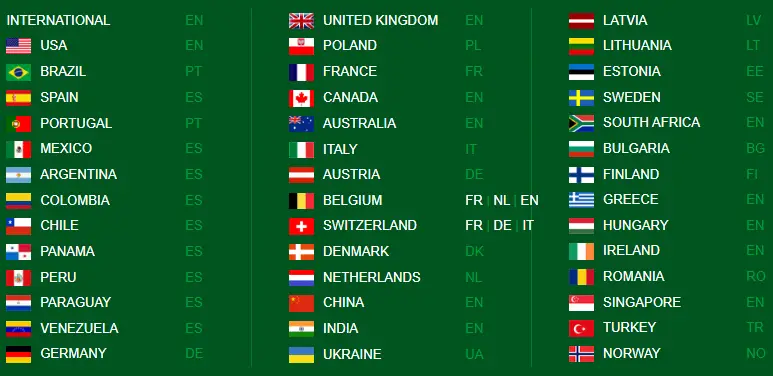 You have to be 18 years old to join Green Panthera.
As you can see, you can join from a lot of different countries, and this has expanded since I first joined, which is great. In many countries, you can even choose to set the platform to be in your local language.
As mentioned earlier, there are a few earning options (like the cashback offers) that are only available in Green Panthera UK, Canada, and USA, but other than that, you can use all the other earning options in all the countries you can see above.
No matter which country you join from, your account earnings will be shown in dollars.
Final verdict – Worth it?
Green Panthera has both good and some not-so-good aspects, but it is not a scam, and you can actually earn some extra money if you are patient enough to reach the payout threshold. I know this for a fact, as I have been paid several times by the site myself.
But let's finish this review by summing up the pros and cons so you can get a better overview before deciding if it is for you or not:

Pros:
Pays out through PayPal
Decent rewards in relation to time spent
Decent joining bonus ($2)

Cons:
High payout threshold ($30)
Several people have complained about poor customer service
Way too many invitations with "dead" links
I have not had any problems with Green Panthera myself, and I have been paid through PayPal without any problems many times. But as you can see above, there are some people that complain they have had problems.
So I would say that it is a site with potential. But it will take patience to find the surveys you qualify for and to reach the high payout threshold.
So it should not be the only survey site you are relying on to earn some extra cash. It can be fine to join as an extra site, but I would highly recommend joining other paid survey sites in your country as well.
If not, it will simply just take too long for you to earn any real money and not be worth your time.
How do you sign up for Green Panthera?
It is very easy and fast to sign up. Just click the button below, choose your country, and you will go to Green Panthera's website, where you have to fill out a short registration formula.
It only takes 1 minute. Remember that you need a PayPal account to be able to join. Once you join, you will get a $2 joining bonus into your account.
If you have any comments, questions, or have any experiences with Green Panthera yourself, I would love to hear from you in a comment below.