Are you looking for an easy way to make some extra money from your phone? Then maybe you have come across Ember Fund mining.
But is Ember legit and really worth it?
I have tested it myself for around a year, and in this Ember Fund Mining review will reveal the full details of the mining feature of this app.
That way, you'll know exactly what to expect before you even use it, and you will be able to figure out if it is the right opportunity for you or not.
And let me just tell you that Ember Fund is not just a mining app. It is so much more, and I will explain it in later sections.
So, let's go ahead with examining what Ember Fund is all about, shall we?
What is Ember Fund, and what does it offer?
As mentioned above, Ember Fund is more than just a mining app. Technically speaking, Ember Fund is a crypto portfolio management app that happens to have a Bitcoin mining feature.
The latter is what I will be focusing on in this review since it's where you will be able to earn crypto without investing any money.
So, how do you earn from this app exactly? Let's go ahead and take a closer look at the earning opportunities it offers, shall we?
Option 1 – Mining
Ember Fund has a mining feature you can take advantage of so that you can earn a bit of Bitcoin. This earning opportunity is very simple.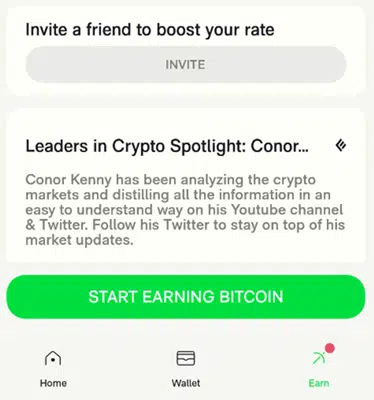 All you have to do is log in to the app and press the "Start Earning Bitcoin" and the app will start mining Satoshis for 24 hours. Then, when 24 hours have elapsed, you just have to log back in and press the button again.
As you can see, the mining is really simple. You just have to press a button every day.
The mining rate will depend on the mining season. When I first started, it was at 2.5 Satoshis per hour, but it has now been decreased to 1 per hour.
They say that each season new features & mining rates will be implemented to incentivize full usage of the Ember platform while supporting the number of active miners. However, they do not really explain how long a season is, but if you start using it, this is something you need to be aware of.
Also, the Ember app has a special feature called boost, where you can increase the mining rate.
Just click the "Boost" option in the upper right-hand corner (refer to the photo above), and you will see all the available ways to boost your mining rate.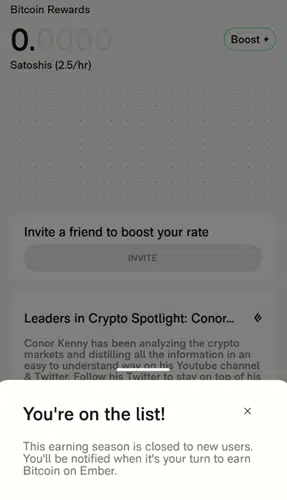 There's one thing you need to know about this opportunity, though. If you are a new member and you joined in the middle of the earning season, you might not be able to mine right away. As you can see in the photo above, Ember Fund limits the number of members who can mine with the app per season.
If this happens, then you will just have to wait your turn. They will send you an email notifying you if you are now able to start mining using the app.
Option 2 – Referral program
Technically speaking, the referral program of Ember Fund is not an earning opportunity, but I've decided to include it anyway. That's because the referral program is part of the app's boost features.
All you need to do is invite people to use the app by sending them an invite email. When they click the link in the email and install the app and register as a member, they will become your referral.
You will then receive a permanent 1 Satoshis per hour boost on your mining rate as long as the person you invited stays active as a miner. So, the more referrals you get, the more you will earn from mining.
Recommended: Check Out the Best Ways to Earn Bitcoin for Free
How do you get paid?
The question now is, how can you withdraw the Bitcoin you've mined?
Well, since you will be dealing with crypto, you'll have to make sure you have a crypto wallet before you start mining from this app because that's where you can store your Bitcoin earnings.
You can use a wallet like Binance so you can convert your Bitcoin earnings to cash easily. Once you have a crypto wallet, then the next step is to mine enough Satoshis before the next snapshot date (which you can see in the Stats section of the Boost page of the app).
The snapshot date will usually be the first week of each month, but it does change from time to time based on my testing.
The required number of Satoshis mined will approximately be equivalent to $5. And since the value of Bitcoin/Satoshis changes on a regular basis, the required number of Satoshis mined will also not be fixed.
So, to be clear, you need to mine at least $5 worth of Satoshis before you are able to withdraw your earnings to your crypto wallet.
However, first, you need Ember to transfer it to your wallet inside the Ember app. Then you can withdraw it to a different wallet or leave it inside Ember and invest it there if you want to.
They are supposed to do this automatically every month when you have reached the threshold. That does, however, not always happen in my experience.
I have experienced several times that my earnings did not get transferred, which means you then need to go through the hassle of contacting their support (more about this later).
For that reason, if you are to earn Bitcoin for free, I would recommend you check out the best apps to earn Bitcoin for free.
How much money can you make?
Let me just be honest with you, if you just mine without getting referrals, it will take you a long time to reach the $5 threshold of Ember Fund. That's because the amount you can mine per day will really depend on the value of the Bitcoin.
If the value of the Bitcoin increases, then it will take less time for you to reach the $5 threshold. But if it decreases, then the opposite will happen.
To put it into perspective, the amount you will mine per day will be somewhere in the range of 2 to 5 cents per day. That would be the realistic rate. But if you manage to get a lot of referrals, the rate will be significantly increased.
And if you manage to avail of the other boosts the app offers, then your earnings will be a bit higher. But overall, the earning potential of this app, in my opinion, is not that good. You have to be very patient to earn a significant amount if you just use the mining option.
The good thing, however, is it doesn't really take a lot of effort to earn from this app. In fact, you can even consider it as a passive form of earning because all it takes is a few seconds each day to press the button. So overall, it would still be worth it, in my opinion, if you are looking to earn Bitcoin for free.
Can you use it on mobile?
Ember Fund is a mobile-only platform. That means you'll have to use your mobile device to mine.
The good thing is that the app is compatible with both Android and iOS devices, so you shouldn't encounter any compatibility issues.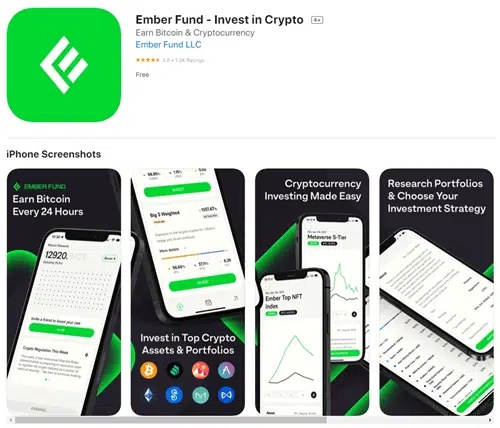 The app is also very easy to use since the user interface is very clean and very simple. Plus, you won't encounter any pop-up ads when you are using it. That's why overall, it offers a very pleasant user experience, in my opinion.
And the app will not take up any additional resources. Meaning that your battery won't be affected when you are mining, and your device won't slow down, which is a good thing because you can still use your mobile device as you normally would.
Who can join Ember Fund?
The site doesn't really tell you which countries it is available in. The best way to find out if it is available in your country is to search for it in your app store. If the app appears in the search results, then that means it is available in your country, and you will be able to use it.
If it doesn't, then you are out of luck. If you are thinking of using a VPN to bypass this limitation, then I will warn you right now that the app will be able to detect if you are using a VPN or proxy service, and it will not allow you to mine. So, don't even think about trying to bypass this limitation.
As for registering as a member, after you've installed the app, you just need to provide your email address, username, and password. Once you've done that, you can now log in to the app and start using it.
Can you get support?
If you have any questions about the app or your account, you can check out the Help Center section of the app. To access it, just go to the Home page of the app and press the gear icon found in the upper right-hand corner.
Then, you just have to scroll down and press the Help Center link. You will find most of the basic topics you need to know about the app in that section. If you can't find the answers you are looking for, then you can press the "Ask Community" button on the Help Center page, and it will take you to their Discord channel.
You can then send your inquiry to that platform, and a representative or member will be able to answer your questions.
However, I have tried getting in contact with their support, and it seems a bit on and off. Sometimes they get back to you fairly quickly, and other times you should not expect a helpful reply. That is at least my experience.
But at least the app has a decent support system in place for its members.
Final Verdict
Ember Fund is a legit crypto portfolio management app that will allow you to mine Bitcoin for free. It has a couple of good features, but it also has a few limitations you need to know.
Let me end this review with a summary of its pros and cons to give you an overview of what it has to offer. Then, you can decide if this opportunity is right for you or not.

Pros:
Offers a simple way to earn Bitcoin
The app is user-friendly

Cons:
Low rewards
You won't always be able to start mining right away
Sometimes the mining earnings do not transfer automatically
In my opinion, Ember Fund is an ok way to earn Bitcoin for free. However, you need to temper your expectations. This app will not make you rich. At best, you'll be able to earn a small amount in a few months.
But the good thing about this app is that it won't require any effort on your end. You can even consider this as a passive form of earning. You just need to be patient to earn a decent amount.
However, if you are looking for a reliable way to earn extra cash, I would suggest you check out the top survey and GPT sites in your country instead. The sites and apps on this list all have good earning potential. You will be able to earn extra cash on a regular basis.
If you have any comments, questions, or have any experiences with Ember Fund yourself, I would love to hear from you in a comment below.