Opinion Outpost is a site that claims you can earn rocking rewards by taking surveys in your spare time.
But is Opinion Outpost legit and really a way to earn or a scam?
With so many survey sites out there, this is important to know, so you do not end up wasting your time.
I have joined it and tested it myself to compare it to the hundreds of other paid survey sites I have tested.
In this Opinion Outpost review you will get all the details about what this platform really offers, how it works, and if it really works, so you know exactly what you are getting into if you decide to join.
What is Opinion Outpost and what does the site offer?
Opinion Outpost is owned by the big market research company Dynata (previously called Survey Sampling International, LLC).
It has several different platforms for different countries (more about the countries you can join from later) but what the site offers is more or less the same no matter which platform you are considering to join. So this review will show you what to expect no matter which country you are trying to join from.
Opinion Outpost has existed since 1977 and is a reputable company that is behind many legit survey sites.
This does however not mean Opinion Outpost will necessarily be a good option for you, and there are shared experiences about this platform online, as I will show you later.
But let's first go over what opportunities you get as a member of Opinion Outpost.
I have made a short video that will give you an inside look and who exactly how Opinion Outpost works. You can also read all the details below the video:
Click to Check Out Opinion Outpost for Yourself
Option 1 – Opinion Outpost surveys:
Opinion Outpost is a very simple site, as it does not have a lot of different options. This makes it easy to use.
The only way you can earn here is by taking paid surveys.
The way Opinion Outpost works is that you just simply have to sign up (see link later in this review). Once you have joined, you do not have to do much to check, if there are available surveys.
You just have to check your email, as you will get an invitation when there is a new survey available for you.
It is not the site that will give you the most survey opportunities, but you should still receive a decent amount. Exactly how many depends on the country you live in and your profile.
Be aware that as on most other survey sites, you will not qualify for all the surveys you are offered, so do not be discouraged if you get a survey you do not qualify for. It happens to us all.
On Opinion Outpost it might happen more often than on other sites, but you should still get a fair amount of surveys you can complete.
Option 2 – Charity donations:
The surveys is the only way to earn as a member of Opinion Outpost. But there is one extra added benefit just by being a member.
Every month Opinion Outpost donates $10,000 to American Red Cross in honor of the time their panelist spend taking surveys there.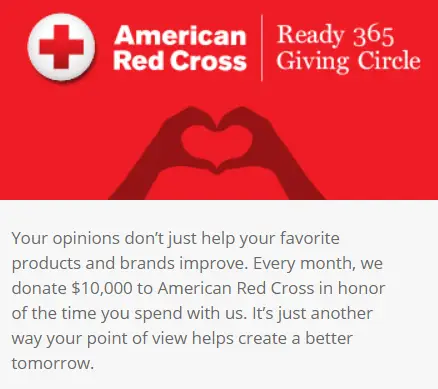 You do not have to do anything extra to help with this and it will not affect your earnings. But I just think it is a great initiative to donate this much every month and something that makes Opinion Outpost stand out compared to many other survey sites.
So, as a member, it is nice to know they do this, in my opinion.
Click to Check Out Opinion Outpost for Yourself
How do you get paid?
One thing is to know you can get paid to take surveys, but how does Opinion Outpost pay you?
The types of rewards are, in my opinion, a very important aspect, when you need to find the right survey sites for you. You need to make sure, you can get paid in a way that suits you.
Opinion Outpost actually has some really good methods. You can, for example, get paid through PayPal, Amazon gift cards, prepaid MasterCard, and other gift cards.

The exact types of rewards and gift cards depend on your country, but PayPal is for example available in all countries, and this is a great and easy way to get your rewards in cash.
When you take surveys on Opinion Outpost, you get paid in points. These points can then be exchanged for one of the rewards.
When you can request a payout depends on the reward you choose, but if you want to get Amazon gift cards, you can get it already, when you have earned $5, but if you want to get paid through PayPal, you have to wait until you have earned $10 but in the UK you can get paid in cash already when you have earned £2.50.
So the exact threshold will also vary a bit from country to country but overall the payout threshold is fairly low in all countries, which is great as you can then get your money fast.
With the amounts of surveys you get on Opinion Outpost, it can however still take a bit of patience to get there compared to the quickest paying survey sites, where you can often earn enough to a payout the same day you join.
How much money can you make?
Opinion Outpost is not the survey site with the most opportunities.
It can definitely give you some extra chances to earn by sharing your opinion, but if you want to earn a decent amount like this, you should also join some of the top paying survey sites, as Opinion Outpost alone will not give you enough opportunities.
But as an extra site, it can be worth considering.
Can you use it on mobile?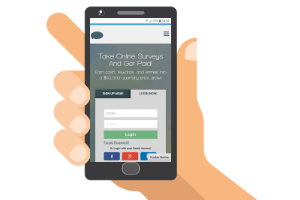 I love when it is possible to use a survey site on my mobile, as it is a great way to get access to taking them whenever it fits into my schedule.
Opinion Outpost does not offer an app, which would have made it easier.
But you can still use Opinion Outpost on your mobile. The website is optimized for mobile, so it looks decent on most screens.
Also, you do not actually need to go to the platform to take the surveys, as you will receive invitations via email. So as long as you can access your email from your mobile, you can take Opinion Outpost surveys from it.
Be aware that not all surveys will be optimized for mobile, so in some cases, you might have to scroll in and out a bit.
Who can join Opinion Outpost?
Opinion Outpost is only available in select countries.
In some countries, it is also known by a different name, but it is still Opinion Outpost.
In Germany, the site is for example called MeninungsOrt, in France it is called Mon Opinion Compte, in Italy Centro di Opinione, in Denmark MitPanel, and in Spain Centro de Opinion.
The countries where it is known as Opinion Outpost are the UK, USA, and Canada.
You can check if it is available in your country by clicking the join button later in this article.
If you do not live in one of the countries where the panel is currently recruiting new members, you can instead check out the best survey sites in your country here.
Can you get support?
It is always important to know if you can get support on a survey site. Hopefully, you will never need it, but sometimes there can be problems with an account, and it is good to know, you have a way to get technical help.
There is a helpdesk at Opinion Outpost. On the website, you can submit a question, and on the US website there is even a phone number, you can call.
You can also find Opinion Outpost on Facebook and send them a message here. From what I can see there, the Facebook staff is very fast at getting back to people, and respond to all comments about concerns there.

This is a good sign, as fast responses say a lot about a company. However, the customer support seems to not always be so great, and there are quite a lot of complaints about this.
Opinion Outpost complaints
Most Opinion Outpost complaints I have seen and heard are about people getting locked out of their account and not being able to get help from the support staff.
This is of course not a good sign, and unfortunately, there is quite a lot of poor reviews on Trustpilot about issues like this.

Some of these complaints seem to not have been resolved, whereas the example above shows someone who ended up getting help.
From looking at how Opinion Outpost responds on Facebook it does seem like they are getting back to people and do care about it, but it also seems like many people are frustrated about the site.
To be fair, there are also several positive Opinion Outpost reviews.

This is just to give you some perspective and give you some other opinions and experiences as well to take into consideration when deciding to join Opinion Outpost or not.
Overall it does, however, seem like Opinion Outpost does have support, but it seems to be slow at times and not always good at resolving problems. Again, this will vary from country to country as the support staff is different in the different countries.
If you have any either positive or negative experiences yourself, I would love to hear from you in a comment below.
Final verdict
Opinion Outpost has both positive and negative sides.
So let's finish this review by summing up the pros and cons, so you can get a better overview, before deciding whether you want to join or not.

Pros:
Free to join
Has great payout methods
Low payout threshold
Easy to use

Cons:
Not as many opportunities as some other sites
Some complaints about slow support
Overall there is a legit company behind Opinion Outpost, and it has existed for years.
It might not have the most opportunities to earn, but it can still be worth considering as an extra site. It has great payout methods and a low payout threshold, and with a little patience, you can earn some nice extra money here.
However, I would suggest also to check out the best paying survey sites in your country, and join some of these in addition, as Opinion Outpost alone will not give you enough opportunities if you want the chance to earn a decent amount of money on paid surveys.
How to join Opinion Outpost?
If you want to join Opinion Outpost, it is very easy. You just click the button below, choose your country, and then sign up with your name and email.
After you have signed up, you have to confirm your email address to get access and to start receiving surveys.
If you have any comments, questions, or have any experiences with Opinion Outpost yourself, I would love to hear from you in a comment below.