FeaturePoints claims you can use it to make some extra cash whenever you got a few minutes to spare.
But is FeaturePoints legit and really a great opportunity to earn or a scam to stay away from?
I have joined and tested this platform and have compared it to the hundreds of other free online earning methods I have tested to find out exactly what it offers and what it does not offer.
And let me just reveal right away that it is legit – I have been paid many times by it myself. That does, however, not mean it will necessarily be a good option for you.
This FeaturePoints review will give you an inside look and show all the details, so you can find out if it is safe and what the real potential of it is before you decide if this is for you or not.
Disclosure: Some articles on this website contain affiliate/sponsored links. Click for more info.
What is FeaturePoints, and what does the site offer?
FeaturePoints has existed since 2012, and according to the site itself, it has since paid out more than $5,800,000 in rewards to its members.
I have been a member of the platform for several years, and by testing and using it regularly, I can say that it is definitely possible to make some extra money by using FeaturePoints, and I have been paid by it several times myself (see payment proof in the video below).
If it will be for you or not depends on several things like, for example, the earning methods you like using. So, let's, first of all, go over the ways you can earn on FeaturePoints.
I have created this video that will give you an inside look so you can see exactly how to use it, how it works, and what it offers. You can also read all the details below the video.
Recommended: Check Out the Top Survey Sites in Your Country
Option 1 – Take paid surveys:
One of the ways you can earn the most on FeaturePoints is by taking paid surveys. It offers a decent amount of surveys, and if you join, this is definitely an earning method you can check out.
You simply share your opinion about the topic the survey is about, and then you get a reward into your FeaturePoints account for it.
Be aware that, as with all other survey sites, you will not qualify for all surveys. That is normal, so do not give up if there are surveys you do not qualify for – it happens to everyone.
Also, the number of surveys you will get access to depends a lot on the country you live in. In some countries, you will have quite a lot of other opportunities, while in others, you will rarely find available surveys.
But overall, the paid survey opportunities on FeaturePoints are good and worth using as a way to earn some extra cash.
Option 2 – Download apps:
A way you can earn some nice extra cash fairly easily is by downloading apps. Once you are logged into FeaturePoints, you can see the apps you can download.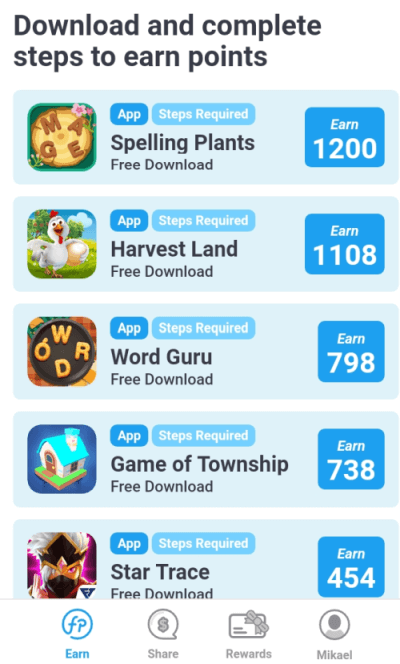 You can, of course, only earn by doing this from your phone or tablet as it is apps for these devices you can earn to download.
Even though the FeaturePoints app itself is available on both Android and iOS devices (more about this later), this particular earning method is only available on Android.
You can always see before you download an app how much you will earn by doing it. However, you also need to check the exact conditions by clicking the app listing.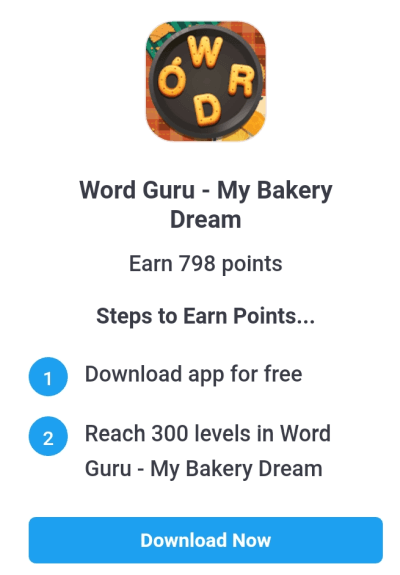 In the conditions, you can see exactly what you need to do to get your reward for downloading the app.
Sometimes, it is enough to just download the app and open it for a few minutes. Other times you have to reach a certain level in the game you download to get your reward.
In the image above, you can, for example, see I need to reach 300 levels to get the reward.
The higher the reward you get, the more you usually have to do to get the reward, which of course, makes sense.
But if you like playing games on your mobile, this can be a great way to get to know new games and get paid to try them out at the same time.
Option 3 – Get free points with a FeaturePoints referral code:
When you first join FeaturePoints, you will, in the sign-up process, be asked to use a referral code. If you have such a code, it will give you 50 free bonus points right away.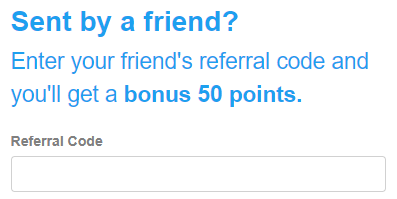 You need to get such a referral code from a member to get your free points. I am a member of FeaturePoints myself, and I, therefore, have such a code you are more than welcome to use to get your free bonus.
So, use the code ZQC9NM to get your free points.
If you join through any of the links to FeaturePoints on this page, you will also automatically join with my referral code and get your free points.
Option 4 – Get cash back when shopping online:
If you sometimes shop online, you can make some really great deals if you do some of your shopping through FeaturePoints.
They have cooperation with hundreds of stores. These stores pay FeaturePoints a commission for sending you to the stores, and they then share it with you.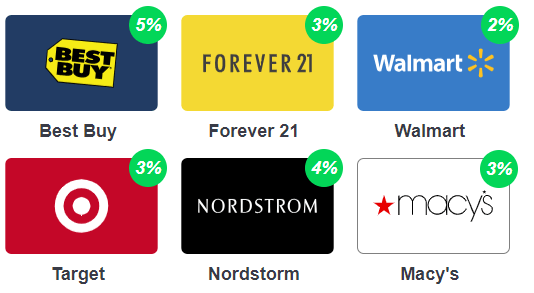 So if you do any shopping online, it can be worth checking out FeaturePoints as you can then get some good deals. And they work with some really big brands, as you can see from the image above.
This option is, however, not available in all countries. It is mostly stores in the US and Canada you can get cashback when using it.
But if you live in the US or Canada, this is an option you should definitely check out. If you like cashback options in general, you should also check out Swagbucks, which is another site with really great cashback opportunities.
Option 5 – Watch videos
There is a section on FeaturePoints where you can get paid to watch videos.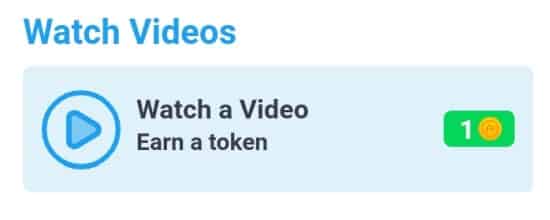 However, you need to be aware that you can only find this option in the FeaturePoints app (more about this later).
How it works is that you just click the button you can see in the image above, and then a small video ad will show for around 30 seconds. And you can watch more or less as many as you want to per day.
But you need to know that watching the videos will not give very high rewards. And you earn tokens (not cash) when you watch them – these tokens can be used for the contests (more about these later).
So you cannot directly earn cash by watching the videos, so it is only if you are interested in the contests this is relevant for you, and compared to the other earning options on FeaturePoints, the videos are not the most lucrative.
Option 6 – Invite friends to join
If you like what FeaturePoints has to offer, you can earn additional points by inviting your friends to join.
Once you are a member, you will get a link you can share with your friends. If they join through your link, you will get a commission when they earn on the site.
If you know many people that could be interested in joining, this can be a way to earn some extra cash.
I would, however, suggest thoroughly checking out the platform first yourself and only recommend it if you like it yourself and also only share it with friends you think will be interested.
I sometimes see people getting carried away with the idea of sharing an invitation link like this and start spamming it everywhere.
That is never a good approach. So if you decide to use this option, make sure to use it wisely so your friends will not get annoyed with you but will instead be happy with the opportunity you have shared with them.
Option 7 – FeaturePoints free contests
FeaturePoints' newest offer is free contests you can participate in. They regularly announce new contests.

In the image above, you can see that they, for example, usually have a weekly and a daily contest. Usually, the reward will be $5 for the daily contests and $100 for the monthly. But as you can see in the image above, sometimes there might be higher rewards for the daily contest.
The way you participate is by being active on the platform. Every time you have earned 20 points on FeaturePoints, you also earn one token for the contests.
You can then use these tokens to get entries into the contests you want to participate in. You also earn 1 token for every video you watch through the app.
There are many participants, so you have to be lucky to win. But it is free, and if you are lucky, you can win some really nice extra cash.
So, as an active member of FeaturePoints, this is definitely a great option they have introduced and a free extra chance to get cash.
Option 8 – Paid offers
FeaturePoints also has a few offer walls, as most other GPT sites also have. They do not give access to quite as many paid offer walls, but you can still find many offers here.

The offer walls give access to earning in various ways like taking extra surveys, signing up for free trials, subscribing to newsletters, signing up for contests, etc.
The rewards for these offers are quite good on FeaturePoints compared to many other sites, but it is not the best way to earn here, in my opinion. Some of the other options are easier and a faster way to earn.
But the offers can definitely be worth checking out – just make sure to read all the conditions before taking any offers. If you do this and find the good offers, it can be a great way to boost your earnings.
Recommended: Check Out the Top Survey Sites in Your Country
How do you get paid?
As you can see, there are several pretty good ways to earn on FeaturePoints. It is, of course, also very important how you can then get your rewards out.
FeaturePoints has some good payout methods, in my opinion.

There are three main ways you can get paid. You can get paid in gift cards, cash through PayPal, or Bitcoin. So, there are payout methods for all preferences.
Which gift cards you can get depends on the country you live in.
A thing that is really great about FeaturePoints is the very low payout threshold. You can get a payout already when you have earned $5. That makes it one of the fastest paying survey sites.
So it will not take you long to be able to get your first payout. However, the payout threshold will depend on the payout option you choose. For PayPal, it is $5, but for Bitcoin, it is, for example, $10.
When you earn on FeaturePoints, you earn points. 600 points equal $1.
Your funds will be in dollars, no matter the country you live in. But when you take them out through, for example, PayPal, they will, of course, be in the currency your account is in.
Be aware that if you cash out through PayPal, the email you joined FeaturePoints with needs to match the email of your PayPal account.
Also, if you have not used or visited FeaturePoints for 60 days, your points will expire and be reset to zero. So make sure not to take too long breaks from the platform without cashing out first.
Another thing to be aware of is that usually, FeaturePoints pay out very quickly once you request a payout. I have, however, experienced recently that for some gift cards, the wait is suddenly several months, which is very strange. and they do not give a proper explanation for this, and you will not know how long the wait is until after you have requested a payout.
I hope this is only a temporary issue and that it will be fixed soon, but just wanted to mention it here so you are aware of this.
Also, be aware that when you earn, often your points are pending for weeks or even 1-2 months, in my experience.
During this period, you cannot take them out. I understand they have to verify everything has been done properly, but it takes a long time to do this on FeaturePoints compared to many other GPT sites, and I do not see a valid reason for this long wait when you can get your earnings available immediately on many other platforms.
So, the payment system could definitely need some improvements, in my opinion, and it has actually become worse since I first tested it.
How much money can you make?
FeaturePoints has some pretty good earning opportunities. It is not the Get-Paid-To (GPT) site with the most opportunities, but it has a good amount, it is fairly user-friendly, and it is, therefore, in my opinion, worth considering if you can live with the limitations regarding the payouts I explained above.
Also, since I first wrote a review of FeaturePoints, they have continuously updated the platform and introduced new options, which is great. As you know, they keep developing and improving the opportunities. But as mentioned, they have also made some changes that are not that great, and that has actually made the platform worse, in my opinion.
Overall, it is possible to make some nice extra cash on the side with FeaturePoints – it is definitely safe, and I have received payments from them several times myself, so I know it works.
As with all GPT and survey sites, you just have to do it with the right expectations and be aware that it will not make you rich or a full-time income.
If you do it with the right expectations, it can be a way to make some extra cash whenever you have a few minutes to spare.
Personally, I have made some nice extra cash on FeaturePoints, but I must also admit that I have started using it less since I had some cases where it took me months to get paid and where I did not get proper explanations for this by their support.
Can you use it both on mobile and computer?
FeaturePoints has an app, and as already mentioned in the description of the earning methods, some earning methods are only available on mobile – for example, the downloading of apps.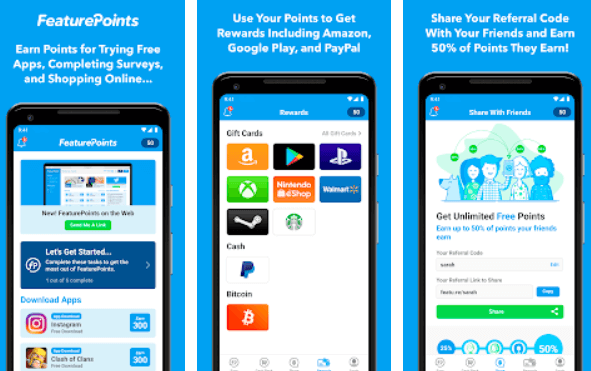 You can, however, use FeaturePoints on any computer as well as on mobile as long as you are online. On a PC, or on any computer for that matter, you do not have to download FeaturePoints. You can just go to the website and log in.
If you want to use the app, you, of course, have to download it. The app is available for both Android and iOS.
FeaturePoints, in general, works very well on both computers and mobile. I have, however, found that the app seems to give more opportunities.
Sometimes, there will not be surveys available when I log in on my computer, but there will be some through the app. Also, the videos are only available through the app. And you can also earn by playing games on the phone, and this option cannot be found on the website.
So, it is definitely possible to use FeaturePoints on more or less any device, but the app sometimes gives more opportunities. No matter where you use it, it is, however, easy to use and fairly user-friendly.
Who can join FeaturePoints?
A great thing about FeaturePoints is that you can join more or less, no matter where you live.
The opportunities to earn will, however, vary depending on the country you live in. The cashback opportunities are, for example, mostly available in the USA and Canada.
How many surveys you will get access to will also depend on the country you live in.
But overall, it gives decent earning opportunities in many countries, and in some countries, it gives very good opportunities (especially in English-speaking countries).
Can you get support?
FeaturePoints has several ways you can contact them if you need support. You can either send a message about any topic, or you can report a missing cash back.

Hopefully, it will not be necessary for you to contact support, but it is always nice to know the option is there if you should ever need it.
However, I have been in contact with their support several times, and I must say it varies a lot how quickly you get a reply.
Sometimes, I have received a reply fairly quickly, and other times, it has taken a long time. So just be aware that it, at times, can take some patience if you need support from them.
Final verdict – legit or scam?
FeaturePoints is not a scam. It is a legit way to earn that offers legit payout methods.
This does, however, not mean it will necessarily be the right platform for you. So, let's finish this review by summing up the pros and cons of the platform so you can get a better overview before deciding to join or not.

Pros:
Free to join
Low payout threshold
Great payout methods
Available in all countries

Cons:
Some earning methods are not available in all countries
The wait to receive certain gift cards can be very long
Support is not always responsive
Overall, I think FeaturePoints is a decent site as it is easy to use, it has great payout methods, and it has decent earning opportunities in many countries.
However, it used to pay you very quickly since you requested a payout, and that is no longer always the case, in my experience. Also, you have to be aware that some earning methods are only available in some countries and that it will not make you rich to join.
But it can be a way to earn some extra cash if you join with the right expectations. However, I recommend you also make sure to join some of the top Get-Paid-To sites, as they, in many cases, will give you higher rewards and pay faster, in my experience.
How to join FeaturePoints?
It is very easy to join FeaturePoints. Just click the button below, and you will be taken to the sign-up page. By clicking the button below, you will also automatically use my referral code, which will give you 50 free points right away.
It takes less than a minute to sign up, and then you can start earning right away.
If you have any comments, questions, or have any experiences with FeaturePoints yourself, I would love to hear from you in a comment below.