Are you looking for ways to earn a bit of extra cash?
If so, you might have come across an online rewards site called NielsenIQ Homescan (previously just called Nielsen Homescan) and are wondering if it is legit and really worth joining or not.
Before joining any online rewards site, you need to make sure you will be able to earn a decent amount from it.
So, is NielsenIQ Homescan really worth it or not?
To answer that question, we need to consider several things, and this NielsenIQ Homescan review will do exactly that.
It will show you everything you need to know, so you can decide for yourself if you should become a member of it or not. So, let's proceed with the review.
What is NielsenIQ Homescan, and what does it offer?
NielsenIQ Homescan has actually been around for 25 years. The US version of this panel is called National Consumer Panel. So, Nielsen Homescan is actually the name for its platforms outside of the US.
However, it rebranded recently as it used to just be called Nielsen Homescan, but the official name is now NielsenIQ Homescan.
This panel is owned by the Nielsen Company, a global measurement and data analytics company that provides complete and trusted views of consumers and markets worldwide.
So let me make it clear right away that NielsenIQ is legit, but that does not necessarily mean it is the right opportunity for you.
Now, to understand whether this panel is worth it or not, we need to take a look at how you will be able to earn from it. So, here are the earning opportunities it offers.
I have created a video that explains exactly how it works. You can also read all the details below the video:
Click to Check Out Nielsen Homescan for Yourself
Option 1 – Scan and Earn
Nielsen Homescan's main method of earning is by using their barcode scanner to earn points. The premise for this earning opportunity is quite simple.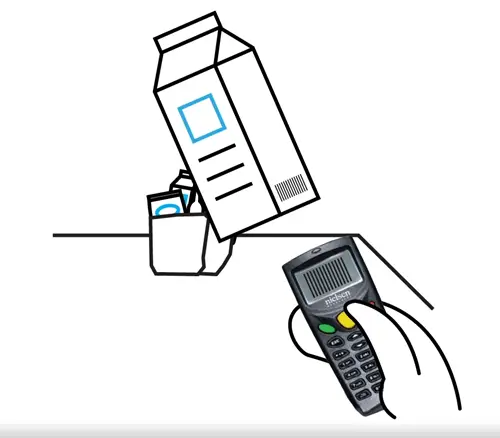 Once you become a member of Nielsen Homescan, they will send you a handheld scanner you can use to scan the barcodes of the products you will purchase. This device is available mostly in the EU (European Union) countries.
For countries outside the EU, you will have the option to use their mobile app (which I will discuss later) to scan your purchases. All you have to do is use the handheld scanner or mobile app to scan the barcodes of everything you bought.
Then, you just have to transmit the collected information to Nielsen. Every barcode you scan will allow you to accumulate points, which you can then use to redeem rewards. It's that simple.
You don't even have to bring the scanner with you all the time. You can simply scan the products once you get home.
Overall, I think it can be a fun and interesting way to earn a bit extra by doing what you already do. But you, of course, need to do it with the right expectations, and later I will go into more detail about the earning potential, so you can find out if you find it worth it.
Option 2 – Paid Surveys
Every once in a while, NielsenIQ Homescan also sends you paid surveys you can answer to earn points.
For every survey you complete, you will be awarded points, as well as entries to their weekly, monthly, quarterly, and yearly sweepstakes.
The process of answering their paid surveys is the same as how you would do it on a regular survey site. You will have to answer a set of qualifying questions first.
Once Nielsen deems you are qualified to take the survey, you will then proceed to the actual survey.
Once you complete it, you will then be awarded points and sweepstakes entries (which I will talk about next).
Option 3 – Sweepstakes
As mentioned, NielsenIQ Homescan holds weekly, monthly, quarterly and yearly sweepstakes. Although this is not a surefire way of earning since it will purely be based on luck, it is worth noting that you stand to win a significant amount if you get lucky.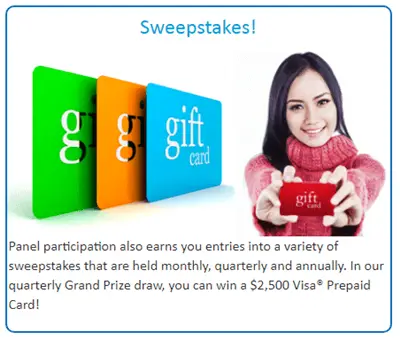 You can win as much as $2,500, which will be paid through a Visa prepaid card.
This will be for their yearly sweepstakes. For the weekly, monthly, and quarterly sweepstakes, the prize will be smaller, but they will still be worth a significant amount.
Also, the rewards for the sweepstakes and how often they have them will depend on the country you live in.
So in your country, the rules and prizes might be different (later I will go over who can join).
Option 4 – Weekly Diaries
This is the part where you will be able to earn cash. There isn't much information about how weekly diaries work on their website but based on feedback from members, it sort of acts like a journal of what you have bought for the week.
It also has a qualification process just like paid surveys, but from what members say, you almost always get qualified once you complete it.
And when you do, you will receive a prepaid Visa card, which will be sent to you via postal mail.
Click to See if Nielsen Homescan is Recruiting in Your Country
How do you get paid?
Nielsen Homescan uses a point system. Every barcode you scan or paid survey you complete will earn you points. The thing with NielsenIQ Homescan is it has a different site for each country.
So, there is no general payout threshold you will need to reach to start redeeming rewards.
Now, if you are hoping to earn cash from this panel, they do have that option, but not with what you expect.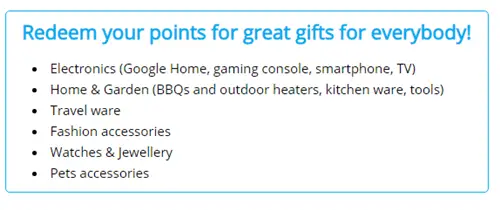 The rewards offered on NielsenIQ Homescan depend on the country you live in but are usually a wide variety of merchandise, products, or gift cards.
The good thing is that there are plenty of options to choose from. When you have enough points, all you have to do is go to their reward catalog and select the product you want.
The exact rewards you can choose from depend on your country, but examples are electronics, home & garden equipment, travel ware, fashion accessories, pieces of jewelry, pet accessories, and more.
It will then be sent to you via postal mail. As for the gift cards, you will usually get these electronically.
As for earning cash, you can do that because they will send you a Visa prepaid card every time you finish your week-long diary. The amount will vary depending on where you live.
In my opinion, although this panel has a wide range of products you can choose from, it would still have been better if they also offered a way for you to redeem cash instead (through PayPal, perhaps).
If you are interested in sites that will allow you to earn cash, I recommend you check out the top survey sites that pay via PayPal.
How much money can you make?
As you already know, you won't be able to earn cash from this panel. Instead, you will be able to redeem products or gift cards.
So, the appropriate question will be, how many rewards can you get?
The answer to this will mostly depend on how often you buy products and how well they "pay" for each barcode you send.
Based on feedback from longtime members, it takes quite some time to redeem rewards because most of the rewards will require a lot of points.
One example to give you an idea of the earning potential is that in Australia, you can expect to earn $20 worth of vouchers every 2 months. But this will vary from country to country.
So, you will need a bit of patience to start receiving rewards, especially when scanning barcodes can feel like a chore at the beginning. But once you get used to it, it can be like some form of passive income because you don't really have to do anything special except, of course, scanning the barcodes.
Overall, it doesn't pay that well, in my opinion. The good thing, though, is that it can be integrated into your everyday life once you get used to it, which can be very beneficial in the long run.
Can you use it on mobile?
As mentioned, NielsenIQ Homescan has a mobile app you can use to scan barcodes instead of using their own barcode scanner.
The mobile app is available for both Android and iOS users, so compatibility won't really be an issue.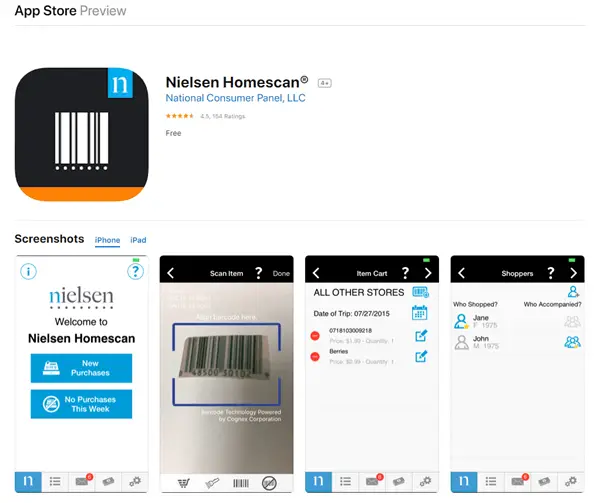 The Nielsen Homescan app is especially useful if you live in a non-EU country because it will be provided as an option for you to scan barcodes.
This can be very helpful because you can scan the barcodes while doing your shopping without bringing their barcode scanner with you, which can be a hassle at times.
This can help reduce the amount of time you need to spend because, as you can see, you can scan barcodes while shopping. So you don't have to do it once you get home.
However, in some countries, the app is not yet an option, and then you will instead receive a handheld scanner you need to use.
Who can join NielsenIQ Homescan?
NielsenIQ Homescan is available in several different countries. As you already know, it is called National Computer Panel in the US. But if you live anywhere else, it is called Nielsen Homescan.
It is available in Australia, Canada, European Union Countries, Thailand, and other unlisted countries.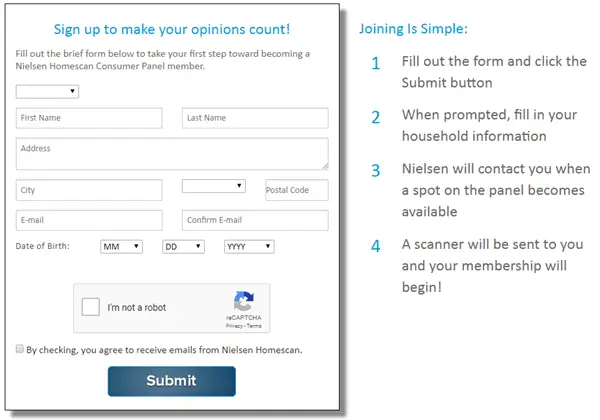 Their registration process, however, is a bit complicated.
Once you complete the registration form (shown in the photo above), you will have to wait for them to contact you and inform you that there is an available spot on their panel.
They have to do this because they need to verify if you already belong to a household that has already registered to the panel.
This is because they will only accept one member per household to ensure that the data they are gathering will be accurate.
So, if you are planning to become a member of this panel, don't expect to become one right away. Once you become a member of Nielsen Homescan, a scanner will be sent to you so you can begin earning points.
Can you get support?
If you need to get in touch with their support team, you can email them at support@homescan.ca (or whatever domain is appropriate to the country you live in).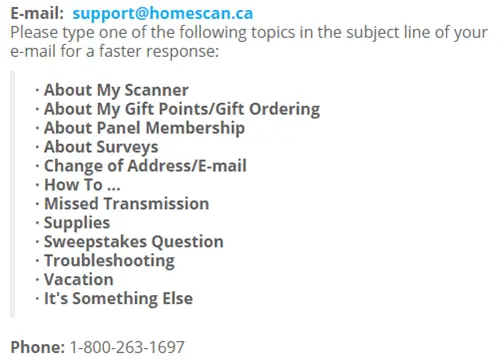 To ensure that your inquiry will be addressed quickly, you have to specify the type of inquiry you have in the subject line of the email. If you prefer to call them, they also provide a phone number on their contact page.
Overall, they do provide a decent way for you to get in touch with their support team.
And it is good that they give you a hotline number you can call so you can resolve your inquiry a lot faster. Just make sure to call within the hours specified.
Final Verdict
NielsenIQ Homescan is a legit online rewards site that will reward you for scanning the barcodes of the products you purchase. It has some good qualities and some that make it a less-than-ideal option.
Let's finish this review with a list of its pros and cons to give you a full overview and help you with your decision.

Pros:
Offers a very easy earning opportunity
Has a mobile app you can use
Has a wide range of merchandise available as a reward

Cons:
Low earning potential
The registration process can take time
Will require a bit of patience to get used to how you will earn
If you were hoping to earn a lot from Nielsen Homescan, you will be disappointed. You can only do so if you shop a lot, and I mean a lot. This is because the main earning opportunity of this panel will rely on you having to purchase products.
And if you don't shop frequently, you won't be able to earn a lot of points. You will mostly earn from doing your grocery. It's not a bad thing, necessarily. Just don't expect to get rewards quickly.
However, this panel can be a good long-term investment because you don't really have to do anything special apart from doing your regular shopping habits. That is, if you ever manage to become a member.
But if you are looking for sites that will allow you to earn on a more regular basis, I suggest you check out the top survey sites in your country instead. The sites included in this list will allow you to earn regularly.
Plus, you will surely find a site that will allow you to register as a member quite easily.
How to join NielsenIQ Homescan?
If you want to register as a member, you can click the button below, choose your country, and you will then be taken to the registration page.
The registration process is pretty easy, so you will be able to start earning right away.
If you have any comments, questions, or have any experiences with Nielsen Homescan yourself, I would love to hear from you in a comment below.