It has become quite easy to earn some extra money from the comfort of your home with all the online opportunities that are available.
Nowadays, there are so many websites you can earn money from that it is virtually impossible to figure out which are the best ones to join and which sites are scams.
One site that claims you can earn by sharing your knowledge and experience is Respondent.io.
But is Respondent legit and really a way to earn, or is it a scam that is a waste of time?
Let me just reveal right away that Respondent is legit, and you can actually earn (I have been paid by it myself), but this does not necessarily mean it will be the right option for you.
This Respondent review will reveal all the details you need to know so you know exactly what to expect and can decide for yourself if you should become a member or not.
Disclosure: Some articles on this website contain affiliate/sponsored links. Click for more info.
What is Respondent, and what does it offer?
As mentioned above, Respondent is a form of crowdsourcing site that will pay you for participating in research activities.
If you're not familiar with crowdsourcing, it's basically a way to get work done from a group of people and is usually done in an online setting.
In Respondent's case, their partner companies can ask the Respondent's members to participate in studies.
Now, to be able to understand the earning potential of this site fully, we have to take a closer look at how you will be able to earn from this site.
I have made a video that gives you an inside look and shows the earning opportunities Respondent offers. You can also read all the details below the video:
Recommended: Check Out The Top GPT Sites
Option 1 – Projects
Projects are basically just research studies you can participate in.
Once you become a member of Respondent, you can log in to their member dashboard and view all the available projects you can participate in.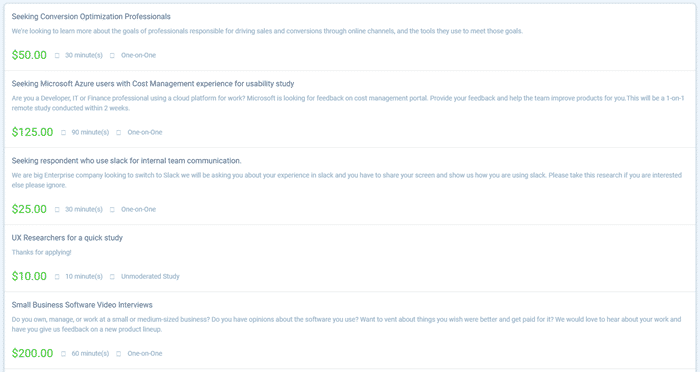 Before you can do a project, though, you will usually have to apply for it. The company that sent the request will review your qualifications (based on your profile).
Think of this process as a job interview. When you apply for a project, you must take their qualifying screener.
Remember that you won't get paid to take the screener, and you can only apply for three projects per 24 hours. Their screener is just a way for Respondent's partners to check if you qualify for the study.
Each project description will also indicate how much you will earn from it and what type of project it is.
There are two types of projects offered. One is the in-person type, and the other is the online variant. A study will either be a one-on-one or an unmoderated study.
If you decide to participate in an in-person study, the rewards will be higher, but you will have to go to a designated location.
So, qualifying for one will be a bit harder because you will have to live close to where the location it will be held to be accepted.
You will only receive payment after you've successfully completed a project. You will be able to see if the company has paid you if you check the My Studies section. You will see the status of all the projects you've applied and qualified for.
Option 2 – Referral Program
Respondent also has a referral program you can participate in.

You can invite people to join Respondent in two ways. You can either share your invite link for a specific project or you can share your general invite link for joining Respondent.
Either way, you will receive a $20 bonus for each person you invite. If you refer the same person for multiple studies, you will only receive one referral bonus.
However, in order for you to receive your referral bonus, your referral must earn at least $75 in incentive payments by participating in studies. So, earning from their referral program isn't really that easy, in my opinion.
You have to make sure the people you invite are really interested in becoming a member of the site.
Recommended: Check Out The Top GPT Sites
How do you get paid?
Respondent only offers one mode of payment, and that is through PayPal. So, before you register, make sure you have a PayPal account.

During the registration process, you will be asked to provide the email address for your PayPal account. This will automatically link your PayPal account to Respondent.io.
Every payment will be made automatically. Once the company has sent the payment, it will be deposited into your PayPal account. However, don't expect to receive the full amount because there will be a processing fee for every payment made.
The processing fee is 5% or $1, whichever is higher. So, for example, if the project pays $150 upon completion, expect only to receive $142.50 in your PayPal account.
5% is a fairly high fee compared to other online research sites, in my experience. But the rewards you get for each project are generally also fairly high, so it can still be worth it if you qualify.
The good thing about their payment system is that it will be done automatically, and you won't have to reach a certain threshold to receive the payment via PayPal.
PayPal, is the most convenient payment method available today, in my opinion, and if you are interested in more sites that pay via PayPal, I recommend you also check out the top survey sites that pay via PayPal.
And I know from personal experience that Respondent actually does pay, as I have been paid by it myself. However, you need to do it with the right expectations, which we will go over next.
How much money can you make?
With crowdsourcing sites like Respondent, the amount of money you can make will mostly depend on how many projects you can complete and how well the company pays.
To complete as many projects as you can, you first have to make sure you complete your profile.

During your first login, you will see a profile checklist (refer to the photo above). This will be your guide on what you need to complete to start participating in projects.
Also, keep in mind that you can only apply for three projects every 24 hours. So, make sure to choose wisely which projects to apply for so as not to waste your chances.
I suggest you only apply for projects that you think you will have the best chance of qualifying for. That way, there will be a higher chance of being accepted.
As for how well respondents pay, Respondent.io does pay you quite well. Expect to receive more for projects that are harder or take longer to complete.
So, all in all, I can say that Respondent does have good earning potential as long as you qualify for projects, of course.
And that is one thing you need to remember – the projects can be hard to qualify for, and depending on your profile, it might take months before you find a project to earn from.
Can you use it on mobile?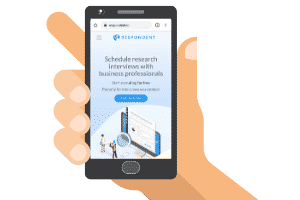 With a site like Respondent, you really can't say that using it on a mobile device is the most ideal thing to do.
This is mainly because most of the projects offered will involve you having to use your computer and other peripherals attached to your computer.
However, that being said, you will still be able to access their website using your mobile device.
All you have to do is open a mobile web browser and go to their website. The good thing is that their site is mobile-friendly, so you will be able to navigate through the site easily.
This characteristic can be useful, especially if you want to quickly check the status of the projects you've completed or applied for.
Who can join Respondent?
The beauty of Respondent is that it is available globally. You can sign up as a member regardless of where you live.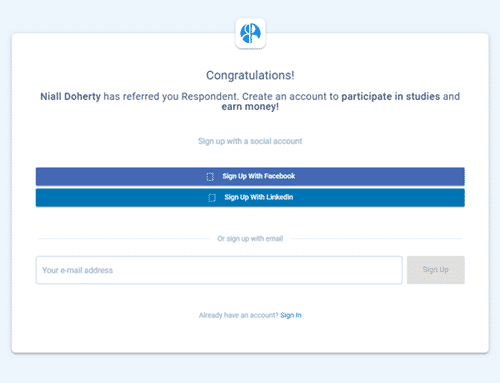 You will be able to register by providing your email address or by using your Facebook or LinkedIn account. After you've chosen which type of registration you will use, you will then have to complete your profile.
Remember, though, that the site uses PayPal as its payment method. So, you will only be eligible to join if you are at least 18 years of age since that is the age requirement for creating a PayPal account.
Apart from that, it is fairly easy to register as a member of this site.
Can you get support?
Respondent has a fairly detailed FAQ section that discusses most of the important aspects of the site.
So, if you have any questions, I suggest you check out their FAQ section first before attempting to contact their support team.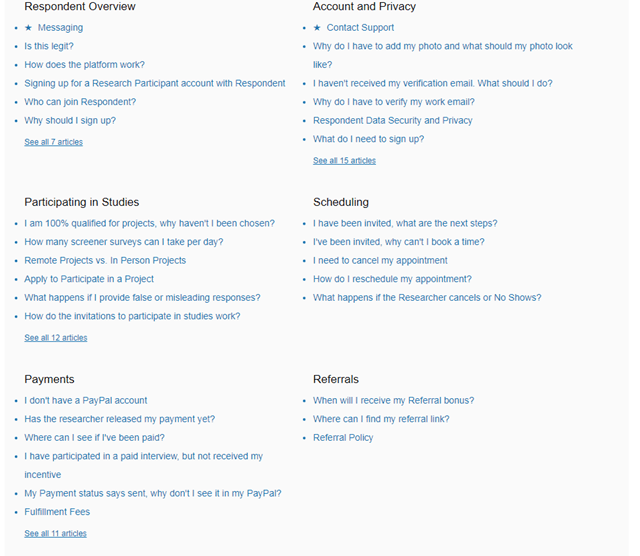 If you can't find the answer you are looking for, you can email them your inquiry and send it to [email protected].
That's the only way you can contact their support team since their site doesn't have a contact form or a way for you to submit a support ticket.
If you are emailing about a project you are involved in, make sure to include the project name, the date you participated in the project or will participate, and your concern about the project.
Overall, even though they don't have a contact form you can use, they still do provide a decent way for you to contact their support team. Just make sure to follow the guidelines when submitting your inquiry.
Final Verdict
Respondent is a legit site that does pay you for participating in its research opportunities. It has a few advantages and a couple of drawbacks as well.
So, let's finish this review with a summary of its pros and cons to help you decide if you should become a member or not.

Pros:
Payment via PayPal is available
Pays quite well for each project completed
Available globally

Cons:
Limited project opportunities offered
It does not guarantee you will be able to earn regularly since you will have to apply for every project you want to participate in
Relatively high payment processing fee
Respondent is a decent site to earn a few extra bucks, in my opinion, mainly because they pay well, and you will be able to receive your payment quite conveniently.
However, don't expect the money you will earn from this site can replace what you can earn from a full-time job.
I suggest you make this a secondary site to earn from since you won't be able to earn from it regularly, as the surveys and projects they have are mostly looking for very specific participants. So it is a good idea to also look for other sites to supplement what you can earn from it.
For a list of sites that will allow you to earn a few extra bucks on a regular basis, I recommend you check out the top survey sites in your country. The sites on this list all have good earning potential because they offer plenty of earning opportunities.
Plus, you can find a site that will fit your needs regardless of where you live.
How to join Respondent?
If you want to register as a member, you can click the button below, which is an invitation link that gives you access to register.
The registration process is pretty easy, so you will be able to start earning right away.
If you have any comments, questions, or any experiences with Respondent yourself, I would love to hear from you in a comment below.