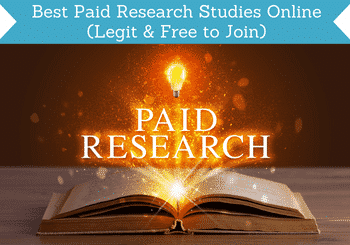 There are plenty of ways to earn extra cash online, and one easy method that is known to pay decent money is to do paid research studies.
But the question is, where can you find the best paid research studies online?
I have tested hundreds of paid research opportunities, and in this guide, you will learn everything you need to know about paid research studies so you can find out how to get the most out of earning this way.
I'll also list down several sites you can join and include a brief summary of each site, so you can easily figure out which ones will fit your needs.
All the sites I will be including in this guide are legit and free to join. So, you'll just need to invest a bit of time and some effort in order to earn.
Disclosure: Some articles on this website contain affiliate/sponsored links. Click for more info.
What are paid research studies?
Paid research studies are activities done by companies, businesses, or even schools that are designed to gather data.
Technically speaking, if a company or business is the one conducting it, it is called paid market research. But regardless of who is doing it, the process still remains the same. The participants of these activities will get paid to provide valuable input.
There are several types of paid research studies you can find online. Among the common ones are one-on-one interviews, focus groups, and surveys. These activities can be conducted online or in person.
For one-on-one interviews, whether they are conducted online or in person, the process usually involves discussing a certain topic. You will be asked to provide your opinion on certain topics. And once you are done with the interview, that's when you will be compensated.
For focus groups, the dynamic will be a bit different because this activity will involve multiple people. Just like with interviews, it can be done online or in person. The activity will have one or more moderators and the rest will be participants.
Focus groups are conducted to gather opinions about a specific topic in a group setting to gain extra insights from the group dynamic. For example, a movie company wants to get the best ending for its movie. They conduct a focus group on which kind of ending will resonate with more people. Then you as a participant, will choose which kind of ending you prefer and discuss it in the group. This is actually a pretty common thing, especially with big companies.
Surveys, on the other hand, are less personal, because you won't be interacting with anyone. You will just be answering a set of questions. But what you need to know about surveys is, they usually have a qualifying process you need to go through.
This is how companies are able to filter the appropriate respondents. So, when you answer a survey, the first set of questions are usually the qualifying questions. If you qualify, you get to proceed to the actual survey.
By far, among all the types of paid research studies, the most common one you can find online is paid surveys. This is also the type of paid research study that pays the lowest. It's not surprising though since this kind of study requires the least time and effort to complete.
All the other activities usually take up a bit of time and some effort too.
Now, if you are wondering where these in-person research studies take place, it is usually conducted in facilities provided by the company/business/school. So, you will have to travel to that facility in order to participate.
How to earn the most?
Each site that offers paid research studies has different pay structures. Some pay more than others. So, it's really hard to put an exact figure on how much money you can earn per site.
But, in my experience, the best way to earn the most from these sites is to join around 5 to 7 sites. That way, you gain access to more opportunities and therefore, you can earn more.
In my experience, this is the perfect number of sites to get involved with especially if you are just starting out. It won't overwhelm you, but you will still be able to earn a decent amount. You can always join more sites further down the line when you become more experienced with this kind of stuff.
11 best paid research studies online
Now that you know the basics, let's talk about the actual sites you can join that offer paid research studies. Take note that these aren't the only sites that offer this kind of opportunity.
Instead, they are what I found to be worthy of your time. I will keep updating this list if I find more opportunities worth adding. So, make sure to bookmark this page and check on it from time to time for new additions.