Joining an online survey panel or participating in focus groups can be a good way to earn a bit of extra money. You just have to find the right ones. With so many sites today, it can be a bit hard to find one that will suit your needs.
One of the many sites is FocusGroup.com. This site promises to pay you for completing the surveys and other activities they offer.
But is FocuGroup.com legit or a scam to stay away from? This is a good question to ask. There are plenty of scam survey sites out there. So, you have to make sure you join a legit one.
So, let me just answer this right away. No, FocusGroup.com is not a scam. It is indeed a legit survey and focus group site. This doesn't mean though that you should join their panel immediately.
You have to evaluate if this site is worth your time or not. This FocusGroup.com review will help you do that. Hopefully, after reading this review, you can decide if it is really a good fit for you or not.
What is FocusGroup.com and what does it offer?
As mentioned above, FocusGroup.com is a site that offers online surveys and other research opportunities like focus groups (hence the name) as a way for you to earn a bit of money.
It is owned by Focus Pointe Global, a US-based company that has been facilitating market research for 30 years.
To be able to gauge its earning potential, we need to take a closer look at how you will be able to earn from this website.
So, here are FocusGroup.com's earning opportunities.
Option 1 – Paid surveys
One way you can earn from this site is by answering surveys.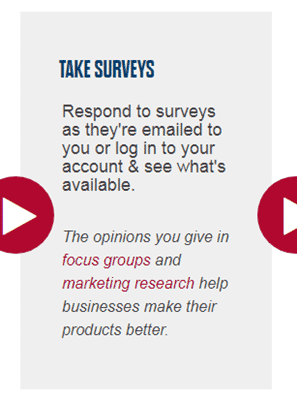 There are two types of surveys conducted on FocusGroup.com. The first one is the in-person survey. This type of opportunity is conducted in any Focus Pointe Global facility.
There will be a moderator conducting the survey. Usually, you either have to answer the survey on paper or on a computer. Once you finish the survey, you will receive compensation (which I will discuss later).
The other type is the recurring online survey. This type of survey is what you can do at home. You just log in to their website and check if there are any available survey offers. This is what you will usually see on other survey sites.
Every survey you complete will earn you a specific reward (in this case, you will get a certain number of points).
Option 2 – Focus groups
As the name suggests, FocusGroup.com also offers its members the opportunity to participate in a focus group.
Focus groups, just like the paid surveys, are either done in a Focus Pointe Global facility or online. For the on-location focus group, you have to go to the location that the invite specified.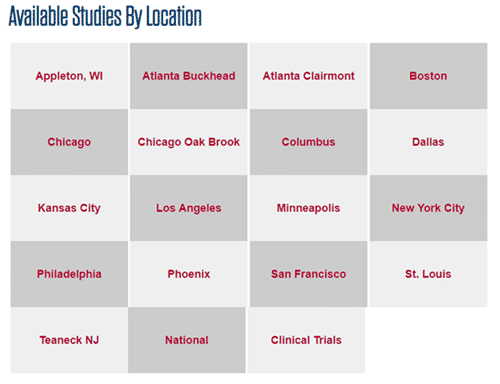 So, if you are nowhere near the locations shown in the photo above, it would be a bit impractical for you to join a focus group.
Plus, in my experience, you will only receive an invite to participate in in-person focus groups if you live in the area of any of their facilities.
It, of course, takes quite a bit of effort but it is also the earning method on FocusGroup.com that pays the most. So even though there are not many options and it takes effort, it can really be worth your time if you get the chance to participate.
If you do not live close to any of their facilities, you are left with the only other option which is an online focus group.
This is the more practical option. For this type of opportunity, you will be asked to log in to a website at a predetermined time and participate in a moderated discussion about a product or service.
Online focus groups will also sometimes ask you to use a webcam or communicate via the telephone. Once you complete the focus group, you will then receive your compensation. For in-person focus groups, you will be compensated right away.
As for the online focus groups, just like paid surveys, you will then be rewarded with points.
Personally, I think focus groups can be great as they are usually also fun or interesting to participate in.
Option 3 – Interviews
FocusGroup.com also conducts interviews which are done either at your own home, at their office or over the phone.
Normally, you will receive a prior notification if they want to interview you. You will receive the notification via email or sometimes, they will call you.
The interview will be conducted by a marketing research professional. They will ask questions about a particular product or service. You will typically discuss concepts and ideas related to a product or service.
Option 4 – Shop alongs
Another activity you can participate in is a shop along. This activity is quite unique because a marketing research professional will accompany you on a shopping trip.
They will observe how you will shop for a particular type of product and will ask you questions about your decision-making process.
This, in my opinion, is one of the more unique earning opportunities offered by a survey panel that I have ever encountered.
Even though there are not that many sites that offer this option, I have once participated in such a shop along and it is actually quite interesting.
So if you get the chance, it can definitely be worth considering if it fits into your schedule.
Option 5 – Product testing
FocusGroup.com also offers product testing as a way for you to earn rewards. This type of opportunity is conducted in two ways as well.
You will be asked to test the product either at home or in any of their facilities.
If you are asked to go to one of their facilities, you will be given a product to test and will be asked to share your opinions via a questionnaire or group discussion.
If you are asked to test the product at home, they will send the product to the address you have provided.
You will then be asked to test and submit an honest online review. The link to where you can submit the review will be included in the email you will receive.
Option 6 – Sweepstakes
FocusGroup.com also holds monthly sweepstakes. This isn't really an earning opportunity per se, but if you get lucky, you can win a significant prize.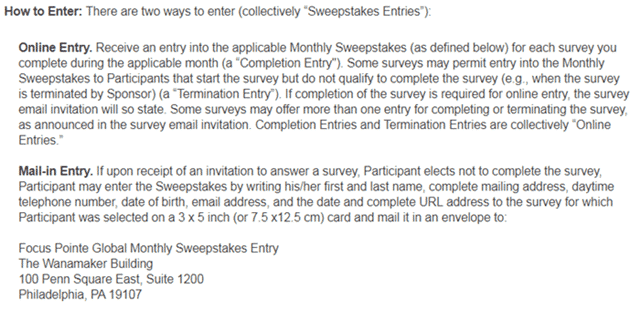 There are two ways you can join their monthly sweepstakes. You can receive an entry by completing an online survey or if you get disqualified for a survey.
The sweepstakes entry will be their way of compensating you for the time you spent doing the qualification process of their survey offers.
Another way for you to enter the sweepstakes is to mail your entry. You can do this if you choose not to complete a survey offer.
You have to write your first and last name, complete mailing address, daytime telephone number, date of birth, email address, and the date and complete URL address to the survey for which Participant was selected on a 3 x 5 inch (or 7.5 x12.5 cm) card and mail it in an envelope.
You have to send it to the address shown in the photo above. In my opinion, this is the least used way of joining the sweepstakes, because it simply takes too much effort.
The prizes for the sweepstakes are as follows: one winner of $100 and six winners of $25 to be paid by Amazon E-Gift Card.
It's a nice bonus, in my opinion. That is, of course, if you ever get lucky.
Option 7 – Referral program
You can also refer friends to join their panel.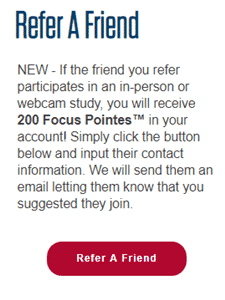 Your referral has to participate in an in-person or webcam study before you will earn the reward. For every person you refer that will participate in the said activities, you will receive 200 points.
It's not a good referral program in my opinion, because it will rely on your referral being able to complete an in-person or webcam study, which isn't really an opportunity that is regularly available. It might take a long time for you to receive your reward.
How do you get paid?
If you've noticed, most of the earning opportunities offered by FocusGroup.com involve you going to one of their locations.
In this case, you will receive your payment right after completing the activity.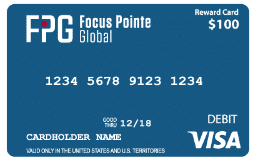 You will be given a prepaid Visa debit card which will expire 180 days from the time of issue. Other in-person activities will also reward you with gift cards, coupons, or prizes.
Typically, you will know right away what kind of reward you will get when you receive the invitation.
As for online research activities, as mentioned previously, you will receive a certain number of points. This is what they call Online Focus Pointes.
When you've accumulated 2,000 Online Focus Pointes, you can then request for payment. The payment will be done with a prepaid Visa card as well. But, you will have the option to receive a virtual Visa card.
If you choose to receive the physical prepaid Visa card, it will be mailed to you within 7 to 10 business days.
100 Online Focus Pointes is equivalent to $1. So, before you can request for payment, you have to reach the $20 payout threshold.
However, if you have accumulated more than 100 Online Pointes but less than 2,000 Online Pointes, you also have the option to request payment, but only after three months.
How much money can you make?
In my experience, in-person research activities typically pay a significant amount. This is because it requires more effort and time. So, they have to make sure you are well compensated.
So, if you ever receive an invitation to participate in in-person research activity, I suggest you grab it right away.
As for their online surveys, they will typically reward you between 100 to 1000 points. This is a relatively high amount, in my opinion.
The only problem is, there is plenty of feedback from members that you won't qualify to complete a survey too often.
So, it leads me to conclude that if you are only hoping to earn rewards from their online activities, then, it will take a long time for you to ever see any payment.
This makes it not a very reliable way to earn money online.
However, if you live near any of their offices, you have a higher chance of receiving an invite to participate in an in-person research activity, which pays well.
Therefore, this site is not for everyone, in terms of earning potential.
Can you use it on mobile?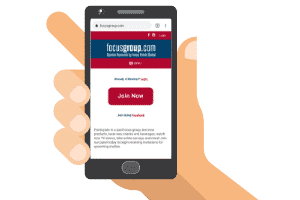 They do not mention any mobile app you have to download in order to work on the online surveys they offer.
But, you will be able to log in to their website using your mobile device and you will be able to navigate through their website conveniently since it is optimized for mobile use.
So, the online surveys you can take can be done on a mobile device conveniently as well. They are also a relatively new survey site, so they should also have taken this into account when they designed their site.
So, as long as your mobile device has an internet connection, you should be able to complete their online activities on a mobile device unless it specifically says you have to use your computer.
Who can join FocusGroup.com?
As you already know, FocusGroup.com is a US-based survey site.
And since most of their earning opportunities are done in person through their facilities, I can conclude that this site is only available to US residents.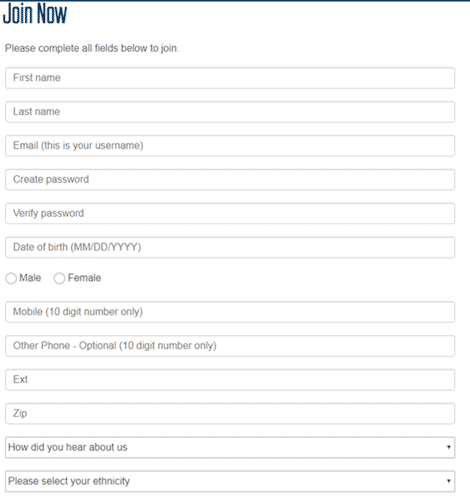 This is further supported by the fact that they will have to mail you products and rewards. It would be very impractical for them if they have to mail products or Visa cards overseas.
Plus, as you can see in the photo above, the registration form will ask you to provide a mobile number.
The only mobile number you can provide is a valid US mobile number. The form won't accept any mobile number from another country.
They do not mention on their site about an age requirement you have to meet in order to register to their panel.
In my experience though, you have to be at least 18 years of age in order to join panels that are as strict as FocusGroup.com.
If you are interested in other survey sites based in the US, you can check out the top survey sites in the US.
Can you get support?
If you have any questions or you are experiencing an issue on their site, you can send your inquiry using the contact form they have provided on their website.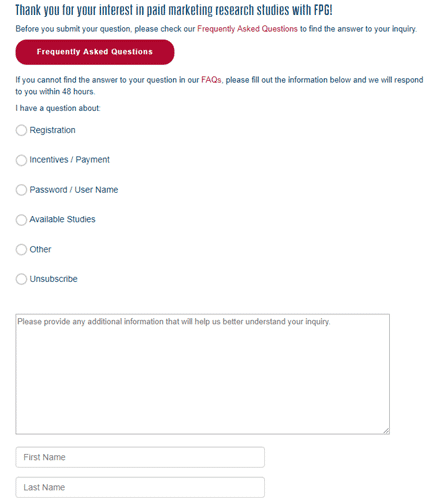 You can also try to resolve the issue yourself through the help of their FAQ section. Their Troubleshooting FAQ covers some of the basic issues you might face on their website.
They don't have a specific social media page for their site. The social media links on their website all redirect to Focus Pointe Global's social media pages.
So, if you want to contact their support team, I suggest you do it through their contact form and not on any of their social media pages.
Final Verdict
FocusGroup.com is a legit survey site that pays you for participating in in-person research activities, online surveys and other studies.
It has some advantages and disadvantages. To give you a clear picture of what you are dealing with, let's finish this review with a summary of its pros and cons.

Pros:
Has several earning opportunities
Rewards for their research activities are relatively high

Cons:
High payout threshold
Has only one payment option
Hard to qualify for their in-person research activities
The good thing about FocusGroup.com is, if you ever qualify for their in-person research activities, you will be able to earn a significant amount of money.
The downside is, you will only be able to qualify for these opportunities if you live in the same area as their offices.
Sure, you will be able to earn from their online surveys, but it will take quite some time to receive your earnings due to their high payout threshold. That's why this site isn't for everyone.
If you prefer to earn from online surveys on a regular basis, I recommend you check out the top survey sites in your country instead.
The survey sites on this list all have good earning potential. Plus, you will be able to find a site for you no matter where you live.
If you have any comments, questions, or have any experiences with FocusGroup.com yourself, I would love to hear from you in a comment below.