Joining an online survey panel or participating in focus groups can be a good way to earn extra money. You just have to find the right ones.
With so many sites today, it can be a bit hard to find one that will suit your needs. And it can also be hard to find legit options as there, unfortunately, also are many focus group scams.
One of the many sites is FocusGroup.com. This site promises to pay you for completing surveys, participating in focus groups, panel discussions, and more.
But is FocuGroup.com legit and really a way to earn, or is it a scam to stay away from?
Let me just answer this right away. No, FocusGroup.com is not a scam. It is indeed a legit survey and focus group site. However, this doesn't mean that you should join the panel immediately.
You have to evaluate if this site is worth your time or not. This FocusGroup.com review will help you do that. After reading this review, you will know exactly what to expect and can decide if it is really a good fit for you or not.
What is FocusGroup.com, and what does it offer?
As mentioned above, FocusGroup.com is a site that offers online surveys and other research opportunities like focus groups (hence the name) as a way for you to earn some extra money and have your opinion heard.
It used to be owned by Focus Pointe Global, a US-based company that has been facilitating market research for 30 years.
However, it has since I first tested, it been taken over by Sago (previously Schlesinger Group), which is one of the big companies in this field, and this has actually brought many great improvements to the site, in my opinion.
To be able to gauge its earning potential, we need to take a closer look at how you will be able to earn from this website.
For that, I have made a video that gives you an inside look and shows exactly how you can earn from FocusGroup.com. You can also read all the details below the video.
Recommended: Check Out the Top Survey Sites in Your Country
The earning opportunities: Participate in research studies
FocusGroup.com gives several ways to earn, and you can find methods that are both very convenient and some that require a bit more effort.

You can find ways to earn both online from home, over the phone, in person, and on the go, where you can get paid to share your experiences on your phone or tablet.
So let's just talk a bit more about the different methods.
One of the easiest ways to earn is by participating in the online surveys FocusGroup.com offers. You can take them whenever it fits into your schedule and from wherever you want to.
As the name suggests, FocusGroup.com also offers its members the opportunity to participate in a focus group.
Focus groups, just like the paid surveys, are either done in a FocusGroup.com facility or online. For the on-location focus group, you have to go to the location that the invite specify.
You just need to be aware that to participate in the in-person focus group panels or interviews, you need to show up at one of FocusGroup.com's 16 offices across the US, so this opportunity will not be convenient for all.
But if you happen to live close to one of their offices, it can give some quite nice earnings to participate in the focus groups in-person.
Online focus groups will sometimes ask you to use a webcam or communicate via the telephone. Once you complete the focus group, you will then receive your compensation. For in-person focus groups, you will be compensated right away.
Personally, I think focus groups can be great as they are usually also fun or interesting to participate in.
FocusGroup.com also conducts interviews which are done either at your own home, at their office, or over the phone.
Normally, you will receive a prior notification if they want to interview you. You will receive the notification via email, or sometimes, they will call you.
The interview will be conducted by a marketing research professional. They will ask questions about a particular product or service. You will typically discuss concepts and ideas related to a product or service.
Another activity you might sometimes be able to participate in is a shop along. This activity is quite unique because a marketing research professional will accompany you on a shopping trip.
They will observe how you will shop for a particular type of product and will ask you questions about your decision-making process.
This, in my opinion, is one of the more unique earning opportunities offered by a survey panel that I have ever encountered.
Even though there are not that many sites that offer this option, I have once participated in such a shop along, and it is actually quite interesting.
So if you get the chance, it can definitely be worth considering if it fits into your schedule.
FocusGroup.com also offers product testing as a way for you to earn rewards. This type of opportunity is conducted in two ways as well.
You will be asked to test the product either at home or in any of their facilities.
If you are asked to go to one of their facilities, you will be given a product to test and will be asked to share your opinions via a questionnaire or group discussion.
If you are asked to test the product at home, they will send the product to the address you have provided.
You will then be asked to test and submit an honest online review. The link to where you can submit the review will be included in the email you will receive.
Recommended: Check Out the Top Survey Sites in Your Country
How do you get paid?
As you can see above, FocusGroup.com offers quite a few different ways to earn.
But it is, of course, also very important to know how you will get paid. And this is one of the areas where FocusGroup.com has really improved since it was taken over by Schlesinger.
Now you have a lot of different payout options to choose from.

You can, for example, get paid via Visa cards and Amazon gift cards, and more.
They also used to offer PayPal cash as a reward. However, for some reason, this option has been removed at the time of updating this review.
The online portal you get access to as a member makes it very easy to redeem your rewards.
You will need to earn a minimum of 1000 points to redeeem rewards. This is equivalent to $10, so it is a fairly low payout threshold that is not too hard to reach.
Overall, I do like the payout options and the way they process it, so that is definitely a plus and also an important aspect to consider before joining an online earning platform.
How much money can you make?
In my experience, in-person research activities typically pay a significant amount. This is because it requires more effort and time. So, they have to make sure you are well compensated.
So, if you ever receive an invitation to participate in in-person research activity, I suggest you grab it right away.
As for their online surveys, they will typically pay you less, but still decently – especially considering how easy they are to participate in.
If you live near any of their offices, you have a higher chance of receiving an invite to participate in an in-person research activity, which pays well.
Therefore, this site is not for everyone in terms of earning potential, but it can definitely be a way to make a bit extra on the side.
Can you use it on mobile?
They do not mention any mobile app you have to download in order to work on the online surveys they offer.
But you will be able to log in to their website using your mobile device, and you will be able to navigate through their website conveniently since it is optimized for mobile use.
So, the online surveys you can take can be done on a mobile device conveniently as well. They are also a relatively new survey site, so they should also have taken this into account when they designed their site.
So, as long as your mobile device has an internet connection, you should be able to complete their online activities on a mobile device unless it specifically says you have to use your computer.
Who can join FocusGroup.com?
As you already know, FocusGroup.com is a US-based survey site.
And since most of their earning opportunities are done in person through their facilities, I can conclude that this site is only available to US residents.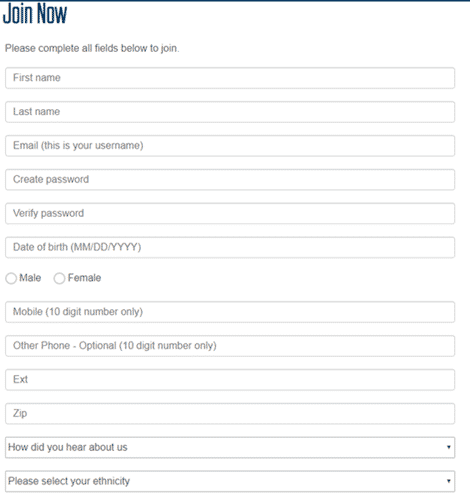 You also have to be at least 18 years old to become a member.
If you are interested in other survey sites based in the US, you can check out the top survey sites in the US.
Can you get support?
If you have any questions or you are experiencing an issue on their site, you can send your inquiry using the contact form they have provided on their website.
You can also try to resolve the issue yourself through the help of their FAQ section. Their Troubleshooting FAQ covers some of the basic issues you might face on their website, and it is actually quite comprehensive.
Just be aware that it is not so easy to find the contact form if you need it.
You need to go to the "contact us" page, and here you will see the full help section. You then need to choose any question, and at the bottom of the answer, you can then find a link to contact the helpdesk.
I assume they do it like this to make sure you go through the FAQ section first to save both you and them time.
But great, they have a way for you to contact them if you just know where to find it.
Final Verdict
FocusGroup.com is a legit platform that pays you for participating in in-person research activities, online surveys, and other studies.
It has some advantages and disadvantages. To give you a clear picture of what you are dealing with, let's finish this review with a summary of its pros and cons.

Pros:
Has several earning opportunities
Rewards for their research activities are relatively high
Decent payout methods

Cons:
Hard to qualify for their in-person research activities
Limited access to earning options overall
No longer offers PayPal as a payout method
The good thing about FocusGroup.com is that if you ever qualify for their in-person research activities, you will be able to earn a significant amount of money.
The downside is that you will only be able to qualify for these opportunities if you live in the same area as their offices.
Sure, you will be able to earn from their online surveys, but no doubt that the in-person activities and the online focus groups are what will earn you the most. That's why this site isn't for everyone.
If you prefer to earn from online surveys on a regular basis, I recommend you check out the top survey sites in your country instead.
The survey sites on this list all have good earning potential. Plus, you will be able to find a site for you no matter where you live.
If you have any comments, questions, or have any experiences with FocusGroup.com yourself, I would love to hear from you in a comment below.