User Interviews is a site that claims it connects researchers with participants. Now, if you are looking for a way to earn extra cash, you might consider this site.
But is User Interviews legit and really a great way to earn?
I have personally tested the site, and in this User Interview review, you will get a full guided tour. That way, you'll know exactly what to expect from this website before you even sign up as a member.
So, here's an inside look of User Interviews.
What is User Interviews and what does it offer?
UserInterviews.com is a market research site that will pay you for participating in paid research activities. It is indeed a legit site since you will really get paid if you are able to complete the research activities it offers.
But the question is, is it worth your time?
To answer that, you have to first understand how the site works, and the best way to do that is to examine the earning opportunities it offers.
I have, therefore, made a video that gives you an inside look and shows exactly how you can earn from User Interviews. You can also read all the details below the video.
Recommended: Check Out the Best Online Focus Groups for Money
Option 1 – Paid research studies
The primary way of earning from this site is to participate in paid research studies. There are four study types available – 1-on-1 interview, focus group, unmoderated task, and multi-day study.
Aside from the types available, there are 3 formats of studies available – in-person, over-the-phone, and online. Among the three, the most common is the online format.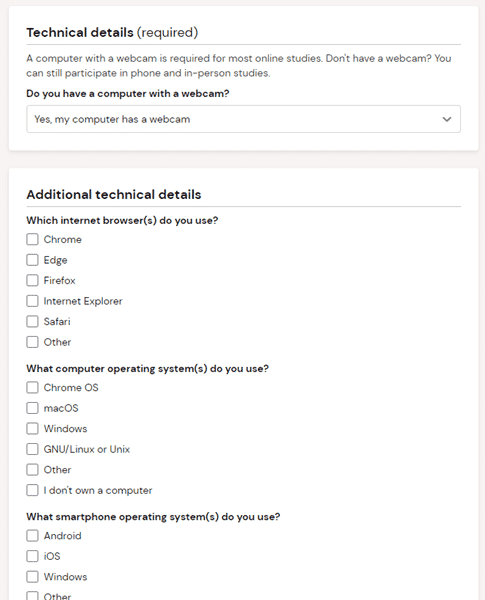 Before you can participate in any of the paid research studies, you have to meet the technical requirements.
As shown in the photo above, you must have a computer with a webcam and microphone. That's the most important requirement you need to meet because most of the studies will require you to record a video.
Once you become a member of the site, all you have to do is log in to the member dashboard, and you will immediately see all the available paid research studies. The key thing to remember here is that you will have to apply for the study.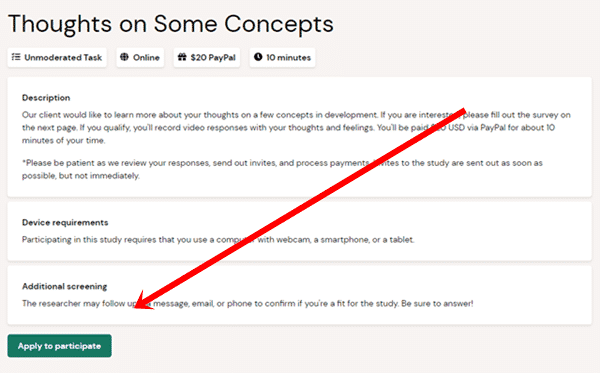 If you see a research study you are interested in, just click it, and you will see the full details. You will see the reward you will receive for completing it as well as the requirements needed to complete the study.
If you are confident you can complete this paid research study, then hit the "Apply" button. The researcher who requested this research study will review your application. If your profile matches what they are looking for, your application will be accepted.
If it gets accepted, you can start working on the research study. Make sure to follow all the instructions provided and if it is asking you to make a video, make sure you articulate all your points properly and make sure you record your video in a bright and quiet room so that the researcher can see you clearly and hear the audio clearly.
I can't stress enough how important recording in a bright and quiet room is. If you are recording in a noisy place, chances are, your work will be rejected, and you will not be paid, so you'll essentially be wasting your time.
After you've completed the study and you've submitted all the deliverables, the researcher will review your work. And if everything is up to par, you will receive the payment promised (I will discuss their payment system later).
The one thing I noticed when I was doing my testing was that there are actually a decent number of research studies available. But you have to keep in mind that you won't always get accepted for every study available, so don't expect to earn from every opportunity listed on their member dashboard.
Option 2 – Referral program
Another way to earn from User Interviews is to participate in their referral program. In case you don't know, a referral program is an earning opportunity where you will be asked to invite other people to join the site.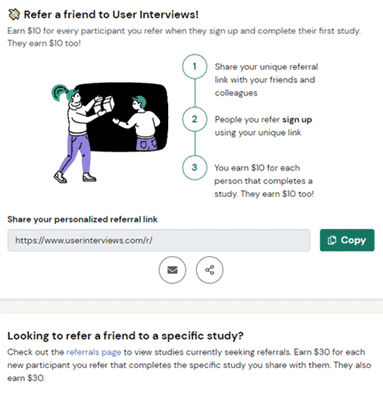 To invite a person, you have to share your invite link with them. When they click the link and register as a member of User Interviews, they will become your referral. But before you receive your reward ($10), your referral must complete a research study first.
Your referral will also receive a $10 bonus, so it goes both ways. That's why you need to make sure you invite people who are really interested in earning from this site.
Another way to participate in their referral program is to invite people to participate in specific research studies. By far, this is the more lucrative method because you will earn more for doing so.
If you invite a person to participate in a specific study and they accept the invite, and the researcher approves their application, you will receive a $30 reward once they complete the study.
Your referral will also receive a $30 reward bonus for this method.
Their referral program is actually a decent program, in my opinion, because it pays a decent amount. But again, as I've mentioned, you need to invite people that are really interested in earning from User Interviews. Otherwise, you will just be wasting your time because you won't earn anything if all they do is sign up and not complete any study.
However, the rewards for this can usually only be redeemed for gift cards and not cash, which is a big disadvantage, in my opinion.
Recommended: Check Out the Best Online Focus Groups for Money
How do you get paid?
For every paid research study you complete, you will earn a certain amount. And the good thing is, you will get paid immediately. You don't need to reach a threshold to withdraw your earnings.
As explained earlier, the reward you will get will depend on the research study. Some studies will pay you in cash via PayPal or direct bank transfer, while some will reward you with an Amazon electronic gift card or a digital Reward Link gift card.
Here's a list of possible Reward Link gift cards you can receive.
Target
Whole foods
Starbucks
Uber
Southwest Airlines
StubHub
DoorDash
Airbnb
If a study will pay you in cash via PayPal or direct bank transfer, it means the researcher will be the one to pay you and not User Interviews. For gift cards, it will be the site that will distribute the rewards.
You can expect to receive the gift cards within a day or two after your work has been approved by the researcher. But sometimes, it can take up to 10 business days before it will be credited. This is especially true if the payment is made via direct bank transfer.
Overall, the payment system of User Interviews is relatively simple, and I do like the fact that they will pay you via PayPal since it is one of the most convenient payment options around, in my opinion.
If you are interested in more sites that offer a convenient payment method, I would recommend you also check out the top sites that pay via PayPal.
How much money can you make?
The amount you can earn from User Interviews is actually pretty decent. The site pays relatively way.
Typically, you can earn around $10 to $50 per paid research study you complete. It's not surprising, really, because most of their paid research studies require a bit of effort to complete.
However, you have to bear in mind that you will not always get accepted to participate in a paid research study, and you don't really have any control over whether you will be accepted or not. The best thing you can do is to apply for all the studies that are available that you feel you can really do.
Just make sure to submit all the requirements before the deadline.
Overall, even though the site pays relatively well, the earning potential of the site is still not that great because there is really no guarantee you will be able to participate in every research opportunity available.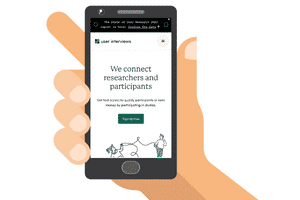 Can you use it on mobile?
User Interviews doesn't have a mobile app you can download, and in my opinion, you don't really need one. Most of the research studies offered will require you to use your computer. But sometimes, you can still use your mobile device to record videos.
You just need to make sure your device has decent camera quality. As for the activities you will need to do, most if it can't be done on a mobile device, so you'll really need a laptop or a desktop if you are interested in becoming a member of this site.
The best scenario I can think of where you can use your mobile device is when you are applying for a paid research study. You can do this conveniently from your mobile device since the website is optimized for mobile use.
You can just log in to the member dashboard from your mobile device and choose which study you want to apply for. This will be the only time accessing the website from a mobile device that can prove to be useful because most paid research studies have a limit to how many can participate and it will always be on a first-come-first-served basis.
Who can join User Interviews?
Technically speaking, you can register as a member of UserInterviews.com regardless of where you live. However, User Interviews is a US-based company, and most of its clients (the researchers) are also based in the US.
Therefore, most of the opportunities you will find on the site will be for US residents. While some research studies won't care where you live, most researchers are looking for participants who live in the US. That's why you might not get accepted often when you apply for a study if you live outside the US.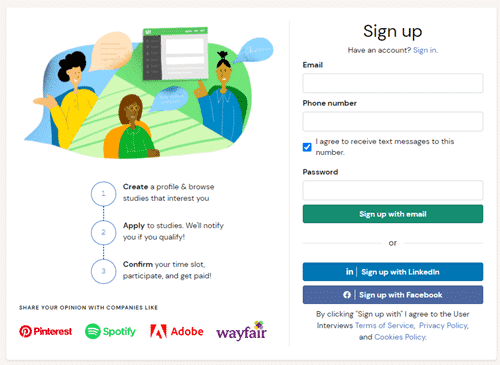 To register as a member, you have to fill out their registration form, or you can use your LinkedIn or Facebook account to join. Then, you'll be asked to provide a mobile number. This is very important because User Interviews will send a verification code to the mobile number you've provided.
Unfortunately, there's no way around this requirement, so if you are not comfortable sharing your mobile number, then this site is not for you. After you've provided your mobile number and you've typed in the verification code, you will be asked to complete your profile.
Make sure all the information you provide is accurate. After you've completed your profile, you can log in to the site and start applying for paid research studies.
Can you get support?
If you have any questions about the site or your account, you can check out their Support page. It contains most of the important topics you need to know about the site. You do have to log in to the website to access the page though.
If you have a question or comment related to a specific project that you are confirmed for, you must contact the researcher first. To get in touch with a researcher, you can use the Messaging tool which can be accessed by clicking "Messages" in the menu. Select the project from the drop-down and send a message directly to the coordinator.
But if you want to contact the User Interviews support team, you can't find the link to their contact form on the website. You have to go to this link and click the message icon in the lower right of the website.
Overall, I would say the site has a decent support system in place since they offer a convenient way for you to communicate with their support team or the research coordinator, but I would wish their own contact form was easier to access.
Final Verdict
User Interviews is a legit market research site that will allow you to earn by participating in paid research studies. It has a couple of good features, but it also has some limitations you need to be aware of.
Let me end this review with a summary of its pros and cons to give you an overview of what the site has to offer. Then, you can decide if this site is for you or not.

Pros:
Pays relatively well
Doesn't have a payout threshold
Offers payment via PayPal

Cons:
Limited earning opportunities offered
There's no guarantee you will earn from every opportunity available
You rewards from the referral program cannot be paid out in cash
In my opinion, if you are good at speaking your mind, User Interviews can be a decent site to earn from, mainly because it pays well. However, you have to set your expectations properly so you won't be disappointed.
You see, there's no guarantee you will be accepted to every paid research study you apply for. You will really need to be patient with this site because you can get rejected a lot of times. But, if you ever get accepted, and are able to complete the study, you stand to earn a decent amount.
Just be prepared to put in a bit of effort and set aside some time if you decide to sign up for this site.
But if you are just looking for a website to earn extra cash at your own pace, I would recommend you check out the top survey and GPT sites in your country instead. The sites on this list all have good earning potential, and most of the earning opportunities require less effort.
Plus, you will definitely find a site you can earn from regardless of where you live.
If you have any comments, questions, or have any experiences with User Interviews yourself, I would love to hear from you in a comment below.