Mistplay app promises to reward you for playing mobile games, so if you love playing games on your phone, you might be thinking about using this app.
But is Mistplay legit and really a way to earn, or is it a scam to say away from?
This is an important question that we must answer right away. No, Mistplay is not a scam. It is indeed a legit Get-Paid-To (GPT) app that will reward you for playing mobile apps.
But that doesn't tell you if it is worth using or not. To be able to tell if an app is worth your time or not, there are a few things we have to consider.
This Mistplay review will reveal the full details of the app, so you can determine if it is the right opportunity for you or not.
What is Mistplay and what does it offer?
Mistplay on its homepage that it is a loyalty program for gamers.
This means the app encourages you to keep playing the games available in the app.
And let me just reveal right away that Mistplay is legit and safe, but this does not mean it will be worth your time.
Now, to truly comprehend the earning potential of the app, we have to take a closer look at the earning opportunities it offers.
This is the best way to get a good understanding of how you can earn rewards with this app, and it will also give you some idea of whether it is for you or not.
So, I have made a video that gives you an inside look and shows exactly how it works. You can also read all the details below the video.
Recommended: Check Out the Top Sites to Earn Money by Playing Games Online
Option 1 – Play mobile games
The main way of earning rewards from this site is by installing mobile games and playing them. Yes, you heard that right. You will essentially get paid to play mobile games.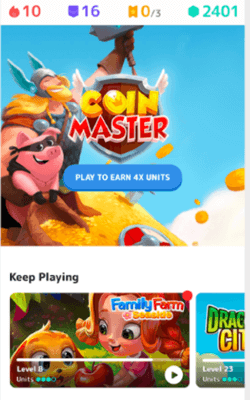 This earning opportunity is pretty simple, but there are a few things you have to keep in mind when doing this.
When you log in to the app, you will immediately see all the available games you can play. Every game has a set of requirements you need to meet to receive the reward (like reaching a certain level or reaching a certain achievement).
So, when you play, make sure to play with the requirements in mind and don't just play for the heck of it. When you meet the requirements, you will receive the reward promised.
Now, before you install a mobile game, there are a few things you need to remember.
Make sure it is the first time you install the game on this device.
Make sure you always download the game through Mistplay.
Make sure you don't switch between mobile or WiFi networks while you are downloading a game.
Failure to follow these guidelines will result in fewer rewards when all the requirements are met. So keep that in mind before you start playing a mobile game on Mistplay.
After you've completed the requirements to earn the reward, you'll be asked about your opinion on the game and other questions about your experience while playing the mobile game. You will get an additional reward, so you can't skip this part.
Now, there are also a few technical guidelines you need to follow before you start playing mobile games to earn rewards.
Make sure to disable the power saver mode of your phone. Power saver mode tends to shut off background processes on your device, which will result in Mistplay being unable to track your progress while it's running in the background.
All games have a Mistplay level cap of 20, so if you've reached this level, you'll need to switch over to another game to keep earning units.
You have to allow screen overlay or usage access for Mistplay. Both of these permissions for Mistplay must be enabled in your phone's settings for the app to work properly.
Every game will have a daily time cap. Once you play a game for more than 2 hours in one day, you will temporarily stop receiving units for that game until the next day. That said, you can continue to earn units by playing different games.
You have to actively play a game to earn rewards. You can't leave the game running on your phone without actually playing it because it will cause the app to stop tracking your playtime, even if the game has idle-play features built into it.
Make sure the "Recording your game time" setting on Mistplay is always turned on when you want to use Mistplay. You can get to it by visiting the profile tab in your Mistplay app, then press 3 dots on the top right and tap "settings".
So, remember those things if you decide to become a member of their platform.
Option 2 – Weekly contests
This isn't really an earning opportunity, but you will still have a chance at getting significant rewards if you get lucky and win their weekly contest.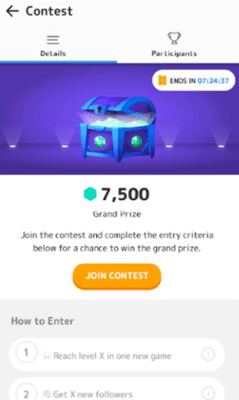 Mistplay holds a weekly contest where you get the chance to win 7,500 Mistplay units (I will talk about Mistplay units later).
To join their weekly contest, you have to meet the requirements needed. Usually, the requirements will be game-related like having to play a certain game for a specific amount of time or you having to reach a certain level.
Once you meet all the requirements, simply click the Join button on their weekly contest section, and you will be entered into the contest.
Recommended: Check Out the Top Sites to Earn Money by Playing Games Online
How do you get paid?
You will earn Mistplay units for every game you play on this app. You can then exchange the units you've earned for specific rewards. The minimum reward you can claim is a $0.50 Amazon gift card.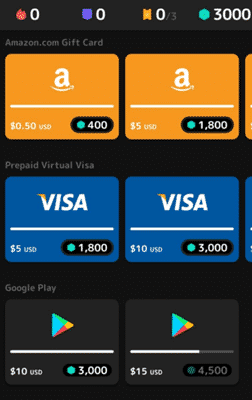 As shown in the photo above, you can redeem various gift cards, a prepaid Visa card, and even Steam Wallet codes.
Every reward will require a minimum number of units. For example, a $5 prepaid Visa card will be worth 1800 units, while a $10 prepaid Visa card will be worth 3000 units.
So, you can't really tell how much a unit is worth. This makes their reward system a bit confusing.
Also, be aware that the exact value if units, the threshold, and the available rewards can vary from country to country.
Plus, they don't offer cash rewards. If you prefer to earn cash instead of gift cards and prepaid credit cards, I would suggest you check out the top sites that pay via PayPal.
How much money can you make?
As explained earlier, there's a limit to how many units you will be able to earn every day. There's a cap on how long you can play each game available on Mistplay. And if you run out of games to play, you won't be able to earn rewards for the day.
Plus, the availability of games will mostly depend on the country you live in. So, you really can't say there's an equal opportunity for all members. Some members will have access to more games than others.
Overall, the rewards you get for your time spent are not very high.
That's why I would say the earning potential of the app isn't really that good. The real value of this app, however, in my opinion, is that you get to earn rewards while having fun. Not a lot of mobile apps offer that kind of opportunity.
Can you use it on a desktop?
Mistplay is a mobile-only platform. So, you will need a mobile device to earn rewards from this app.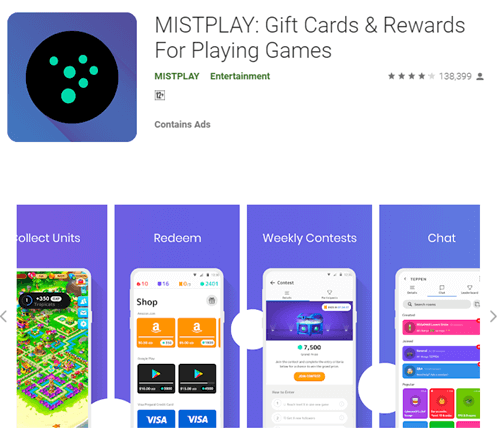 Unfortunately, their app is only available for Android devices. If you are only using an iOS device, then this app is not for you.
I would suggest you check out the top survey apps instead. You will find plenty of apps that are available for both Android and iOS devices on that list.
You can also join their iOS waitlist so that you will be notified once the app is available for iOS devices. You will find the link for the waitlist at the bottom of their homepage.
Who can join Mistplay?
They don't specifically tell you this on their website, but Mistplay is only available in the US, Singapore, some European countries, and Canada. One way to check if it is available in your country is to search for it in Google Play and see if it is available.
However, I have found out that you can still find it in the Google Play store in some countries where it is unavailable, which is quite unusual. You will then not be told if you can join or not until you try to register after having downloaded it.
Mistplay does say that they are working on making the app available globally but if and when that will happen is impossible to say.
When you open the app, you will be asked to sign up as a member. You can simply choose to sign up using your Facebook or Google account.
Also, you can't use a VPN to circumvent the geographic restriction of the app. Because when Mistplay finds out you are using a VPN (and they will), they will ban your account, and you will lose all the rewards you've earned.
Can you get support?
One thing I like about Mistplay is they have a pretty comprehensive support page. It includes a lot of common questions and topics, which can be very useful to read before joining the app.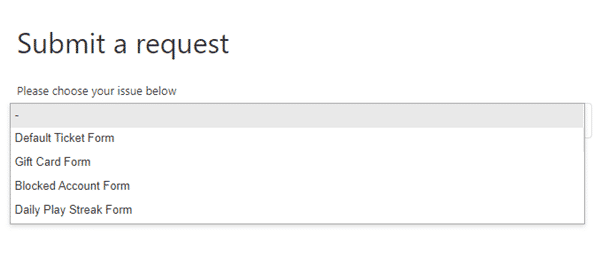 If you can't find the answer on their Support page, you can submit an inquiry. Just click the "Submit a request" link in the upper right-hand corner, and you will see the contact form (refer to the photo above).
Simply choose the appropriate form for your inquiry and then fill out the form. Overall, I would say they have decent support for their members. I especially like that they have a very comprehensive FAQ page that is even categorized so you can easily find the topic you are looking for.
Final Verdict
Mistplay is a legit GPT app that will reward you for simply playing mobile games. It has a couple of advantages and a few disadvantages as well.
Let me finish this review with a summary of its pros and cons so you can get a better overview of what the site has to offer. That way, you can better decide if this app is for you or not.

Pros:
Low payout threshold
Offers a fun way to earn rewards

Cons:
Doesn't offer payment via PayPal
Only available on Android devices
Low rewards
Availability of games will depend on the country you live in
If you only want to earn extra cash, in my opinion, Mistplay is not the best app to do it. But if you love playing mobile games, then this can be a good site to join so you will be able to earn rewards and have fun at the same time. Not a lot of apps offer that kind of opportunity.
You do have to use an Android device because the app isn't available for iPhone and iPad users (yet). Now, if you are just looking for ways to earn extra cash, I would instead recommend you check out the top survey and GPT sites.
The sites on this list all have good earning potential and offer plenty of ways for you to earn. Plus, you will find a site you can join regardless of where you live.
If you have any comments, questions, or have any experiences with Mistplay yourself, I would love to hear from you in a comment below.