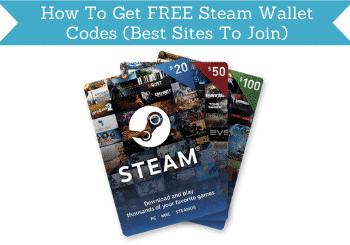 Playing games has become very popular, and the way you can purchase them has changed drastically.
A decade ago, you'd have to go to a video game store just to buy a game you wanted to play.
But today, you can just purchase one online with a few clicks and start playing immediately.
One video game platform that offers this type of service is Steam. If you are a gamer, chances are, you are already aware of what Steam is.
But if this is the first time you hear about it, it is basically a digital video game distribution service developed by Valve. That means you can purchase new video games and even in-game items from them.
You can purchase from them using your credit card or using their own currency through what they call Steam Wallet. You will actually be able to add funds to your Steam Wallet and use it for in-store purchases.
You can buy Steam Wallet codes to add money to your Steam Wallet. But there is actually a way for you to add funds to your Steam Wallet without having to spend your own money.
That is where free Steam Wallet codes come in.
There are sites that will allow you to earn these codes for free. However, not all sites that offer this option are worth it. So, to make it easier for you to find worthwhile sites, here's a guide on the best and legit sites you can join.
This article will show you how and provide you with a list of legit sites where you can get Steam Wallet codes completely for free.
Disclosure: Some articles on this website contain affiliate/sponsored links. Click for more info.
How to get free Steam Wallet codes?
When it comes to getting free Steam gift cards, you have to be a bit careful. There are some that claim you can easily get gift cards with hundreds of dollars just by clicking a few buttons. This is NOT true.
But there are legit and free ways to get Steam Wallet codes – the best and fastest way to do this is by signing up as a member of online rewards sites.
If you haven't been a member before, the types of online rewards sites that will allow you to get Steam Wallet codes are usually the Get-Paid-To (GPT).
When you become a member of these sites, it will ask you to complete tasks and offers, answer surveys, watch videos, click ads, play games, and many other online micro-tasks.
In exchange, you will receive rewards, typically in some form of currency, which you can use to redeem gift cards and even cash (including Steam Wallet codes).
The sites I will include on the list below are all free to join.
So don't worry. It won't cost you anything to sign up. All you need is a bit of your time and effort, and you will start receiving Steam Wallet codes in no time.
How many wallet codes can you get?
Theoretically speaking, there is no limit to how many Steam Wallet codes you can get.  But the number of codes you can get will depend on how much time you can spare.
If you want to get a lot of codes, you have to be active and keep doing the tasks and offers available on the sites you register for.
The more time you spend on these sites, the more offers, surveys, tasks, and other activities you do. That will then lead to more rewards.
Ideally, though, you will want to join a site that rewards more for less time spent. This is the most efficient way of earning because you won't have to spend a lot of time to earn a significant amount.
The sites I will be listing in this article will fall into that category. However, if you really want to earn more Steam Wallet codes,  I suggest you join several sites since they all have different opportunities.
I suggest you join around 6 to 8 sites. That's the number of sites I found that will allow you to earn a good number of codes without being too overwhelmed with what you have to do if you are just starting.
Also, it is good to know that you will be able to find ways to earn Steam codes on the list below, more or less, no matter the country you live in. Some of the platforms are limited to certain countries, but overall, there will be options no matter where you live.
11 best sites to get free Steam Wallet codes
Keep in mind that this list is not the only way you can earn Steam Wallet codes. This is just a list of what I think are the best sites to join after having tested hundreds of options.
In my opinion, these are the sites that will allow you to earn the most number of codes in the least amount of time possible.
To put it simply, the sites on this list all have good earning potential. I will keep updating this list if there are any new good sites to join so make sure to bookmark this page.