Gamehag promises to reward you for playing online games.
If you like gaming, this can seem like a very tempting offer. The thought of being able to earn while having fun is certainly very enticing.
But is GameHag legit though? Or is it just another scam you need to avoid?
You need to know this crucial information before you join and start playing. That's why I've tested this site to see what it really offers in comparison to the hundreds of other free online earning methods I have tested.
And let me just reveal right away that it has some good features but it also has some limitations you need to consider.
This in-depth Gamehag review will reveal the full truth about what the site has to offer so you can decide if it is worth joining or not.
What is Gamehag and what does it offer?
First off, Gamehag is a legit Get-Paid-To (GPT) site that will reward you for playing online games among other things.
If you take a look at their site, it actually has a video game feel to it even in the way they handle rewards (I will talk about their reward system later).
However, that it is legit does not necessarily mean it will be worth your time.
To understand that, we have to examine the earning opportunities it offers and exactly how it works.
I have made a video that gives you an inside look and shows exactly how you can earn from Gamehag. You can also read all the details below the video.
Recommended: Check Out the Top GPT Sites
Option 1 – Tasks
One way you can earn from Gamehag is by doing small tasks. These tasks will usually ask you to do certain things like signing up for a site, logging in to social media platforms, etc.
But there are other tasks that resemble more of what you can usually find on other GPT sites like answering surveys and downloading apps. There will also be tasks that will ask you to play online games and reach a certain level or achievement to earn the reward.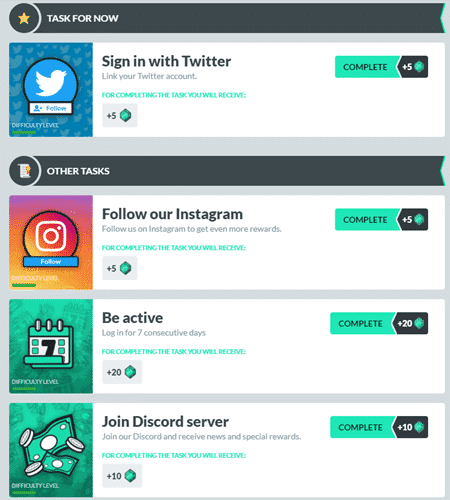 As shown in the photo above, completing tasks is relatively simple. Most tasks will only ask you to do one thing. All you have to do is make sure you meet all the requirements needed to complete the task.
For example, in the photo above, it will ask you to link your Twitter account to your Gamehag account.
Just click the Complete button and it will open a new browser tab. Simply follow the instructions to finish the task. Once it has been completed, the reward will be credited to your account right away.
That being said, some tasks like answering surveys will take a bit longer for the reward to show up in your account. So, don't worry if you are not seeing the reward right away.
Just make sure to take note of the tasks you've completed. If the reward doesn't show up after several days, then you can contact their support team (I will talk about how to do this later).
Option 2 – Mini-games
You can also play mini-games to earn additional rewards on this site. The premise is really simple. You will earn rewards for achieving a certain score in the mini-game you play.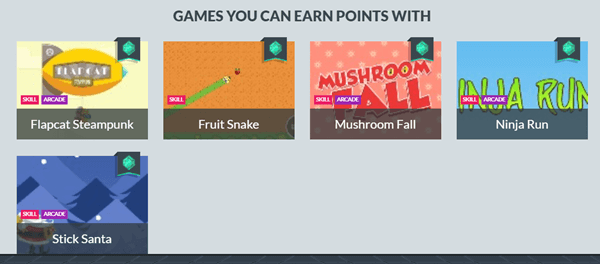 For example, in the photo above, if you play the Flapcat Steampunk mini-game, you will be rewarded for every 40 points you get in the game. The games you will usually encounter in this earning opportunity will be skill-based arcade games.
So, it won't really be very complicated. The good thing about this earning opportunity is, that you can have fun while earning rewards. The downside is, that the rewards you will receive won't really be that high.
Option 3 – Deals
Another way to earn rewards from this site is by completing deals. It's a lot like the tasks that are offered but with one significant difference which is the requirement needed to complete it.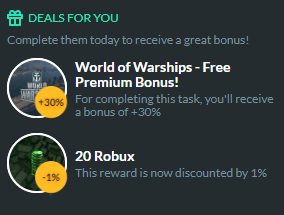 Most of the deals you can find here will involve a video game in one way or another. For example, the World of Warships deal in the photo above will ask you to write an article about the game on their forum.
Some deals will also allow you to use your Gamehag currency called Soul Gems to redeem in-game items.
One thing to note about their deals is that there won't always be any available. So, I suggest you take advantage of them whenever you can.
Option 4 – Creating content
You can also create content to earn significant rewards. There are two types of content you can make to earn.
You can write an article about a video game or you can create a YouTube video promoting the site. For articles, you will earn a fixed reward of 250 Soul Gems.
But in order to earn the reward, your article must be original and the topic must not be a duplicate of any existing article on the site. There are also additional guidelines you have to follow which will be provided to you when you write the article.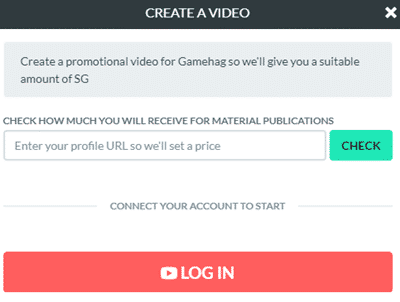 As for video content, the rate is not set. As shown in the photo above, you have to submit the link to the video you made so they can evaluate it and reward you with a suitable amount of Soul Gems.
So, if you decide to create a video, make sure it has good quality to maximize your earnings.
Recommended: Check Out the Top GPT Sites
How do you get paid?
Every activity you do on Gamehag will earn you Soul Gems, which is the currency they use. You can then use the Soul Gems you've earned to redeem different rewards.
As mentioned earlier, you can, for example, use them to redeem in-game rewards.

But actually, there are other rewards options you can choose from. You can also redeem CD Keys for various video games as well as voucher codes. You can also convert your Soul Gems to virtual currency like Openbucks or Steam Wallet codes.
If you are not familiar with Openbucks, it is a virtual currency you can use mostly for in-game purchases in various video games. It can also be used for other services.
Now, if you are hoping to earn cash from this site, then, unfortunately, you will be disappointed since they don't offer that option. If you prefer to earn cash, I would suggest you check out the top sites that pay via PayPal instead.
One thing to note about their reward system is, that it's hard to calculate the exact value of Soul Gems because the rewards they offer require different amounts of Soul Gems.
For example, a Steam wallet code worth $10 requires 5299 Soul Gems, while an Openbucks $10 voucher will cost 5599 Soul Gems.
So, there's no clear-cut conversion rate, which can be quite confusing if you are trying to calculate how much you've earned.
How much money can you make?
Technically speaking, you won't be able to earn cash from this site. But some of the rewards they offer can be considered cash.
Now, the amount you can make will mostly depend on the availability of their earning opportunities and how well they pay.
Some of their tasks don't really pay that much (like those short tasks that will ask you to log in to certain websites) but some tasks pay a decent number of Soul Gems. But, in my opinion, they don't really pay that well for the amount of work you have to do.
For example, if we base the value of their Soul Gems on Steam wallet codes, let's say you write an article and you earn 250 Soul Gems. You are actually only earning $0.50 more or less, which is not a lot considering the effort you need to make and the time you need to spend.
Now, there's actually a way for you to earn more from this site.
If you remember earlier, I said the site has a video feel to it. I was actually referring to their VIP system and milestone rewards. They have a VIP system that you can avail of that is designed to help you earn more but that will cost $4 a month.
They also reward you with bonuses if you reach a certain milestone on the site or if you are one of the three top earners for the day. You will usually encounter this kind of reward structure on video games which is a nice touch on their end.
But overall, I would say this site doesn't really have a high earning potential. That being said, the real value this site offers is that you will be able to earn rewards while playing video games.
If you are interested in more sites like this, I suggest you check out the best ways to earn money by playing games online.
Can you use it on mobile?
A good thing about Gamehag is, that it has a mobile app you can download so you can complete tasks and deals conveniently on your mobile device.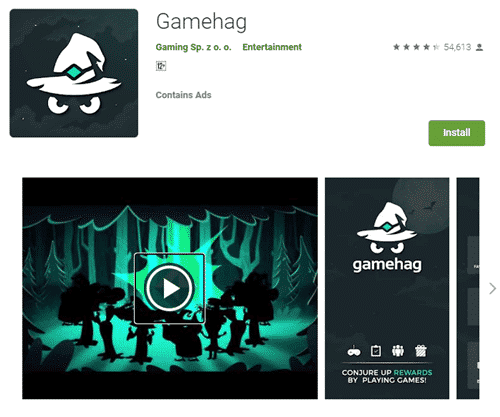 The GameHag app is available on both Android and iOS app stores, so compatibility won't be an issue. Their app is also user-friendly. You won't have a hard time navigating through it and learning how to use the app.
This can significantly help you become a more efficient earner because you can earn rewards even when you are not in front of your computer. You can work on tasks and deals anytime and anywhere you want. Just make sure your mobile device has a stable internet connection.
Who can join Gamehag?
Gamehag is available globally. This means you can become a member of their platform regardless of where you live.
To become a member of their site, you can sign up using your Facebook or Steam account. Or, you can also provide your own login details (like I did).
Once you've done that, all you have to do is confirm your registration. Upon doing so, you will also receive 20 Soul Gems, which isn't much, but at least, you get something right away.
Can you get support?
In my opinion, Gamehag does provide good support for its members. For example, after your first login, you will immediately go through a tutorial about the basics of their site (just like in video games).

I would suggest you go through their tutorials because not only will you learn about how to work on the site, but you will also receive a small reward for going through each tutorial.
Now, if you have any questions, you can check their FAQ page first to see if you can find the answers.
If you can't find the answers you are looking for, you can get in touch with their support team by submitting a support ticket. You can also join their Discord server so you can chat with a representative.
Final Verdict
Gamehag is a legit GPT site that will reward you for playing video games, doing tasks, and a lot more. It has a few good features but it also has certain drawbacks you need to consider.
So, let's end this review with a summary of its pros and cons to help you decide if you should join this site or not.

Pros:
Offers a fun way to earn rewards
Available globally
Their app is user-friendly

Cons:
Low rewards
Doesn't offer cash rewards
If you like playing games online, this can be a decent site to join because it offers plenty of in-game rewards for some of the most popular video games today. Plus, you can redeem gaming platform currency you can use to buy games you want to play.
But if you are mainly looking to earn extra cash, I would suggest you look somewhere else. The site doesn't offer cash rewards and the rewards you will earn aren't really that good.
For a list of sites that will allow you to earn cash, I would recommend you check out the top survey and GPT sites in your country instead.
The sites on this list all have good earning potential. Plus, you will also find a site you can join regardless of where you live.
If you have any comments, questions, or have any experiences with Gamehag yourself, I would love to hear from you in a comment below.