MobileXpression claims to be a way to earn by helping improve the internet.
But is MobileXpression legit or a scam to stay away from?
Let me just tell you already now that this is a legit site that does pay you for participating.
However, this does not necessarily mean it will be worth joining.
This MobileXpression review will tell you everything you need to know so you know exactly what to expect and can easily find out if it is a site you want to join or not.
What is MobileXpression, and what does it offer?
MobileXpression is basically a market research panel that offers to pay you for all the information you supply to them.
It is owned by Comscore, a renowned leader in online behaviors and trends.
MobileXpression is an app that will gather data regarding your online activity on your mobile device (anonymously).
It's quite unique because it mostly does all its work in the background. So in actuality, you are earning passively.
But aside from that, let me just explain how you will be able to earn from MobileXpression in more detail.
I have made a short video that shows and explains everything. You can also read all the details below the video:
Recommended: Check Out the Top Survey Sites in Your Country
Option 1 – Mobile App
The mobile app is mostly where you will earn from MobileXpression.
The beauty of MobileXpression is it will actually allow you to earn without you having to do anything. All you have to do is install the app, and you will already have a passive income.
What the mobile app does is once it is installed, just tap the new icon and it will ask you to allow permission for MobileXpression to collect data from your mobile device.
What it does is it will actually collect data about your online and other activities on your mobile device.
In my opinion, this is a neat little way of earning without having to do anything or complete any task. But, if you are somewhat apprehensive of software that will monitor your behavior, this can be a deal-breaker.
That's because it does exactly just that. That is the whole purpose of their app. It gathers data anonymously from all its users and combines it to understand the trends of internet usage on mobile phones.
Companies can then use this market research to make informed decisions regarding their mobile marketing strategies and are willing to pay for it. That is how it is possible for you to get paid for having the MobileXpression app installed.
They do guarantee that your personal information like credit card numbers, passwords, and stuff like that won't be collected.
If you prefer a less intrusive way of earning, you can check out other survey sites with mobile apps, which are also mobile-focused sites. The difference is that they do not collect data.
Option 2 – Mobile surveys
From time to time, you will also receive survey invitations from MobileXpression.
There isn't a lot of information on their site about the surveys they provide, but it works just like any other survey site does it.
You get an invitation to answer a survey. The survey will display a cash value as a reward for completing it.
The surveys are mostly for gathering the information that their partner companies need. MobileXpression, after all, is a market research panel.
If you are not qualified for a survey, expect that you will be notified right away. So you won't have to waste time answering a survey that you won't get anything out of.
The surveys are, however, not something you will be able to earn a lot on as they are only offered occasionally. The main way to earn on MobileXpression is by having the software installed.
Recommended: Check Out the Top Survey Sites in Your Country
How do you get paid?
MobileXpression rewards you with credits, as long as you stay an active member.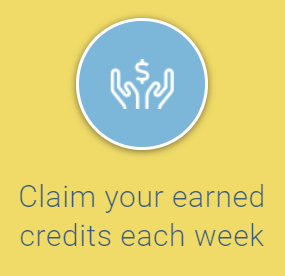 Everything you will earn from MobilXpression will be turned into credits. This is the currency that they use.
You can then exchange your credits for the equivalent reward in their rewards catalog.
You will be able to earn credits every week the app is installed on your mobile device. After your first week of use, you will then be able to claim a $5 gift card of your choice.
According to their website, they have a great selection of retailers you can choose from.
If you want to check your credits, you can just log into the app. The logic to earning with their mobile app is that the longer you use it, the more credits you earn.
In my opinion, it is certainly doable since you don't really have to do anything apart from doing the things that you normally do with your mobile device.
As for how many credits will be credited to your account weekly, unfortunately, there was no information about it on their website. But they do guarantee that you can claim a $5 gift card every week you participate.
How much money can you make?
Unfortunately, you won't be able to earn real money from MobileXpression. The only reward you can get from them is gift cards.
Although you can't earn cash, you can still find gift cards that you like, which if you think about it, can be as good as cash. It's just a matter of personal preference.
But, if you are looking to earn cash, I recommend you check out the best PayPal survey sites instead.
According to feedback from members I have seen, MobileXpression does hold weekly prize draws, which is the whole reason why they stay longer.
I can't really verify it though since their website doesn't really say anything about weekly prize draws. Also, you can't really depend on it as an income generator because, obviously, it will all rely on luck.
Another thing you have to consider when you think about income is that their app will require that your mobile device has a steady internet connection.
So naturally, it will consume data usage from your mobile data plan. I'm just not sure if the data consumption will be significant or not. But it is definitely something to consider if you do not have a data plan with free data usage.
Can you use it on mobile?
As you can see, it is a mobile-focused market research company, and as mentioned above, you will actually need an app in order to start earning. In fact, you will need to install two apps.
The main app is called MobileXpression, which is the app that does all the work. The other app is called MobileXpression Connect.
None of these apps are available for download in Google Play or Apple App Store. The only way for you to download their apps is through the download link that they send you when you register.
You need to open that download link from your mobile device in order to install it. You have the option to get a download link for either mobile or tablet.
As mentioned, the MobileXpression is the main app that does all the work. The MobileXpression Connect is actually a VPN app that will allow your device to communicate with its servers and give you updates about your incentives.
One thing you need to make sure of when installing the apps is that all the necessary permissions must be turned on in order to start using the apps.
Also, a very important thing you need to be aware of regarding the MobileXpression VPN is that you will then have a VPN on your phone which, in general, is not a problem.
But a VPN can also be used to hide the location, and some people use these to try to cheat survey and Get-Paid-To (GPT) sites to make it look like they are from a country they are not. Therefore, most survey and GPT sites will detect if you use a VPN and often they will ban your account if you do to avoid fraud.
This is not a problem if MobileXpression is the only platform you use to earn by giving feedback. But if you use other survey sites, this can be a problem. So if that is the case, make sure not to use the device you have installed MobileXpression on to take surveys from other sites.
That way, you will avoid getting into problems.
Who can join MobileXpression?
According to their website, anyone aged 18 years old and above can join MobileXpression as long as they have a mobile device that is compatible with their apps.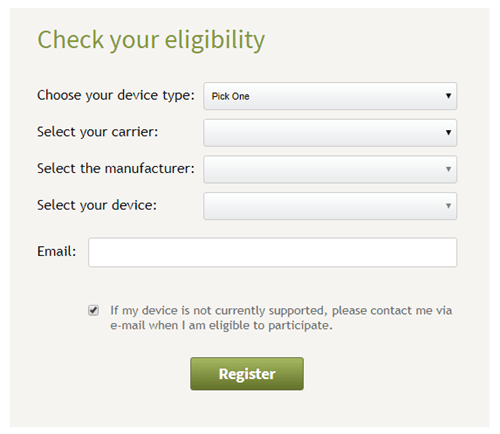 However, at the same time, when trying to register, it also says that it is only available in select countries. But it does not specifically mention which ones so that is a bit confusing.
But if you are interested in joining the best is to just check if it is available in your country by trying to register on the website.
Upon registering, you will need to select the device you are using, as shown in the image above. If your device isn't listed on the choices, then, unfortunately, it is not compatible with their apps.
The download link they provide will also be pretty particular about the device that you selected when you registered. The app will only be installed once the installer finds out that it is the same device that you chose during the registration process.
During registration, they will also send you via text message a confirmation code in order to complete the sign-up.
When I registered, I noticed that you also have to select your network carrier. So it looks like you can only join if your network carrier is included in the list of carriers that they cater to.
In case you want to add another mobile device because you swapped phones or simply want to be able to use their app on a different mobile device, you have to log in to the app and go to My Devices.
You can then update information about your current mobile device, add new devices, or remove devices from your account.
In my opinion, their system is a bit more complicated compared to other mobile-based apps which makes it less user-friendly than you would hope.
Can you get support?
Seeing that the use of the mobile app is a bit complicated and that their FAQs page doesn't really cover everything you need to know, it is a good thing that they do provide support for their members.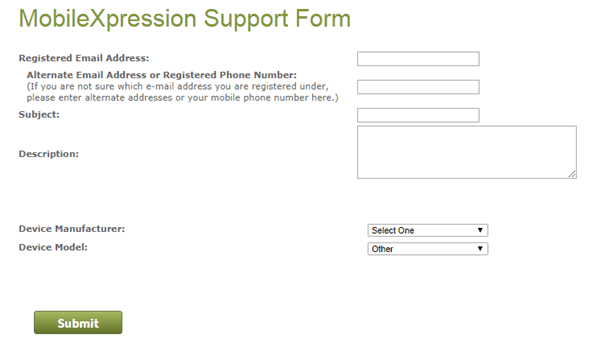 Their FAQs sections have the basics covered, but it is not an impressive FAQ section, to be honest.
If you run into a specific or technical problem, you can instead contact them via the contact form on the website.
And as you can see, you have to provide the details of your mobile device.
Unfortunately, this is the only way for you to contact them. Their website doesn't display their address or phone number that you can call.
And a quick look at their Facebook page shows that they have not posted anything, and you can't message them. So their form of support all resides in the contact form that they provide.
But according to several reviews I saw on Trustpilot, there are many people that are not impressed with the support.
At the same time, others say it works great. So it seems the support is not that consistent. So if you should need help and do not hear back right away, it might be a good idea to just keep writing until you get an answer.
Final Verdict
For all intents and purposes, MobileXpression is a legit site that offers to reward you with gift cards in exchange for the data you provide when you install the software.
To help you decide if you want to become a member of MobileXpression, let's finish this review by summing up its pros and cons.

Pros:
Low payment threshold
Passive income

Cons:
Only available for mobile use
Won't earn you real money
Software is a bit intrusive, but they guarantee that no personal information is collected
Will require a constant internet connection on your mobile device
Low survey invite frequency
As you can see, even though it allows you to earn without having to do anything, its lack of versatility is really the major downside of MobileXpression.
When I say lack of versatility, what I mean is that you will only be able to use MobileXpression on your mobile device.
Although some would argue that it is a good system because it allows you to be always on the go, having the choice to do it on a desktop or even a laptop would have been better. That is especially true when answering surveys.
Plus, it doesn't allow you to earn real money.
If you are looking to earn cash, I suggest you check out the best survey sites in your country. You can find a lot of sites that offer better earning opportunities.
But if you do not mind having the app installed, it can be an easy way to earn some free gift cards.
How to join MobileXpression?
If you want to join MobileXpression, it is very easy. Just click the button below, select your country, and it will take you to the sign-up page. It will only take a minute.
The countries on the list are the ones I know they are currently recruiting in, but they might also be available in others, so it can still be worth checking on the site even if your country is not on the list.
If you have any comments, questions, or have any experiences with MobileXpression yourself, I would love to hear from you in a comment below.