Surveyon is a site that claims you can earn extra cash just by answering surveys.
Now, you must be wondering, is their claim legit or is it just another scam to stay away from?
I've decided to test the site and make a Surveyon review to answer that and all the other burning questions you might have about this site. In this review, I will reveal the full truth of what the site has to offer.
That way, you'll know exactly what to expect before you even sign up as a member. Then, you can decide if you should really sign up or not. So, let's go ahead and take a closer look at this site, shall we?
What is Surveyon and what does it offer?
Surveyon is a survey site that will pay you for answering surveys and participating in the other earning opportunities it offers. And yes, it is indeed a legit site since you will really get paid for answering surveys.
The question now is, is it worth it? To answer that, we must first examine the earning opportunities it offers so you'll understand how the site works.
I have, therefore, made a video that gives you an inside look and shows exactly how you can earn from Surveyon. You can also read all the details below the video.
Recommended: Check Out the Top Survey Sites in Your Country
Option 1 – Paid surveys
The main way to earn from Surveyon is by answering their paid surveys. From time to time, you will be invited to answer surveys to earn rewards.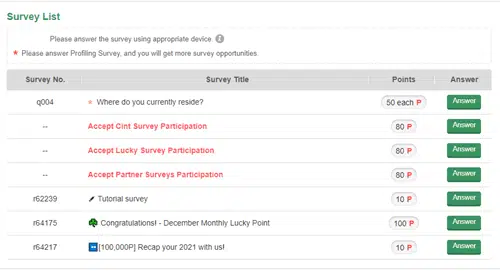 To view the available surveys you can take, you just have to log in to their member dashboard. As you can see in the photo above, you will immediately know what you will earn from completing a survey.
And as indicated in the photo, some surveys will come from other survey sites. So, don't be alarmed when you answer a survey and it takes you to another website. That's just the site that is hosting the survey that was offered.
The surveys that the site itself offers are actually just profile surveys designed to gather information about you so that they can better identify which surveys to send your way. You will still earn rewards from this kind of survey. In fact, when I did these surveys, I actually earned more than a thousand points just for completing one of their profile surveys.
And the good thing about this kind of survey is, you will automatically be qualified to take it. So, if you see those surveys when you log in, make sure to prioritize them before any other surveys since they are guaranteed earnings.
As for the other surveys which come from other survey sites, you will have to go through a qualifying process first. If you qualify, you get to answer the actual survey and earn the reward. If you fail to qualify, then you just have to move on to the next survey available.
For every survey you complete, you will earn a certain number of points. Later on, I will discuss what you can do with the points you've earned.
Option 2 – Quick polls
Another way to earn rewards is through their quick polls. This opportunity doesn't give high rewards, but it's still a way to earn more rewards. So, I suggest you don't ignore it. Plus, it doesn't really take a lot of time to do.
The way this earning opportunity works is really simple. Every day, you will be given a certain number of polls to answer (usually 3 polls). For every poll you answer, you will earn 1 point.
You also have the option to create your own poll and Surveyon will share it with other members of the site. If your poll gets at least 100 answers, you will earn 200 points.
You will see all the quick polls made by members at the Quickpolls section of the website. It's not an opportunity that guarantees you earnings since answering quick polls made by members doesn't really offer any rewards.
So, it's a bit hard to guarantee that you get the required 100 answers to earn the 200 points, which makes it a bit of a useless feature, in my opinion. That's why if you are really strapped for time, I would suggest you just answer their daily polls. It will only take you less than a minute to answer all the daily polls.
Recommended: Check Out the Top Survey Sites in Your Country
How do you get paid?
As explained above, you will earn a certain number of points from all the earning opportunities the site offers. But what can you do with the points you've earned?

Well, you can actually convert your points to cash via PayPal. Once you've earned 20,000 points, you can then withdraw your earnings via PayPal. While that may sound like a lot, it's actually only worth $2. This is the only payment option the site offers, but I personally don't mind because I consider PayPal as one of the most convenient payment methods around.
So, their payout threshold is actually quite low, but in the next section, I will explain why that doesn't really matter. But overall, I like the fact that their payment system is really simple and I also like that they use a convenient payment system like PayPal.
If you are interested in more sites that offer a convenient payment method, I would recommend you check out the top sites that pay via PayPal.
How much money can you make?
As mentioned above, even though Surveyon has a low payout threshold, it's actually quite useless.
That's because the site doesn't really offer high rewards. After you've finished their profile surveys (which will reward you around 500 to 2,000 points), the rest of the surveys offered by other websites only reward you around 200 to 1,000 points each.
That's very low rewards. If you convert it to cash, that would be around $0.02 to $0.10 per survey, which is actually quite atrocious, in my opinion. Plus, you have to keep in mind that you won't always qualify for surveys.
So, even though they have a low payout threshold, it's still quite useless because it will still take a lot of time to earn enough points to withdraw even a small amount of money. That's why I would say the earning potential of Surveyon is really quite low.
Can you use it on mobile?
The one good thing about Surveyon, in my opinion, is that it has a mobile app you can download so you can answer surveys on your mobile device conveniently. However, their app is only available in specific countries.
To find out if it is available in yours, just go to your app store and search for Surveyon. If it appears in the result, then that means it is available in your country. If it doesn't, then you'll just have to make do with the mobile version of their site, which is actually still pretty good because it is optimized for mobile use.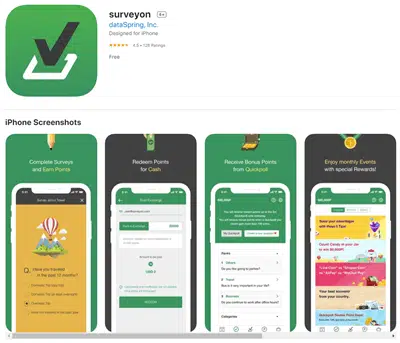 Their app will work with both Android and iOS devices. This fact makes the site a bit more usable, in my opinion, since you don't really need to sit in front of a computer to earn. You can just install the app and answer surveys anytime and anywhere.
Who can join Surveyon?
Surveyon is only available in Asian countries since the owner of the site DataSpring mostly only operates in Asia. So, if you don't live in an Asian country, then don't expect to be able to join this site.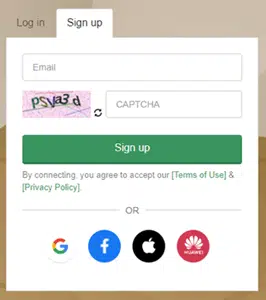 To register, you can provide your own login details or use your Facebook, Google, Apple, or Huawei account. When you are done with the registration, you can immediately log in to their website and start earning.
However, as mentioned above, their mobile app isn't available in all countries. Plus, there will be countries that offer more surveys than others. That's really just the nature of a global survey site.
Can you get support?
Surveyon has a tutorial you can go through so you'll know how to use the site. But if you have any questions or if you encounter any issues while using their site or app, they have a support section that discusses most of the common topics you need to know about Surveyon.
And if you can't find the answers you are looking for, you can just submit your inquiry using the contact form provided on their support page. Overall, I would say the site has a decent support system in place for its members since it offers a convenient way for you to get assistance.
Final Verdict
Surveyon is a legit survey site that will pay you for answering surveys. It has a few good features but it also has some drawbacks you need to be aware of.
Let me finish this review with a summary of its pros and cons to give you an overview of what the site has to offer. Then, you can decide if you should join this site or not.

Pros:
Offers payment via PayPal
Has a mobile app you can use

Cons:
Limited earning opportunities offered
Low rewards
In my opinion, Surveyon isn't really a great primary site to earn from. I would only suggest you join this site if you really need an additional survey site to earn from. But, I do have to warn you that you really need to be patient with this site because it doesn't really pay that well.
So, even though it has a low payout threshold, it will still take quite a bit of time before you can withdraw your earnings. Now, if you are looking for primary ways to earn extra cash, I would suggest you check out the top survey and GPT sites in your country instead.
The sites on this list all have good earning potential and you won't have to wait that long to withdraw your earnings. Plus, most (if not all) of them offer multiple payment options.
If you have any comments, questions, or have any experiences with Surveyon yourself, I would love to hear from you in a comment below.