Ibotta is an online rewards app that promises to pay you whenever you shop both online and offline.
So, if you love to shop or if you are the one doing the grocery shopping for your household, you might want to check this app out.
But is Ibotta legit and really a way to earn or a waste of time?
Let me just answer this question right away so we can talk about other things you need to consider.
Yes, this app is legit. It does reward you for participating in deals and cashback offers, among other things. However, in order to truly conclude if this app is worth your time or not, we have to check a few things.
This Ibotta review will take a look at everything the app has to offer so you will know exactly what to expect and can figure out if this site will allow you to earn the money you want.
What is Ibotta and what does it offer?
As explained above, Ibotta is an online rewards and coupons app that will reward you for participating in the activities it offers. Basically, it is a cashback app.
Here's a short video explaining what the app does:
For you to determine if this app is truly worth it or not, we have to examine the earning opportunities it offers. That way, you can get a clear picture of its earning potential. So, here's how you can earn from this app.
Option 1 – In-Store Cashback Offers
The main way you can earn rewards from this app is by availing of cashback offers in-store.
I think it is really great it also offers offline cashback offers as most cashback platforms mainly focus on online offers.
If you are going to shop in-store, when you log in to the app, you will see all the nearby stores you can shop from.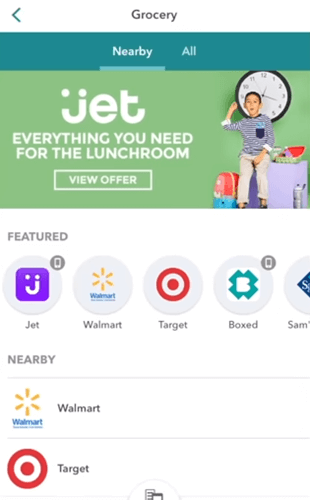 Simply choose the store you will shop from and look at the cashback offers available. If you see an offer you like, you can purchase it and earn cashback.
Then, there are two ways you can earn cashback. You can do it automatically during check out or you can upload the receipt.
If you want to earn the cashback automatically, you have to link your loyalty accounts for your favorite retailers in the Ibotta app. Then, simply use your loyalty card at checkout, as usual, to save on the qualifying offers. You'll see your cashback in your Ibotta earnings within 24 hours.
If you choose to upload the receipt instead, you have to make sure you upload a clear photo of the receipt. You also need to make sure the items are readable when you take the photo.
If you choose to upload the receipts, it will take a bit longer before you will see the earnings in your account as they first have to be checked and approved.
Option 2 – Online Cashback Offers
Earning cashback rewards online is a lot simpler than the in-store method. All you have to do is log in to the app and find an online store you like.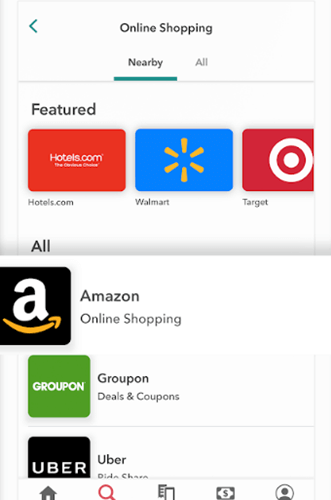 Simply click the store you want to purchase from on the list provided in the app. Then, just purchase the item you want to purchase. Once you've completed the purchase, you will receive the cashback reward.
As you can see, it's a lot simpler than the in-store method. The downside is, that there aren't as many offers available compared to the in-store offers, and a site like Swagbucks, for example, has a lot more online cashback offers.
So if you mainly shop online, Ibotta might not be the best option.
Option 3 – Pay With Ibotta
One unique feature this app offers is, that you can use it to pay for your purchase from partner stores.
You simply have to link your credit or debit card to the app.
Then once you check out, input the amount you have to pay and then present the gift card code that will be generated to the cashier. You will then earn cashback rewards for the amount you've paid. So, it's actually a way for you to save cash.
Option 4 – Refer a friend
Ibotta also has a referral program where you can earn extra by inviting friends to use the app.
Once you are a member, you will get a referral code you can share with the people you want to invite. When they use it when signing up, they will become your referral.
Once they take their first offer/submit their first receipt, you will earn a bonus of $10. Your friend will also get a $10 bonus.
This can be a nice way to earn some extra money if you know anyone that might be interested in using the app. And it can also be a great gift to give to the people you invite, as they will also get a bonus so overall a quite good referral program, in my opinion.
Recommended: Check Out The Top Cashback Sites
How do you get paid?
For every offer you avail of on Ibotta will earn you a certain amount. It will be credited to your Ibotta account. You can then withdraw your earnings once you've earned $20.
It's a rather high threshold to reach, in my opinion. So, you will have to be a bit patient especially if you don't shop that frequently. If you are interested in sites that have a low payout threshold, I recommend you check out the fastest paying sites instead.
You have the choice to convert your earnings into gift cards or withdraw them via PayPal or bank transfer. Keep in mind though that some gift cards can only be redeemed in increments of $25.
How much money can you make?
With cashback apps, the amount of money you can earn will mostly depend on how often you use the app for shopping. So, the earning potential will mostly rely on you – but, of course, also on how many offers are available in the app.
If you frequently shop from their partner stores, you can stand to benefit a lot from this app. But if you don't, then this app will really be useless for you.

The photo above shows some of the stores that have partnered with Ibotta, but there are actually a lot more. So, there are quite a lot of options to choose from.
The cashback rewards they offer, in my opinion, aren't really that high, but they aren't that bad either.
So, you could say that you will be able to earn rather decently from this app.
According to Ibotta itself, the average user of the app earns $150 per year. But that is, of course, if you shop fairly frequently from their partner stores.
Can you use it on a desktop?
The app is a mobile-only platform, so you won't be able to use it on a desktop. However, they do have a way for you to use it on a desktop by downloading the Ibotta browser extension for Chrome.

You can install this browser extension and will then be able to shop online from partner stores and get the cashback reward.
The way it works is that you have to use the extension to pay for online purchases. Then, it will generate a gift card you can use to pay for your purchase and you'll earn cashback instantly.
You can also use the browser extension to compare prices and set price drop alerts, so it can be a quite handy tool, in my opinion.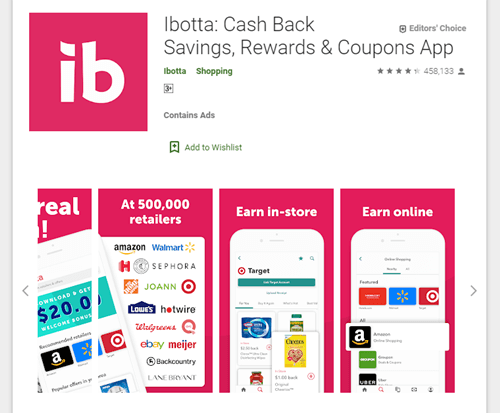 As for their app, it is available for download on both Android and iOS app stores. So, compatibility won't be an issue.
The good thing about their app is, that it is very user-friendly. You won't have a hard time using it. Plus, it also alerts you when you are near a partner store. You just have to enable Nearby Offer Alerts in the app to receive a notification.
Who can join Ibotta?
They don't really mention on their website who can join Ibotta. But if you look at the list of stores that have partnered with them, you can deduce that it is only available in the US. So, if you live outside the US, then, unfortunately, this app is not for you.
If you are a US resident though, you also have to be at least 18 years of age to register. That is not surprising since they use PayPal as their main mode of payment and the age requirement to register for a PayPal account is 18.
Can you get support?
If you have a question you want to ask their support team, you can first check out their Help Center page. It has an extensive collection of frequently asked questions. So, you might find the answer on that page.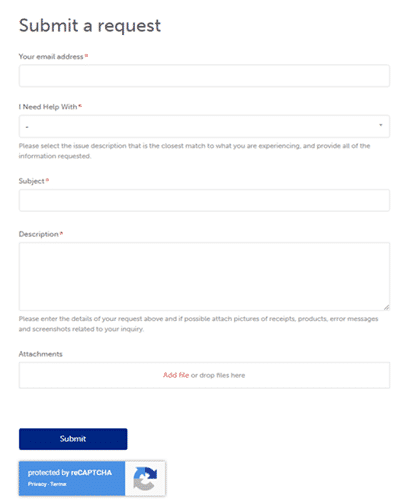 But in case you can't find what you are looking for, you can always send in your inquiry through their contact form. Just fill out the form with your question and answer the captcha to submit it.
They also have various social media pages you can visit and the good thing is, that they are active on all platforms. So, you can check out their pages from time to time to get updates.
Final Verdict
Ibotta is a legit cashback app that pays you for availing of their in-store and online cashback offers. It has a couple of good features to offer but it also has some drawbacks.
Let me end this review by summarizing its pros and cons to help you decide if you should download this app or not.

Pros:
Has plenty of cashback offers available
Offers payment via PayPal
You can use the app to pay for purchases from partner stores

Cons:
High payout threshold
Only available in the US
Limited earning opportunities offered
In my opinion, Ibotta is a good cashback app to use if you are eligible to become a member. There is a lot of cashback offers available. So, you are guaranteed to earn from it, but only if you shop from their partner stores.
The best way to take advantage of this app is if you shop frequently. But if you don't, then you won't really find any value from this app. You are better off earning from Get-Paid-To and survey sites.
So, if you are looking for sites that will allow you to earn without having to purchase anything, I recommend you check out the top survey sites in your country instead. The sites on this list all have good earning potential.
You will be able to earn cash and gift cards by completing offers and surveys among other things. Plus, you will be able to find a site you can join regardless of where you live.
If you have any comments, questions, or have any experiences with Ibotta yourself, I would love to hear from you in a comment below.