If you love to shop or if you do the grocery shopping for your household, there are actually ways you can make it a profitable activity. There are plenty of sites and apps out there that will reward you for shopping or buying your groceries.
The problem is, which site or app should you use? There's a promising app called Shopkick that will reward you for doing the stuff mentioned above.
Now, if you are thinking, is Shopkick legit? Then, you are actually asking the right question.
Before you join a site/app, you should verify if it's legit or not. You don't want to waste your time on a site that will just scam you. Fortunately, Shopkick is a legit app that does what it says.
But that doesn't automatically mean this app offers a good way for you to earn rewards. To determine if it's truly an app worth using, we have to consider several factors. This Shopkick review will do just that.
After reading this article, you will be able to decide if Shopkick is worth using or not for you.
What is Shopkick and what does it offer?
Shopkick is an app that will reward you for shopping in-store and online. So, if you don't really do that kind of thing a lot, this app is not for you.
Here's a short video explaining what you can do with Shopkick:
As you can see in the video above, they have partnered with some of the major retailers around, so you can use it almost anywhere you shop.
But in order to get a good grip on what the site can offer in terms of earning potential, we have to examine the earning opportunities it offers.
So, here's how you can earn from Shopkick.
Option 1 – Check-In
With the app, you will be able to earn "kicks" (which is the currency they are using) by simply checking in to a specific store that has partnered with Shopkick.
It's like what you do with the app Foursquare. The only difference is, you'll earn something for it on Shopkick.
When you are at a store, you can simply open your app and go to the Kicks Nearby section to see if the store is listed as a place you can check-in. If it is, simply click the button and you will receive the reward.
In some stores, you don't even have to go inside to check-in. You can just walk by and still earn. So, if you are in a shopping center, make it a habit to check your app to see if there are stores you can check-in.
It does have a limit to how many times you can check-in. So, if it doesn't allow you to check-in anymore, you've probably hit the limit.
Option 2 – Scan Barcodes
When you are inside a store that has partnered with Shopkick, you will also be able to earn kicks by simply scanning barcodes. You don't even have to buy the item you are scanning.
When you log in to the app, you will see a list of stores available. If you happen to be inside a store that is listed in the app, just click it and you will see all the items you can scan.
All you have to do is scan the barcode of the item stated in the list (just like what the video asks you to do).
It will then ask you to scan an additional image. You simply need to follow the instructions and you will receive the kicks once it is completed.
Take note that you don't have to purchase the item to earn the reward.
Option 3 – Cashback Offers
You can also earn kicks by participating in cashback offers. This cashback offers work like how you would expect on a cashback site.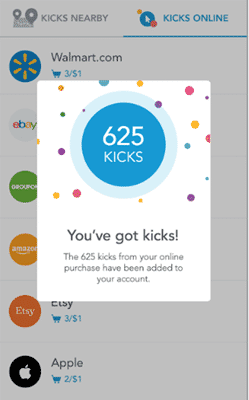 Just log in to the app again and go to the Kicks Online section. You can then see a list of stores you can shop from. Just choose the store you like and see if there are any offers that interest you.
Once you complete the purchase using the offer in the app, you will then receive a certain number of kicks. There are plenty of stores to choose from, so variety won't really be an issue.
You will also receive bonus kicks when you link your credit card (which you will use to purchase from the app) to the app.
You can also participate in in-store cashback offers. Just go to the "Kicks Nearby" section and select the store location you're currently in. Tap the credit card icon and have the cashier scan your QR code before the transaction is completed.
Option 4 – Submit Receipts
Another good way to earn additional kicks is by submitting receipts to the app.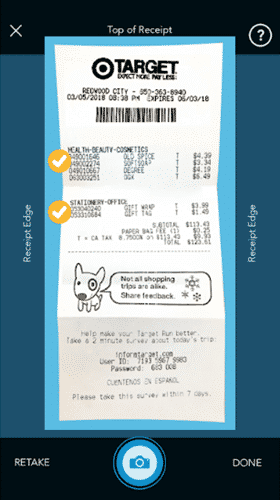 When you have finished with your shopping, you can take a photo of your receipt and upload it via the app.
You will then receive kicks for doing so. Take note that the receipt you have to submit has to be from one of the stores that have partnered with Shopkick.
Option 5 – Watch Videos
You can also earn kicks by watching video ads on the app.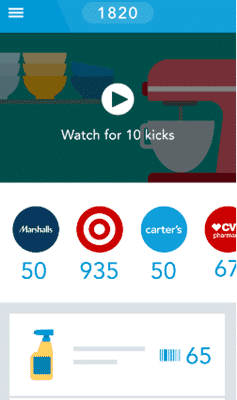 When you log in to the app, there's a section where you can watch videos to earn kicks.
All you have to do is finish watching the video to earn kicks. You won't typically earn a lot of kicks from this, but it's a nice way to add more kicks to your account since it doesn't really require a lot of effort.
It also has a limited amount of videos you can watch each day, so it won't really eat up too much of your time.
Option 6 – Referral Program
Inviting people to join the app will also earn you a certain number of kicks. You can invite them by simply sharing your invite link or code. You can find the invite link/code in the Invite section of the app.
You will then get 250 kicks as soon as that invited friend walks in or scans within 7 days after signing up to Shopkick. Just make sure they use the link or code you sent to sign up to Shopkick.
How do you get paid?
Every activity you do with Shopkick will earn you a number of kicks. This is the currency they are using.
It's just their term for the points you've earned. You can then use the kicks you've accumulated and exchange it for gift cards.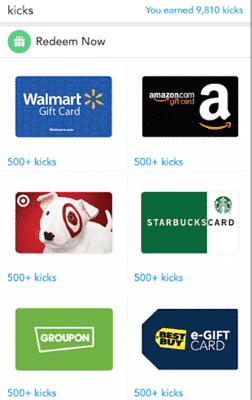 They have an extensive catalog of gift cards you can choose from. Here's a breakdown of the kicks required for a certain amount of gift cards.
$2 = 500 kicks
$5 = 1250 kicks
$10 = 2500 kicks
$15 = 3750 kicks
$25 = 6250 kicks
So, in order to redeem a gift card, you will have to earn at least 500 kicks. You also have the option to redeem cash through PayPal. Here's a short video explaining how you can do it:
Overall, I do like the fact that Shopkick offers plenty of ways to get paid even though the conversion ratio from kicks to dollars could be more user-friendly.
There are a lot of gift cards you can choose from and you can also earn cash via PayPal so it definitely offers good payout options, in my opinion.
If you are interested in more sites that pay in cash, I suggest you check out the top sites that pay via PayPal.
How much money can you make?
In my experience, an app like this won't really allow you to earn a lot of money. But, it does allow you to earn rewards simply by scanning items that you don't need to buy.
If you like earning like this, you can also check out Nielsen Homescan that will allow you to earn by scanning items when you do grocery shopping.
So, unlike other cashback sites, Shopkick will allow you to earn without having to spend your own money.
In this regard, Shopkick is a lot better than other cashback sites in my opinion. But if you were to do this purely to earn rewards, it's not really an efficient way to earn because remember, you have to go to an actual store to do so.
Shopkick, in my opinion, is best used when you are the person who does the shopping or do groceries in your household.
So, I can say that it's not for everyone. If you are looking for ways to earn efficiently, there are better sites and apps you can join.
Can you use it on mobile?
The answer to this question is yes. In fact, you can only use it on a mobile device and it is better if you use it on a mobile phone rather than a tablet or an iPad. It's much more convenient that way.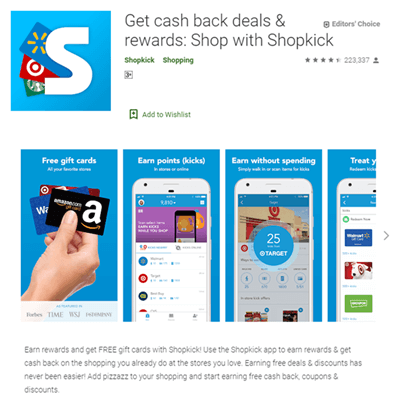 Shopkick is a mobile-only platform so you will need a mobile device to use it. The good thing is, their app is available for download in both Android and Apple app stores. So, you should not have any problems in terms of compatibility.
The app is very user-friendly, which makes it very convenient to use.
Who can join Shopkick?
The bad news is, Shopkick is only available in the US. So, if you live outside the US, this app is not for you.
If you do live in the US though, you have to be at least 14 years of age to register. If you are younger than 18 years old, you will need your parents' consent whenever you use the Shopkick app.
To start using the app, all you have to do is download it in the corresponding app store. Once it is done installing, you can go through the sign-up process. You can then start using it once you are finished signing up.
Can you get support?
In terms of providing support, I would say that Shopkick handles it well.
They have a pretty comprehensive FAQ section that discusses most of the common topics. You will find all the basic instructions on what you need to do to earn.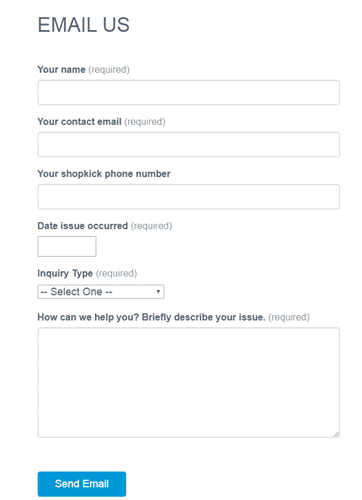 If you need to get in touch with their support team though, you can email them using the contact form provided on their website (see the photo above). The same contact form is also accessible from their mobile app.
Final Verdict
Shopkick is a legit cashback app that will allow you to earn by participating in the activities it offers. It has several good qualities and a couple of drawbacks as well.
So let's finish this review by summing up its pros and cons to give you a full overview of what the site has to offer. It should help you decide if you should use this app or not.

Pros:
Several earning opportunities offered
Payment via PayPal is available
User-friendly

Cons:
Low rewards
Only available in the US
Most earning opportunities will require you to go to a certain location
Shopkick can be pretty advantageous if you are doing the shopping in your household. That's because you will be able to take advantage of most of the offers available in the app.
It can also be very useful if you love to shop online because it does offer decent cashback rewards. But if you really don't do any of those, then this app will provide little value to you.
If you want to earn efficiently, there are other sites and apps you can do that. For a list of those sites, I recommend you check out the top survey sites in your country instead. The sites on this list all offer good ways you can earn even when you are at home.
Plus, you will definitely find a site you can join regardless of where you live.
If you have any comments, questions, or have any experiences with Shopkick yourself, I would love to hear from you in a comment below.