Do you frequently shop online? If so, there's a site called FatCoupon that claims you can find amazing deals and earn cash for shopping.
But is this site even legit or is it just another scam to stay away from?
I have tested the site thoroughly to find out what it offers and whether it is worth it. And in this FatCoupon FatCoupon review, you will learn all the details so you will know exactly what to expect from it before you even sign up.
Then, you can decide if this site is a good fit for you or not. So, let's get this review started, shall we?
What is FatCoupon and what does it offer?
FatCoupon is a cashback site that will reward you for taking advantage of its cashback offers and other earning opportunities. It is indeed a legit site because you will really be able to earn money from it.
But is it the right cashback site for you?
Well, before you can answer this question, you must first understand how this site works, and the best way to do that is to examine the earning opportunities it offers. So, here's how to earn from FatCoupon.
Option 1 – Cashback offers
The primary way to earn rewards from FatCoupon is through its cashback offers. There are two ways you can avail of cashback offers on FatCoupon. First, you can log in to the member dashboard and go through the offers this way.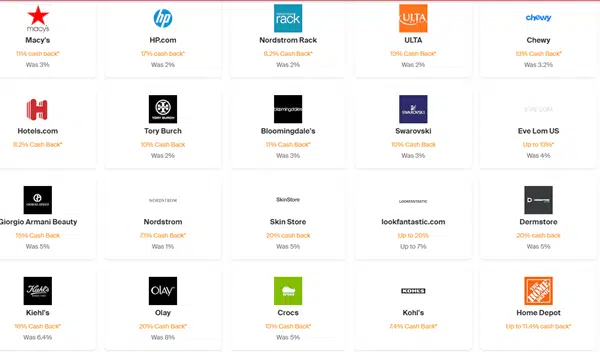 Just choose which shop from the list you want to shop from and click it (refer to the photo above). Then, you will see the details page of the offer. Remember that every cashback offer has a set of requirements you need to meet to claim the reward.
When you've understood what you need to do to earn the reward, just click the "Start Shopping" button on the details page, and it will take you to the online store you need to shop from. Simply complete the purchase like you normally would.
If you followed the guidelines provided, FatCoupon would be able to track your purchase and reward you with the promised cashback reward. Just keep in mind that the cashback reward will not be awarded right away.
You have to clear the refund period before the store will award the cashback. This usually takes around 45 to 60 days, depending on the refund policy of the store. This is usually the process for receiving cashback rewards, so don't be alarmed by this.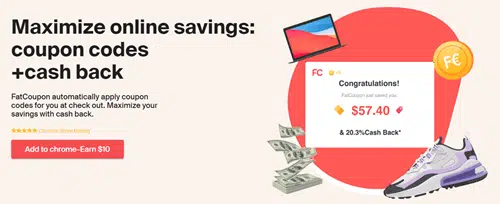 Another way to avail of cashback rewards is by using FatCoupon's browser extension. This extension works with Google Chrome. All you have to do is to install the extension and set it up. Then, you can avail of cashback offers without logging in to FatCoupon's member dashboard.
You can just go to the online store you want to shop from, and if it has existing FatCoupon cashback offers, the extension will be able to track and apply it when you complete the purchase. The extension eliminates the need to log in to the member dashboard, so it's a more convenient option to avail of cashback offers, in my opinion.
Option 2 – Daily tasks
You can also earn additional rewards by completing daily tasks offered by FatCoupon. These daily tasks can be found on the browser extension.
Usually, these tasks will ask you to complete a purchase from a store. From time to time, you will also find tasks that will not require you to spend any money. If you encounter this kind of task, I highly recommend you complete it because it's a way to earn without spending money.
Once you've completed the daily task, you will receive a certain number of FatCoupon coins (the site's currency). Later, I will explain what you can do with the coins you've earned.
Option 3 – Coupons
Technically speaking, this is not an earning opportunity because you won't be earning money. Instead, you'll just be able to avail of discounts by applying the coupon codes offered by FatCoupon.
The browser extension will alert you if an online store you are shopping from has a coupon code you can use. You can also find all the coupons by logging in to the member dashboard and clicking on the "Deals" section.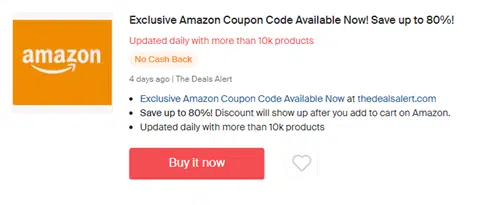 Some coupons offered have to be purchased (refer to photo above), while others are given for free. You just have to be on the lookout for them. You can find coupons that will give you up to 80% discount, which is a very high rate, in my opinion.
Option 4 – Referral program
Lastly, you can earn additional rewards through FatCoupon's referral program. The idea is very simple. You just have to invite people to join FatCoupon by sharing your referral link with them.
When they click the link and sign up as a member of FatCoupon, they will become your referral. But, before you will receive the referral reward, some conditions need to be met first (refer to photo below).

As you can see, your referral must first earn and redeem at least 50,000 coins ($50) within one year of signing up as a member. It's not a very hard requirement to meet, but you have to be patient because it's a rather high amount, in my opinion.
However, if the person you invited is a very active shopper, this requirement can easily be reached. Once your referral earns at least $50 from FatCoupon and redeems it, you will receive $10. Aside from that, your referral will also receive a $5 reward for doing his/her part. They will receive an additional $10 if they install the browser extension.
It's actually a very beneficial referral program, in my opinion. I seldom encounter referral programs where the referral will receive more than the referrer. Of course, you have to make sure the people you invite are interested in using FatCoupon. Otherwise, you won't earn anything from this opportunity.
Recommended: Check Out the Top Cashback Sites
How do you get paid?
Every time you earn cashback rewards or complete daily tasks, you will receive a certain number of FatCoupon coins. Then, you can exchange the coins for various rewards (refer to the photo below).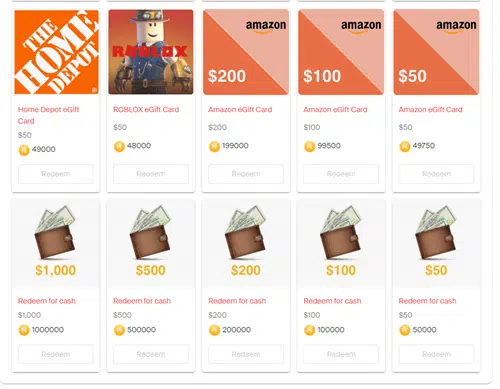 You will first need to earn at least 50,000 coins ($50), which is quite a high amount compared to most other cashback sites I have tested (and I have tested MANY). Once you've reached this threshold, you can redeem various gift cards for Amazon, eBay, Walmart, Home Depot, Target, Macy's, and more.
You can also convert your coins to cash. For this option, you can receive your rewards via PayPal, Zelle, Alipay, ACH bank transfer, or check which will be sent via postal mail.
Overall, the payment system of FatCoupon is relatively straightforward, and I like the fact that it offers convenient payment methods like PayPal or bank transfer. However, its payout threshold, as mentioned, is quite high. So, you'll have to be very patient because it can take time to accumulate this kind of amount.
If you prefer sites with a low payout threshold, I recommend you check out the fastest paying sites instead.
How much money can you make?
The amount you can earn from FatCoupon (or any cashback site for that matter) will mostly depend on how often you shop, and the number of cashback offers available. But, in my opinion, the latter is what can determine the amount you can earn the most.
If a site offers many cashback offers, there's a higher chance you'll find one that you will be interested in – especially if these offers come from popular stores like Amazon, Target, Walmart, and more.
And from the looks of it, FatCoupon has that covered. In fact, most of its cashback offers are from popular stores. So, there's a high chance you will find cashback offers you will be interested in.
That being said, the cashback rates being offered only range between 2% to 10%, which isn't a very high rate, in my opinion. But as I've mentioned, it does help that these offers come from popular stores.
That's why overall, I would say the earning potential of FatCoupon is relatively decent even though it doesn't offer very competitive cashback rates because there's a high chance you'll be able to earn cashback rewards regularly.
Can you use it on mobile?
The good thing about FatCoupon is that it also has a mobile app you can download, so you can shop online and earn cashback rewards conveniently using your mobile device.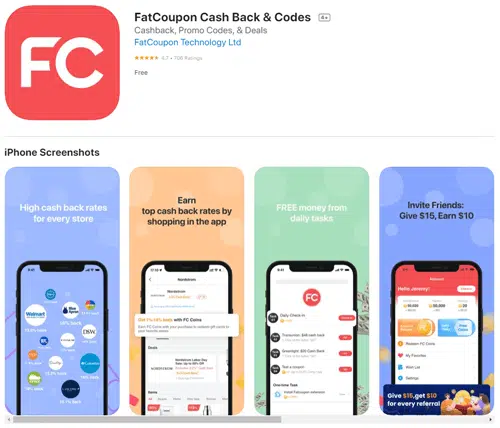 The app is available for download on both Android and iOS app stores. The app is also quite easy to use, so you won't have a hard time using it.
Overall, the app offers quite a decent user experience, in my opinion, which is all you can ask for from a cashback app.
Who can join FatCoupon?
FatCoupon doesn't tell you exactly which countries it is available in. However, if you look at the stores with cashback offers (Walmart, Target, Home Depot, Macy's), you can tell that this site is only for people who live in the US, UK, and Canada.
If you live somewhere else, you might be able to find cashback offers available for your country, but the majority of the offers are for people who live in the countries mentioned above. So, it wouldn't make much sense to join if you can't find a lot of cashback offers available for your country.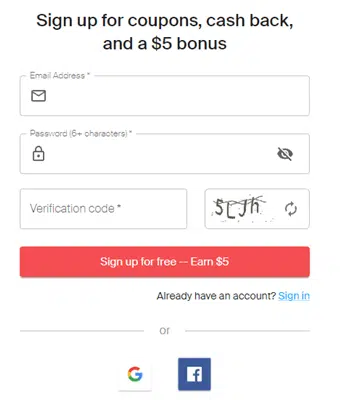 The registration process of FatCoupon is very straightforward. You just have to fill out the registration form, or you can also just use your Google or Facebook account to log in. Once you've completed the sign-up process, you can log in to the member dashboard and start earning.
Can you get support?
If you have any questions about your account or the site in general, you can check out the FAQ page or the customer service page. These pages discuss most of the basic topics you need to know about the site.
If you can't find the answers you are looking for, you can use the contact form provided on the customer service page to get in touch with their support department. You can also use the customer service page for inquiries regarding missing cashback rewards.
Overall, I would say FatCoupon offers decent support for its members since it offers convenient ways for you to request assistance.
Final Verdict
FatCoupon is a legit cashback site that will allow you to earn rewards through its cashback offers and other earning opportunities. It has a couple of good features, but it also has some limitations you need to consider.
To finish this review, let me summarize its pros and cons to give you an overview of what it offers. Then, you can decide if you should go for it or not.

Pros:
Offers payment via PayPal
The app is user-friendly
A lot of the cashback offers come from popular stores

Cons:
Very high payout threshold
In my opinion, FatCoupon is a decent cashback site. If it weren't for its high payout threshold, I would regard this site a bit higher, in my opinion.
The main advantage of this cashback site is that you can find plenty of cashback offers from popular retailers. So, you will most likely find offers you will be interested in, which will therefore allow you to earn cashback rewards on a regular basis.
However, you need to be very patient with this site because the payout threshold is quite high, as mentioned. But if you don't mind waiting, I would say go for it (as long as you are eligible, of course).
Now, if you are mainly looking to earn without spending any cash, I suggest you check out the top survey and GPT sites in your country instead. The sites on this list all have good earning potential, so you'll be able to earn a decent amount without spending a single dime.
Plus, you will definitely find a site you can join regardless of where you live.
If you have any comments, questions, or have experience with FatCoupon yourself, I would love to hear from you in a comment below.