At first sight, MyPoints looks like a great Get-Paid-To (GPT) site with many ways to earn some extra money online for free.
But is MyPoints legit and truly a great way to make some extra money, or is it a scam to stay away from?
I have tested it thoroughly myself, and let me reveal right away that MyPoints is legit – it has been around for a long time and has a legit company behind it. And I have been paid by it many times myself.
But this does not mean it will necessarily be the right option for you, and there have been some people having issues with the site, so you need to know all the pros and cons before joining.
Therefore, this 2024 MyPoints review will give you all the details so you will know exactly what you get and what to expect, so you can easily find out if it is the right site for you or not.
Disclosure: Some articles on this website contain affiliate/sponsored links. Click for more info.
What is MyPoints, and what does the site offer?
MyPoints has existed since 1996, so it is one of the older get-paid-to (GPT) sites.
It has, however, gone through a lot of changes through the years and has an updated design and layout that is easy and pleasant to navigate.
It is now owned by Prodege, which is the same company that owns and runs Swagbucks, which is one of the biggest and most popular GPT sites. So, MyPoints is a safe site to join, and it definitely does pay if you do things honestly.
When you first become a member of MyPoints, it can be a bit confusing because it has a lot of different options. This, of course, also means there are many ways to earn.
This is, of course, great, but not all the options are that rewarding.
So, let's go over the options MyPoints offers below so you can see how good each of them is and then easily see if it is what you are looking for.
I have made a video that gives you an inside look and a full tutorial so you can see exactly how it works. You can also read all the details below the video:
Click to Check MyPoints Out for Yourself Now
Option 1 – MyPoints surveys
Paid surveys are an essential part of most GPT sites. On MyPoints, you can also find a survey zone with quite a lot of available surveys.
New surveys are regularly posted here.

Just be aware that you will definitely not qualify for all of them. That is just how it is to take paid surveys.
From what I have seen while testing it, the rewards in relation to the time spent on surveys are decent compared to other survey sites, but they are not the highest.
One thing to be aware of is that you will supposedly qualify for more surveys if you answer the profile questions. You get 5 points for every 10 profile questions you answer. So make sure to fill out your profile after joining.
Also, if you do not qualify for a survey, you will get 5 points. You can earn up to 25 disqualification points per day.
This is, of course, not a big reward, but I think it is really great that you actually get something even if you do not qualify. Not many survey sites offer this, and it is great to get a small recognition for the effort, even if you do not qualify.
Option 2 – Cashback when shopping
If you ever shop online, MyPoints has some great cashback options. I actually think this is one of the best options on MyPoints.
You can earn points for every dollar you spend in hundreds of online stores. And there are many big famous stores included in this like, for example, Gap, Macy's, Norton, Dell, and many more.

So, if you ever shop online, it can really save you a lot to do it through a site like MyPoints. In fact, it is one of the best cashback sites, in my opinion.
If you ever travel, it further has a whole section just with cashback offers and deals or this. You can get some really great deals/savings on hotels, flights, vacations, and car rentals through MyPoints. So if you travel regularly, it can be worth joining just to get cashback and deals for traveling.
Just be aware that to make sure your purchases are tracked correctly, you should not have any adblocker installed.
Also, before you get the points, the company you buy from needs to confirm the purchase to MyPoints. This usually takes 2-5 business days, but in some cases, it can take up to 30 days.
After that, you will be able to see the points as pending in your account. They will be pending for 30 days to make sure everything goes through so MyPoints do not end up paying out bonuses for purchases that are later canceled.
It definitely can be a great option if you shop online. You just have to be aware that you will not get access to the rewards right away because of the approval process described above.
Option 3 – Deals/offers
You can find a big section with deals/offers on MyPoints.
If you take some time to go through and read the conditions, you can find some great ways to earn or save here.

Just make sure to read the conditions. Sometimes, you get a reward just for doing a free action, but other times, it requires you to purchase something.
For example, in the image above, you can see you can get 1,000 points by signing up for a free trial for ABCmouse.
You likely have to give your credit card to do this, but if you set a reminder and cancel in time, you will get around $6 just for signing up for this and getting access to it for 30 days.
Another example you can see above is that you can get 15,000 to buy a Nutrisystem weight loss plan.
This is the equivalent of almost a $100 bonus. Of course, you then have to buy a weight plan, but if you were going to anyway, then a $100 bonus is a nice saving.
So the point is that you can find some great deals and offers here, but just make sure to read the exact conditions so you know what you are getting into.
Option 4 – Watch videos
If you have read any of my other reviews here on PaidFromSurveys.com, you will know that I rarely recommend spending a lot of time on the video options on GPT sites because they usually give very low rewards.
That is also the case with the MyPoints videos.

You can find a lot of them, which is great, but as you can see in the image above, the rewards are very low.
When I tested this option, you, for example, would get 1 point for watching 15 videos with the topic "Fashion Wire". This is the equivalent of around $0.006 and will take you around 16 minutes to watch.
And that is the general size of the rewards you get for the videos. So you have to watch A LOT of videos to just make a tiny bit of money.
It can be entertaining, but in my opinion, you should only watch them for entertainment purposes and not for earning. For earning, there are many other better ways on MyPoints.
Option 5 – MyPoints games
You can earn points when playing games on MyPoints. There are quite a lot of games to choose from.

Just be aware that you will not earn just by playing games for free. You will earn points per dollar you spend in each game.
Usually, it will be 4-8 points per dollar spent. But if you, for example, use online casino games anyway or play some of the many other games it offers already, then why not do it through MyPoints and earn a bit every time you spent?
But if you are going to join MyPoints to earn without spending and are not using the games already, then this option is not that great as it will end up costing you money instead.
Option 6 – Surf online
MyPoints has a search and earn option where you can do your regular online searches.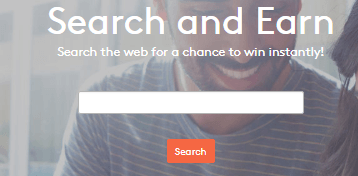 However, you do not really know how much you will end up earning by using this option. Points will be awarded randomly throughout the day. The more you use it to search, the bigger chances you have of earning.
But they have an algorithm that will detect if you do unnatural searches, so it only works if you use it like you would use any other search engine.
No matter what, this will, however, not be a way to make big money. Personally, I prefer just to use Google, but if you are a member of MyPoints, then why not give it a try?
Option 7 – In-Store shopping, dining deals, and receipts
MyPoints is specialized in cashback offers for online shopping, but one of the newest ways to earn on MyPoints is to now also get cashback when you shop in-store and when eating at restaurants.
There are not a lot of sites that offer options like this, and it definitely can be a great way to get some nice savings on things you are going to spend money on anyway.
The way it works is that you have to link a credit or debit card to your MyPoints account. And every time you then use it in one of their partner stores/restaurants, you will earn a certain amount of cashback for each dollar you spend.

In addition to these ways of earning, MyPoints also has the option to earn by uploading receipts for your purchases at physical stores.
On their website, you can see the stores you can shop in to earn this way, and it can be an easy way to earn as it does not require much effort.
You can also upload any receipt and earn a bit by doing this. But you will earn the most if you upload receipts with products they have on the list on the website.
Option 8 – BonusMails
You can find an option called MyPoints BonusMails, which is emails you will receive with offers.
Sometimes, you get 5 points just for clicking the link in the email.
The amount of these bonus emails you get depends on your settings and interests. So if you do not receive many, you can log in and go to edit your email subscriptions and choose the categories that interest you.
Option 9 – Monthly goals and Daily 5 checklist
MyPoints has a couple of bonus options.
You can set a monthly goal about how much you think you will earn by using the different activities.
By doing this and living up to the goals, you can potentially earn up to 1,000 points – just be aware that this is the maximum you can earn by doing this and not the average earning.
The Daily 5 is a way to earn 5 points bonus if you do 5 out of 8 activities on any given day.
These bonuses can be a good way to stay motivated and make sure you keep earning even though the bonuses themselves will not make you a lot.
Option 10 – MyPoints coupons
You can find two types of MyPoints coupons as a member.
There are coupon codes and grocery coupons.
The coupon codes are codes you can use for all kinds of online shops to get benefits. It can, for example, be to get 20% off, free delivery, etc.
So it is basically deals for webshops.
The grocery coupons are coupons with deals for your everyday purchases. It can be discounts for toothpaste, cream, food items, etc.
Here you do not only get the discount. You also earn 25 points for every coupon you end up redeeming and 1 point per printed coupon.
If you like the coupon option, it is good to know that MyPoints has a browser extension that makes it easier to find new coupons.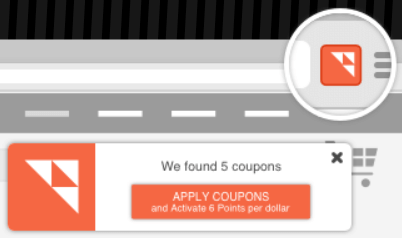 The extension is called Score! and is available for Chrome, Firefox, and Microsoft Edge.
Once you have installed this, you will get notifications when new coupons are available, and you will also get a notification when you are on one of MyPoints' partners' websites so you do not miss out on points.
So, the extension can definitely be useful and a great way to make sure to earn as many points as possible.
Option 11 – Invite friends to join
If you like MyPoints, you can get a bonus by inviting friends to join.
You will earn 10% of your friend's qualifying points. This will be paid by MyPoints and will not affect the earnings of your friend.
So, if you know a lot of people that you think will use MyPoints actively, it can be a way to earn a bit extra without much effort. But remember, you will only earn when the friends you invite are active, so only invite the friends you think will really be interested.
Option 12 – Point perks
MyPoint Point Perks is what on most other sites is called promo codes. It is a code you can use to get instant free points.
You can find these codes on its website.  They could, for example, put one on a merchant detail page, a deals disclaimer, or in the description of a video.
The easiest way to find the Points Perks used to be by following their social media channels. Here, the codes were regularly posted.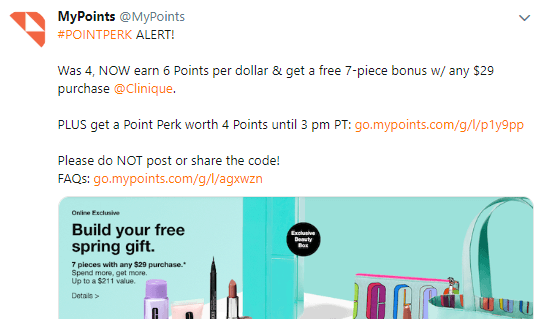 However, at the time of updating this review, it seems MyPoints no longer has any official social media channels. But I have come across quite a few fake profiles and groups on social media, so be careful if you look for them.
But for now, I recommend you just stick to the info and codes you can find on the website itself to stay safe.
Option 13 – Get a $10 joining bonus
As a new member of MyPoints, you get a $10 joining bonus.
However, you need to live up to the conditions to get this. To get it, you need to make a purchase of at least $20 through MyPoints within your first 30 days.
If you do this, you will get points worth $10.
If you are planning to use the cashback options, this is a really great joining bonus, and not many sites offer this high a bonus, in my experience.
Click to Check MyPoints Out for Yourself Now
How do you get paid?
As you can see, MyPoints has a lot of options to earn. Some of them are pretty good, and some of them are not so good.
But it is, of course, also very important to then know how you can get your earnings out.
The MyPoints rewards program is actually very good, and you can choose to get paid in cash through PayPal or choose between MANY gift cards.

The only thing that is a bit confusing is figuring out exactly how much your points are worth. It can vary a bit depending on the rewards you choose, but from my calculations, 100 points are approximately $0.62.
This does not make it super easy to quickly see how much a task or survey is worth, but with a bit of practice, it will quickly come.
The payout threshold depends on your chosen reward. Amazon gift cards, for example, start at $3, so that is a nice low payout threshold.
If you want to get paid through PayPal, you have to wait until you have earned at least $10 (1,590 points).
But overall, the payout options on MyPoints are very good once you get used to the slightly strange conversion rate from points into cash.
How much money can you make?
Overall, MyPoints has a lot of ways to earn and some pretty good options.
If you are active and also use some of the deals and shopping options it has, and if you get some of the bonuses, it is definitely possible to earn some nice extra cash on the side.
As with all GPT sites, you should just be aware that it will not make you a full-time income or make you rich.
It is a legit and real way to make some extra cash on the side, but you need to go into it with this expectation to become successful.
I think it particularly is good if you ever shop online or frequently travel as it has some great cashback options and deals, and you will then earn while spending money you are going to spend anyway. And the rest of the earning methods can then be a way to earn extra.
Can you use it on mobile?
You used to be able to use MyPoints on mobile in several different ways.
One of the ways is to download the MyPoints app from either Google Play or the App Store. There used to be 2 different MyPoints apps.
One of the apps was called "Daily Scoop," which mainly gave access to watching videos on the go. However, this particular app does not exist anymore, so be careful if you come across an app with this name, as there are a few fake ones, in my experience.
Now, you can just use the regular MyPoints app that will give access to most of the earning opportunities the website also gives you access to. You can download this app for both iOS and Android devices.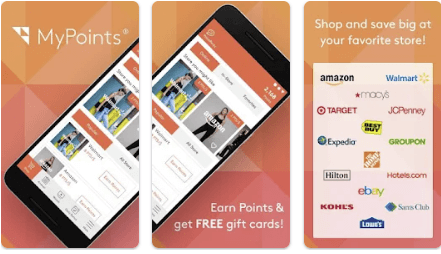 You can also just use the MyPoints website on your mobile browser, as it is fully optimized for this.
Overall, no matter your device and preferences, MyPoints makes it quite easy to also earn from your phone, which is very convenient and makes it easier to boost your earnings.
Who can join MyPoints?
MyPoints is only available in a few countries. So, at the moment of writing this review, you can only join if you live in the USA or Canada.
If you live in other countries, you can instead check out the best sites in your country here.
It is one of the few sites where you can join already when you are 13 years old. If you are below 18 years old, you will, however, might need consent from your guardians. There is no upper age limit.
Can you get support?
It is important to be able to get support on a GPT and survey site as sometimes technical glitches happen, and you then need to know you can get help.
When it comes to MyPoints, there are different opinions about their support. In fact, most MyPoints complaints I have seen are because of the support.
You can see an example of one of these below.

On the other hand, I have also seen many positive reviews that mention excellent support. You can see an example of this below.

Therefore, it seems like there are different experiences with the support. I have actually been in contact with MyPoints myself a few times with some questions.
I have received quick and helpful answers. So, both from mine and other experiences, it seems like there is support, but I also have to recognize that several people seem to have had a poor experience with it.
Final verdict
MyPoints has quite a lot of ways to earn, and it has a long-lasting company behind it.
This does, however, not mean it will necessarily be the right site for you to join.
So, let's finish this review by summing up the pros and cons to give you a better overview before deciding to join or not.

Pros:
Free to join
Many earning methods
Good payout methods
Low payout threshold
Possible to earn from your phone

Cons:
Some earning methods have low rewards
There have been some complaints about the support
Overall, MyPoints can be a great way to earn some extra cash on the side. Personally, I think especially its cashback options, deals, coupon offers, and bonuses are the best about the site.
If you prefer taking paid surveys, I would, however, say that there are better survey sites with higher rewards.
Once you get used to the value of the points on MyPoints, it is fairly easy to use the site, and you can find several ways to earn daily if you live in the USA or Canada.
So, I hope this review has given you a good overview of what exactly you can expect from MyPoints, so you now know whether you want to join or not.
How to join MyPoints?
It is easy to join. You just click the button below that will take you to a sign-up page. It only takes a few minutes, and then you are inside and can start earning.
Remember that you get a $10 joining bonus if you live up to the conditions I described earlier.
If you have any comments, questions, or have any experiences with MyPoints yourself, I would love to hear from you in a comment below.