DailyRewards is a Get-Paid-To (GPT) site that promises to pay you for completing small online tasks.
But is DailyRewards legit or a scam?
This is an important question to ask if you are considering becoming a member.
So, let me just answer it right away. Yes, DailyRewards is a legit GPT site. It does what it claims to do.
But this isn't enough reason for you to become a member. You have to see if it is really worth your time to join or not.
This DailyRewards review will tell you everything you need to know about the site, so you know exactly what to expect and can easily decide if it is indeed for you or not.
So let's get the ball rolling, shall we?
Disclosure: Some articles on this website contains affiliate/sponsored links. Click for more info.
What is DailyRewards, and what does it offer?
As you already know, DailyRewards is a GPT site that will pay you for completing the offers they provide.
It is owned by the same company that runs InboxDollars, which is another popular GPT site. If you want to know more about InboxDollars, check out this InboxDollars review.
If you look closely, the site of DailyRewards looks a lot like InboxDollars. You can tell that their website was designed by the same people.
But anyway, to get a picture of what you can get out of DailyRewards once you become a member, you have to understand how you will be able to earn from this site.
So let's take a closer look at DailyRewards' earning opportunities.
Option 1 – Cash Offers
With GPT sites, you can always expect to receive cash offers.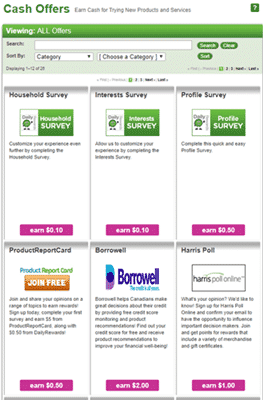 Once you finish the registration process, you can log in to the member dashboard and view all the cash offers available.
To get the rewards for each offer, you simply have to follow the instructions to complete it.
Normally, it will either ask you to complete a survey, register to a site, watch a video, try out a product or service, or really anything that the offer will ask you to do.
Usually, the rewards you will get for each offer will depend on the type of activity you will have to do.
The logic is that the more work you have to do to complete the offer, the higher the reward.
Say, for example, an offer asks you to sign up for a credit card. This will yield a significantly higher reward than an offer that will be asking you to answer a survey.
Just keep in mind, whatever offer it is, you have to make sure to follow the instructions carefully. Otherwise, you won't be able to complete it and receive the reward.
This section can definitely give you some nice extra earnings if you choose the offers carefully. Some are definitely not worth it and others give great rewards for your time – so make sure to check it out but read the conditions carefully before taking any offers.
Option 2 – Daily Rewards surveys
The survey part of DailyRewards.com works just like how you would expect it to be on a regular survey site.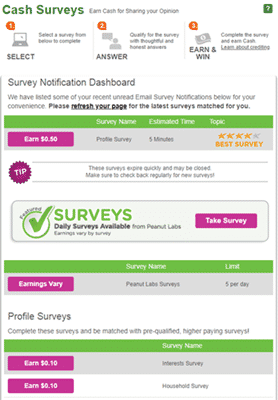 When you log in to their dashboard, you can browse the Survey section and see all the available surveys they offer.
The one difference is, DailyRewards also act as a survey router because you will also be able to answer surveys from other sites through this dashboard.
So, if you finish all the surveys DailyRewards offer, you can then proceed to the other surveys offered by other sites.
One thing you need to know about answering paid surveys is that when you click a survey offer, you won't be taken right away to the actual survey. You will have to answer a few pre-qualifying questions first.
DailyRewards does this to make sure you are indeed included in the demographic the survey is targeting.
If you qualify, you will then proceed to the actual survey. Once you finish answering the survey, you will receive your rewards.
However, if you don't qualify, the process stops immediately. This is a good thing because it allows you to be more efficient with your time. You can then just move on to the next survey offer.
Compared to other GPT sites, you cannot find a huge number of surveys on DailyRewards, but it can still be worth checking out this section for a bit of extra earnings.
Option 3 – Cash Games
You will also be able to earn a bit of money by playing games.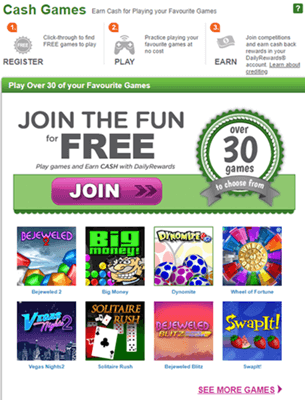 As you can see in the photo above, you can earn cashback rewards for playing free games on their platform.
Once you click a game to play, you will immediately be signed up to a WordlWinner/GSN subscription, which is the provider of the games.
This means they will be using the email address you used to register to DailyRewards as the same email address for your GSN subscription.
So, in effect, when you play a game, expect to receive a few promo emails from them from time to time. If you don't want to receive those types of emails, I suggest you don't do this type of activity.
What you need to take note of when it comes to these cash game offers is that to earn money from it, you will actually have to deposit your own money into your WorldWinner/GSN account, hence the term cashback.
You will use the money you deposited to upgrade your account in WorldWinner. The upgrade is needed in order to compete against other players of a similar skill level to win cash and prizes.
The earnings you will receive from playing cash games will then be credited to your DailyRewards account.
In my opinion, it is a risky but challenging way to earn money because, remember, you have to invest your own money before you can start winning cash prizes.
Option 4 – Referral Program
With DailyRewards, you will also be able to earn money by referring your friends.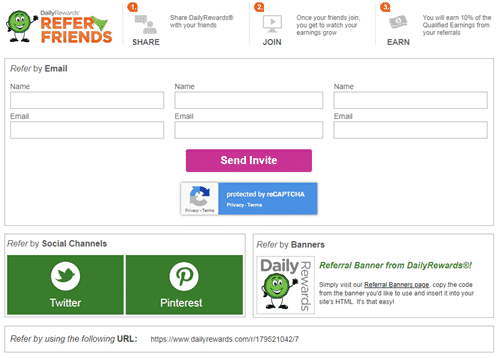 This passive type of earning will allow you to earn 10% of the earnings of your referral.
You can make up to three referrals at a time. You simply have to provide the name and email address and then send the invite.
You will also be able to refer people using a banner. You just need to visit their Referral Banners page, copy the code from the banner you like to use, and insert it into your site's HTML if you have a website.
Every person who clicks that banner and registers to DailyRewards will become your referral.
It is not a very high percentage you get for referrals on DailyRewards, but if you know a lot of people you can invite, it can still give some nice extra money.
Click to Check Out DailyRewards for Yourself
How do you get paid?
In case it isn't clear yet, you will be able to earn real money from doing offers as a member of DailyRewards. If you've noticed from the photos above, the rewards you get from offers will be in $.
DailyRewards doesn't use a point system like some other GPT sites. They will reward you right away with the money.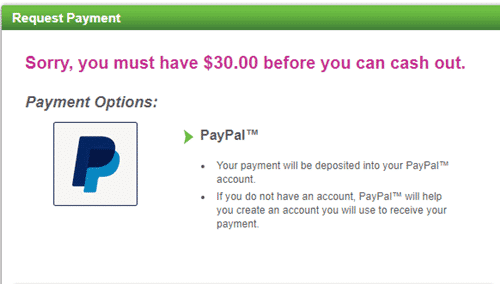 You can then withdraw the amount you've accumulated via PayPal.
But you have to reach a minimum amount of $30 before you can cash out. In my opinion, this is a relatively high threshold to reach.
You will have to complete plenty of offers to reach this kind of amount.
The good thing is that you will receive a $5 joining bonus right away just for completing the registration process (which can be done by confirming your email address).
So, if you wish to become a member of DailyRewards, you have to make sure you have an active PayPal account because this is the only way you can receive your money.
Also, you need to be aware that it takes 10-16 days to process the payment. So it takes a little patience to get the money.
How much money can you make?
The answer to this question will totally depend on how active you are on the site. This is really how it goes with GPT sites.
The more offers you complete, the more income you will have. So, if you want to earn more money, you will have to complete more offers.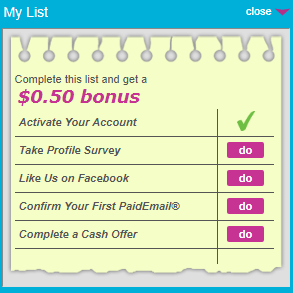 The good thing about DailyRewards is, you will always have something to do every day to get you closer to that $30 threshold. Plus, as you can see in the photo above, you will earn a small bonus simply by completing your daily to-do list.
It may not be a lot, but it's a nice bonus considering all you have to do is what you should be doing in the first place.
And remember, you also have a passive income-generating opportunity with their referral program.
So in terms of earning potential, DailyRewards is quite promising. Just don't expect to replace the income you earn from this site with the income you earn from your job.
You do have to be careful about some of the offers they offer because some of these offers will involve you having to shell out a bit of money on your end before you can get the reward promised.
So, I suggest you read the instructions of the offer carefully and don't just dive in headfirst.
Can you use it on mobile?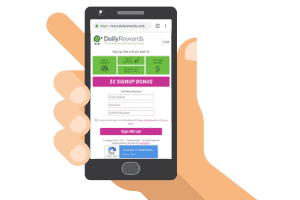 There is no DailyRewards app you can download on your mobile device. But, you will be able to access their website on a mobile device using a mobile web browser.
The good news is that the mobile version of their site is optimized for mobile use. You will be able to view content properly without having to scroll left and right or zoom in and out.
So, you will be able to work on offers even if you are not sitting in front of a computer.
This makes you more efficient at earning rewards because you can complete offers while waiting in line at the bank or perhaps when commuting. You get the drift.
Who can join DailyRewards?
DailyRewards is a Canadian-based GPT site and is only available to Canadian residents.
You also have to be at least 18 years of age to register. Before you get any ideas, they mention this in their terms and conditions.
"Methods used to obscure or hide the country or location of a computer or device along with the use of a VPN, Proxy or Private (Blocked) IPs to connect to DailyRewards is prohibited."
If you do so and they find out about it (which they will), your membership will be revoked, and you won't be able to withdraw your earnings.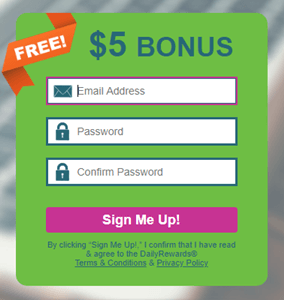 Their registration process is very easy. You simply have to fill out the form shown in the photo above. Then, just check your email and click the confirmation link in the email they sent, and you're all done.
Plus, you will also receive a $5 bonus just by confirming your email. They actually have one of the easiest registration processes, in my opinion, which is pretty nice.
However, there are many great paid survey and GPT sites in Canada, so you should also make sure to join others to get the most opportunities.
Can you get support?
DailyRewards does have all the bases covered because they also provide a pretty decent support system for their members.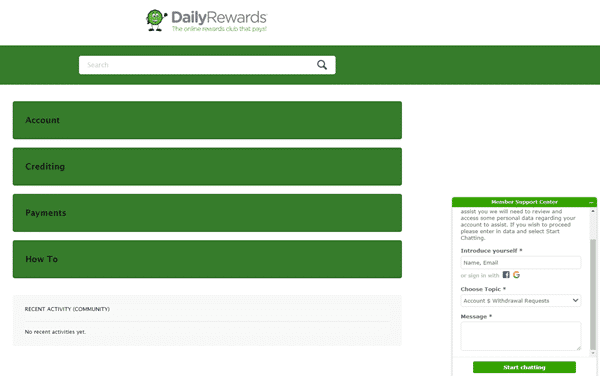 As shown in the photo above, they have a knowledge base you can access for most of the common issues people encounter on the site.
You can use the solutions provided in that section to resolve the issue you are facing.
If that doesn't work, you can use the chat button on the lower right-hand corner of the support page to talk to a support representative.
This chat feature makes it possible for you to resolve the issue you are facing a lot quickly.
Plus, if you simply have a question you would like to ask, you can also use the chat feature to get the answer quickly (that is if you can't find the answer to your question in their knowledge base).
To access the support page, you just have to log in to the member dashboard and click the Support tab on the upper right-hand corner.
They also have a Facebook page you can visit, which is pretty active. So, if you wish to talk to them via that platform, you can do so. I'm just not sure how long it takes for them to reply to your message.
Overall though, the fact that you can chat with a support representative makes their support system a lot better than most other GPT sites out there.
Final Verdict
DailyRewards is a legit GPT site that will allow you to earn a bit of money just by completing their offers. It does have its advantages and disadvantages like most sites do.
So let's finish this review with a summary of the pros and cons to help you decide if becoming a member is indeed a good fit for you or not.

Pros:
Will pay you real money
Payment via PayPal is available.
Has several earning opportunities

Cons:
Relatively high payment threshold
Has only one kind of reward (money)
As you can see, DailyRewards does have its downside. If you don't live in Canada, you won't be eligible to become a member. But if you qualify, it can be a decent site to earn a bit of money.
What I like about this GPT site is that you get to earn a bonus simply by doing what you are supposed to be doing (to-do list bonus). It's not a big reward, but at least it helps a lot in getting to that relatively high payment threshold of $30.
If you are not a Canadian resident, however, and you are interested in other sites like this, I recommend you check out the top GPT sites that will pay.
The GPT sites on this list all have pretty good earning potential. And best of all, you will be able to find one you can join no matter where you live.
How to join DailyRewards?
If you want to join DailyRewards, it is very easy. Just click the button below, and it will take you to the sign-up page. It will only take a minute.
Then confirm your email, and you will get your $5 joining bonus right away.
If you have any comments, questions, or have any experiences with DailyRewards yourself, I would love to hear from you in a comment below.