If you do the grocery shopping for your household (or any shopping for that matter), there are actually apps you can use to earn rewards.
There are a number of apps that offer this kind of opportunity and Fetch Rewards is one of them.
But is Fetch Rewards legit and really worth it?
Let me just tell you right away, this app is legit. It does reward you for participating in its activities.
But how well does this app pay/reward you? To answer that question, we have to consider several things.
This Fetch Rewards review will show you everything you need to know about the app so you will know exactly what to expect and can determine if it is the right opportunity for you or not.
What is Fetch Rewards and what does it offer?
Fetch Rewards is a mobile-only rewards platform that promises to reward you for participating in its activities.
It works directly with popular brands to bring you everyday savings on thousands of products throughout any grocery store.
So, it effectively helps you save when you do your grocery shopping or other shopping.
Now, in order to fully comprehend the earning potential of this app, we have to take a closer look at how you can earn. So, here are the earning opportunities it offers.
Option 1 – Scan Receipts
The main method of earning rewards from this app is by scanning receipts from your grocery shopping. Every time you scan your grocery receipt, you will be awarded a certain number of points.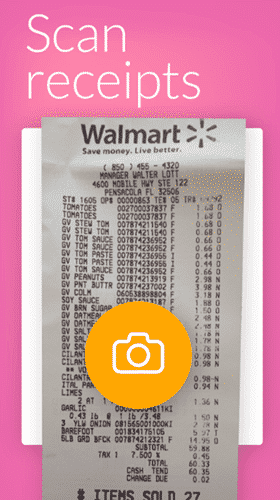 The number of points you will receive will depend on the number of items listed in their participating brands that are included on the receipt.
The way it works is, that when you log in to the app, you will see a list of participating brands available. These will be the products you can buy that will earn you points.
You don't really have to keep checking the offers to see which products you can buy to earn rewards. It totally defeats the purpose. You just have to buy what you really need. The rewards will come as a bonus. This is really the true purpose of this app, in my opinion.
So, if you become a member, just scan your receipt with your mobile device (it means you take a photo of it) and submit it through the app and let Fetch Rewards sort out your rewards.
Keep in mind though that you only have 14 days from the date indicated on the receipt for it to be a valid submission.
You also need to make sure you include the store name in the photo you will take and you need to make sure the items listed in the receipt are readable. So, don't submit a blurry image of the receipt.
What is great about this option is that you can submit any receipt no matter the store or restaurant. Some other apps that pay you to upload receipts have very specific requirements for the stores you will get paid to upload receipts from, so it is nice that Fetch rewards is so flexible, in my opinion.
Option 2 – Referral Program
You can also invite people to join the app so you can earn more rewards. Just like most online rewards platforms, Fetch Rewards also has a referral program.
Every time you refer someone and they sign up with your unique referral code, you'll both get 2,000 bonus points (equivalent to $2) when they upload their first receipt and have it approved. There is no limit to the number of referral bonuses you can earn.
It's a pretty straightforward referral program, in my opinion, which is good because you can earn rewards easily.
Option 3 – Special Offers
Fetch Rewards also has special offers for certain products. To earn points, all you have to do is avail of these special offers.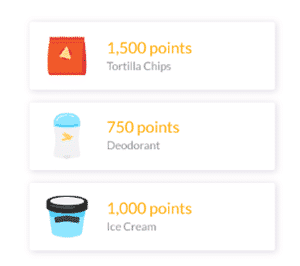 When you log in to the app, you will immediately see all the special offers available. These Special Offers are opportunities to earn bonus points on top of the regular points you earn every time you purchase a participating brand.
The good thing about this earning opportunity is, there's no need to pre-select these offers because they will give you the points whether or not you knew about the offer.
Again, I recommend you only avail of these offers if you really need the product because buying it just to get the reward will be counterproductive.
Recommended: Check Out The Top Survey Apps
How do you get paid?
As you already know, you will earn points for submitting receipts, availing of special offers, and inviting people to join. You can then exchange the points you've earned for gift cards.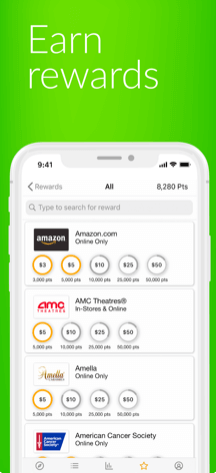 Some of the gift cards you can redeem are from Amazon, Walmart, Target, and a lot more. You can redeem a gift card when you've earned $3, which is equivalent to 3000 points. Just be aware that the first time you cash out, the minimum threshold is $10.
You can also donate your earnings to Red Cross if you are feeling charitable. Overall, I do like the fact that they have a low payout threshold. It allows you to quickly redeem your rewards.
But you just need to be aware that you cannot get your earnings out via PayPal. Fetch Rewards has now started also offering Visa rewards, so there is a way to get paid in cash, and it is great they have introduced this, in my opinion.
But if you are interested in more sites that have a low payout threshold and that also pay in cash via, for example, PayPal, I suggest you check out the fastest paying sites.
How much money can you make?
Technically speaking, you won't be able to earn cash from this app since you can only redeem gift cards. But it can be considered as cash since you can use it for buying items.
So, if you are wondering how much money you can make from this app, the answer is, it will depend. As you already know, earning points will mostly depend on the products you will buy when doing your groceries.
If you buy products from participating brands, you stand to earn a decent number of points. You can earn around 250 to 2000 points for each product from a participating brand.
However, you can't really expect to earn the maximum number of points all the time because, in my experience, this happens rarely. The best thing you can do is to switch to the participating brands for products you regularly purchase.
That is the best way to maximize your earnings from this app.
But overall it is not a way to make a lot of extra money but it can be a way to earn a bit extra just for doing the shopping you do anyway.
Can you use it on your desktop?
As explained earlier, this is a mobile-only platform. So, don't expect to use it on your desktop or laptop.
You will really need a mobile device if you plan to be a member of this app. It also makes sense since the earning opportunities will really need you to make use of your mobile device.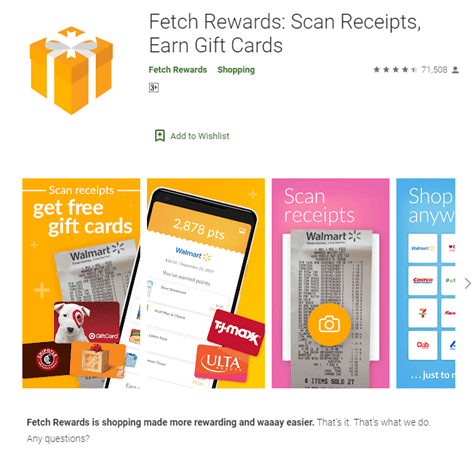 The good thing though is, that their app is available for download on both Android and iOS app stores. So, compatibility won't really be a problem. Their app is also user-friendly, so you won't have a hard time using it.
Who can join Fetch Rewards?
Their site doesn't mention which countries the app is available but judging by the rewards available, this app is only available in the US. This is because most of the participating brands and stores are based in the US.
They do say that in order for you to join, you have to be at least 18 years of age or older.
You simply have to download the app and install it to sign up as a member. Then, go through the registration process and you are good to go.
Can you get support?
If you have a question you want to ask them before you install their app, you can first try the Support option found in the lower right-hand corner of their website. Click the Help button on the lower right-hand corner and it will bring up the FAQ section.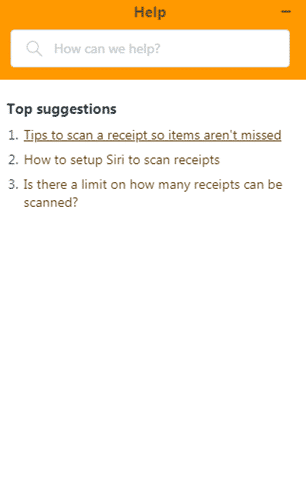 If you can't find what you are looking for, you do have the option to send them a message via their social media pages. Their Facebook page regularly posts updates, so you can try sending your message on that platform.
Also, you can find a way to contact them via the website but it is a bit hidden.
You need to go to any question in the FAQ section and below it, you can then see a small link saying "submit a request". If you click this, you will get the chance to send a message to their support.
Final Verdict
Fetch Rewards is a legit rewards platform that will reward you for scanning your receipts, availing of special offers, and inviting friends to join the app. It offers a couple of nice features but it also has certain limitations.
Let me end this review by listing its pros and cons so you can get a better overview before deciding if this app is for you or not.

Pros:
Low payout threshold
Offers an easy way of earning rewards
Their app is user-friendly

Cons:
Doesn't offer PayPal or bank transfer as a reward
Not available globally
As you can see, this app can be a useful app to use if you do your grocery/shopping. But if you don't, you won't find this app beneficial at all.
It's a good way to save a bit of money, in my opinion, because you don't actually have to do anything special apart from taking photos of your receipts. So, if you are eligible to join, this is a good app to use.
Just don't expect to earn a lot of cash from it. If you are looking for apps that will allow you to earn cash faster, I recommend you check out the top survey apps.
If you are also interested in not just apps but websites as well, I also suggest you check out the top survey sites in your country.
The sites on this list all have good earning potential and offer several payment methods, including cash.
Plus, you will definitely find a site you can join regardless of where you live.
If you have any comments, questions, or have any experiences with Fetch Rewards yourself, I would love to hear from you in a comment below.