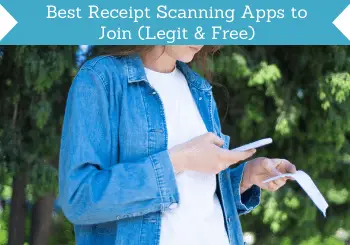 If you are looking to earn extra cash, one easy way to do that is to use receipt scanning apps.
These apps will allow you to earn simply by taking photos of your receipts and uploading them, or sometimes you just scan them with your app.
Yes, you read that right. It's that simple.
What's great about these apps is that you will essentially be turning trash into treasure. Unless it's a receipt for gadgets or electronic devices you've bought, chances are, it's going to wind up in the trash bin.
But before you throw it in the bin, why not earn from it, right?
Now, the question is, which apps should you use to make it worth your time?
There are actually quite a lot of these apps around. So, to help you out, I've decided to make a guide about the 10 best receipt scanning apps.
This guide will show you which apps are worth using, and I have personally tested all these apps, so I know they work. They are also all legit and free to join. You can just sign up and start using them right away.
Disclosure: Some articles on this website contain affiliate/sponsored links. Click for more info.
How do receipt scanning apps work?
The premise of receipt scanning apps is really very simple. Whenever you get a receipt, all you have to do is open the app and take a photo of the receipt.
Other times, you might instead just have to scan the receipt inside the app or even just scan the barcode of the products you are buying.
But you have to make sure the photo or scan you take is clear and readable so the app can verify the details of the receipt.
Also, every receipt scanning app has its own guidelines on what to include when taking a photo of a receipt. Some of these apps also only accept receipts from specific stores.
So, before you submit a receipt, you have to check their guidelines. When your receipt is verified, you will receive a corresponding reward. It would then be up to the app how you can withdraw your rewards.
Typically, receipt scanning apps offer withdrawal via PayPal, which is one of the most convenient payment methods around, in my opinion. However, many of them also offer you different rewards like, for example, gift cards, if you prefer this.
Now, if you are wondering why you get paid for this simple task, let me explain to you why these apps exist. You see, these apps provide consumer behavior data to companies. These companies will then use the data gathered to make decisions regarding their products or services.
So, it's really just a form of market research. Companies pay these apps to gather data, and in turn, these apps pay their members for submitting receipts. That's all there is to it.
How much can you earn scanning by receipts?
Before we proceed with discussing which apps you should join, it is important to know how much you can earn from these apps. The truth is, you won't earn a lot from them. So, don't expect to earn a lot of money quickly.
It's not a way to earn a living, and it will not replace your full-time job. It is, however, as mentioned earlier, a good earning opportunity for a bit of extra cash. That's because you are essentially turning garbage into money. And as I've said, there are quite a lot of apps that offer this kind of opportunity.
So, to maximize your earnings, you can join around 5 to 7 apps so that you can submit your receipt to all of these apps. That's the best way to ensure you earn the most from your receipt.
Some of these apps also offer other earning opportunities like paid surveys and referral programs. So, you can still earn rewards even if you don't have a new receipt.
10 best receipt scanning apps
Let me just make it clear that this is not a full list of receipt scanning apps you can join. It is instead, a list of the receipt scanning apps I think are really worth your time based on personal experience after having tested hundreds of free earning methods.
I will keep updating this list, so make sure to bookmark this page and check back from time to time for new opportunities.